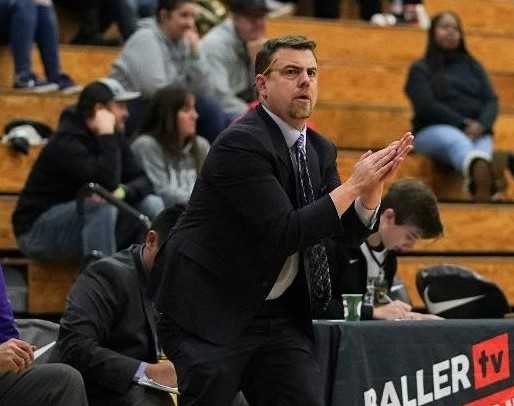 It wasn't easy for Todd Sherwood to walk away from Sunset boys basketball after coaching in the program for 23 seasons, the last 16 as head coach.
But Sherwood, a Sunset graduate, has taken some comfort in knowing that the team will be in the hands of a former Apollo player and assistant coach. David Saultz, the head coach at Aloha the last three seasons, has been hired as Sunset's sixth coach since the program started in 1959.
"It makes it so special to have David, and also to have almost the entire coaching staff staying on," Sherwood said. "That makes me feel pretty good. Most of them are former players. Keeping the family intact, it means a lot to me."
That type of continuity has provided a foundation for Sunset basketball over the years. The Apollos' only head coaches have been Hal Lapp (1959-61), John Wyttenberg (1961-76), Joe Simon (1976-80), Ken Harris (1980-2004) and Sherwood (2004-2020). They won state titles under Wyttenberg in 1975 and Harris in 1987.
Sherwood assisted at Sunset under Harris from 1995 until 2004, except for taking one year off to return to school. As the head coach, Sherwood went 220-186 with two Metro League titles (2008, 2014) and four 6A tournament appearances.
In recent seasons, though, Sherwood said that coaching basketball spread him thin between his teaching job and his three children, all of whom will be in middle school this year.
"Just trying to balance being a coach, a teacher and a single dad," Sherwood said. "I felt like I was trying to keep three balls in the air, and I kept dropping one. You feel like you're letting all three down. It didn't sit right with me. I felt like it was best for my family."
Sherwood said his children "were always worried about" his games.
"They would text me about games," he said. "I just needed to step back a little bit. Hopefully, down the road I can find a niche as an assistant coach. Right now I'd be very limited just because I want to make sure I focus my attention on them."
Saultz graduated from Sunset in 1997 and had two stints as an assistant with the Apollos, coaching under Harris (2000-02) and Sherwood (2010-17). An Ohio State alum, he also spent five seasons assisting at Centerville, Ohio (2004-09). He went 24-48 in three seasons at Aloha.
"I wasn't looking to leave Aloha," said Saultz, a father of three. "I loved my time at Aloha and I loved my kids out there. I wasn't going to leave for any other place. But Sunset has a real special place in my heart.
"It's a little bittersweet, but I couldn't pass up the opportunity to be a part of that tradition at Sunset. Kind of continuing that legacy was important to me."
Several key players are eligible to return from last season, when Sunset finished 12-13 overall, 6-6 in the Metro.
The Apollos graduated their top two scorers in guards Braeden Sato and Reece Arenz, but their No. 3 scorer, guard Kell Estep, is heading into his senior year. Sherwood said the team also will bring back plenty of shooting and size, as well as a promising young "dynamo" in guard Jalen Childs, who played as a freshman last season.
"Coach Harris left me with a lot of talent and I wanted to make sure I did that as well," Sherwood said. "You've got a really good group coming back. Very competitive in a competitive league. I think he's going to have a lot of options. A lot of those guys have been in big games."
The Apollos' best season under Sherwood was 2007-08, when they went 24-5 and finished third in the 6A tournament after losing in the semifinals to Oregon City 62-58. During the regular season, they beat eventual 6A champion Grant 55-49.
"We felt like that was the year that got away from us," Sherwood said. "I still wake up at nights about that year."
Sunset played in the fourth-place game three times under Sherwood, winning in 2010 and 2014 and losing in 2013.
Sherwood said he is grateful for the guidance of Harris, who coached in Sunset's junior program up until two years ago. Harris compiled a 361-229 record in 24 seasons with the Apollos and won 619 games in 40 seasons overall, No. 7 on the state's all-time wins list.
"I'm lucky to have Coach Harris, such a great mentor," Sherwood said. "It was fun to work with him all those years. It's like having a second father. He's just such a great man."
Now it's up to Saultz to carry the torch for the Apollos.
"I'm just glad it's Coach Saultz coming in to keep the tradition going, that Coach Wyttenberg and Coach Harris had," Sherwood said. "