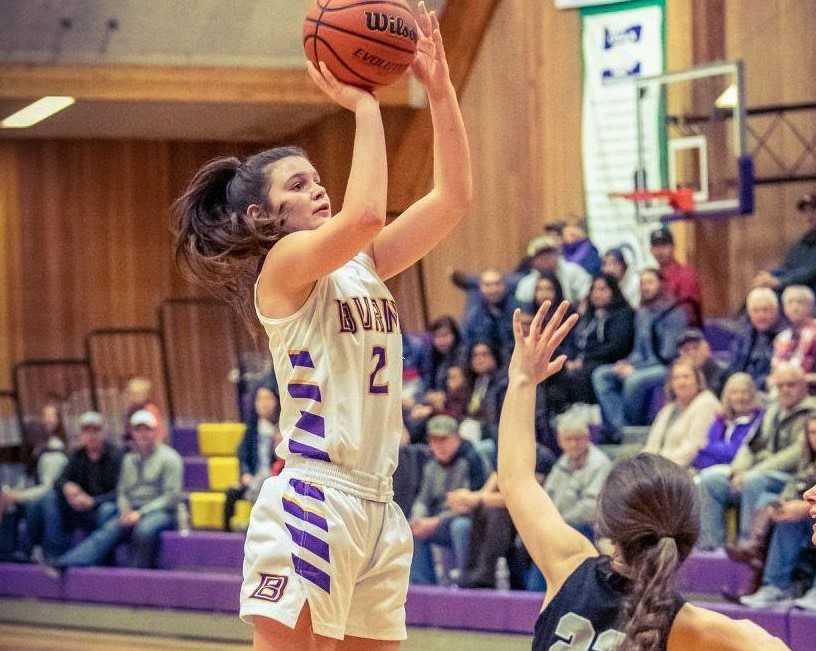 Allie Hueckman has come through under pressure many times during her decorated basketball career at Burns.
But she probably saved her most clutch performance for an elite camp at Eastern Washington prior to her junior year last summer.
Given a chance to perform before Eastern Washington coaches, the 5-foot-10 wing made it count, leaving an impression that eventually led to a scholarship offer.
"Coming out of Burns, there's obviously not as much exposure," Hueckman said. "So getting in front of coaches was definitely a huge step. I just wanted to take advantage of it, go play as best as I could in front of them."
Burns coach Brandon McMullen, an Eastern Washington alum, said he "put a bug in the ears" of Eagles coaches about Hueckman after her sophomore season. Hueckman took it from there.
"As soon as the camp was done, they were thrilled with her," McMullen said. "She's really taken advantage of her opportunities. That's kind of been Allie's thing. Nobody comes out to eastern Oregon. When an opportunity presents itself in the last year, she's jumped right at it, both feet in, and taken charge."
Eastern Washington coaches stayed in contact with Hueckman, a two-time Eastern Oregon League player of the year and two-time 3A first-team selection, and she committed there in the spring. McMullen said he thinks Hueckman will be "an incredible playmaking wing" at the next level.
"I think early on, as she develops her strength in her frame, and she develops physically at the college level, she'll probably be a spot-up shooter," McMullen said. "But boy, as she gets older, she's going to be pretty dynamic for them."
Hueckman -- a two-time 3A high jump champion (personal best of 5 feet, 6 inches) who has also excelled in volleyball, earning league co-player of the year and second-team all state – is up for the challenge.
"I'm super excited to continue playing, especially at a high level," she said.
Hueckman has started her entire basketball career at Burns., scoring 1,310 career points.
After an impressive freshman season in which she averaged 8.6 points and made second-team all-league, she began to blossom as a sophomore, averaging 19.2 points, 6.2 rebounds, 2.2 assists and shooting 46 percent from the field, including 33 percent from three-point range (53 for 162). She earned co-league player of the year honors and helped lead the Hilanders to the 3A semifinals.
She said joining the Boise Flight club team after her freshman year fueled her development.
"That definitely helped me gain a lot of confidence with the ball and shooting," said Hueckman, who is training this summer with Oregon Elite and is scheduled to play in her first tournament this week.
McMullen said that Hueckman's confidence "just exploded" as she physically matured.
"She kind of grew into herself, got a lot stronger," McMullen said. "I didn't run a lot through her as a freshman, but I could see the potential. She just grew so much. Sophomore year it was like, 'You know, we can run some things for her.' Her junior year, she's almost a totally different kid."
Hueckman averaged 17.4 points, 6.0 rebounds, 2.4 assists and 2.1 steals last season. Her shooting dipped to 39 percent from the field and 29 percent from three-point range (63 for 216) as opponents stacked their defenses against her.
"I'm used to being double-teamed, but not really triple-teamed," she said.
Still, carrying a heavy load after two key players were lost to season-ending knee injuries, she propelled Burns back to the state semifinals, where it lost to Sutherlin 46-35.
"I thought we did pretty well for the situation we were put in," Hueckman said.
McMullen said that Hueckman's "Division I shot" and athleticism first got the attention of college coaches. As her game has matured, and she adds strength, she is showing that she can beat her defender off the dribble and either finish in traffic, hit a mid-range jumper or make the right pass.
"She's starting to see the floor really well as a finisher," McMullen said. "She already has the athleticism and court vision that makes you go, 'You know what, that kid's going to do some special stuff.'"