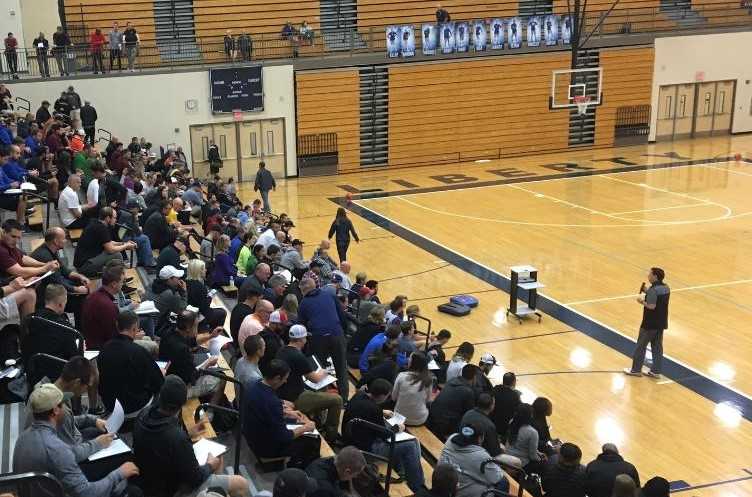 On the surface, the postponement of this Friday's Oregon Basketball Coaches Association annual clinic seems like a mere footnote in a year when COVID-19 has wreaked havoc on the high school sports landscape.
But considering the lack of offseason basketball training, the unprecedented restrictions for workouts and the short run-up the season – scheduled to start in January – the clinic would have served as an invaluable forum for coaches to share ideas.
So in its place, the OBCA is staging a golf tournament Saturday at the OGA Golf Course in Woodburn with the intent of generating discussion in the basketball community. Coaches, players, officials and friends are invited to participate.
West Albany boys coach Derek Duman, the OBCA vice president, said that "it's really important, now more than ever" for coaches to meet.
"Everybody across the state is coaching differently than we have before," Duman said. "I think it's really great that we'll be able to come together at this event, exchange ideas, and see colleagues that we haven't seen in a while.
"I think it helps us with the mental aspect of getting ready, providing some hope, and getting us into that mindset of, 'Hey, we're going to play again, and I'm going to see these people that I see every year and talk hoops.'"
The entry fee is $100 per player or $380 for a foursome at the tournament, which starts at 11 a.m. Players can register at tinyurl.com/obcagolf. Heading into the week, 84 had signed up.
"We said that we've got to do something fun," said ex-Westview boys coach Pat Coons, the former OBCA president who helped start the event in 2007. "What can we do that coaches will see each other and be around each other? People have responded. We're really excited about it."
The OBCA Coaches Clinic, scheduled each year on teachers in-service day, has become an important date for coaches. It has grown from 80 coaches at the inaugural event to nearly 400 in recent years.
"It's built up to one of the best clinics in the country," Coons said.
The OBCA postponed this year's clinic at Liberty High School due to COVID-19 restrictions but is hopeful to reschedule it in some form.
"We're looking into other options in December," Duman said. "It might be virtual this year."
Many Oregon coaches are still coming to terms with the finish to last season, when the 6A, 5A and 4A tournaments were canceled due to virus concerns. Coaches were hopeful to run summer programs and camps, but were unable due to state restrictions.
"The rules and conditions coming out of Salem kind of changed and adapted as we went along," Duman said. "Some teams were starting to do some things, because there wasn't a ton of guidance. Then when the guidelines came out, they had to shut down. There were a lot of questions and people trying to figure it out."
Duman said that basketball "gets kind of the worst of both worlds" from the restrictions in that it is considered a contact sport and it is played inside.
Current restrictions vary by district throughout OSAA Season 1, which started Aug. 31 and goes through Dec. 27, leading up to the start of winter sports practices on Dec. 28.
State guidance allows coaches to run workouts for players, provided those participating remain six feet apart and wear masks, which eliminates the possibility of scrimmaging. But many districts aren't allowing coaches to have any in-person contact with players.
It comes after a summer in which coaches were able to do little more than meet with players online and send them virtual workouts.
"We had a few film sessions on Zoom to look at some things we did last season that we need to improve," Duman said.
Some players worked out with private trainers, and others were able to connect with club programs to play in out-of-state tournaments, but for high school programs, the summer was a lost opportunity to define roles and grow team chemistry.
Coons said that losing the summer not only cost players developmentally, but also with building relationships with teammates and coaches and exposure to college programs.
"It's such a fun time to play," Coons said. "We used to travel with our kids. Really more than anything, it was team bonding. The impact will be huge."
There is plenty of ground to make up, and that is certain to dominate the conversation when coaches meet on the golf course Saturday morning.
"Getting ideas from people that may be ahead of others in the process, I think that's going to be really valuable as we get closer to the season," Duman said. "How can we use Season 1 to maybe help with that? Because once the season starts this year, it's going to be such a mad dash."