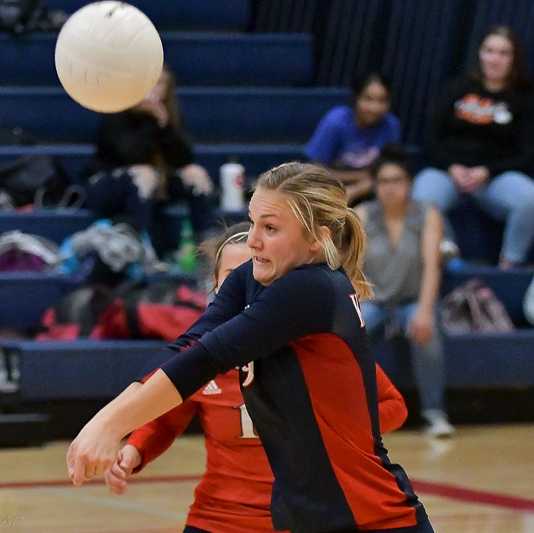 No. 3 Kennedy made a strong argument for the top spot in the OSAAtoday 2A volleyball coaches poll by taking down No. 1 Culver in a 2A Tri-River Conference showdown Tuesday.
In a 25-19, 25-23, 25-13 home win, the Trojans (19-1, 10-0) came away feeling more confident than ever. The Bulldogs (19-3, 10-1) entered with a perfect league record, but Kennedy was too much for them to handle.
The Trojans have made a habit of embracing challenges this season. In winning titles at the Cascade and Salem Academy tournaments this season, they have prevailed against some of the state's best teams from 2A to 4A.
Kennedy senior Kalyssa Kleinschmit had no doubts about the importance of the game.
"We're both undefeated in the league," Kleinschmit said. "We knew it was going to be a tough game."
Kleinschmit has been pivotal in keeping Kennedy in the hunt for first place after Hallie Sprauer missed several games with an injury. Kleinschmit stepped up her play and has been instrumental at the net, along with junior Sophia Carley, who had 16 kills Tuesday.
The now-recovered Sprauer, who had 13 kills against Culver, knows the value of teamwork.
"We knew they were hungry to beat us and had to be more aggressive," she said. "Coach told us to think ahead and play smart, think about what they are going to do and talk to eack other. It really boosts us up when we talk."
Another boost came in the form of 29 assists from Ellie Cantu. She and fellow sophomore Hailey Arritola, who had 18 digs, are among a group of younger players that are playing like veterans, adding depth.
Kennedy, which plays at Culver on Oct. 10, doesn't seem to be as concerned with rankings or numbers as much as taking things one game at a time. Sophomore Elise Suing views the team's No. 1 spot in the OSAA power rankings as a rallying point for opponents.
"It does kind of put a target on our back, and we know everyone wants to beat us," Suing said. "But that just gets our adrenaline going. We have a really great bond in this team and we know how to get together and push through. We want to win the championship more than anything."