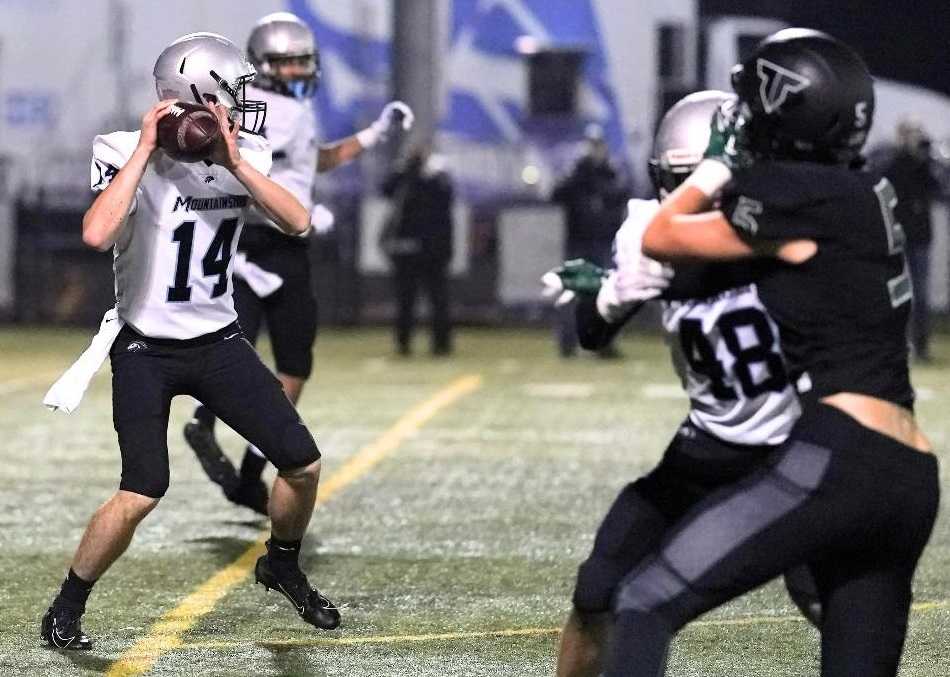 The way the 2019 season played out for Mountainside's fast-rising football team, the Mavericks – who shocked top-seeded Tigard to reach the 6A quarterfinals -- were eager to keep climbing in 2020.
So having to wait through a protracted offseason was as torturous for them as anyone.
"Definitely coming out of last year I felt like we had a lot of momentum, which kind of stopped here in the last year," said Mountainside coach John Mannion, who started the program in 2017. "When we picked back up a few months back, I felt my guys kind of got back into what we were doing before."
The Mavericks didn't seem to miss a beat in their opener, going on the road to throttle Beaverton 49-7. And Friday night, they get another chance to keep it rolling when they play host to Metro League foe Sunset, which dominated Sandy 40-0 in its opener last week.
Considering Mountainside did not play Sunset in its first two varsity seasons, the matchup is an opportunity for the Mavericks to prove themselves against one of the top Metro programs.
"This is my 11th year in Oregon, and as long as I've been here, they've always been near the top of the pack in the Metro," Mannion said. "They've got some explosive players at the skill positions, and they have a nice line. Our varsity has never played them, so there will be a degree of newness there. It's going to be a tough one, for sure."
Sunset coach Damien Merrick has seen enough of Mountainside to know his team faces a stern challenge. The Mavericks beat Sunset 21-20 in a JV game in 2019 and took it to the Apollos in 7-on-7 play last fall.
"My goodness, they've got some athletes," Merrick said. "In the fall, our kids went against them and they made us look bad. They've got some really good perimeter athletes."
Mountainside's attack revolves around junior quarterback Brian Mannion, the coach's son and the brother of former Oregon State and NFL quarterback Sean Mannion.
Brian Mannion took over the starting spot in Week 8 of 2019 and came on strong, throwing four touchdown passes in the overtime playoff win over Tigard. He has filled out since that time – now at 6-foot-2, 190 pounds – and excelled against Beaverton, throwing for 210 yards and two touchdowns and running for a score.
"He looks the part," Merrick said of Mannion. "He looks like he could put on weight still, which I'm sure he will. But he can sling it. He throws the deep ball really well. He had some deep fades he threw against Beaverton that were all just right on the money."
Brian Mannion now benefits from the daily tutelage of his brother, who has joined Mountainside's coaching staff.
"That's been kind of fun as a coach and a dad to have my two sons out there," John Mannion said. "I think that it's helpful to Brian in terms of having someone to tutor him and help him out. That's been an added bonus."
Mountainside lost all of its starting offensive linemen from 2019 but has a plethora of weapons, including senior receiver Andrew Simpson, who has signed with Western Oregon. In the opener, Simpson caught 10 passes for 124 yards and two touchdowns.
"He's refined his skill set," John Mannion said of Simpson.
Sunset, which finished 5-5 in 2019 and lost in the first round of the 6A playoffs, was tenacious against Sandy. The Apollos recovered a fumble on the opening kickoff and never let up, getting interceptions from seniors Nic Janati and Nick Molitor and juniors Conor Byrnes and Chase Limbocker in the blowout win.
"Oh my goodness, that was definitely a surprise," Merrick said of the takeaways. "In the last few years, we've really struggled to turn the ball over."
The Apollos aren't big on defense, but they swarm with their athleticism. On offense, they expect to be able to run successfully behind their physical line, and they did so in the opener as junior Caleb Kim (5-11, 190) rushed for 146 yards and two touchdowns.
Kim was a backup in 2019 before injuries forced him into a starting role midway through the season. He has added muscle but trimmed down.
"He's probably five or 10 pounds lighter than he was a year ago, and he looks faster to us," Merrick said of Kim, who also starts at inside linebacker. "He looked like he was a little more explosive. He's a demon working out in the offseason."
Senior quarterback Kyle Jaekel impressed in his first varsity start, throwing five touchdown passes, two to Molitor. Merrick liked how Jaekel managed the game.
"An inexperienced kid like himself might try to force some things, but he did take care of the ball," Merrick said. "He didn't throw for a great percentage, but the five touchdown passes is pretty impressive."
A look at some of the other top matchups for Week 1:
Games are Friday unless otherwise noted
Lakeridge (1-0) at West Linn (1-0): Lakeridge got off to a strong start under first-year coach Spencer Phillips, beating visiting Oregon City 35-20. But the degree of difficulty goes up dramatically against the Lions, a team many believe would have been the 6A favorite this year. West Linn impressed in its opener, getting four touchdown runs from senior Gavin Haines to roll past Tualatin 37-6.
Jesuit (0-1) at Clackamas (1-0): Jesuit, a 6A semifinalist in 2019, will try to bounce back from a 35-6 loss to reigning state champion Central Catholic. Junior Michael Rincon was a bright spot in the defeat, rushing for 162 yards on 23 carries. Clackamas won at Canby 32-15 in the debut of coach James Holan as seniors Jack Artman and Jaxon Shaw shared time at quarterback.
North Salem (1-0) at Sprague (1-0): Much intrigue surrounds North Salem freshman quarterback TC Manumaleuna, who already has an offer from Oregon and is being recruited by other top college programs. In his first game, Manumaleuna overcame two interceptions to help lead the Vikings to a 20-0 win over Central. Now he will face a 6A defense in Sprague, which beat 5A Lebanon 21-20 in its opener.
La Grande (0-0) at Nyssa (1-0), Thursday: Reigning 4A champion La Grande, coming off its first state title since 1974, opens the season on the road against 3A Nyssa, which won at Ontario 46-14 last week as sophomore quarterback Andrew Enders threw for three touchdowns and ran for a score in his first varsity start. The teams haven't met since the 2015 opener, won by La Grande 24-2.
Ridgeview (1-0) at Pendleton (1-0): Ridgeview hasn't had a winning season since taking the 4A title in 2013, but the Ravens got off to a good start by beating Putnam 33-0 behind Gannon Jeter, who rushed for 125 yards and two touchdowns. Pendleton, which rolled Parkrose 46-0, has a dynamic backfield combo in Zaanan Bane and speedy Tyasin Burns. The teams haven't met since 2017, when Pendleton won at home 48-13.
Marist Catholic (1-0) at Cascade (1-0): Marist Catholic, a 4A semifinalist in 2019, has one of its best teams in recent years, and showed it last week by scoring on its first four possessions in a 42-14 win over North Bend. Lucas Tuski rushed for four touchdowns in the win. Cascade, the reigning Oregon West Conference champion, routed Woodburn 41-0 as Jacob Hage completed 15 of 17 passes for 205 yards.
Warrenton (1-0) at Rainier (1-0): Rainier, a 3A semifinalist in 2019, played an eight-man game last week to accommodate shorthanded rival Clatskanie and won 50-0. The Columbians play an 11-man game this week against Warrenton, which opened with a 46-12 home win over Corbett, before returning to eight-man next week with a rematch against Clatskanie.
Mapleton (1-0) vs. Lost River (1-0) at Hidden Valley: Mapleton, which opened the 2019 season 6-0 before finishing 6-4, got off on the right foot with a 52-30 win over Chiloquin in a 1A contest. The Sailors now get a rare matchup on a neutral field against Lost River, which dropped down to 1A this season after making the 2A playoffs in 2019. Lost River defeated Bonanza 46-0 last week.