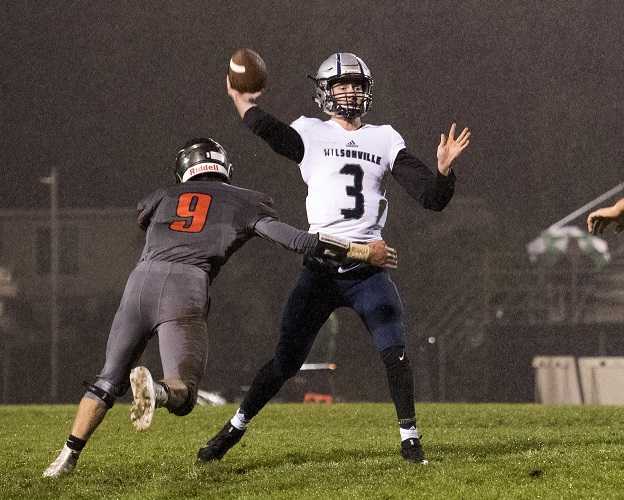 Wilsonville coach Adam Guenther believes colleges are making a mistake if they don't take a closer look at Wildcats senior quarterback Nathan Overholt.
The 6-foot-3, 190-pound Overholt, who threw four touchdown passes in Friday's 41-20 win at Scappoose, has been prolific for the top-ranked Wildcats (6-0) this season.
He has completed 71.7 percent of his passes for 1,683 yards and 28 touchdowns with two interceptions, putting up the numbers despite not playing in the second half of three games.
At his current pace, Overholt could make a run at the state single-season record for touchdown passes of 56, set by Beaverton's Taylor Barton in 1997.
But college interest in Overholt has been lukewarm. His only offer is from Davidson, a Division I FCS program in North Carolina. Big Sky Conference schools Montana, Montana State, Eastern Washington and Portland State are among those looking at him.
"No one has pulled the trigger, and I don't understand what they're waiting for," Guenther said. "This is a kid that needs to be sticking around. I've called places on his behalf and said, 'You guys have got to look at this kid.'"
Overholt has excellent size and is a good athlete, clocking 4.7 seconds in the 40 at a Nike combine. A 4.1 student, he is smart with the ball. He has an accurate arm, if not a powerful one.
"His only real knock is his arm strength," Guenther said. "The thing is he's a football player. He sees the field really well. He can extend plays and make things happen.
"He doesn't try to push the ball downfield when he's not supposed to. He's trusting the receivers that they'll turn a two-yard pass into a 25-yard gain."
Guenther said that he believes Overholt is in the top three quarterbacks in Oregon, mentioning him with Sheldon senior Michael Johnson Jr. and West Linn senior Ethan Long, who have committed to Penn State and Arizona State, respectively.
"I'll put Nathan up against anybody," Guenther said. "People are just missing the boat. Whoever gets him is going to love it."
Riding high
Roosevelt did something it hasn't done in more than two decades when it won at Lincoln 28-21 on Friday.
It is the Roughriders first win over the Cardinals since they beat them 46-8 in 1996, ending a streak of 12 losses. They also stopped Lincoln's run of 22 consecutive Portland Interscholastic League victories.
"My players are just happy they won," Roosevelt coach Tim Price said. "They had never beaten Lincoln, from freshmen to seniors now. So they were excited about that. Anytime you're playing against Lincoln, it's a big game because they're always on top of things. They knew it was important for them to take their game to another level."
Trailing 21-20 in the fourth quarter, the Roughriders (4-2, 1-1) held Lincoln on fourth-and-goal at the 1-yard line, then embarked on a 99-yard drive to take the lead on a 1-yard quarterback sneak by senior Cabree Figueroa with about two minutes left.
"Our kids are learning how to win, learning how to compete," Price said. "We finally just put four quarters of football together and came up with a big win. It was our best game of the season."
The Roughriders and three-time reigning league champion Lincoln (2-4, 1-1) are in a four-way tie for second place behind Grant (3-3, 2-0). Price, who took over as the team's interim coach early last season, said Roosevelt has come a long way since finishing 1-7 last year.
"We're starting to find ourselves now as a pretty good football team," Price said. "We haven't gotten blown out. Each game we had opportunities to win. Every game we had touchdowns called back because of penalties. We could be 6-0 right now if we were as focused as we were against Lincoln."
On the 99-yard drive, Roosevelt used its veer offense to chew up yardage on the ground with senior running backs Melipone Aisea and Reyjon Williams.
The defense – which got two sacks and a fumble recovery from junior Timothy Price, the coach's son – also came through in the clutch. Tim Price praised the linebacking crew of Aisea, Williams and senior Jalen Kelly and the secondary of seniors Cameron Stoudamire and Regevonte McCall (fumble recovery) and junior Roshellio Sanders.
"Our DBs, I think, are some of the best in the state," Tim Price said.
Price, who has had head coaching jobs at Jefferson and Parkrose, said he is trying to change the culture at Roosevelt.
"Getting these kids to stop putting their head down when they do a bad play, or throwing their helmets, just doing crazy stuff," Price said. "We're trying to get these guys to believe in themselves, and I think we're doing a good job right now."
Tough stretch
After rolling to six wins, the moment of truth has arrived for No. 6 Tualatin.
The Timberwolves, who beat Westview 48-16 on Friday to improve to 6-0, have one of the all-time back-loaded schedules as they finish 6A Three Rivers League play against a murderer's row of No. 7 West Linn (4-2), No. 2 Lake Oswego (5-1) and No.. 5 Tigard (6-0).
"I told the boys, 'This is why you play and this is why you coach,'" Tualatin coach Dan Lever said. "You want to compete against the best. Now we get to see who we really are in the next three.
"I told the guys, 'The playoffs really start for us next week.' The kids are excited, the staff is excited. It's fun. We're looking forward to some great matchups."
Lever likes how his team has progressed in recent weeks. After struggling with turnovers early in the season, the Timberwolves have not committed one in their last three games. And after letting Oregon City come back on them in the second half of Week 2, they have put the hammer down in the last four games.
"We've been finishing people," Lever said.
Tualatin got one of its most promising signs Friday when senior quarterback Kyle Dernedde returned after missing two games with a sprained knee. Juniors Blake Jackson and Luke Marion held down the fort in his absence.
"We worked him in slow," Lever said of Dernedde. "That's a big one. Moving forward it's going to be a combination of him and Blake Jackson, and a little bit of Luke Marion here and there."
The Timberwolves also are getting contributions from new places, in particular junior receiver Kwabena Lynn and junior receiver and defensive back Caden Dickson.
Lynn, who ran the 100 meters in 10.84 seconds in July, scored on a 13-yard fly sweep and a 39-yard catch from Dernedde against Westview.
"He had a breakout game," Lever said. "He's really come along. Seeing his progression has been great."
Dickson, a basketball player who returned to football after skipping his sophomore season, is making an impact on both sides of the ball. He has accounted for touchdowns rushing, receiving and throwing, and Friday he returned an interception 18 yards for a score.
The 6-1, 175-pound Marion, the son of former NFL all-pro safety Brock Marion, is rising fast as a free safety, receiver and wildcat quarterback. He had his fourth interception of the season Friday.
"He's having a phenomenal year for us," Lever said. "He grew a ton last year as a sophomore, and did a great job in the weight room, and boy is he seeing the rewards of that now. Brock was a late-bloomer. It sounds like Luke is taking off a little quicker than Brock did."
Pirate raid
Neah-Kah-Nie coach Chris Bennett said his phone was blowing up Friday night after his fifth-ranked Pirates went on the road to knock off No. 3 Knappa 38-14 in a 2A Special District 1 game.
Everyone wanted to know how Neah-Kah-Nie (5-1, 4-0) slowed down the explosive Loggers (5-1, 2-1), who were averaging 56.0 points per game, highest for all 11-man teams this season.
"Our defense tackled really well. They didn't get a lot of yards after the catch," Bennett said. "That was big. And it was a wet field, which probably played to our advantage."
It was a breakthrough win for Neah-Kah-Nie, which has come a long way since 2015, when the second half of its season was cancelled due to lack of players.
Last year, the Pirates had their first winning season since 1996. And now, after getting their first win over Knappa in 16 years, they are shooting for their first league title since 1995.
"This is definitely the biggest win we've had in the last few years," said Bennett, a 1999 Neah-Kah-Nie graduate who is in his third season as the head coach. "Especially to go up there and beat them on the road, it was huge for us."
Last year, Neah-Kah-Nie led Knappa 14-0 but lost 36-20, the team's only regular season defeat.
"After losing to them, we had our sights set on them this year," Bennett said. "They're the team to beat. We knew that until you beat Knappa, you really haven't done anything. Our boys really believed they could compete and get a win."
Neah-Kah-Nie junior quarterback Mychal Kelly rushed for 192 yards and one touchdown on 28 carries as the Pirates piled up 389 yards on the ground. Senior running backs Tristan Bennett and Josh Elinksy each scored twice.
Knappa entered averaging 491 yards per game but was limited to 250 yards by the Pirates, who got big games from Bennett at linebacker and senior defensive end Tucker Champ.
Rushing race
Mountain View senior Jonas Larson and North Medford senior Eli Spence continue to rack up rushing yards at a dizzying pace.
The 5-11, 170-pound Larson set two school records in Friday's 55-48 loss to Southridge when he rushed for 377 yards and seven touchdowns. The 6-5, 217-pound Spence rushed for 240 yards and two touchdowns to lead the Black Tornado past Grants Pass 37-29.
Larson takes over the lead in the 6A rushing race with 1,454 yards, surpassing Spence, who has 1,407. Both are in position to make a run at 2,500 yards for the season, a feat accomplished 21 times in state history.
By rushing for seven touchdowns in a game, Larson joins a six-way tie for third place all-time behind Aloha's Thomas Tyner (10 in 2012) and Astoria's Robert Malarkey (nine in 1911). Larson has 23 rushing touchdowns this season, halfway to the record of 46, shared by Sisters' Cory McCaffrey (2007) and Scio's Anthony Johnson (2015).
Larson's 42 carries fell one shy of his school record of 43, set last year against Pendleton. It is the third time he has had at least 42 carries in a game during his career.
A glimpse at other Week 5 highlights:
6A
Jackson Laurent completed 16 of 23 passes for 245 yards and three touchdowns, two to Marshall McGuire, in Lake Oswego's 41-28 win over West Linn. Casey Filkins rushed for 175 yards on 32 carries and Thomas Dukart had eight catches for 135 yards for the Lakers. … Richard Kennewell caught two touchdown passes and returned an interception for a score as Clackamas beat Gresham 51-8. … Tigard defeated Oregon City 62-27 as Drew Carter threw four touchdown passes and Malcolm Stockdale ran for three scores. … Central Catholic got a 46-yard run and a 52-yard punt return for touchdowns by Elijah Elliott in beating Centennial 42-19. … Southridge outlasted Mountain View 55-48 behind Darik Salinas, who passed for 311 yards and five touchdowns. Keyvaun Eady had 172 receiving yrds and Blake Sims rushed for 148 yards for the Skyhawks. … Brennan Stults threw three touchdown passes in North Medford's 37-29 win over Grants Pass. … Giovanni Bottero completed 15 of 17 passes for 178 yards and three touchdowns to lead South Medford past Roseburg 39-12. The Indians lost despite holding a 390-293 edge in yards, getting 116 rushing yards from Zack Mandera. … Jesuit went on a 16-play, 60-yard drive – capped by an eight-yard touchdown run by quarterback Will Spitznagel with 2:25 left – to overtake Sheldon 36-32. Jesuit's Cody Hart had a 49-yard touchdown catch and the game-clinching interception off Sheldon's Michael Johnson Jr., who passed for 233 yards and ran for 111 yards. … Payton Davis rushed for 201 yards and two touchdowns and Cooper Simmonds passed for three scores in Bend's 40-23 win over Summit. Bend's Luke Musgrave, an Oregon State commit and the nephew of former Oregon quarterback Bill Musgrave, returned an interception 35 yards for a touchdown. Summit's Henry Bledsoe passed for 287 yards, 118 to Campbell Smith. … West Salem beat South Salem 25-0 as Simon Thompson ran for two touchdowns and passed for a score. … Marve Nyembo had two interceptions, returning one 80 yards for a touchdown, and added a sack in Sunset's 35-12 win over Aloha. Kadin Williams rushed for 106 yards for Sunset, which held Aloha to 226 total yards and forced five turnovers. ... Jarod Miller connected with Cameron Ulloa for a 55-yard touchdown pass with 1:09 left to lift Forest Grove over Hillsboro 26-21. Miller completed 24 of 40 passes for 274 yards and four touchdowns, two to Dominic Funk, who had 11 catches for 104 yards.
5A
Hunter Crosswhite ran for 103 yards and Cassius McGinty returned a fumble 99 yards for a touchdown to lead West Albany past North Salem 34-0. … Lebanon beat Central 41-21, getting three touchdown runs from Keith Brown. … Crescent Valley quarterback Sawyer Cleveland threw three touchdown passes to spark a 38-3 win over South Albany. … Crater beat Ashland 41-13, outgaining the Grizzlies 473-182 as Trever Davis passed for 225 yards and two touchdowns and ran for 91 yards. … Churchill's Demontre Thomas II ran for four touchdowns and threw for a score – all in the first quarter -- in a 61-40 win over Eagle Point. Deonte Jones rushed for 214 yards and four touchdowns for Churchill. The Eagles got big games from Devin Bradd (228 rushing yards) and Noah Page (seven catches, 122 yards, two touchdowns). … Wes Kommer rushed for 262 yards and four touchdowns in Thurston's 61-0 win over Willamette. Avery Jaramillo scored three touchdowns on three carries for Thurston, which ran for 379 yards. … South Eugene shut down North Eugene 28-0, getting 127 rushing yards from Isaac Reyna. … Pendleton throttled La Salle Prep 62-14 behind Aiden Patterson, who ran for 92 yards and four touchdowns. Shawn Yeager ran for 112 yards on three carries for Pendleton. … Nathan Kuenzi rushed for 216 yards and two touchdowns on 49 carries to lead Silverton past Dallas 23-8. … Sophomores Bryce Demars (four touchdown passes) and Josh Biever (181 rushing yards, three touchdowns) led the way as Ridgeview beat Springfield 49-21. Payton Davis had two touchdown catches for Ridgeview.
4A
Henley held Phoenix to three total yards in a 21-0 win. Brandon Kestorson ran for 129 yards and two touchdowns for the Hornets. … Cottage Grove rolled over Elmira 45-13 as Fernando Giffen had three touchdown runs. Brady Nagel rushed for 96 yards and two touchdowns for Elmira. … Nate Beck ran for a 97-yard touchdown on an option keeper in Mazama's 14-6 win over Marist, which got a 90-yard punt return for a score from Hagen Stevenson. … Alexander Teubner rushed for 177 yards and four touchdowns as Seaside beat Molalla 36-7, holding the Indians to 76 total yards. … Nick Keller ran for 180 yards and three touchdowns and threw for 175 yards and one score to lead Estacada past North Marion 28-20. … Cascade got 13 tackles from Joel Miller in a 30-7 win over Sisters. … Gladstone held off Crook County 14-6, overcoming three fumbles in the red zone. ... Newport edged Stayton 13-12 to improve to 6-0, getting the go-ahead touchdown in the third quarter on a 39-yard run by Tanner Stottlemyre. Addison Galen rushed for 130 yards on 31 carries for Newport. ... Banks' Hayden Vandehey completed 14 of 20 passes for 304 yards and six touchdowns -- four to Blake Gobel -- as the Braves took out Valley Catholic 55-0.
3A
Brady Eiler scored touchdowns rushing and receiving and had an interception as St. Mary's defeated Hidden Valley 34-16. … Cascade Christian blanked South Umpqua 52-0 as Elijah Smith ran for 82 yards and had an interception and a safety. Kiegan Schaan passed for 196 yards for Cascade Christian, which had 431 yards. … Salem Academy's Jacob Haller had five catches for 99 yards and four touchdowns from Cole Hardy in a 36-8 win over Corbett. Cameron Haselbacker ran for 124 yards for Salem Academy. … Harrisburg turned back Sutherlin 33-7 as Dax Bennett rushed for 134 yards and two touchdowns and threw for a score. Johnathan Lekkeman ran for 119 yards and one touchdowns and caught three passes for 55 yards and one score for Harrisburg. … Unbeaten Rainier broke from a 0-0 halftime tie to beat Dayton 32-8. Joey Tripp ran for 175 yards and David Katon ran for 106 yards and three scores for the Columbians. … Vale beat Nyssa 20-10 in the Black & Blue Bowl as Colton Kesey completed 14 of 17 passes for 160 yards. ... Amity beat Willamina 50-14 as West Streeter and Brian Hatch rushed for 181 and 110 yards, respectively.
2A
Monroe beat Central Linn 42-21 behind Zach Young, who ran for 152 yards and three touchdowns. Freshman quarterback Brody Ballard had an 82-yard touchdown run for Monroe, which had 344 rushing yards. … Freshman Levie Phillips ran for three touchdowns in Weston-McEwen's 67-0 win over Riverside. … Dayton Alves threw two touchdown passes to Jace Brazeal to lead Lakeview past Lost River 13-12. Lakeview forced four turnovers, getting two fumble recoveries from Riley Shullanberger, who also blocked the potential game-tying extra point. … Donovan Villanueva had six touchdowns – three rushing, one receiving and two on interception returns – in Toledo's 68-12 win over Gold Beach.
1A
Austin Luzier passed for 166 yards and three touchdowns and ran for 68 yards and one score to lift Elkton over Oakridge 48-22. Trentyn Halstead rushed for 166 yards and three scores for Elkton. … Lowell got four touchdown catches from Brian Lemon in a 68-28 win over Mapleton. … Wyatt Belden rushed for 193 yards and one touchdown and Aiden O'Dea ran for two scores as Mohawk dispatched Crow 44-12. ... Eddyville Charter rushed for 527 yards to beat Jewell 58-24 in a six-man game. Keagan Spikes had eight carries for 254 yards and four touchdowns for the Eagles.