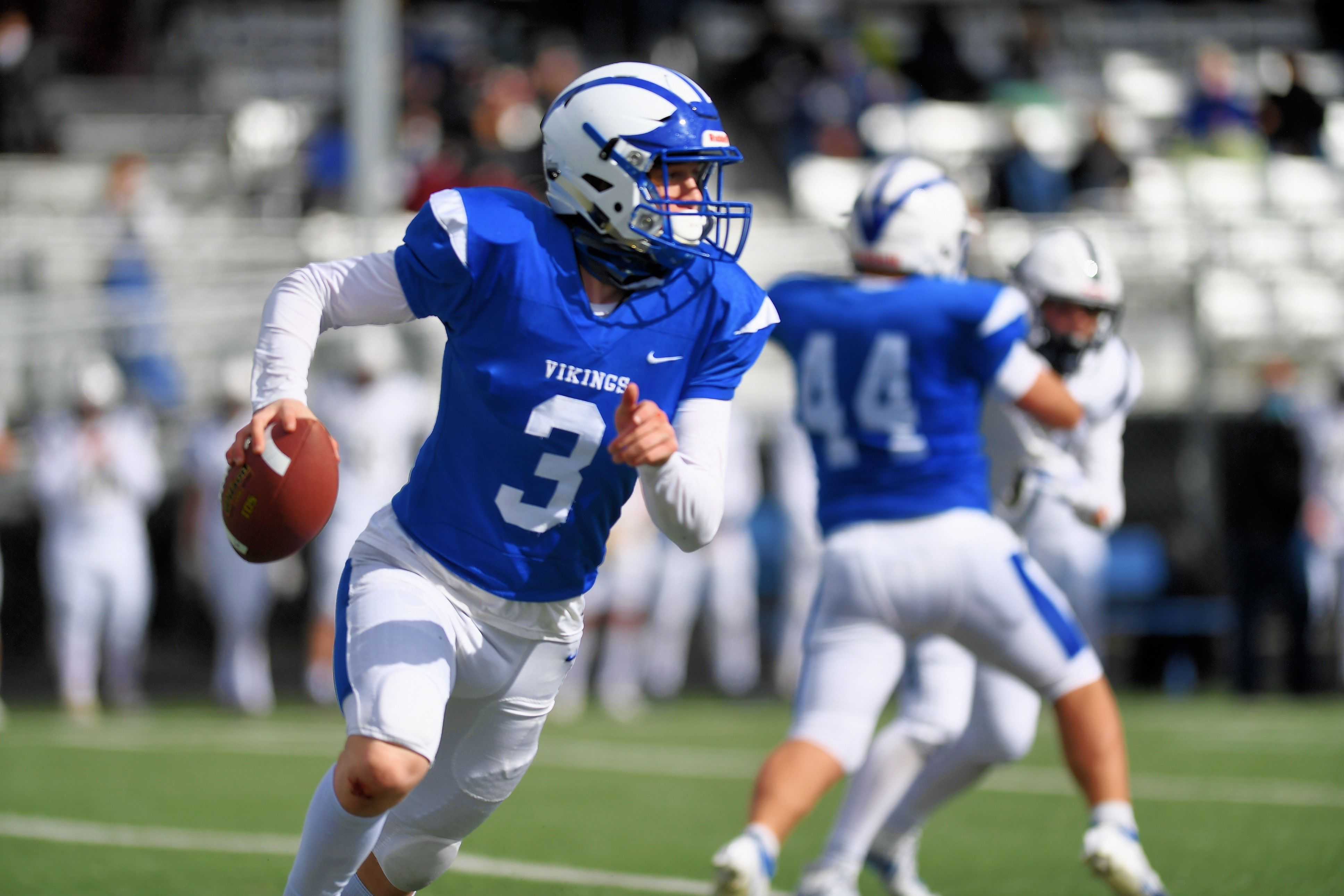 For a nonleague, cross-classification football game, 5A Thurston and 4A Mazama will put something on the line when they collide Thursday.
The two-time reigning 5A champion Colts (3-0) want to extend their 20-game winning streak and live up to their reputation as one of the state's top teams.
"It's a trap for us. We recognize it," Thurston coach Justin Starck said. "You beat a 4A team, you were supposed to, right? You lose to a 4A team, and it looks bad. But these guys are a phenomenal 4A team."
Visiting Mazama (3-0), which made a bold statement Saturday with a 38-0 win over 4A power Banks, could strengthen its hold on the No. 1 spot in the newly devised 4A BCS-type rankings with a respectable performance.
"This group of boys, they like to be challenged," Mazama coach Vic Lease said. "They like tough opponents. We couldn't ask for anything better."
The game came about last week. Mazama originally was scheduled to play Phoenix, but the struggling Pirates (0-3) asked the Vikings if they could seek a more equitable opponent. Thurston had scheduled North Eugene (1-2), so the teams swapped, setting up Phoenix with North Eugene.
"We thought that would be a better matchup for Phoenix," Lease said. "Nobody's a good matchup for Thurston, but Justin and I have been good friends for years, so we just started talking, and he agreed to play us.
"He knows we're tough, and we absolutely know they're tough. We both wanted a good game, and we know we're going to give each other a good game."
Regardless of classification, it would be difficult to find a more dominant team in the state than Mazama. The Vikings defeated hometown rival Henley 35-0 and 5A Eagle Point 63-0 before thumping Banks.
In the win over the Braves, junior Zeke Heaton rushed for 110 yards on 24 carries, senior Aidan Kindt ran for two scores and senior Tristan Lee threw two touchdown passes. But it was the defense that stole show, holding a Banks team that was averaging 413.0 yards to 87 yards.
"Our defense is really the difference-maker for us," Lease said. "They play really, really well together. We don't have any standouts defensively, they just do their jobs."
Mazama's tall, fleet-footed secondary – which includes Lee (6-3, 210) and seniors Cole Brosterhous (6-3, 205) and Alex Hayden (6-1, 195) – was outstanding against Banks' spread offense. The Vikings also have a solid defensive front led by senior lineman Dominic Hankins (6-2, 240), who has committed to Western Oregon.
Mazama won its sixth consecutive Skyline Conference title in 2019 but suffered key injuries and quietly exited the 4A playoffs with a 19-14 first-round loss to visiting Tillamook.
"We limped into the state playoffs last year," Lease said. "We just didn't have the weapons to be a state playoff team. I knew we had a ton coming back."
The Vikings have gelled into a powerhouse.
"Their offense executes just like a machine," Starck said of Mazama's veer. "They have a really good run defense, and they bend-but-don't-break on the back end. They could play with any 5A school, and 80 percent of the 6A schools. These guys are legitimate. Don't get fooled by the fact that they're 4A."
Thurston lost first-team all-league players at 13 positions but continues to dominate, defeating Churchill 35-6, Willamette 43-6 and Springfield 47-6.
"In some spots, we're more physical than we have been, and in some spots, we're a little more explosive than we have been," Starck said. "We've got some areas that we've improved, but some areas that we still got to work on that don't quite compare to the former groups we've had."
The Colts graduated running back Wesley Kommer, who rushed for 2,031 yards and 34 touchdowns in 2019, but have a dynamic replacement in Gavin Knights. The 5-8, 160-pound junior has run for 362 yards and six touchdowns, averaging 8.8 yards per carry, after being third string last season.
"He's explosive," Starck said. "We knew what he was, but we had Wesley Kommer. We kind of just let Gavin play corner. He was our lock-down corner, the best corner we had. We don't have the luxury to just use him that way anymore."
Knights has shown the ability run outside and inside.
"When there's an opening, he gets in it fast," Starck said. "He's zero to 100 in a second. He's really quick."
Senior Dawson Muggy has moved from receiver to play quarterback, sharing time with sophomore Darien Witham. Their top target is Jacob Newell (five touchdown catches), a 6-5, 220-pound junior who has received scholarship offers from Arizona, New Mexico and Army.
Thurston has a dominant defensive front with seniors Brian Jenkins (6-4, 305), Duncan Hicks (6-2, 275) and Kross Galago (6-3, 305) and Newell.
"They're huge. They're massive," Lease said. "They're back-alley tough."
The Colts have several seniors headed to college programs. Muggy, linebacker Jeremy Foss and offensive lineman Keenan O'Donnell (6-4, 360) are going to Western Oregon. Hicks and Galago are bound for Southern Oregon.
Thurston will play 6A Sheldon in Week 5 in a battle for Eugene. The Colts are hopeful to find a worthy opponent for the culminating week.
"We can't travel, so we're having a hard time finding anyone that wants to come play us," Starck said. "The Medford schools offered, but nobody else really has offered."
A look at some of the other top matchups for Week 4:
Games are Friday unless otherwise noted
Lake Oswego (1-0) at West Linn (3-0): West Linn settled one score last week when the Lions ended a four-game losing streak to Tigard with a 35-15 win. Now they get a chance to get back at the Lakers, who beat them 20-17 in 2019 when Casey Filkins scored on a two-yard run as time expired. West Linn's Gavin Haines has rushed for eight touchdowns.
Central Catholic (3-0) vs. Grant (2-1) at Franklin, Saturday: If comparative scores mean anything, the Generals could give the reigning 6A champion Rams a battle. In games against Barlow, Grant won 26-0 and Central Catholic won 21-7. The teams haven't met since 2013, when Central Catholic won 55-14 in the season opener on its way to a state title.
Scappoose (2-1) at Canby (2-1): For years, Canby was in 6A and Scappoose in 4A, but now they find themselves as rivals in the 5A Northwest Oregon Conference. Last week, Canby escaped with a 28-27, double-overtime win over 4A Cascade when Tyler Mead ran for a 25-yard touchdown and a two-point conversion. Scappoose junior quarterback Luke McNabb has completed 40 of 49 passes for 788 yards and 10 touchdowns without an interception.
North Bend (2-1) at Marshfield (3-0): Marshfield – No. 4 in the 4A BCS-style rankings behind Mazama, Marist Catholic and Gladstone – could bolster its resume with a win over the 5A Bulldogs in the Civil War rivalry game. North Bend has won nine of the last 10 meetings, including 51-6 in 2019. Marshfield junior Dom Montiel has thrown for 759 yards and 11 touchdowns, including four last week in a rout of Elmira.
Yamhill-Carlton (3-0) at Warrenton (3-0): Bragging rights in the North division of 3A Special District 1 are at stake. The Tigers beat Warrenton 42-13 in 2018 and 49-34 in 2019, when they went undefeated in the regular season and lost in the first round of the 3A playoffs. Warrenton, a 2A quarterfinalist last year, has moved up to 3A this season and opened with wins over Corbett, Rainier and Blanchet Catholic.
Cascade Christian (3-0) at South Umpqua (3-0): South Umpqua, which went 2-7 in 2018 and 2019 since dropping down from 4A, has shown marked improvement in winning its first three games. Now the Lancers will get a good idea of where they stand against perennial 3A power Cascade Christian, which won the last two meetings by a combined 112-0. The Challengers are averaging 49.7 points, led by versatile senior receiver/running back Kristian Fralich.
Nestucca (3-0) at Gaston (3-0): Two upstart teams meet with first place in 2A Special District 1 on the line. Gaston is 3-0 for the first time since winning the Northwest League in 2011. Nestucca is 3-0 for the first time since 2012. Nestucca has had the upper hand over the Greyhounds in recent seasons, winning 62-30 in 2018 and 41-6 in 2019.
Weston-McEwen (3-0) at Heppner (3-0), Saturday: Reigning 2A champion Heppner will try to extend its winning streak to 17 in the Blue Mountain Conference game against the improved TigerScots. The last time Weston-McEwen started 3-0 was its conference title team in 2011, the year of the TigerScots' last win over Heppner. The Mustangs have played two of their three games against Grant Union, winning 35-0 in their opener and 35-16 last week.