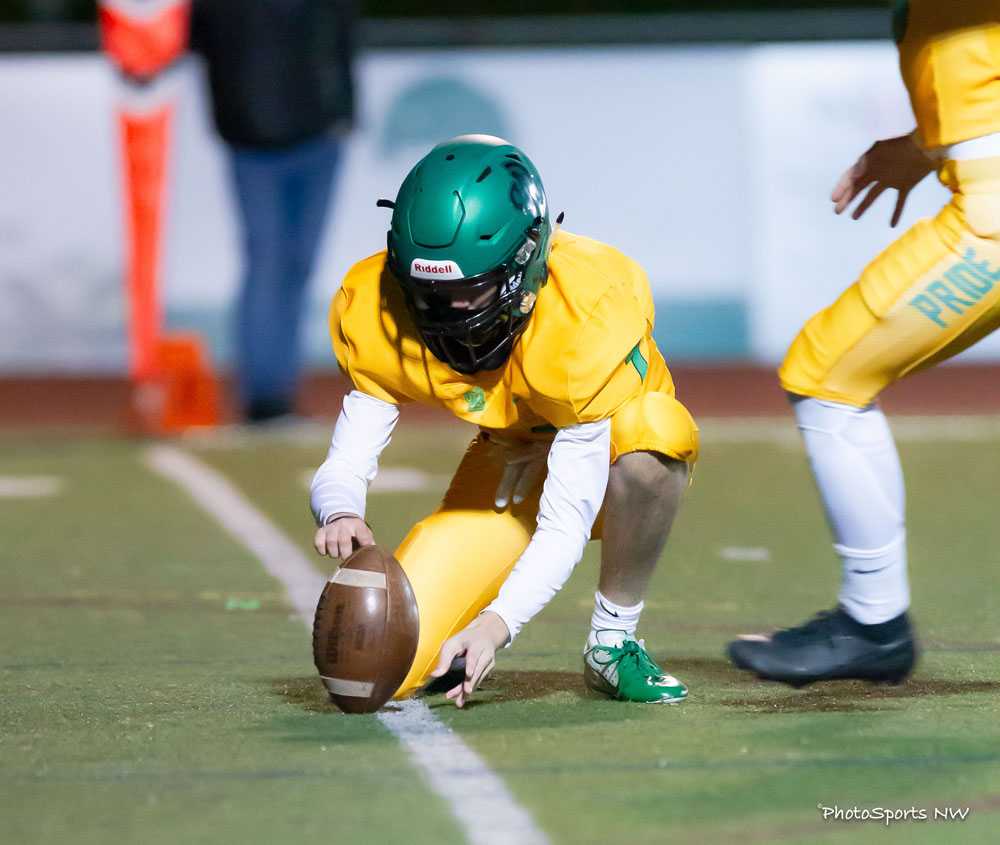 Every Friday night, we'll offer you PATs, a few nuggets from the night that was. We will add more blurbs as reports come in.
Be sure to check out Jerry Ulmer's comprehensive Football Notebook, published Sundays, for an in-depth look at all of the weekend action from across the state.
Mazama gets kick out of Thurston win
A 31-yard field goal by Colby Anderson as time elapsed gave Mazama, the top-ranked team in 4A, a 23-21 win over two-time reigning 5A champion Thurston, snapping the Colts' 20-game unbeaten streak. Behind rushing touchdowns from Gavin Foss and Gavin Knights, and Knights' 88-yard kickoff return, Thurston built a 21-6 lead at halftime. Mazama rattled off 17 unanswered after the break, including a TD plunge from Zeke Heaton and a TD strike from Aidan Kindt to Cole Brosterhous, which set the stage for Hayden's game-clinching heroics.
Old Laing's fine in Marist win
Senior QB Joey Laing threw three second-quarter touchdown passes to senior Hagen Stephenson, as Marist went up 27-0 at halftime over Elmira on its way to a 34-14 win. Senior Cobyn Herbert threw two second-half touchdown passes for Elmira.
Lorence knows the score for Umatilla
Ryan Lorence tossed two TD passes and ran for three more as Umatilla opened up a 41-0 halftime lead over winless Irrigon and eased to the 55-8 win. Lorence, who finished with 134 yards on the ground, got help from Eric Hoyos, who also hit the century mark while adding two scores. Julian Abbott scored Irrigon's lone touchdown on a 65-yard sprint in the third quarter.
Great Dane leads Willamette win
Dane Woodcock had one of three Willamette INTs and made some big plays with his arm as well in the Wolverines' 42-7 win over Springfield. Connor Bendele and Braden Derrickson also had picks for the victors, who outscored the Millers, 22-0, after halftime.
Dragon ball carriers to the ground is key to Monroe's shutout
Undefeated Monroe (4-0) held Reedsport to 61 yards of offense and Dylan Irwin ran for 177 yards on 12 carries, with three touchdowns, in the 41-0 win. Trent Bateman and Tom Koch also found the end zone for the victors.
Volks' waggin' his tongue after two TD night in Aloha win
Tanner Volk scored on a 54-yard punt return and short run and Aloha withstood two Cypress Albright TD runs in a 19-14 win over Southridge. Logan Moore scored the other touchdown for the Warriors.
Sunset darkens Beaverton's mood
Caleb Kim ran for 231 yards and two scores and Kyle Jaekel threw for 292 yards on 16-for-20 passing, with four touchdowns, in Sunset's 63-31 win on the road versus Beaverton. Kaeden Ball and Chase Limbocker both scored two touchdowns for the Apollos. Nick Molitor and Connor Stevens had one each.
James, three ways, sparked Estacada win
Corey James returned a kickoff for a touchdown, scored on a pick six and ran one in as Estacada defeated Astoria, 36-6.
Mead toasts Scappoose
Tyler Mead scored six touchdowns in Canby's 42-21 win over Scappoose.
Mountain View tops Summit
Luke Roberts plunged across the goal line with 30 seconds remaining in Mountain View's 7-3 win over the Storm.
Newberg's Hawley catches McMinnville by surprise
Owen Hawley had 143 receiving yards and two touchdowns In Newberg's impressive 56-9 senior-night win over McMinnville. Price Pothier added three rushing touchdowns for the Tigers, who got outstanding defensive efforts from Armen Tarakhchyan (7 tackles), Charlie Evans (INT), Alec Love (sack) and Kyle Kelley (sack).
***
That's all we have time for tonight.
Be sure to check out Jerry's more comprehensive report on Sunday!