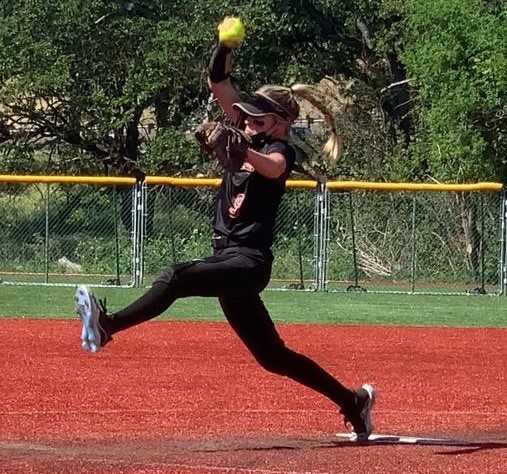 It's been two years since a sophomore-dominated Cascade Christian softball team exited the 3A semifinals with a hard-fought, 5-4 loss to Dayton.
"That was painful," coach Keith Willard said.
Given their youth, time appeared to be on the Challengers' side. But now, after missing their junior season due to the COVID-19 crisis, they are looking to make good on their last chance in the season-ending 3A Culminating Week Tournament this week.
The eight-team tournament is not an official state championship, but it represents a high-profile opportunity for Cascade Christian (13-2, 11-1 Far West League), which has never played in a state final.
"They're not going to be happy with the season unless they do that," Willard said of making the championship game.
The third-seeded Challengers, who play host to No. 6 Rainier (14-2) in a quarterfinal Tuesday, returned five starters from the 2019 team in pitcher Katelyn Willard, catcher Ali Modrell, third baseman Kara Palmer, center fielder Neha Joseph and first baseman Rebecca Clark. All are seniors.
Their experience was key in them taking down reigning Far West champion South Umpqua this season. Two years ago, the young Challengers dropped two of three games against South Umpqua and finished one game behind the Lancers. Last week, with first place on the line, Cascade Christian swept three games from South Umpqua.
"That was huge," Keith Willard said. "We felt like the roles were reversed from two years ago. In 2019, they were heavy with seniors, and we were the freshmen and sophomores. And now we're lots of seniors, and they're a lot of the freshmen and sophomores. Back then, we didn't have anything to prove because we were young. This year, we're expected to win. This is it for the core of our group."
Katelyn Willard pitched a three-hitter and Palmer hit a home run in the 13-3 win at South Umpqua on May 11. In the first game of a home doubleheader against the Lancers on Friday, the Challengers came back from a two-run deficit to win 4-2 on Modrell's two-run double in the fifth inning. In the second game, Modrell hit a walk-off grand slam to cap a 14-2 win.
Katelyn Willard, the team's ace since her freshman season, has overpowered hitters with a fastball that has been clocked at 64 mph. In 86 innings, she has allowed 36 hits, struck out 152 and has a 1.15 ERA. She threw a no-hitter in a 2-0 win over Brookings-Harbor on April 20.
Willard's uptick in speed has taken her to a new level since her sophomore season, according to Keith Willard, her father.
"She's always been super accurate," he said. "She can hit her spots. She threw hard for a sophomore, and then this year, growing and working hard, is throwing even harder."
Keith Willard said the 5-foot-8 Katelyn is interested in playing college softball but much of the recruiting interest has come from Division II and Division III programs in the eastern half of the country. She is considering walking on at Grand Canyon, a Division I program in Phoenix.
"She wants to stay on the West Coast," Keith Willard said.
The offense is led by senior shortstop Zoie Fisher (.440, 27 runs, 10 for 10 on stolen bases), Willard (.488, 23 RBIs), Modrell (.479, two home runs, 25 RBIs) and Palmer (.395, five home runs, 21 RBIs), a 6-foot slugger.
Other than South Umpqua, Cascade Christian's biggest tests this season came against 3A Brookings-Harbor (9-4) and 2A/1A Lakeview (13-2). The Challengers took two of three from Brookings-Harbor and split a doubleheader with Lakeview.
Cascade Christian will have its hands full Tuesday with Rainier, a perennial 3A power. Last week, the Columbians ended the 35-game winning streak of reigning 3A champion Clatskanie (12-1).
If the Challengers can take care of business, they hope to see top-seeded Clatskanie in the final Saturday.
"We knew Clatskanie was the team to beat last year, but we felt that we had a really strong team, as well," Keith Willard said. "We were supposed to play them last year before the season got canceled. Of course, you want to play the best."
3A bracket
Cascade Christian-Rainier is one of four quarterfinal games scheduled for Tuesday. In the others, No. 8 Dayton visits No. 1 Clatskanie, No. 7 Pleasant Hill goes to No. 2 Yamhill-Carlton, and No. 5 Santiam Christian plays No. 4 Burns.
The field is composed of the top team from each of the five Special Districts and the three highest-ranked remaining teams, as determined by a committee.
Tuesday's winners advance to the final four Saturday at two sites in Springfield: Maple Elementary School and Bob Keefer Field. The semifinals are at noon and the trophy games are at 4 p.m.
4A Elite Eight
The double-elimination 4A Elite Eight tournament begins with quarterfinal games Tuesday:
No. 8 Cascade vs. No. 1 Henley at Redmond HS
No. 5 Gladstone vs. No. 4 La Grande
No. 6 Newport at No. 3 Banks
No. 7 Mazama at No. 2 Marist Catholic
The field includes the No. 1 team from each of the six leagues and the two highest-ranked No. 2 teams, as determined by a committee. Semifinals are Thursday and trophy games for first, third and fourth places are Saturday.
Big-school showdowns
Big schools won't have a season-ending tournament, but the culminating week features several intriguing matchups between top teams:
Tuesday – Tigard at Barlow; Central Catholic at Franklin; Jesuit at Newberg; Lakeridge at Westview; Scappoose at Roosevelt
Wednesday – Sheldon at Wilsonville; Tigard at Jesuit; Franklin at Newberg; Westview at McMinnville
Friday – McNary at Sheldon
Saturday – Bend at McNary
Bend takes down Irish
Bend freshman pitcher Addisen Fisher put an end to reigning 6A champion Sheldon's 18-game winning streak Saturday.
Fisher pitched a two-hitter and struck out 14 as the visiting Lava Bears (14-1) won 3-1 in eight innings over the Irish (13-1) in a 6A nonleague game.
Bend trailed 1-0 in the seventh inning but pulled even on an RBI by Fisher. Sophomore Allison Parker hit a two-run homer to give the Lava Bears a 3-1 lead in the top of the eighth, and Fisher closed out the win.
Bend has won 10 in a row since a 5-2 loss to 5A Pendleton. The Lava Bears have outscored their opponents 172-9, allowing the fewest runs in 6A.