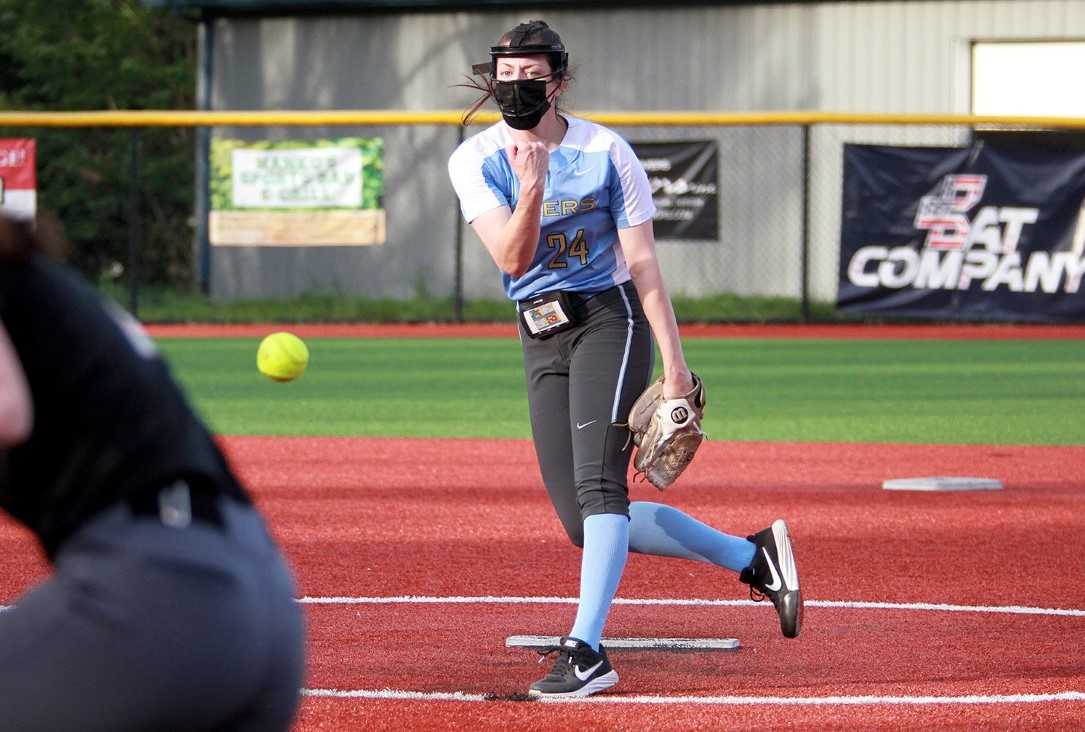 It would be difficult to find a team that hated to see the season end more than Lakeridge softball.
The Pacers, playing their first full season under coach Katie Boos, won their last eight games, six against teams with winning records.
"Honestly, I think we would've had a chance to win it all," said Boos, whose team finished 14-4 overall, 8-4 in the 6A Three Rivers League. "I think we probably would've made a pretty strong run."
Lakeridge hasn't exactly been known for its softball prowess over the years. Up until this season, the Pacers hadn't posted a winning record since 2009. Two years ago, they finished 12-14.
Boos, who played at Missouri State and assisted at Lewis & Clark College and Concordia University, inherited promising young talent when she was hired as coach in the summer of 2019. The Pacers made vast improvement this season despite having only one senior on the roster, center fielder Summer Mickey.
Boos said the season turned in early May after a 5-2 home loss to Canby, a team the Pacers defeated 7-0 in the first meeting.
"I think we were a little too relaxed coming into that game, thinking it was going to be an easy game for us to win," Boos said. "We lost, and I think that sparked a little bit of fire."
Lakeridge wouldn't lose again. The Pacers avenged league losses to Lake Oswego (6-11), Tigard (16-2) and Tualatin (6-9) to finish second in the Three Rivers. During culminating week, they won nonleague games against Mountainside (11-7), Westview (14-5) and Barlow (13-5) on consecutive days.
Perhaps the high point of the season was a 5-1 home win over Tigard, the league frontrunner at 10-2. The Pacers lost at Tigard 4-3 in the first meeting but were able to get to Tigard junior ace Makenna Reid in the rematch, scoring five runs in the fifth inning, keyed by junior pitcher Holly Beeman's two-run triple.
"We got our confidence back once we beat Tigard," Boos said. "After the game, I told them, 'I truly do believe you guys are the best team in this conference, and I think we just proved it.' Just from there, we took off. No prisoners, no mercy."
Boos said the Pacers went into the nonleague games "completely blind," but they dropped Mountainside 11-1 in five innings before topping Westview 4-0 and Barlow 5-3.
"I was a little worried, to be honest," she said. "I didn't know if we had enough gas left in us. We came out and our offense was just on fire. We just ran with it."
Beeman, sophomore shortstop Gina Allen and junior catcher Ella Hoyle homered in the same inning against Mountainside. Allen went 4 for 4 with a home run and Beeman pitched a five-hit shutout with 12 strikeouts against Westview, which had won 11 in a row. Allen, Beeman and Mickey each had three hits in the win over Barlow.
Beeman not only posted a 1.25 ERA with 145 strikeouts in 95 innings, she hit .404 with nine home runs and 31 RBIs, In the leadoff spot, the speedy Allen hit .540 with eight home runs, 19 RBIs and 10 stolen bases. Mickey batted .429 with two home runs and 15 RBIs, and Hoyle hit ..449 with four homers and 13 RBIs. The team batted. 335 and hit 26 home runs.
Beeman, Allen and Mickey were voted to the Three Rivers first team. The 5-foot-9 Beeman is a Division I prospect, according to Boos, who was especially impressed by her ability to stay cool and pitch out of trouble.
"She kind of has some ice in her veins," Boos said. "It never looks like anything fazes her. She was throwing 63, 64 this year. Her riseball has really been killer. She's definitely the clear-cut leader on the team."
Lakeridge needs to improve its depth, but the future is promising.
"I'm excited to see where we go," Boos said. "I think we're going to have a pretty good run. I'd love to make a late run again. I'd love to finish first in our conference and pick up player of the year and pitcher of the year awards. I want to win state."
Tournament finals
State bragging rights will be on the line Saturday in the finals of season-ending showcase tournaments for 4A, 3A and 2A/1A.
Marist Catholic meets Henley in the final of the 4A Showcase at 3:30 p.m. at U.S. Cellular Field in Medford. Henley beat La Grande 8-0 in a Thursday semifinal, avenging a loss in the 2019 state final. Marist Catholic advanced by defeating Banks 1-0 in the semifinals.
The 3A Culminating Week Tournament concludes with the final four in Springfield. The noon semifinals feature reigning champion Clatskanie vs. Burns at Maple Elementary School and Rainier vs. Pleasant Hill at Bob Keefer Field. The final and third-place games are scheduled for 4 p.m.
The final four for 2A/1A will be at Redmond High School. Colton meets Grant Union at 11 a.m. and Union/Cove faces Kennedy at 1 p.m. Grant Union knocked out the 2019 state champion, North Douglas, 14-4 in Thursday's quarterfinals.
Irish knock off McNary
Reigning 6A champion Sheldon (15-1) beat visiting McNary 8-4 in a nonleague game Friday, handing the Celtics (16-1) their first loss of the season.
Kinley Pappas hit a solo home run in the first inning, Abigale Schnoor connected for a two-run single in the second inning and Sam Vinti ripped a three-run homer in the third inning as the Irish took control.
Molly Blanchette added two hits and two RBIs for Sheldon, which collected nine hits off McNary starter Lacey Vasas before she was relieved in the fifth by Hannah Ebner.
Sheldon pitcher Payton Burnham went the distance, allowing four hits, striking out seven and walking one. The Celtics' Taylor Ebbs hit two home runs to drive in all four of her team's runs.
The game was the season finale for Sheldon, which lost only to Bend (16-1) this season. McNary completes its season Saturday at home against Bend.