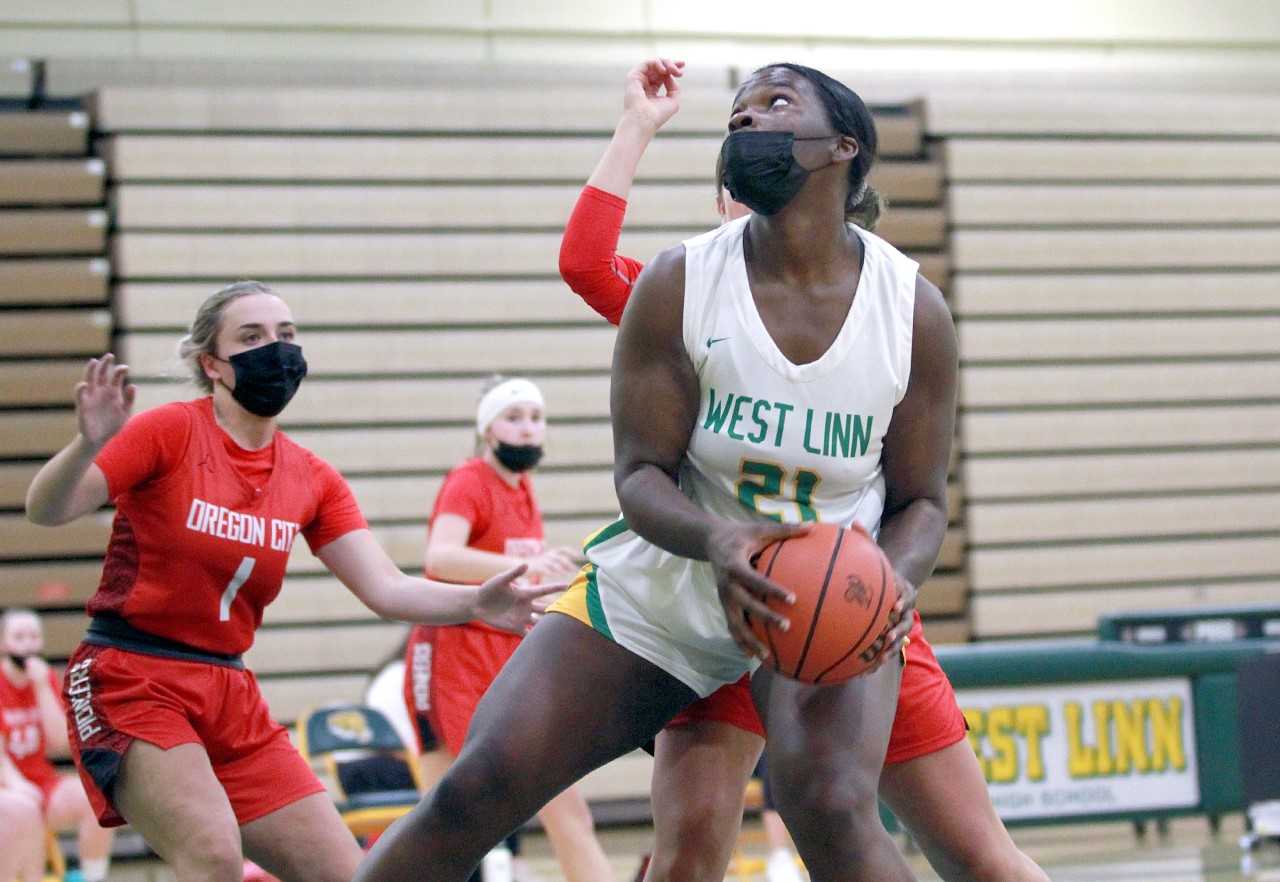 Aaronette Vonleh has been dealing with high expectations since she joined West Linn's girls basketball team as a 6-foot-3 freshman in 2017.
As it has turned out, Vonleh -- the sister of NBA player Noah Vonleh – has not disappointed, dominating inside with her size, strength and soft shooting touch.
The Arizona-bound Vonleh has taken her game to another level as a senior, averaging 30.1 points, 10.6 rebounds and 2.5 blocks while shooting 70 percent from the field for the Lions.
In Friday night's 82-20 home win over St. Mary's Academy, she erupted for 43 points in three quarters, making 20 of 26 shots. She has reached the 30-point mark seven times this season for the Lions (8-2, 8-0), who lead the 6A Three Rivers League.
"To watch Aaronette turn into what she is this year has been so much fun," Lions coach Brooke Cates said. "I've known it's been in there. It's just crazy. Nobody can stop her, and they'll put two and three on her."
Cates said that Vonleh returned for her senior year with improved conditioning.
"She got really lean, for starters, and now she can run," Cates said. "I know she spent some time training with her brother. She just worked really hard.
"After signing with Arizona, I'm sure she was inspired to watch how well they did in the NCAA tournament, and knowing she's heading into that. I'm sure they're licking their chops watching her play right now."
Vonleh is one of four returning starters for the reigning league champion Lions. The only starter not back is Nevada-bound senior guard Audrey Roden, who opted not to play.
Last season, the Lions were the No. 3 seed in the 6A playoffs but were eliminated with a 57-53 second-round home loss to No. 14 McMinnville. This season, their only losses have come in nonleague games, 60-52 to Sheldon on May 22 and 81-69 to South Medford on June 4.
The home loss to unbeaten South Medford (7-0) was painful in that West Linn led by 15 points in the third quarter. Vonleh scored 37 points – 29 in the first half – but the Lions struggled down the stretch after senior point guard Cami Fulcher fouled out.
"That was tough," Cates said. "South Medford is really good. They made pretty darn good adjustments at halftime and we didn't respond very well to that, and got in massive foul trouble."
The Lions wouldn't mind getting another crack at South Medford in a season-ending tournament during culminating week. Both teams have committed to play.
"We have to play really well to beat them," Cates said. "Do I think we can? Absolutely. But it's going to take a good game, because they are very, very good."
Corvallis 'turning corner'
One of the most impressive teams this season has been Corvallis, which improved to 11-0 on Thursday with a 54-48 win over visiting Philomath in a battle of unbeaten teams.
The Spartans, who also handed 5A Mid-Willamette Conference rival Silverton (7-1) its only defeat with a 51-48 win on May 22, are showing glimpses of their teams that made the state semifinals five years in a row from 2013 to 2017.
"I think we've turned the corner into, OK, we're getting back to doing some of the things that those groups were doing consistently," said coach Dan Miller, who assisted Greg Garrison before taking over as coach in 2017-18. "We're getting back to that mode. A couple years ago, we didn't have players at any level who were doing this."
Corvallis brought back four starters from a team that finished 17-10 and reached the 5A quarterfinals. The Spartans are winning with balance, getting consistent contributions from junior guard Elka Prechel (13.2 points), junior post Sevennah Van De Riet (12.6 points, 9.0 rebounds), senior guards Anna Dazey (11.4 points, 7.0 rebounds) and Ruby Krebs (9.3 points) and sophomore point guard Ava Prechel.
"You take away one, and then the other one has a big game," Miller said.
Krebs had 15 points and Elka Prechel added 11 points in the win over Philomath (9-1). Dazey came up big on defense against explosive Warriors junior wing Sage Kramer, who led her team with 21 points despite dealing with foul trouble.
"We told Anna, 'Stay close to her. Stay connected,'" Miller said. "I think it slowed her down enough. Anna's kind of got that mentality, it's almost like a cornerback in football, you may beat me, but I'm going to come back and get you on the next play."
The Spartans made eight three-pointers to open a 37-28 lead at half, and after Philomath pulled even at 43-43 after three quarters, they put the game away with free throws down the stretch.
"That Philomath team is as good as any 5A or 6A team we've played," Miller said. "That was a tremendous win for us."
Miller said Corvallis has yet to finalize its plans for culminating week. The Spartans could play in a season-ending tournament in the Portland area or in an event with Mid-Willamette and Salem-Keizer schools.
Iso game
The unusual season has been an adjustment for all teams, but perhaps none more than reigning 1A champion Crane.
"I've got 11 girls that decided not to play that should be playing," coach Stub Travis said. "So we're playing with seven kids."
The majority of the players live on ranches up to two or three hours away from Crane, a boarding school 30 miles southeast of Burns. One of them, sophomore Taylor Joyce, lives about 170 miles away in Prineville.
When school let out three weeks ago, the players went home. Only three live in Crane.
"Once we got out of school, it was pretty hard to practice," Travis said. "It's just asking too much of them. We don't practice. They just show up if we need to work on something before we take off on the bus to go to a game."
Junior guard Kelsie Siegner – the 1A player of the year last season when Crane finished 29-0 -- and senior guard Shelie Doman are the only returning starters. The team is missing three other starters that were eligible to return in senior post Riley Davis (first-team all-state) and junior guards Dani Clark and Taelor Hammack.
Crane and Adrian are the only teams in the High Desert League to play this year, and after the teams met for the first two games, Adrian ended its season.
"We've been picking up games whenever we can," Travis said.
The Mustangs (5-0) have four games left on their regular-season schedule before the season-ending 1A tournament at Baker and Powder Valley. Travis said he expects his team, Country Christian, Damascus Christian, Powder Valley and Trout Lake (Wash.) to be among the favorites in the 1A tournament.
"If I had everybody back, I think we'd win it," he said. "In a normal year, we'd have everybody back, and we'd pick up three kids that are just as good as my starters."
The 5-10 Siegner – the cousin of Samantha Siegner, who played at West Albany and Oregon State – is averaging about 20 points and 10 rebounds, according to Travis. He said Colorado State has shown interest in her.
Crane added freshman Kortney Doman, whose sister, Skylee, starred at Canby before playing at Southern Utah. The Mustangs also picked up junior Skye Miller, Travis' niece, who grew up in the Crane district but played her first two seasons at 3A Burns.
Sutherlin gears up
After finishing as runner-up in the 3A tournament last year, senior-led Sutherlin is looking to go out on a high note in the season-ending 3A showcase tournament at Marshfield and North Bend during culminating week.
And the Bulldogs (8-0) know that they might have to go through two-time reigning state champion Clatskanie (7-0), which beat them 51-40 in last year's state final.
"We'd love our shot," Sutherlin coach Josh Grotting said. "And those girls at Clatskanie, they deserve a chance to do it again."
The Bulldogs have 6-2 senior post Amy Dickover (19 points per game) and senior guard Jadyn Vermillion (12 points per game), who plan to continue playing together at Umpqua Community College. Vermillion, who led Sutherlin to first place in the season-ending 3A track meet last month by winning the 100, 200, long jump and triple jump, also plans to do track at Umpqua.
Dickover, Vermillon and sophomore guard Micah Wicks (13 points per game) were starters last season, when the Bulldogs narrowly missed their first state title since winning four consecutive 4A championships from 2014 to 2017.
"I think we're a much better team than we were last year," Grotting said. "I'd just love for these kids to have a chance to show that and play against the best teams in the state."