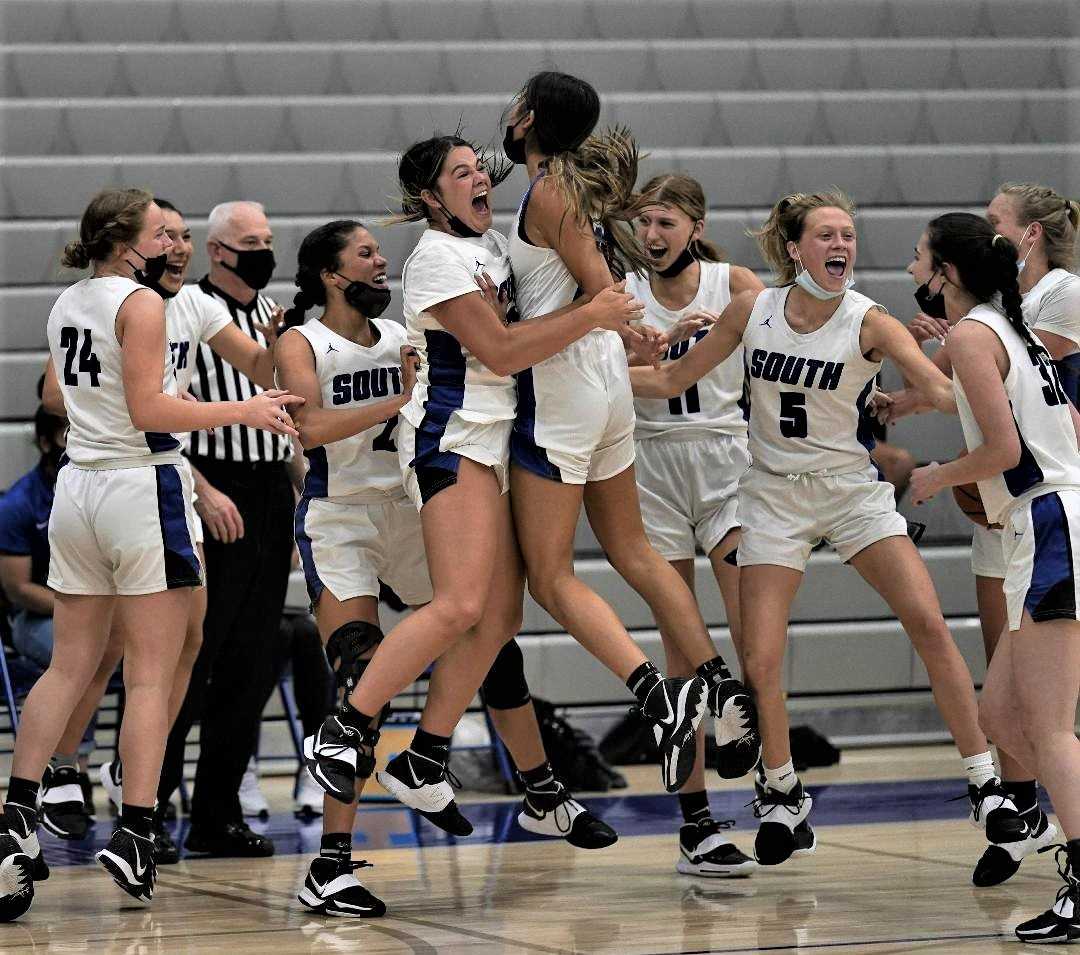 PORTLAND -- More than a year after having their state championship dreams crushed by the COVID-19 outbreak, the South Medford Panthers finally got some satisfaction Thursday.
The Panthers smothered Southwest Conference rival Sheldon, forcing 37 turnovers, and coasted to a 64-33 win in the final of the power-packed Maroon bracket of the Portland-area culminating week girls basketball tournament at Grant High School.
It's not an official state championship, but considering the eight-team bracket featured what many believed to be the state's best teams, it meant just as much to the Panthers (13-0).
"It means everything to us," said senior guard Kaili Chamberlin, who made seven three-pointers and finished with a game-high 29 points. "Last year, we got cut short of a great season, and a championship, so it feels really good to come together and be conference champs and state champs now."
South Medford, which won a state title in 2012 and finished second in 2013 and 2014, reached the semifinals last year before the plug was pulled on its season.
"They were heartbroken," Panthers coach Tom Cole said. "They really thought they could win a state championship last year. When this opportunity presented itself, there was a commitment to doing it. These kids have definitely demonstrated that they were the best team in the state. To come out and play the way they did was definitely a big statement."
Did it make up for last season?
"It definitely does," said guard Emma Schmerbach, one of the team's six seniors. "This was our goal to come back, earn it back."
Sophomore guard Donovyn Hunter, who came back from missing her freshman season with a torn ACL to become one of the team's key players, said winning this year meant twice as much given the team's senior nucleus.
"Obviously we never lost last year at state, we got it taken away," said Hunter, who had 13 points and seven rebounds. "So to come here and actually win it, it's just like, we proved a statement, and it just feels really good."
The Panthers did it with defense, using their length, quickness and athleticism to make every pass an adventure for Sheldon (14-2). They racked up 30 steals, getting nine from senior guard Bella Stone, seven from Chamberlin and five from lightning-quick senior guard Toni Coleman.
The 5-foot-9 Schmerbach used her long frame to relentlessly harass the Irish, the 5-10 Hunter held Sheldon junior standout Danika Starr in check (team-high 10 points), and 6-3 junior Sierra Logue (nine rebounds, two blocks) shut down the inside.
"We have some really, really fast guards who are really competitive," said Schmerbach, who had nine points and six rebounds. "Just our intensity and pressure up top really can shut down teams. The chemistry we have together just really comes together in games like these."
South Medford also dominated the boards, with half of their 36 rebounds coming on the offensive end.
Sheldon coach Brian Brancato, whose team faced the Panthers for the first time since a quarterfinal defeat to them last season, was impressed.
"They're better than us," Brancato said. "We competed the best we could, and they're just a little bit quicker to the ball than us. We didn't quit fighting, it's just their defense is better than our offense."
Cole said the Panthers are as good defensively as any team he's had in his 14 seasons at South Medford, including the undefeated 2012 title team, which featured a dominant shot-blocker in 6-5 Tess Picknell.
"As good as the teams I've had, I'd put this team right up there with them," Cole said. "They're different, but there is so much speed on this team, and so much quickness.
"Toni Coleman is the fastest kid I've ever coached. Emma Schmerbach was once a nationally recognized cross country runner, and has the endurance and length. She can really make life miserable."
Sheldon was able to stay within 29-24 at half despite committing 22 turnovers. The Panthers took it up a notch in the second half, though, outscoring the Irish 31-6 to open a 60-30 lead with 5:56 left. The rest of the game was played with a running clock.
Chamberlin scored 19 of her points in the second half, hitting five three-pointers. Her offensive explosion came in front of her sister, Ula, South Medford's all-time leading scorer who now plays at Weber State.
"It feels great to have my whole family here, especially my sister, because she's always gone at college," said Kaili Chamberlin, who has signed with McNeese State. "So it felt great to watch her watch me win the last thing in high school before I leave."
Three other South Medford seniors also will join college programs in Coleman (Chico State), Schmerbach (Linfield) and Stone (UC Santa Cruz). Thursday was the perfect send-off.
"I told them, regardless of when it came, and all of that, they had a chance to do something really special, and that's go undefeated," Cole said. "I'm really proud of them, especially the way that they finished."