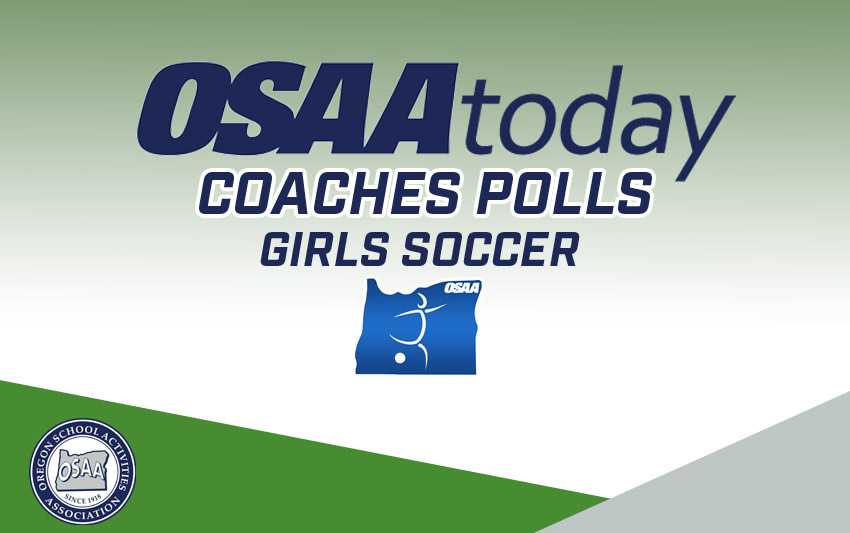 2021 Pre-season statewide girls soccer coaches polls
OSAAtoday presents its 2021 pre-season statewide girls soccer coaches polls in all classifications. Thanks to all the coaches who took the time and had the expertise to contribute their opinions to this endeavor.
Look for the girls soccer coaches polls every other Tuesday during the fall season.
Please note that we need more participation going forward. If you are a high school varsity girls soccer head coach who did not vote but would like to, please email John Tawa at johnt@osaa.org.
Also note: these polls are for generating interest and discussion only and have no impact on the OSAA's RPI and Colley ratings that form the basis of the OSAA's rankings for playoff purposes.
6A
1. Jesuit (8) 88
2. Mountainside 49
3. Sherwood (1) 47
4. Lakeridge 40
5. Grant 38
6. Lincoln 36
7. Barlow 29
8. Beaverton 27
9. Sunset 25
9. South Eugene 25
First-place votes in parentheses
Others receiving significant votes: West Salem 21; Lake Oswego 20
Spotlight team: Barlow Bruins
Barlow has made it to the state quarterfinals three times in the past four years. The Bruins graduated six, including Gatorade POY Abi Hoffman, but return a solid back line, led by Erin Marynik, Josie DeLine and Bernice Cruz. Midfielder Sammie Spring, dynamic scorers Abbie Nelson and Naomi Whipps and top keeper Cameron Waibel also return.
5A
1. Wilsonville (7) 98
2. Crescent Valley (1) 97
3. Corvallis 95
4. North Eugene (3) 83
5. Silverton 49
6.Scappoose 37
7. West Albany 36
8. Ridgeview 33
9. Crater (1) 24
10. Churchill (1) 22
First-place votes in parentheses
Others receiving significant votes: Ashland 15; Willamette 15
Spotlight team: Crater Comets
All-Conference performers Mia Tewes and Kayleigh Gugliotta are among 13 returning contributors for the Comets, who went 7-3-2 in the spring. The team graduated two key starters, but have a talented freshman class eager to seize their opportunities.
4A
1. Marist Catholic (8) 88
2. Valley Catholic (1) 71
3. Woodburn (1) 70
4. North Marion 64
5. Philomath 57
5. Hidden Valley 57
7. Gladstone 55
8. North Valley 26
9. La Grande 15
10. Marshfield 8
First-place votes in parentheses
Others receiving significant votes: Molalla 7
Spotlight team: Marist Catholic Spartans
Marist Catholic has finished as state runner up six times, but has never won a title. That could change this fall, as the top-ranked Spartans return six All-League players, including senior defender Anna Watts, sophomore midfielder Clotine Chase and senior forward Madison Fuller. Head coach Stefan Schroffner, in his third year, thinks that this Marist Catholic, which is strong in the midfield and on defense, may be his best yet.
3A/2A/1A
1. Catlin Gabel (12) 120
2. Oregon Episcopal 108
3. St. Mary's, Medford 92
4. Brookings-Harbor 46
5. Santiam Christian / Kings Valley Charter 44
6. Westside Christian 38
7. Pleasant Hill 32
8. Riverdale 26
9. Riverside 24
10. Dayton 22
First-place votes in parentheses
Others receiving significant votes: Yamhill-Carlton 18; Sutherlin 16
Spotlight team: Catlin Gabel Eagles
Catlin Gabel's rich history in girls soccer includes 14 titles and five state championship appearances since 2015. The Eagles graduated four and will need to replace three backline stalwarts, but there is always talent waiting for head coach Chris Dorough to mold. Key players returning include goalie Macy Fry, senior forward Kendrick Dahlin and junior defender Grace Mueller.