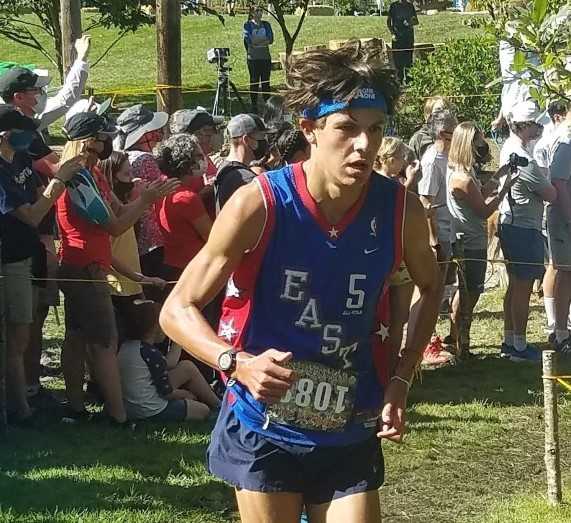 The Ultimook Race at Hydrangea Ranch near Tillamook on Saturday -- one of the state's most popular cross country meets -- attracted 73 schools from Oregon and Washington.
Fabulous weather at the coast produced some fast individual times on the tough course, which features a giant mud pit and river crossing. Philomath swept the boys and girls team titles for 1A-4A schools. Lakeridge swept the boys and girls team titles for 5A-6A schools.
Lake Oswego junior Kate Peters was completely unfazed by the mud pit and ran to a course record time in the 5A-6A girls race in a blistering 17:48.68. Crescent Valley freshman Emily Wisniewski also was very impressive in second place at 18:29.44, almost a full minute clear of third place Ana Peters (19:23.91), a freshman at Lake Oswego.
South Medford senior Michael Maiorano gapped the 5A-6A boys field coming out of the mud pit and ran away to victory in 16:05.01, 15 seconds faster than he ran in the 2019 race. The Dalles junior Juan Diego Contreras came flying home in second place at 16:14.07.
Senior Alauna Carstens of Shelton (Wash.) won the 1A-4A girls race in 19:48.01. Newport senior Aliya Larsen (20:51.66) was the first Oregon girl across the line in fourth place followed by Philomath freshman Adele Beckstead, fifth in 21:05.82.
In the closest finish of the day, Philomath junior Brody Bushnell nipped Heppner junior Trevor Nichols at the line (16:43.26 to 16:43.46) to win the 1A-4A boys, leading the Warriors to the team title.
A look at meets last week:
Metro League, at Beaverton, Wednesday
Boys: Southridge sophomore Collin Penuel won in 17:21.44, holding off Aloha seniors Spencer Desmond (17:31.71) and Henry Law (17:51.91).
Team Scores: Westview 38, Aloha 55, Southridge 52, Beaverton 74.
Girls: Southridge junior Erin Consgrove won convincingly in 20:07.91, while Westview senior Peyton Childers was second in 20:51.87.
Team Scores: Westview 29, Southridge 46, Aloha 51.
Darrel Deedon Cascade Invitational at Turner, Thursday
Girls - Sunset freshman Kailua Balazs got the individual win over Mountainside senior Zoe Heino (19:50.94 to 19:56.41), butl Mavericks used superior depth to edge Sunset for the team title, 35-44. Mountainside's scoring runners were seniors Elizabeth Satterle (fifth in 20:38.55) and Stephanie Tedd (seventh in 20:56.42) and sophomores Livia Coviltir (10th in 21:20.24) and Allison Hoffman (11th in 21:20.79)
Team Scores: Mountainside 35, Sunset 44, Crater 81, Valley Catholic 131, North Eugene 133, Vernonia 144, Harrisburg 162.
Boys - Crater junior Tyrone Gorze outran Sunset senior Benjamin Balazs for the win (15:45.54 to 15:53.30) and the Comets had four runners in the top six to claim the team victory, 37-48. Crater's scoring runners were reshman Josiah Tostenson (third in 16:12.80), sophomore Jeffery Hellman (fourth in 16:32.51) freshman Shaun Garnica (sixth in 17:14.99) and junior Ryder Hvall (27th in 18:51.71).
Team Scores: Crater 37, Sunset 48, Mountainside 72, Valley Catholic 76, North Eugene 157, Vernonia 160, Country Christian 177, Harrisburg 208.
The Ultimook Race at Tillamook, Saturday
Top-3 Teams in each Division
1A-4A Girls: Philomath 45, Washougal 100, Shelton (Wash.) 114
1A-4A Boys: Philomath 69, Shelton (Wash.) 107, Astoria 148
5A-6A Girls: Lakeridge 59, Cleveland 94, Peninsula (Wash.) 95
5A-6A Boys: Lakeridge 78, South Medford 90, Cleveland 121
Division winners
Middle School Girls 3K - Brooke Bush, Tillamook, 12:36.32
Middle School Boys 3K - Cohen Butler, Thomas Jefferson, 11:24.67
JV Girls (1A-4A) - freshman Kateri Pindell, Philomath, 22:51.26
JV Boys (1A-4A) - freshman Eli Belnap, Vale, 20:00.70
Varsity Girls (1A-4A) - senior Alauna Carstens, Shelton (Wash.), 19:48.01
Varsity Boys (1A-4A) - junior Brody Bushnell, Philomath, 16:43.26
JV Girls (5A-6A) - freshman Polly Olliff, Dallas, 22:49.81
JV Boys (5A-6A) - senior Briggs Butler, Lakeridge, 19:07.06
Varsity Girls (5A-6A) - junior Kate Peters, Lake Oswego, 17:48.68.
Varsity Boys (5A-6A) - senior Michael Maiorano, South Medford, 16:05.01
Richardson Park Invite at Eugene, Saturday
Girls - South Eugene freshman Ansley Johnston got another individual win in 19:28.77, outrunning Grants Pass senior Madison Wilt, 19:33.18, to lead the Axe to the team victory. South Eugene seniors Hannah Seubert (19:39.07) and Anna Tavakolian (19:41.56) finished third and fourth.
Team Scores: South Eugene 25, Sheldon 74, Grants Pass 81, Marist 111, Klamath Union 128, Phoenix 138, Cottage Grove 171, Junction City 190.
Boys - Sheldon junior Jonah Donde won a close race over South Eugene senior Asher McKinnon, 15:54.81 To 15:55.46, leading the Irish to the team title. Sheldon had all five scoring runners place in the top eight; Junior Evan Poulsen (fourth in 16:36.36), sophomore Adam Reeder (fifth in 16:50.56), senior Ben Collins (sixth in 16:51.28) and senior Zade Prevedello (eighth in 16:57.69).
Team Scores: Sheldon 24, South Eugene 42, Grants Pass 84, Cottage Grove 115, Marist 131, Phoenix 174, Klamath Union 178, Junction City 218.