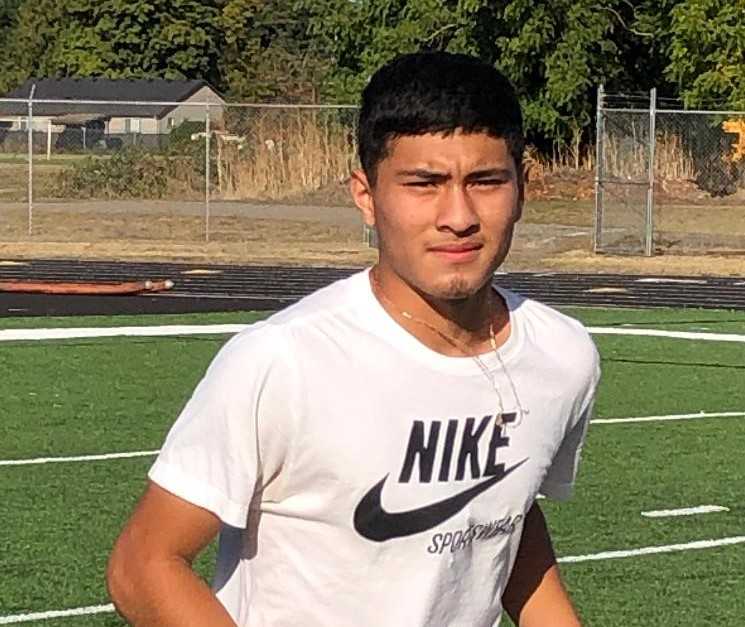 A 6-0 start has underscored Willamette's belief that it belongs among the elite teams in 5A boys soccer.
It was in the spring – when the Wolverines beat South Eugene 3-2 – that they first realized they had turned the corner as a legitimate contender.
"It was like, 'We're for real. We can be competitive and beat almost anyone we get on the field with,'" Willamette coach Jason Burke said of defeating the Axe, a perennial 6A power. "I think that's come over to this season, too."
With eight starters returning from a team that finished 9-0-1 in the spring, Willamette has outscored its first six opponents 20-3. The Wolverines have risen to No. 5 in the OSAAtoday 5A coaches poll, sharing the spot with Hood River Valley and Silverton.
Willamette opened Midwestern League play Saturday with a 3-0 win over No. 8 Ashland, the league champion in 2017, 2018 and 2019. The Wolverines got goals from sophomore forward Ariel Carlos De Dios Cruz, senior midfielder Luis Padilla and senior forward Victor Castaneda in the win.
Willamette picked up a 2-1 nonleague home win over No. 4 Corvallis on Thursday night. Senior midfielder Hector Fandino scored both goals off assists from Castaneda.
The Wolverines haven't won a league title since 2012 and haven't won a state playoff game since the program started in 1978. But they have been building in their seven seasons under Burke, a 1992 Willamette graduate who has had three of his four sons play in the program.
They finished 4-7-3 in 2017, their last season in the 6A Southwest Conference, before moving to the 5A Midwestern League. They went 6-8 in 2018 and 7-4-4 in 2019 before making a leap in the spring, winning their first nine matches and tying 5A powerhouse Wilsonville 1-1 in the season finale.
"Wilsonville is always a top-five team, so we felt really good," Burke said. "We played with them, and we felt like we could compete with anyone in 5A.
"I didn't think we'd go undefeated with only one tie. We thought we'd have a special season last year, but we think we're going to have a special season this year, too."
De Dios Cruz scored a team-high 18 goals as a freshman in the spring and has five goals so far this season. The 5-foot-10 De Dios Cruz is a threat from anywhere on the field, as evidenced by a 25-yard free kick he blasted into the upper corner in a 4-1 win over South Albany on Sept. 14.
"He's shifty. He has a nose for the ball, where to be, and his feet are really good," Burke said. "He's one of those guys that just knows where to be at the right time. He's fast, too."
De Dios Cruz and sophomore midfielder Emiliano Rojo play in the Timbers club program. Castaneda, Padilla and Fandino are fourth-year varsity players. Senior Kayden Sandow anchors the defense at center back in front of junior goalkeeper Noah Cox, a baseball player who is in his second soccer season.
"These guys love each other," Burke said. "They're like a family, so we have really good team chemistry."
The Wolverines have a chance to make their mark at the school with a league title and a playoff win. The win over Ashland gives them an early boost, but teams such as Springfield and Eagle Point also stand in the way.
"It's a good league. You've got to show up every night," Burke said.
How will Willamette measure success this season?
"Our goal would be to win a league championship first and see how far we can go in the playoffs," Burke said. "We want to be one of the top four teams standing."
The Wolverines play host to No. 1 La Salle Prep on Oct. 14.
"We want to play the best teams," Burke said. "Let's see how good we are. We don't want to be afraid to play anyone."
Falcons soaring
La Salle Prep, which moved into the top spot in the latest OSAAtoday 5A coaches poll, has been perhaps the state's most impressive team early in the season.
The Falcons (5-0), who opened with a 4-1 win over No. 4 Corvallis, won a battle of reigning state champions last week when they went on the road to defeat 6A Franklin 4-0. Senior Johannes Gikas scored twice and senior Aidan O'Brien and sophomore Kevin Serrano-Maldonado added single goals in the win.
They dominated co-No. 5 Hood River Valley 6-1 at home Tuesday. Senior Mizael Harris recorded a hat trick, freshman Vance Sheffield had two goals and Gikas added a goal.
Tornado terror
North Medford senior William Gillock came within one goal of the state record Sept. 16 when he scored six goals in a 6-1 home win over Crater.
Gillock struck three times in the first 20 minutes and added three goals in the second half for the Black Tornado (2-3). Senior Ulysses Gomez assisted on four of the goals.
According to OSAA records, Gillock is among eight players in state history to score six goals in a game. Three have scored seven in a game – Delphian's Sergio Ruiz (1986), Brookings-Harbor's Luke Beamon (2018) and Taft's Edson Fuentes (2019).
Gillock scored two goals in North Medford's other win this season, a 3-1 victory over Eagle Point on Sept. 14.