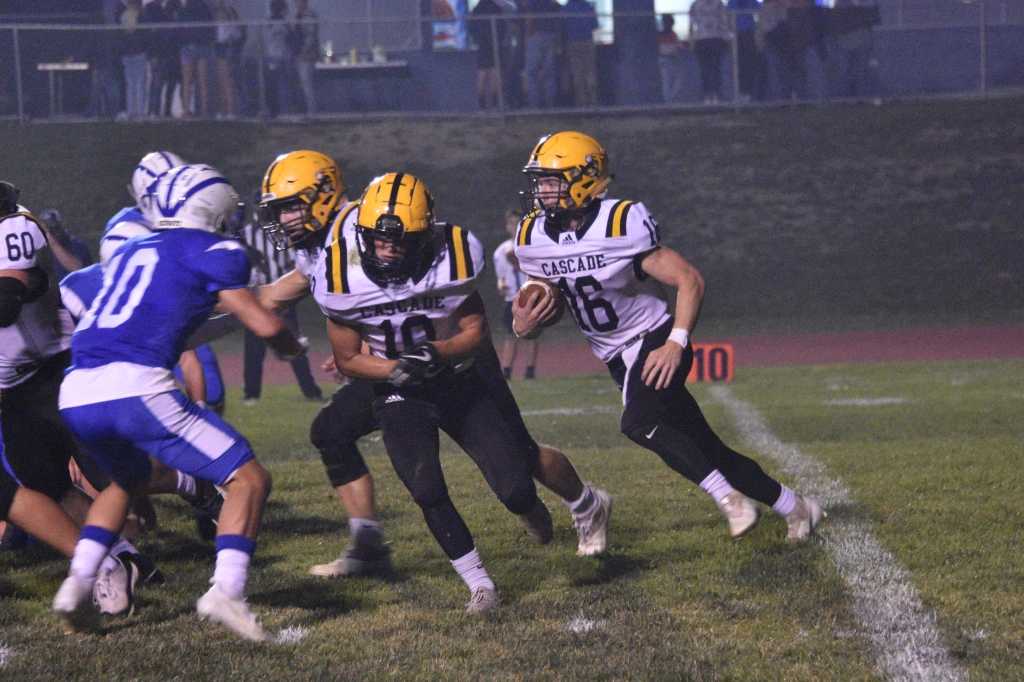 Cascade entered the 2021 football season ready to settle some scores.
"That's kind of how we planned this schedule two years ago," Cascade coach Brandon Bennett said. "I knew this team had every piece that we needed to do what we're doing right now."
The Cougars opened with a 35-0 win at Baker, payback for a first-round 4A playoff loss in 2019. They won 31-28 at Mazama in Week 3, avenging a 15-13 loss from two years ago.
The next stop for Cascade's redemption tour is Friday at Marist Catholic, a team that beat the Cougars 35-21 in the spring. For No. 4 Cascade (5-0), the nonleague game against the No. 3 Spartans (5-0) will be a benchmark.
"We made a ton of mistakes last time, and Marist capitalized on them," Bennett said. "I think this is the perfect time to play Marist and get a really good gauge before we finish out our league."
In that spring game, Marist Catholic built a 35-7 lead before holding off the Cougars. For the Spartans, the late letdown left them with somewhat of a hollow feeling.
"It was a great lesson for us about letting a team back into it," Marist Catholic coach Frank Geske said. "We started playing some of the dumbest ball you've ever seen on the planet. To their credit, they didn't quit. I'm sure all of their guys from last year remember that, and I'm sure they're fired up to play us."
The game matches the two most explosive offenses in 4A. Cascade is averaging 492.6 yards and 53.2 points per game. Marist Catholic is at 381.6 yards and 46.0 points.
The Cougars' running game has been prolific, averaging 409.2 yards per game as senior running backs Blake Lewis (658 yards, 13 touchdowns) and Lance Van Hoose (322 yards, five touchdowns) and senior quarterback Jacob Hage (500 yards, seven touchdowns) have excelled in the team's pistol wing-T offense.
Bennett scrapped the team's I-formation power running game for the pistol wing-T in 2019 because the program was trending with smaller linemen, but now the Cougars have some bigger guys in sophomore tackle Teagen Allen (6-3, 300), senior guard Braxton Tucker (6-1, 240) junior tackle Cole Records (6-3, 260).
"We have some really good, tough kids up front, and they're firing off the ball, playing good hard-nosed football," Bennett said. "With our scheme, with the misdirection, that kind of allows the holes to be bigger than they probably should be. And our skill kids, if you give them a crease, they're going to be gone."
Geske knows his defense must be stout in the trenches.
"They're a throwback running team," Geske said of Cascade. "Their guys run hard. They do some very interesting things on offense that people don't see much anymore. It takes a while to adjust. The same thing will probably happen to us Friday night because it's hard for a scout team to orchestrate the same kind of efficiency that those guys play with."
Hage has the arm to make defenses pay, but has yet to be unleashed due to Cascade's dominant running game.
"Their quarterback is the X-factor," Geske said of Hage, who has four touchdown passes. "He's better than what everybody thinks."
In comparison, Marist Catholic has been more balanced on offense, averaging 240.6 rushing yards and 141.0 passing yards per game. Senior running back Lucas Tuski (6-0, 195) has rushed for 561 yards and 10 touchdowns, averaging 14.4 yards per carry. Senior quarterback Carter Greene has completed 36 of 50 passes for 675 yards and 12 touchdowns without an interception.
In 22 varsity games spanning three seasons, Tuski has rushed for 2,480 yards and 45 touchdowns.
"I haven't had anybody that is as complete as what he is," Geske said. "It's hard not to speak superlatives about him. He does everything. He's a wonderful running back and the best pass-protecting back I've ever had. He's a pretty doggone good outside linebacker and return guy. He never steps off the field for us."
Bennett called Tuski a "special back."
"He's one of those kids that doesn't come around very often," Bennett said. "He reads defenses really well and he runs hard. If you tackle him high, he'll run right through you, and when he gets in the open, he has the burst to go the distance."
The Spartans' closest game so far was a 41-16 win at 3A Cascade Christian, a game that they led 41-0 at half.
"We haven't had the same level of competition that we will see Friday night," Geske said.
Other notable Week 6 matchups:
Thursday
Roosevelt (4-1, 2-0) at Jefferson (3-2, 3-0), 7 p.m. The Roughriders and Democrats – unbeaten in the Portland Interscholastic League along with Grant (3-2, 3-0) – meet in a neighborhood rivalry game. It will feature two standout quarterbacks in Roosevelt's Imarion Kelly and Jefferson's Dondrae Fair.
6A No. 6 Clackamas (6-0) vs. Grant (3-2) at Franklin HS, 7 p.m.: The nonleague game was a late add to the schedule after the Cavaliers received a forfeit win over Centennial and the Generals and Wells canceled their PIL date. Clackamas has shut out its last two opponents but should get challenged by a Grant offense that is averaging 49.0 points in a three-game winning streak.
1A No. 3 St. Paul (4-1, 1-0) at 1A No. 4 Waldport (4-0, 1-0), 7 p.m.: Waldport, a 2A school playing down, has made dramatic progress since its last game against St. Paul, an 80-6 loss in 2019. The Irish will put an eight-game winning streak on the line in the Special District 2 North game against one of the state's traditional eight-man powers.
Friday
6A No. 3 Lake Oswego (5-0, 1-0) at 6A No. 1 Tualatin (5-0, 1-0), 7 p.m.: Tualatin, which sent a shockwave through the state Saturday with a 49-14 blowout win over West Linn, gets another high-level test this week against the unbeaten Lakers in a Three Rivers League game. The Lakers beat the Timberwolves 36-7 in the spring.
6A No. 4 West Linn (4-1, 0-1) at 6A No. 5 Lakeridge (5-0, 1-0), 7 p.m.: Lakeridge has cruised through the first five games, outscoring opponents 196-55, but now gets the Lions and top-ranked Tualatin in back-to-back Three Rivers League games. West Linn has won the last eight meetings, including 41-2 in the spring.
North Medford (3-1, 0-0) at 6A No. 8 Roseburg (5-0, 1-0), 7 p..m.: The wins keep piling up for Roseburg, which ended a eight-game losing streak to Grants Pass last week to improve to 5-0 for the first time since 2013. Now the Indians will be looking for payback in a Southwest Conference clash with North Medford, which defeated them 54-7 in 2019 and 35-0 in the spring.
3A No. 1 Rainier (5-0) vs. 4A No. 1 Marshfield (6-0) at Cottage Grove HS, 5:30 p.m.: Another late add to the schedule after both teams received forfeit wins. Rainier hasn't played since Sept. 17, when Stone Ware rushed for 316 yards in a win over Amity. Marshfield has been nearly unstoppable with senior quarterback Dom Montiel.
3A No. 6 Junction City (3-0, 2-0) at 3A No. 9 Santiam Christian (3-1, 1-0), 7 p.m.: Junction City dropped from 4A to 3A in the spring and went 5-1, losing only to Santiam Christian, 34-7. The Tigers can take a big step forward with a win over the Eagles in the tough Special District 2 North, which also includes Siuslaw and La Pine.
2A No. 7 Regis (4-1, 3-0) at 2A No. 2 Kennedy (4-1, 2-0), 7 p.m.: Regis improved from 2-7 in 2019 to 4-1 in the spring, the only blemish a 28-0 loss to Kennedy in a Special District 2 game. The Rams have held their first five opponents to a 2A-low 24 points, but stopping the Trojans will be a tall task.
Saturday
Summit (4-1, 3-0) at West Salem (4-1, 2-0), 5 p.m.: The only unbeaten teams in the Mountain Valley Conference collide for first place. West Salem bounced back from losing to Tualatin 41-7 to thump Mountain View 55-20 last week. Summit has won four in a row since falling to Roseburg 23-7. It is the first conference meeting between the teams, members of the MVC since 2018.
Burns (3-1) vs. 3A No. 3 South Umpqua (5-0) at Caldera HS, 3 p.m.: No team has come within 30 points of South Umpqua, which is 5-0 for the first time since 2014. But the schedule gets tougher down the stretch for the Lancers, who follow the nonleague game against Burns by going on the road to play Sutherlin (4-1) and Cascade Christian (1-2) in Special District 2 South games. Burns suffered its first loss last week, 35-20 at 4A La Grande.