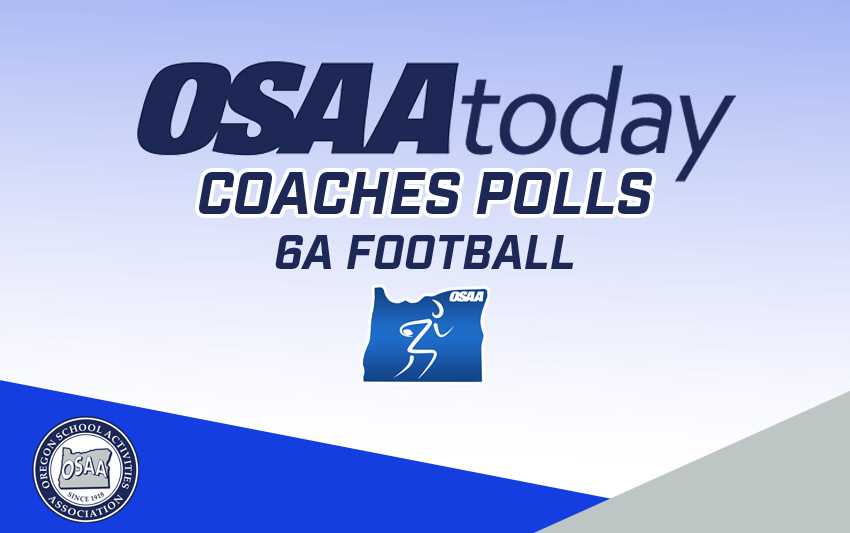 October 12 2021 6A football coaches poll
OSAAtoday presents its 2021 statewide 6A football poll following the conclusion of Week 6. Thanks to all the coaches who took the time and had the expertise to contribute their opinions to this endeavor.
Look for the 6A football poll every Tuesday during the fall season.
Please note: these polls are for generating interest and discussion only and have no impact on the OSAA's RPI and Colley ratings that form the basis of the OSAA's rankings for playoff purposes.
If there are any varsity football head coaches who would like to vote in 6A coaches polls going forward but did not receive notice to vote in this one, please email johnt@osaa.org.
1. Lake Oswego (11) [3] 6-0 153
2. Central Catholic (5) [2] 6-0 131
3. Tualatin [1] 5-1 128
4. West Linn [4] 5-1 91
5. Clackamas [6] 6-0 81
6. Jesuit [7] 5-1 62
7. Roseburg [8] 6-0 58
8. Lakeridge [5] 5-1 55
9. Sheldon [nr] 5-1 40
10. Westview [9] 5-1 23
Dropped out:
Former No. 10 Sunset 4-2
First-place votes in parentheses
Last ranking in brackets
Record listed is what's posted on www.osaa.org (maximum of six results over the first three weeks).
Others receiving significant votes: None
Week 6 highlights: Jack Layne completed 16 of 26 passes for 269 yards and one touchdown, a go-ahead 39-yard strike to Justius Lowe in the fourth quarter, as Lake Oswego won at Tualatin 35-26 in a battle of unbeatens. Gabe Olvera rushed for 100 yards and two touchdowns on 17 carries for the Lakers. … Roseburg improved to 6-0 for the first time since 2010 with a 38-20 win over North Medford. Colton Marsters rushed for 189 yards and three touchdowns and Logan Klopfenstein returned a kickoff 87 yards for a score. … Central Catholic dispatched Barlow 49-21 as Riley Williams caught five passes for 149 yards and four touchdowns. … Down 27-21, West Linn got a nine-yard touchdown pass from Nick Sakys to Gus Donnerberg and an extra point from Gage Hurych with 22 seconds left to overtake Lakeridge 28-27. Joey Olsen caught three passes for 162 yards and a touchdown for Lakeridge. … Michael Rincon rushed for 192 yards and Lonnie Burt ran for three touchdowns as Jesuit dropped Beaverton 49-13. Tyree Blake had a touchdown catch and an interception return for a score for Jesuit. … Darrius Clemons returned a kickoff and punt for touchdowns and had a scoring catch in a 35-0 win over Southridge. Drew Bennett also had an interception-return touchdown for the Wildcats.