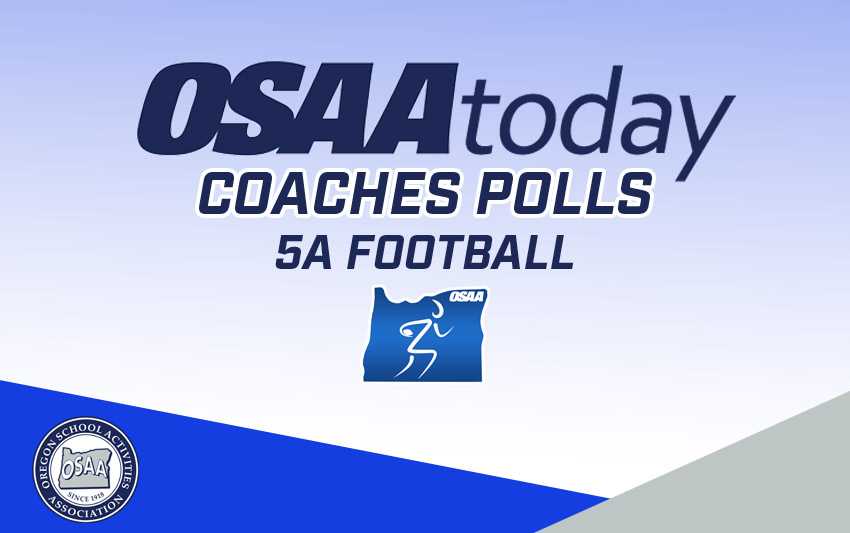 October 12 2021 5A football coaches poll
OSAAtoday presents its 2021 statewide 5A football poll following the conclusion of Week 6. Thanks to all the coaches who took the time and had the expertise to contribute their opinions to this endeavor.
Look for the 5A football poll every Tuesday during the fall season.
Please note: these polls are for generating interest and discussion only and have no impact on the OSAA's RPI and Colley ratings that form the basis of the OSAA's rankings for playoff purposes.
If there are any varsity football head coaches who would like to vote in 5A coaches polls going forward but did not receive notice to vote in this one, please email johnt@osaa.org.
1. Wilsonville (3) [2] 6-0 89
2. Thurston (4) [1] 4-0 88
2. Silverton (3) [3] 5-1 88
4. West Albany [3] 6-0 74
5. Canby [5] 5-1 59
6. Pendleton / Griswold / Nixyaawii [6] 5-1 44
7. Hood River Valley [7] 5-1 33
8. Crater [8] 5-1 26
9. Scappoose [9] 4-2 18
10. Dallas [10] 3-3 13
Dropped out: None
First-place votes in parentheses
Last ranking in brackets
Record listed is what's posted on www.osaa.org (maximum of six results after six weeks).
Others receiving significant votes: None
Week 6 highlights: Gavin Knights rushed for 190 yards and two touchdowns for Thurston, which piled up 504 yards to turn back Churchill 42-32. Brycen Indell ran for two scores for Thurston. … Silverton's Jordan McCarty threw five touchdown passes – three to Vandon Fessler – and ran for two scores to lead a 47-7 win over Central. … Wilsonville led 47-0 at half on its way to beating Forest Grove 54-0. Jay Rummel-West had two rushing touchdowns. … Canby sophomore Tyler Konold rushed for 146 yards on eight carries as the Cougars blasted Hillsboro 42-6. … Hood River Valley's Ryles Buckley scored touchdowns on a run, catch and interception return to lead the Eagles past The Dalles 54-6. … Crater trailed Eagle Point 10-0 in the third quarter before rallying to win 17-10 in overtime. Caden Lasater rushed for 111 yards, including a six-yard score in overtime. The game ended on an Eagle Point fumble. … Kyle Liscom rushed for 126 yards on nine carries and scored three touchdows for Pendleton, which blanked McDaniel 48-0. … West Albany was behind 7-3 at half before turning back Lebanon 21-7. Juan Zaragoza-Perez kicked three field goals for the Bulldogs, who held the Warriors without a first down in the second half. … Dallas brushed off Crescent Valley 27-10 as Ashton Foster ran for three touchdowns. … Luke McNabb threw three touchdown passes – two to Johnny Clothier – and ran for three scores in Scappoose's 47-13 win over McKay.