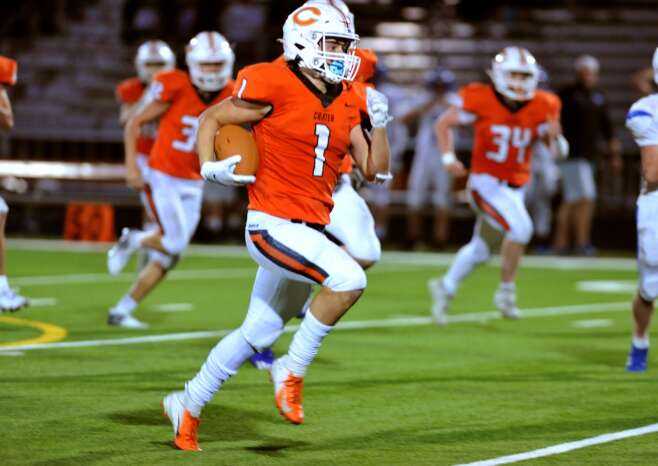 Crater football coach Berk Brown is under no illusions about what his team is facing Friday when it visits No. 1 Thurston.
With first place on the line in the 5A Midwestern League, the eighth-ranked Comets (5-1, 5-0) have a monumental task waiting for them against the unbeaten Colts (4-0, 4-0).
"It's going to take everything we've got to beat this team," Brown said. "I think nine times out of 10, they would probably beat us. We're looking for that one time, and surprise the state."
Crater is 0-5 against Thurston since the Colts dropped from 6A to 5A in 2016. In the teams' last meeting in 2019, Thurston defeated the Comets 14-10 in the 5A final to repeat as state champion.
With only seven seniors on their roster this season, the Comets expected to go through some growing pains. But they have proven to be relentless competitors, overcoming second-half deficits to beat Churchill 15-13 on Sept. 17 and Eagle Point 17-10 last week.
Given what he has seen from his players, Brown isn't going to sell them short going into Friday
"Our kids have zero quit in them, regardless of the situation," Brown said. "I think our group might just be young enough to not know the gravity of the situation. What I'm telling them is essentially we're playing for a conference championship. We're trying to ensure ourselves of a home playoff game in November."
Crater is getting a big season from senior Caden Lasater, a 5-foot-11, 185-pound running back and middle linebacker. Lasater has rushed for 572 yards and five touchdowns and has a team-high 43 tackles as well as three interceptions.
Brown said that Lasater is a "football junkie" who is the team's emotional leader. When the Comets were flat in the first half of a win over Willamette on Oct. 1, it was Lasater who lit a fire under them at halftime.
"I didn't have to say a word," Brown said. "As soon as we stepped into the locker room, he had some choice words for our group. He let everyone know that we weren't playing up to the standard that has been set for our program. Not only is he an unbelievable player, he's an unbelievable leader."
Senior lineman Jimmy Jordahl also has been a force for the Comets. The 6-4, 230-pound Jordahl has 16.5 tackles for loss and 6.5 sacks, including 3.5 sacks last week against Eagle Point.
"He's something special," Brown said. "It's not that he's just going to beat you with power, he'll turn around and beat you with a quick swim."
Comets senior Javon Smith has taken over at quarterback, replacing sophomore Shane Wood, after playing the first two games at receiver. Brown said the team needed a new look on offense.
"We put Javon back there just to add another element of athleticism," Brown said. "He's a kid that can run the zone-read stuff and make defenses play 11-on-11."
Crater's defense is holding opponents to 13.0 points per game, ranked second in 5A behind Silverton (11.0), but will be stretched by a Thurston offense that is averaging 47.0 points.
Colts senior tight end Jacob Newell (6-5, 230), who has committed to Nevada, has 26 catches for 443 yards and seven touchdowns and has run for two scores. Electric senior running back Gavin Knights has rushed for 252 yards and three touchdowns in two games, including 190 yards in last week's 42-32 win over Churchill.
"Newell is an absolute matchup nightmare," Brown said. "We're going to have two or three guys always with their eyes on him. And it's going to take six of our guys to tackle Knights. He's just that elusive.
"They're by far the most athletically and physically gifted team we've faced. We have to ask our best players to defend their best players, and that's hard to do when they've got so many good players."
A look at other top games for Week 7:
Friday
Grant (4-3, 4-0) at Roosevelt (5-1, 3-0), 7 p.m.: The winner between the Generals and Roughriders will take over first place in the Portland Interscholastic League. Grant has won 12 in a row in the series – including 60-20 in the spring – since Roosevelt's 43-29 win in 2000.
Sunset (4-2, 2-1) at 6A No. 10 Westview (5-1, 3-1), 7 p.m.: The Apollos and Wildcats are a step behind first-place Jesuit (5-1, 3-0) in the Metro League. Sunset, which beat Westview 49-10 in the spring, is looking to bounce back from a 27-26 overtime loss to Mountainside (3-3, 2-1).
6A No. 3 Tualatin (5-1, 1-1) at 6A No. 8 Lakeridge (5-1, 1-1), 7 p.m.: The teams will try to get back on track after suffering their first losses last week, the Timberwolves falling to first-place Lake Oswego 35-26 and the Pacers losing to West Linn 28-27. Tualatin won 42-33 in the spring.
West Salem (5-1, 3-0) at McNary (5-1, 2-1), 7 p.m.: The Titans, who took over first place last week with a 28-15 win over Summit (4-2, 3-1), will try to tighten their grip against the Celtics. West Salem outlasted McNary 28-20 in the spring.
Redmond (3-2, 2-1) at 5A No. 6 Pendleton (6-1, 4-0), 7 p.m.: The Buckaroos, who lead Special District 1, face a back-to-back against two second-place teams in Redmond and Ridgeview (6-1, 3-1). Redmond finished on top of the standings in the spring, when it beat Pendleton 28-0.
5A No. 5 Canby (5-1, 4-0) at 5A No. 9 Scappoose (4-2, 3-1), 7 p.m.: Canby would like to set up a showdown with Wilsonville (7-0, 5-0) in the regular-season finale for all the marbles in Special District 2, but Scappoose presents a major hurdle. In the spring meeting, Canby won 42-27.
4A No. 9 Seaside (4-1, 2-0) at 4A No. 6 Banks (5-1, 2-0), 7 p.m.: The stretch run promises to be wild in the Cowapa League, starting with one of the state's best rivalries in recent years between the Seagulls and Braves. First-place Tillamook (5-2, 3-0) visits Seaside next week and goes to Banks in the regular-season finale.
No. 5 Mazama (4-2, 2-0) at No. 10 Hidden Valley (4-1, 2-0), 7 p.m.: At stake is sole possession of first place in the Skyline Conference. The Vikings and Mustangs haven't met since 2017, before Hidden Valley left the Skyline for a two-year stint in 3A.
4A No. 1 Marshfield (8-0) at 4A No. 8 Tillamook (5-2), 7 p.m.: After the Pirates and Cheesemakers received forfeit league wins over Elmira and Valley Catholic, respectively, they agreed to add the nonleague game. Last week, Marshfield picked up a forfeit win over Cottage Grove and defeated 3A No. 1 Rainier 43-16.
3A No. 1 Rainier (5-1, 2-0) at 3A No. 7 Warrenton (4-1, 2-0), 7 p.m.: The Columbians and Warriors square off for first place in Special District 1 East. Warrenton defeated Rainier 22-8 in the second game of spring, after which the Columbians shut down their season.
3A No. 3 South Umpqua (6-0, 1-0) at Sutherlin (4-1, 0-0), 7 p.m.: South Umpqua passed a test last week when it beat Burns 42-12 in a nonleague game. The Lancers now must contend with Sutherlin in a key Special District 2 South game.
2A No. 1 Heppner (6-0, 3-0) at Grant Union (3-1, 3-0), 6 p.m.: Heppner's defense – which has four shutouts this season, including the last two games – goes up against a Grant Union offense averaging 38.5 points in a Special District 5 contest. The reigning 2A champion Mustangs have won 24 in a row.
1A-6 No. 2 Mitchell/Spray/Wheeler (6-0, 6-0) at 1A-6 No. 3 Joseph (4-1, 4-1), 6 p.m.: Mitchell/Spray/Wheeler has come a long way since 2019, when it lost to Joseph 93-7 and finished 1-8. Now Mitchel/Spray/Wheeler can wrap up first place in Special District 5 with a win over the Eagles.