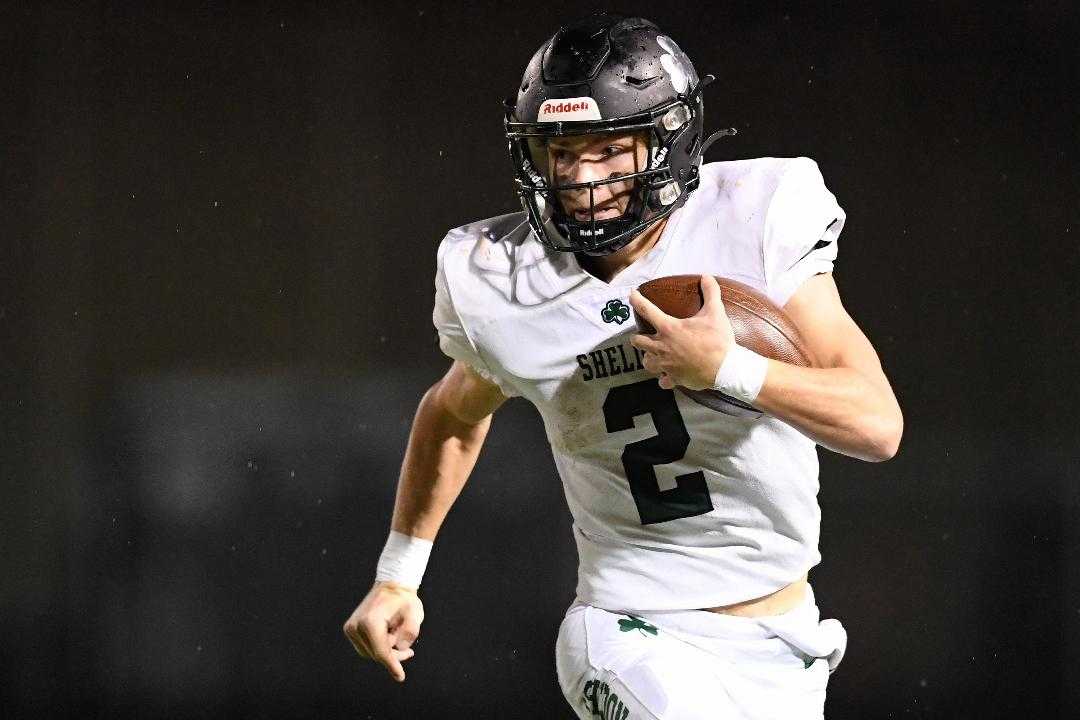 Quarterbacks Jordan McCarty of Silverton and Brock Thomas of Sheldon have been putting up big numbers in leading their teams to win after win this football season.
But it was their defensive instincts that saved the day for their teams in games with league-title implications Friday night.
No. 3 Silverton led No. 4 West Albany 28-7 in the fourth quarter of a 5A Mid-Willamette Conference first place showdown before holding on to win 28-21 thanks to a touchdown-saving tackle by McCarty on a fumble return in the final minute.
Leading by seven points, the Foxes faced fourth down and about one foot at the West Albany 45-yard line with 27 seconds left. But they fumbled the handoff between McCarty and senior Keegan Walter, and West Albany senior linebacker Gavin Miller scooped up the ball with nothing but green turf ahead of him.
"No one was there," Silverton coach Josh Craig said. "Jordan was literally the only guy who had a prayer to catch him."
McCarty scrambled to his feet, raced after Miller and dived to tackle him around the ankles at the Silverton 38.
"Jordan was on his knees, like a bear-crawl stance," Craig said. "It was phenomenal athletic play. It was an amazing play by Jordan. It's one of those plays that no one's going to talk about in years, but it was a game-saving play."
McCarty completed 11 of 17 passes for 239 yards and one touchdown with one interception.
West Albany (7-1, 5-1) reached the Silverton 19-yard line before running out of time. With the win, the Foxes (7-1, 6-0) secured the conference's top seed to the 5A playoffs.
Thomas also came up big as No. 10 Sheldon turned back a late rally to beat No. 8 Roseburg 49-47 and take over first place in the 6A Southwest Conference.
Roseburg trailed 49-34 in the fourth quarter but came back to within 49-47 on a 35-yard touchdown pass from Colton Marsters to Dominic Tatone with 1:53 left. The Indians went for the two-point conversion to tie, but Thomas thwarted the attempt with an interception.
And Thomas wasn't done.
Roseburg got the ball back and moved into position to win the game on a 25-yard field goal with 4.2 seconds remaining. But Thomas, who had not played special teams during his high school career, lined up for the play, came off the edge and blocked the kick to secure the win.
Thomas completed 16 of 27 passes for 346 yards and three touchdowns and rushed for 205 and one score on 27 carries for the Irish (7-1, 3-0), who handed the Indians (7-1, 3-1) their first defeat.
Sherwood's 180
After opening the season 0-4 under first-year coach Kevin Hastin, Sherwood has rebounded with four consecutive victories and is on the cusp of winning the 6A Pacific Conference.
The Bowmen beat Glencoe 49-23 on Friday to improve to 4-0 in the Pacific and set up a league-title showdown at Liberty (6-2, 4-0) in the regular-season finale. Senior Seth Glenn had touchdown runs of 80 and 82 yards and senior Cody Hall had eight catches for 125 yards and three scores in the win.
"We had a tough preseason schedule, and we were pretty banged up those first four games," Hastin said. "There were quite a few big-time players that weren't playing. It's a combination of getting better each week with a young team and getting healthy."
Sherwood opened the season with losses to No. 6 Lakeridge, No. 1 Lake Oswego, North Medford and Mountainside. The Bowmen started their winning streak with a 23-17 win over Newberg, the team Hastin coached to the Pacific title last season.
"The Newberg game was a turning point for us," Hastin said. "We were moving in the right direction but not getting the results on the scoreboard."
Hall suffered a high ankle sprain in the opener against Lakeridge and did not return until Week 5 against Newberg. Despite his limited playing time, he has caught 46 passes and leads the Pacific in receiving yards (889) and touchdown catches (13).
"Now he's feeling good," Hastin said. "He's an explosive receiver who's making some huge plays for us."
Nick Gribble, a junior running back and safety, went down in preseason camp with a hairline fracture to his ankle and missed the first four games. Since his return he has contributed mostly on defense, but is ready for a bigger role on offense.
In some games, the Bowmen have started six sophomores and one freshman. They are getting strong contributions from freshman left tackle Suliasi Laulaupeaalu Jr., sophomore running back/defensive back Nolan Scott and sophomore wingback/outside linebacker Keaton Fried.
The 6-foot-2, 354-pound Laulaupeaalu has intriguing potential.
"He's making tremendous strides," Hastin said. "He can move. He's big and he's a good athlete for his size. Every week he's getting stronger and moving quicker."
Scott has rushed for close to 500 yards and returned two kickoffs for touchdowns.
Pendleton ready for playoffs
No. 6 Pendleton (9-1, 7-0) wrapped up the outright title in the 5A Northwest Oregon Conference East division on Friday with a convincing 35-6 win at No. 10 Ridgeview (7-2, 4-2).
Junior Payton Lambert had a big game on both sides of the ball. He rushed for 140 yards and three touchdowns on 23 carries and collected three sacks, four tackles for loss and two forced fumbles on defense.
Collin Primus threw touchdown passes to Ben Jennings and Luke Benshing for the Buckaroos, who will have two weeks to get ready for the 5A playoffs due to a forfeit by Parkrose in Week 9.
"We're really beat up," Pendleton coach Erik Davis said. "It's a perfect time to let our kids heal."
Pendleton – which was coming off an impressive 38-13 win over Redmond, a team that beat the Buckaroos 28-0 in the spring – ended Ridgeview's five-game winning streak. Pendleton opened a 28-0 lead in the third quarter.
"They were kind of riding high," Davis said of the Ravens. "I challenged the kids to be physical early, and they were. We wanted to stop their run game and force them into passing situations, and we were able to do that early. It kind of set the tone. And we got our run game going early."
Pendleton's offensive line, led by junior center Andrew Demianew and senior Jacob Griffin, was relatively untested entering the season but has surpassed expectations. Davis gives much of the credit to offensive line coach Josh Linehan, the former Banks and Oregon State lineman.
"I'd put him up against any offensive line coach in the state," Davis said. "He does a great job to create great linemen. They've really come together and gelled as a group."
Senior linebacker Kyle Liscom leads a defense that has allowed only 25 points in its last four games. Liscom had eight tackles Friday after entering the game leading 5A with 88 tackles and 17 tackles for loss.
Pendleton has collected eight consecutive wins (two by forfeit) since losing to No. 1 Wilsonville 35-19 in Week 2. The Buckaroos were within 21-19 in the third quarter of that loss.
"The strides we've made since Wilsonville are dramatic," Davis said. "With time, I think we play them a little differently. I'd love to play them again in the playoffs. I think it would be a better football game."
Cheesemakers roll
Tillamook has moved into position to win its first league championship since 1999.
The seventh-ranked Cheesemakers (6-3, 4-0) rolled to a 28-3 win at Seaside on Friday to stay tied with No. 6 Banks (7-1, 4-0) for first place in the 4A Cowapa League. Tillamook visits Banks, a team it hasn't defeated since 2006, in the regular-season finale.
The success has come as no surprise to seventh-year Cheesemakers coach Kye Johnson.
"We thought this was a league-title potential type of team," Johnson said. "We have three really good senior offensive linemen. They've just paved the way for us. For the most part, we've just been more physical than the teams we've beaten. We just have a ton of experience up front."
Senior right tackle Aiden Johnson (6-2, 245), senior center Jared Landolt and senior left guard Dylan Stein (6-2, 245) have been impressive all season. Johnson is a fourth-year starter and Landolt is a three-year starter.
Tillamook also is getting solid play from junior right guard Sam Diaz (6-3, 310), a third-year starter, and sophomore left tackle Austin Berry Killian (6-1, 200).
"That offensive line is by far the best unit on our team," Kye Johnson said. "They've just gotten better as the year has gone on."
The Cheesemakers rushed for 230 of their 343 total yards against Seaside. Senior quarterback Trent Buchler, the team's leading rusher this season, and junior running back Gilbert Whitlatch, who is emerging in recent games, both rushed for close to 100 yards Friday.
Buchler is the team's fastest player.
"He's just a really dynamic guy," Kye Johnson said. "He makes it tough on defenses because he's so fast, he can get to the edge, and he's not afraid to stick his nose inside. We're kind of a spread, run-oriented team, and we're at our best with a good, athletic quarterback like Trent."
Kye Johnson said that this year's team is turning out to be the best during his tenure as coach. It has more experience than the 2019 team that went to the 4A quarterfinals.
"It didn't take us anywhere near as long to figure out who we were," he said.
Tillamook has lost to No. 4 Marist Catholic 42-6, No. 2 Cascade 62-20 and No. 1 Marshfield 49-13.
"We're going to have to find a way to slow down those offenses if we get a chance to see them again in the postseason," Kye Johnson said.
Before the Cheesemakers can focus on the playoffs, though, they have a giant hurdle in Banks. As a 2006 Astoria graduate, Kye Johnson knows all about facing the Braves.
"It's a big deal if you can go to Banks and beat them," he said. "We have a huge challenge in front of us. Our guys are going to be ready for it."
Carrying the torch
In the last two decades, Mountain View has created a reputation as Tailback High.
The Cougars have had a long list of standout ball carriers during that span, from Tommy Hackenbruck, Ash Gibson and Austin Sears to Jonas Larson, Keenan Harpole and Luke Roberts.
This season, senior Sayre Williamson has stepped up to carry the torch.
"I'll tell you what, he's special," Mountain View coach Brian Crum said. "He's as good as any of those guys. He has this ability, he's so patient with the ball. He's got that ability to read, and let things develop, and then he bursts. He can pop and press. He does that as well as anybody we've had."
The 5-foot-11, 170-pound Williamson has rushed for 1,254 yards and 17 touchdowns for the season. He had 125 yards on 21 carries in a 35-0 loss at McNary on Saturday.
In the spring season, Williamson was the backup to Roberts, who rushed for about 900 yards in six games. Williamson showed a glimpse of what he could do when he and Roberts each rushed for more than 200 yards in a win over Aloha in the second spring game, but remained in Roberts' shadow until the fall.
His style is much different than the 6-3, 215-pound Roberts, but he has proven to be just as effective.
"I knew he was good. I don't know if I would've told you I knew he was going to be this good," Crum said. "I love watching him run. The patience, the confidence, those things are hard to teach. He's not in a hurry."
Crum recalled a play against Aloha on Oct. 8 in which Williamson's instincts took over as he got to the edge and measured his path against a lone defender.
"He played with the kid until he knew he got enough of an angle, and then he went from fourth gear to sixth gear, and it was like, boom, he was gone," Crum said. "He baited him into taking a flat angle. That's pretty special. That's confidence right there."
Crum said that Williamson, also a standout wrestler, aspires to play football in college.
"He'll play at the next level, for sure," Crum said. "With the running backs we've had here that have played in college, I have no doubt that he can go play."
Other highlights from Week 8:
6A
Jaxon Steinhauer rushed for 110 yards and one touchdown as West Linn knocked off previously unbeaten Lake Oswego 31-14. … Zach Grisham caught two passes for 99 yards, both touchdowns, and returned a punt for a score as Central Catholic dominated Gresham 71-0. Ellis Bynum ran for 101 yards and one score on six carries for the Rams, who held Gresham to 20 total yards. … Alisjah Tucker had two touchdown catches in Southridge's 21-7 win over Aloha. … Ty Pugliano rushed for 196 yards and two touchdowns and had an interception to lift North Medford over Grants Pass 51-7. … West Salem held off Bend 34-28 as Brooks Ferguson rushed for 107 yards and two touchdowns and passed for 124 yards. … Sam Leavitt passed for 398 yards and four touchdowns in Westview's 42-7 win over South Medford. Darrius Clemons caught six passes for 169 yards and two scores. ... Logan Smith threw three touchdown passes, two to Colton Herring, to lead Spague past South Salem 55-7. ...
Malik Ross rushed for 208 yards and four touchdowns on 15 carries as Tualatin handled Oregon City 47-8. … Sunset topped Beaverton 41-22 as Grady Newsom passed for four touchdowns and Caleb Kim rushed for 210 yards and one score on 28 carries. … Blake Baker threw two touchdown passes for Clackamas, which downed Sandy 41-6. … Lakeridge held off Tigard 21-19 behind Jake Reichle, who rushed for 207 yards and three touchdowns. … Liberty turned back Century as Hiro Diamond rushed for 117 yards and two touchdowns on 24 carries and passed for 177 yards and three scores. … Barlow defeated Grant 48-21, getting big rushing performances from Hunter MacDonald (224 yards, two touchdowns) and Jake Fay (154 yards, four touchdowns). … Jemall Brumfield's 25-yard touchdown run in overtime was enough for Franklin to edge Jefferson 28-27. ... Chip Allers ran for two touchdowns as Summit pulled away from a 3-3 halftime tie to beat Crater 24-3. ... Zane Aicher had two interceptions and threw a touchdown pass for McNary in its 35-0 win over Mountain View.
5A
Thurston had a 447-75 edge in total yards in its 44-6 win over Ashland. Gavin Levesque rushed for 101 yards on 10 carries for the Colts. … Isaiah Hill rushed for 155 yards and four touchdowns to lead Eagle Point past North Bend 41-6. … North Salem overcame Scappoose 35-34, getting the go-ahead points on a five-yard touchdown run by Erick Gonzalez with 51 seconds left. … Tyler Konold and Bryce Oliver each ran for more than 100 yards for Canby, which overwhelmed Forest Grove 43-14. … Lebanon turned back Crescent Valley 24-7 behind Brayden Burton, who carried 28 times for 190 yards, including two fourth-quarter touchdowns that extended a 10-7 lead. … Chase Hix threw two touchdown passes in Wilsonville's 41-7 win over Hillsboro. … Hood River Valley's Trenton Hughes passed for three touchdowns and ran for two scores to help beat Putnam 41-0. … Logan Person rushed for 169 yards and two touchdowns in Dallas' 43-31 win over Corvallis.
4A
Miguel Velasquez carried 11 times for 286 yards and seven touchdowns as Marshfield remained unbeaten with a 57-15 win over North Eugene. … Estacada dominated North Marion 50-6 as Cory James ran for three touchdowns and passed for two scores. … Henley's Shaw Stork rushed for 194 yards and four touchdowns to help defeat Klamath Union 41-12. … Mazama bolted to a 23-0 lead four minutes into the game – getting a punt return for a touchdown from Aidan Kindt – and went on to beat Phoenix 68-6. … Blake Lewis and Jacob Hage each ran for two touchdowns for Cascade, which blanked Stayton 48-0. … Marist Catholic got two touchdown passes from Carter Greene and two touchdown runs from Lucas Tuski in its 42-6 win over Elmira. … Jamar Flippen rushed for 133 yards and two touchdowns and returned a punt for a score to lead Banks past Milwaukie 27-0. … La Grande held off Ontario 34-24 behind four touchdown runs from Brody MacMillan. … Daniel Iwamizu rushed for 172 yards on 21 carries in Hidden Valley's 40-6 win over North Valley.
3A
Nathan Kimball rushed for 131 yards on 10 carries to lead Vale past Nyssa 20-14. … Warrenton quarterback Hordie Bodden Bodden completed 14 of 22 passes for 235 yards and two touchdowns and rushed for 155 yards and two scores on 11 carries as the Warriors beat Blanchet 32-0. … South Umpqua defeated Cascade Christian 28-26, sealing the win when Loudon Cole intercepted a two-point conversion attempt with 1:29 left. Jace Johnson ran for a score and threw two touchdown passes, one to Kade Johnson, who had seven catches for 110 yards. The Lancers had lost the previous three meetings to Cascade Christian 149-0. … La Pine handed Junction City its first defeat, dropping the Tigers 40-8 as Dawson Cook ran for two touchdowns. … One week after setting a state record with seven touchdown catches, Siuslaw's Brayden Thornton caught two more from Beau Erickson in a 21-14 win over Santiam Christian. The Vikings led 21-0 at half. … Quarterback Kenney Tripp rushed for 203 yards and two touchdowns and Stone Ware ran for 131 yards and two scores as Rainier defeated Onalaska (Wash.) 28-14.
2A
Jace Coe scored touchdowns rushing, receiving and on a punt return to lead Heppner past Irrigon 41-6. The Mustangs led 41-0 at half en route to their 26th consecutive victory. … Oakland thumped Monroe 34-0 behind Baker Brooksby, who rushed for 182 yards and two touchdowns on 17 carries. … Benny Alves threw three touchdown passes, two to Collin Markus and ran for a score to lead Lakeview past Glide 32-0. … Toledo dispatched Lowell 42-18 behind the running of Gunner Rothenberger (12 carries, 168 yards) and Rayden Taylor (16 carries, 184 yards). ... Kennedy blitzed to a 33-0 lead in the first quarter and defeated Culver 47-0. Elijah Traeger rushed for 168 yards and two touchdowns on nine carries and caught a scoring pass. ... Blane Peal threw for 217 yards and two touchdowns to lead Weston-McEwen past McLoughlin 31-0. ... Knappa handled Vernonia 65-0, owning a 541-28 edge in total yards. Tanner Jackson ran for 144 yards and three touchdowns on eight carries and passed for 141 yards and one score. Josh Bangs and Trevor Ogier had interceptions. ... Brandon Clowdus scored touchdowns rushing, receiving and on a kickoff return for Gaston, which downed Sheridan 44-0. Dylan Tallent passed for two scores.
1A
Bonanza handled Chiloquin 50-6 as Tanner Mestas rushed for 186 yards and four touchdowns on 14 carries. … Trenton Storns rushed for 158 yards and three touchdowns and passed for 163 yards and one score for Gold Beach, which brushed aside Camas Valley 34-8. … Joe Lathrop rushed for 174 yards and three touchdowns and caught a scoring pass in Elgin's 66-0 win over Wallowa. … Reece Dixon threw four touchdown passes, three to Cole Martin, as Powder Valley dropped Crane 36-20. Case Olson ran for 150 yards and a touchdown, caught a scoring pass and had two interceptions for Powder Valley. … Jacob Jones rushed for 122 yards and two touchdowns for Dufur, which beat Imbler 32-14. … St. Paul rushed for 469 yards to blast Perrydale 58-22. Clancy Koch had 18 carries for 251 yards and three touchdowns. ... Lost River overran Glendale 60-8 as Connor Dunlea and Cody Lyman each ran for two touchdowns. … Carson Eynetich returned a punt and a kickoff for touchdowns and threw for a score in Ione/Arlington's 60-14 rout of Cove. ... Waldport quarterback Zak Holsey had a monster game in beating Mohawk 62-28. He ran for 326 yards and five touchdowns, threw for two scores and collected 15 tackles. Levi Fruechte added 101 rushing yards. ... Logan Backman threw four touchdown passes, two to Jacob Koser, and rushed for 105 yards as Myrtle Point throttled Falls City 54-6. Andreas Villanueva had a touchdown catch and returned two punts for scores for Myrtle Point. ... Sherman/Condon outlasted Pilot Rock 58-44 despite five touchdown passes from the Rockets' Jace Otteson, three to Austin Ford. ... Adrian used a 56-point first quarter -- four off the state record for points in a quarter (60, Camas Valley, 2019) -- to cruise to a 76-8 win over Union. Seven players scored touchdowns for the Antelopes. ... Triangle Lake downed North Douglas 58-7 in a six-man game as Isaiah Baker rushed for 216 yards and four touchdowns and returned a punt for a score.