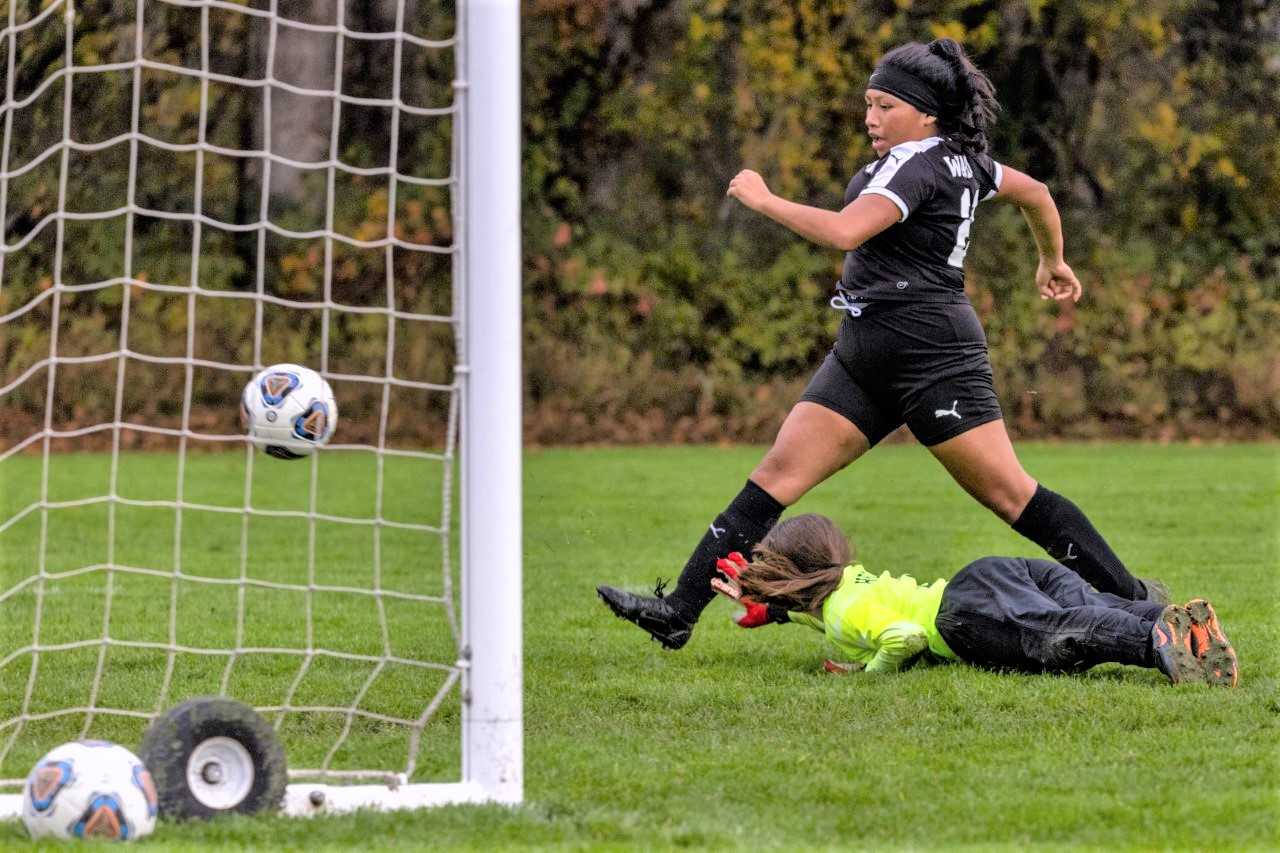 Junior Elizabeth Morales-Marquez scored twice to propel No. 6-seeded Philomath past No. 11 Henley 3-2 in the first round of the 4A girls soccer playoffs Tuesday.
The host Warriors (10-2-3) advanced to the quarterfinals for the sixth consecutive year by beating the Hornets (10-5) in the first round for the second time in three seasons. Philomath will meet North Marion on Saturday.
The Warriors bounced back after giving up a goal to Henley senior Ryane Mattox in the second minute. Morales-Marquez got them even in the 38th minute, scoring off an assist from sophomore Kamilla Grimmer, and put Philomath ahead 2-1 in the 48th minute when she converted a rebound.
Freshman Petra Hernandez extended the lead to 3-1 in the 64th minute, off an assist by sophomore Bailey Bell. The Hornets closed to within 3-2 on a goal by sophomore Halle McKay in the 71st minute.
"I thought we played really well, especially conceding really early," Philomath coach Mat Phelps said. "The girls responded really well. I felt like we controlled the game. We had tons of opportunities, lots of shots."
Philomath lost six starters from the spring, when it reached the semifinals of the 4A Showcase before losing to North Marion on penalty kicks. Phelps, who is in his sixth season as coach, said he was just hopeful the team could compete for a playoff berth.
"But so many of the freshmen have come in and learned the system really quickly and been starters and impact players," Phelps said. "And the returners have really stepped up and done a great job. So it has been a little bit surprising."
The Warriors have veteran leadership with senior center defender Reese Grube, a fourth-year starter who "keeps us together," according to Phelps. They also have two third-year starters in the midfield with seniors K Bacho and Ella Weickum.
The team's only sophomores – Grimmer at forward and Bailey Bell at midfield – have provided much of the scoring punch.
"There's a different feeling this year," Phelps said. "This group of girls has really come together as one. There's not really any separation on the team. They really cheer each other on. I'm really excited to see the growth in the next couple years, too."
Other results from Tuesday's round of 16:
6A
Forest Grove took down three-time reigning state champion Jesuit 3-2 in overtime. Sophia Broberg knocked in a free kick with 2:09 left in the second extra frame to give the Vikings the win. The Crusaders trailed 1-0 at half, but pulled ahead 2-1 on a penalty kick by Taylor Krueger and a goal by Hanna Slama. Forest Grove made it 2-2 when Makenna Speer converted a penalty kick with five minutes left in regulation. … Rylee Winn, Anjali Cherian, Lauren DeGroot and Megan Ko scored for Lake Oswego in its 4-0 win over South Medford. … Bend escaped with a 1-0 win over Lakeridge, getting a goal from Jordan Welsh early in the second half. … Ella Weathers had two goals, both on assists from Brynn Lahart, to lead Sherwood past Lincoln 3-1. Katelyn Morris also had a goal for the Bowmen, who got stellar play in goal from Tali Kozma. … Grant got two second-half goals from Katarina Roesinger to beat South Eugene 2-0. … Beaverton edged Summit 1-0 on a goal by Emily Rice, assisted by Macy Deckert. … Oregon City turned back Mountainside 1-0 on a goal by Olivia Barioa-Arce. … Sunset emerged with a 2-1 win over Metro League rival Westview.
5A
Wilsonville's Lindsey Antonson exploded for five goals and Annika Jenson, Brianna Crane and Kenley Whittaker added single tallies to lead an 8-0 win over Willamette. Antonson has scored 43 goals this season and 131 for her career, moving closer to the all-time state record of 133, set by Jesuit's Callan Harrington (2016-19). She is tied with Hillsboro's Tiffeny Milbrett (1987-90) and Catlin Gabel's Sara Bagby (1991-94) at 131. … La Salle Prep eliminated Churchill 8-0 as Natalie Pfleger, Sydney Spotts and Emilia Warta recorded two goals apiece. … Nikki Beers drove in a free kick from about 30 yards out in the 25th minute for the lone goal in West Albany's 1-0 win over Ashland. The Bulldogs knocked the Grizzlies out in the first round for the second time in three seasons. … Pendleton picked up its first playoff win in school history, downing Thurston 2-1. The Buckaroos trailed 1-0 but pulled ahead on first-half goals by Kelsey Lovercheck and Ashtyn Larsen. … Putnam held on for a 2-0 win over Ridgeview. … Corvallis advanced by beating Redmond 4-1. … Crescent Valley pulled away to defeat Hillsboro 5-0. Abby Smith scored twice, Nicole Huang had a goal and an assist and Hirut Denver added two assists. … North Eugene blanked Silverton 4-0, getting two goals from Ashley Hart and one apiece from Kara Becraft and Chloe Wallace. Goalkeeper Delanie Stiffler recorded her 12th shutout.
4A
Victoria Vera scored twice as Gladstone handled Newport 5-0. The Gladiators also got goals from Rhyli Grim, Madison Hill and Giselle Martinez. … Dominique Huapeo had a hat trick in the first 18 minutes and North Marion went on to dominate Astoria 6-0. Caile Lader had a goal and an assist and Saylor Swanson and Fia Swanson added goals for the Huskies, who outshot Astoria 33-1, putting 19 on goal. … Riley Yunker scored twice for Hidden Valley in a 5-0 win over Estacada. The Mustangs also got goals from Taya Mendoza, Sophie Sorce and Leah Beachy and two assists from Skylar Willey. … La Grande made Rosie Aguilera's penalty-kick goal in the 48th minute stand up for a 1-0 win over Corbett. … Cloe Chase scored twice in overtime as Marist Catholic ousted Sisters 3-1. Madison Fuller had a penalty-kick goal in the first half to draw Marist Catholic even at 1-1. … Woodburn pulled out a 2-1 win over North Valley, taking the penalty-kick shootout 4-3. … Valley Catholic stymied Mazama 4-0.
3A/2A/1A
Samantha Gallardo had two goals and two assists to spark St. Mary's in its 5-1 win over Amity/Western Christian. Down 1-0 at half, St. Mary's got goals from Gallardo in the 46th minute and Ryker Rothfus in the 47th minute to take a 2-1 lead. Rothfus converted an assist from Gallardo in the 54th minute, Gallardo added a penalty kick in the 68th minute and Whitney West scored off an assist from Gallardo in the 71st minute. … Catlin Gabel blasted Lakeview 8-0 behind Charlotte Long, who had a hat trick in the game's first 24 minutes. Alicia Ye had two goals and Kendrick Dahlin added three assists for the Eagles. … Paola Covarrubias took a pass from Adalynn Williams near the six-yard box and found the net for the go-ahead goal in the 63rd minute of Dayton's 2-1 win over Brookings-Harbor. The Pirates fell behind the Bruins 1-0 in the seventh minute, but got the equalizer from Melissa Arroyo in the 55th minute. Williams moved from goalkeeper to the field midway through the second half and Natalie Oliveira finished up in goal for Dayton. … Oregon Episcopal knocked out Echo/Stanfield 7-0 as Nina Kaiser scored three goals. Nadia Schwartz had two goals and two assists and Olivia Faucera added a goal and two assists. … Riverdale outlasted Santiam Christian 2-1, winning a penalty-kick shootout 7-6. Riverdale's Truly Martin and Santiam Christian's Olivia Haima had goals in regulation. In the shootout, Riverdale's Hannah Conte had three saves and freshman Isabel Milla had the clinching goal. … Sutherlin avenged its only loss of the season by defeating Central Linn 7-3. Madison Wagner had a hat trick and Micah Wicks and Kristen Gandy scored two goals each. … Pleasant Hill advanced to cruising past Blanchet Catholic 3-0. … Riverside dispatched Yamhill-Carlton 2-0.