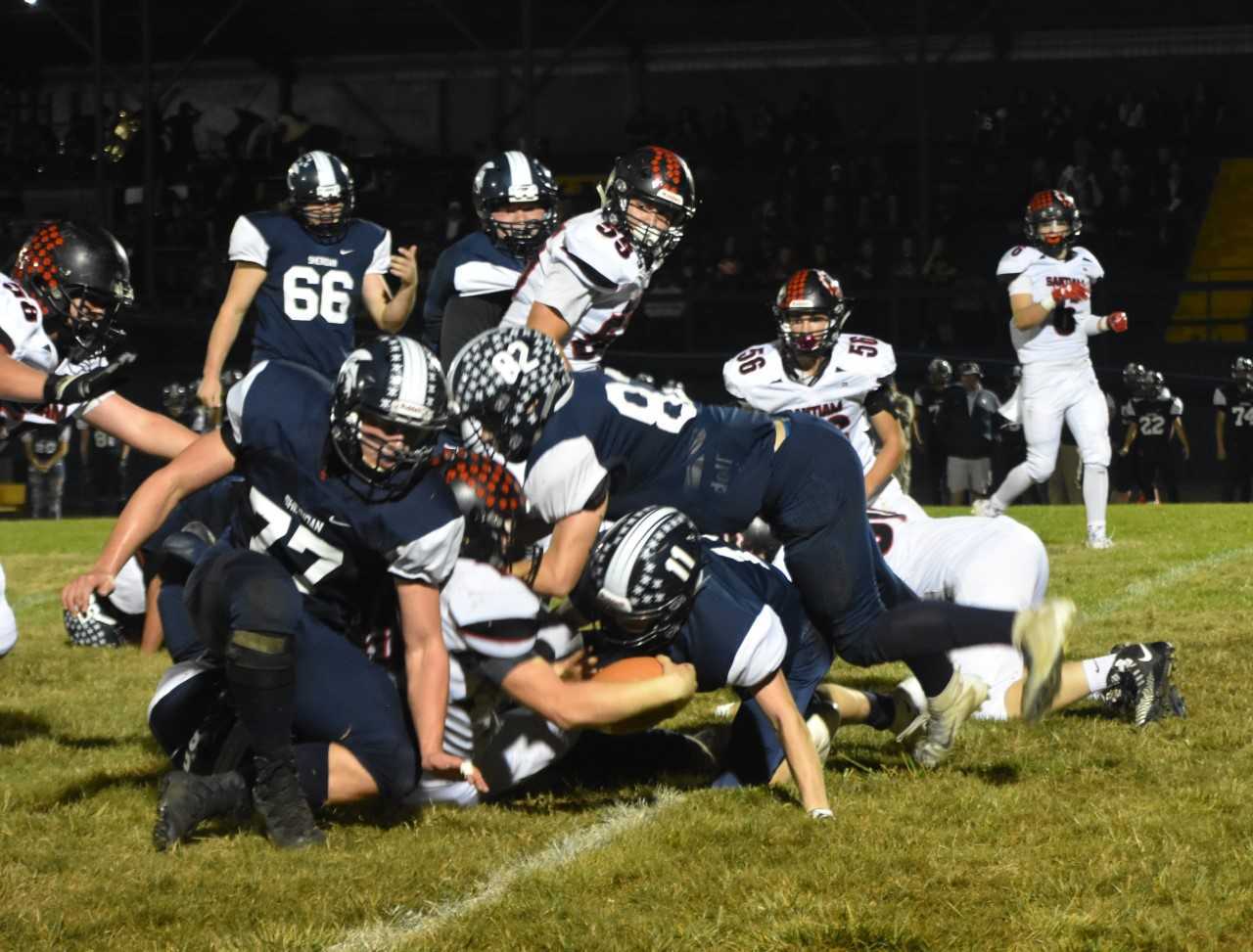 SHERIDAN -- The raw emotion showed after Sheridan emerged with an old-fashioned, grind-it-out 9-0 win over Santiam on Friday in a game that decided the 2A Special District 2 football title.
"The grind's real," said Sheridan quarterback and safety Jacob DeBoff, who threw for 107 yards and one touchdown. "Every single day we've come out here and do what we needed to do, and this is what happens when you work that hard. Last year we went 5-4 to this now, I'm just living the dream right now. I've never been a part of something like this."
It's weird to think that -- in a league with Kennedy and Santiam -- the Spartans would be in the conversation for a league title after winning one game three years ago. But it worked out that Sheridan (6-1, 5-0) got to this point with Santiam (6-1, 4-1), the 2A runner-up last year.
Both teams set the tone with defense.
"Our defense did great. We beat them up front," Santiam's Jesse Sendlinger said. "(Offensively) we didn't do our blocks. We let them get a safety, and they beat us up front on offense. But on defense, we definitely killed them up front."
Sheridan stopped Brody Davidson in the end zone for a safety on the first play of the second quarter. DeBoff found Joey Daniels for a 25-yard touchdown pass to put Sheridan up 9-0 with 49 seconds left in the first half.
The 9-0 halftime deficit left the Wolverines stunned. Penalties kept them from generating momentum.
"Eye-opener," Santiam offensive lineman and linebacker Dustin Keys said. "We came in a little bit, I guess you could say cocky, I don't know how to put it. We came in kind of feeling ourselves. We shot ourselves in the foot.
"From the get-go, we knew it was going to be a good game. If we take those penalties away, that takes away the bad field position. Bad field position takes away their early momentum, and their early momentum carried them."
Davidson ran for 58 yards on eight carries and Trevor Tinney added 54 yards on 15 carries for Santiam. Josh Rogers had 56 yards on 12 carries for Sheridan.
Both teams struggled to find running room.
"Honestly, there wasn't any holes," DeBoff said. "We had to make our own holes. It was three-yards at a time and just slowly moving the ball back-and-forth. You can't really do anything. It was luck plays honestly."