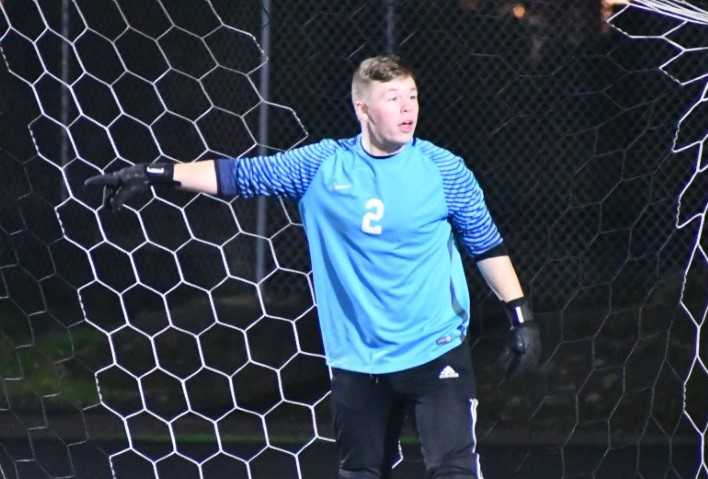 Silverton's offense provided the early momentum Wednesday in a 3-0 win over visiting Ridgeview in the first round of the 5A boys soccer playoffs.
But senior goalkeeper Brady Mykisen was most pleased with how the defense protected a two-goal lead in the second half, especially considering No. 8-seeded Silverton will need to be on top of its game when it faces No. 1-seeded La Salle Prep in the quarterfinals Saturday.
"That half meant the most to us because we're looking at the next game, and we needed to end this last game at home with a little bit of confidence going into it," Mykisen said. "I think we played really well. They brought it to the second half, which I think we were ready for and we turned it around and secured the win."
Silverton (8-2-5) took control early with a goal from junior Carlos Flores in the eighth minute. The Foxes made it 2-0 in the 24th minute on a goal by senior Isaac Lawson.
Ninth-seeded Ridgeview (9-5-2) turned up the heat in the second half, however. The Ravens won the battle in the midfield and put pressure on Silverton's back line and Mykisen.
The Foxes met the challenge, adapting by changing formations in the middle of the half. Silverton coach Marty Limbird credited the Ravens for making the Foxes rise to the occasion.
"They made some really good adjustments at halftime, and they came out fired up trying to get a couple of goals back on us," Limbird said. "They really dominated the midfield in the second half, and we were chasing a little more than I'd like, so we beefed up our midfield. Played another player in that midfield role to try to counter that."
Each Ridgeview push was met by either a Mykisen stop or a rushed shot. Silverton's finally was able to exhale when senior Bjorn Domst scored in the 78th minute to make it 3-0.
"We were still in that mindset, but you can take a nice deep breath in the middle of the game. It feels really good," Mykisen said. "If we can keep our mental state sharp like we did tonight and play through the whole, entire 80 minutes – no matter who we face and we keep that same mentality, we'll dominate."
Silverton, a quarterfinalist in 2018 and 2019, is bidding to make the semifinals for the first time in school history.
Ridgeview, which made the quarterfinals in 2018, lost to Silverton in the first round for the second time in three seasons. The Ravens fell to the Foxes 5-0 in 2019.
-- Jeremy McDonald
Other results from Wednesday's round of 16:
6A
Top-seeded Summit thumped Franklin 5-0. Nani Deperro got the Storm on the board in the 12th minute and Alex Grignon made it 2-0 with one second left in the first half. Bowen Teuber had two goals and Junior Cardenas added a tally in the second half for Summit. … Jesuit ousted McKay 3-0 behind goals from Luv Insley, Spencer Carle and Drew Pedersen. … Grant's Mitchel Munzing and Sawyer Lasof scored for the second game in a row as the Generals edged Glencoe 2-1. Lasof's goal was the game-winner. … South Eugene had a 21-4 edge in shots but needed a penalty kick from Whit Schatz with less than two minutes left to escape with a 2-1 win over West Salem. Owen Whitney had South Eugene's other goal, scoring off a corner kick from Schatz in the sixth minute. … Cleveland got goals from Solomon Barnett, Seb Buscaglia, Stephen Treat and Elijah Edelman to put away South Salem 4-2. The Warriors led 3-0 before South Salem scored on a penalty kick, but Edelman's goal made it 4-1. … Zac Levin had two goals in Lakeridge's 4-0 win over Forest Grove. Reagan McDowell and Rafe Loya also had goals for the Pacers. … Lincoln turned back Mountainside 3-2, getting goals from Henry Reuland in the third minute, Max Eisenberg in the 42nd minute and Max Edwards in the 58th minute. … West Linn advanced with a 2-0 win over Sunset.
5A
Wilsonville advanced with a 3-0 win over Eagle Point. Yazly Nazarav converted off a corner kick by Dylan Lee just before half, Toshi Kondo struck in the 66th minute and Yaseen Mubashir blasted a long shot into the goal in the 70th minute for the Wildcats. … Jose Guzman and Christopher Amezcua struck for Woodburn in its 2-0 win over Hood River Valley. … Ariel Carlos De Dior Cruz found the net five times to lead Willamette past Parkrose 6-2. Victor Castaneda had a goal and Papa Yansane added three assists for Willamette. … Davidson Graham scored twice and Lucas Poareo Davidson had a goal – all in the first half – as Ashland blanked South Albany 3-0 behind goalkeeper Mina Schepmann. … Mizael Harris had a hat trick and Johannes Gikas scored twice in La Salle Prep's 5-0 win over The Dalles/Dufur. The Falcons led 4-0 at half. … North Salem defeated Springfield 2-1 in overtime on a goal by Cristian Ceja Romero. Samuel Dreyer also scored for the Vikings. … Ryan John and Vance John each scored twice for Corvallis, which downed Putnam 5-3. Kellen Filker also had a goal for the Spartans, who led 4-1.
4A
No; 16 seed Ontario took down top-seeded Stayton 1-0, winning a penalty-kick shootout 5-3 over the Eagles, the 4A Showcase champions in the spring. The teams were scoreless through regulation and the two overtime periods. In the shootout, Ontario converted all five of its chances with Jaime Gonzalez, Juan Corona, Jesus Hernandez, Jamis Gonzalez and Pedro Aviles. Goalkeeper Martin Benitez stopped Stayton's third attempt. … Angel Castillo had two goals, one on a penalty kick, to lift McLoughlin over Cottage Grove 2-0. … Vic Martinez scored four goals in Phoenix's 7-0 win over La Grande. Jorge Mejia had two goals and Jenner Seldon added one goal. … Evan Hugo converted assists from Antuan Peterson and Nico del Agua to lead Molalla past Valley Catholic 3-0. The Indians, who led 1-0 at half, also got a second-half goal from Martin Ruiz. … North Marion came from behind to beat Sisters 3-2. Aden Carrillo scored his second goal in the 44th minute to tie 2-2 and Leo Mercado put the Huskies ahead with a penalty kick in the 58th minute. … Phoenix overwhelmed La Grande 7-0 as Victor Martinez scored four goals and Jorge Mejia had two goals and three assists. … Theo Bergman's hat trick was enough for Hidden Valley to get past Marshfield 3-1. … Henley knocked out Tillamook 4-0 on goals by Jeshua Ruelas, Eli Hayes, Aiden Hayes and Jacob Gonzales.
3A/2A/1A
Connor Mansfield had five goals and one assist as Oregon Episcopal rolled over Nyssa 8-0. Torben Karl and Barrett Lindholm added goals for the Aardvarks, who also got an own-goal. … Dayton erupted for five goals in 13 minutes bridging the first and second halves to rout Rogue Valley Adventist 7-1. Benji Hudson recorded a hat trick and freshman Oswaldo Rosas had two goals for the Pirates, who dominated after Rogue Valley Adventist's Alex Wiggers scored in the 13th minute. … Catlin Gabel handled East Linn Christian 8-0 behind Felipe Rueda Duran, who had a hat trick and two assists. Joshua Hamlett also had a hat trick for the Eagles, who built a 5-0 lead in the first half. … Riverside got five goals from Erick Zavala and single goals from five other players in defeating Sutherlin 8-0. … Riverdale dispatched South Umpqua 6-0, building a 5-0 halftime lead on an own goal and scores by Sam Veverka, Leo Novack, Dillon Wendle and Winslow Reece. Gabe Stevens added a second-half goal. … Brookings-Harbor held off Santiam Christian 3-2 behind goals from Tanner Anderson, Fabian Villa (penalty kick) and Bryan Valdovinos. … Delphian raced to a 3-0 lead after 19 minutes and beat St. Mary's 5-1. Minghan Cui and Memo Cervantes scored Delphian's first two goals and each added second-half tallies. … Pleasant Hill improved its record to 16-0 with a 4-0 win over Western Christian/Amity.