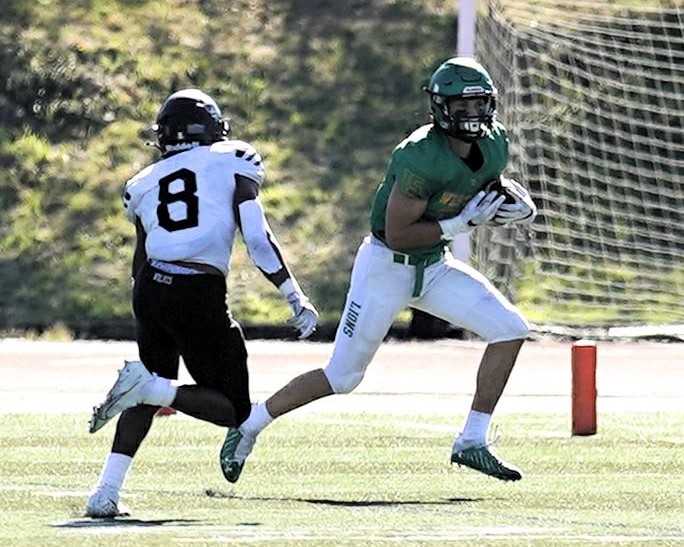 It's been nearly eight weeks since Tualatin delivered one of the most surprising results of the football season, a 49-14 rout of 6A powerhouse West Linn in a Three Rivers League game.
The win not only underscored that the Timberwolves deserved to be considered among the state title favorites, but it dealt a blow to the Lions, who suffered their worst loss since 2014.
At noon Friday, though, that game will be reduced to a footnote when No. 3 seed Tualatin (11-1) and No. 2 West Linn (11-1) tee it up again in a 6A semifinal at Hillsboro Stadium.
"If you roll into this one with the same game plan, not planning for them to adjust, you're in trouble," Tualatin coach Dan Lever said. "You're overconfident if you're doing that, and we're definitely not overconfident over here. We respect West Linn."
Lever knows his team can't afford to dwell on its dominant win over West Linn. He referenced Sherwood's fate in 2013, when the Bowmen handled West Albany 48-0 in the regular season and lost to the Bulldogs 21-20 in the 5A final.
"So what if we beat them the first time?" Lever said. "It happens in football all the time. You beat somebody, then you see them in the playoffs, and they beat you. Ask Sherwood. I think of that one, for sure. It's always harder the second time in football."
The Lions have responded from the defeat with seven consecutive victories to reach the semifinals for the first time since winning their only championship in 2016.
"To be honest, I think we might've been a little full of ourselves," West Linn coach Chris Miller said of the early-season setback. "It was good for us to get hit in the mouth, and get stung a little bit, get our eyes watered, get socked in the nose, and see how we react. And I like how we reacted."
In the playoffs, the Lions rolled over Bend 35-13 and South Salem 55-9 before escaping with a 10-7 overtime win over Lakeridge in the quarterfinals.
"If you would have told me we'd get to the final four with this group and 15 new starters, and nine new starters on defense, playing three quarterbacks, and going through some of the things we have, I'd take that in a minute," Miller said. "We're pretty pleased where we're at right now."
One week after beating West Linn, Tualatin lost at home to Lake Oswego 35-26, a defeat that ultimately led to the Timberwolves sharing the Three Rivers title with the Lions and Lakers.
Tualatin has won six in a row, dispatching Mountain View 48-17, Westview 58-25 and Summit 42-13 in the playoffs to reach the semifinals for the first time since a state runner-up finish in 2010.
In the first meeting between the teams, Tualatin racked up 529 total yards as senior Jackson Jones passed for 342 yards and four touchdowns and senior Cole Prusia caught seven passes for 188 yards and three scores.
For the season, Jones has passed for 2,022 yards and 20 touchdowns. Senior Malik Ross (1,423 rushing yards) has scored 27 touchdowns – 21 rushing, four receiving and two on kickoff returns.
"They're a talented football team," Miller said. "They've been kind of building toward this moment since these kids were eighth-graders. It's a talented senior class. They can do that to you if you don't bring your 'A' game."
West Linn's most dangerous weapon is junior Mark Hamper, who has caught 64 passes for 859 yards and eight touchdowns and rushed for 353 yards and five scores. He has seen more time at running back late in the season, rushing for 80 yards on 19 carries in the quarterfinals.
Junior Earl Ingle is the third quarterback for the Lions this season, following senior Chase Harmon and sophomore Nick Sakys. He is more of a runner than Harmon, the starter in the first meeting with Tualatin.
The teams will meet for the third time in nine months. West Linn defeated the Timberwolves 37-6 in the spring on its way to a 6-0 record.
"We know a lot about each other," Lever said. "It's going to come down to adjustments and execution."
The winner will play either Jesuit or Central Catholic in the 6A final.
Friday
6A semifinal
No. 9 Jesuit (11-1) vs. No. 4 Central Catholic (13-0), 5 p.m., Hillsboro Stadium
The state's private-school powers meet in the playoffs for the first time since 2016, when Central Catholic won 21-9 in the quarterfinals. It's the highest-stakes game between the teams since the Rams beat the Crusaders 38-28 in the 2013 final. Jesuit is coming off a 56-49 win over No. 1 Lake Oswego in which senior Michael Rincon rushed for 217 yards and five touchdowns, giving him 1,323 yards and 19 scores for the season. Central Catholic has sophomore quarterback Cru Newman, who has passed for 2,239 yards and 33 touchdowns with three interceptions. It is Jesuit's 11th semifinal appearance since 2004. The reigning champion Rams are bidding to reach the final for the fifth time since 2013. Central Catholic beat the Crusaders 35-6 in the spring.
Saturday finals
5A
No. 5 Thurston (10-0) vs. No. 2 Silverton (11-1), 3 p.m., Hillsboro Stadium
Two-time reigning champion Thurston, which is holding opponents to 7.5 points per game, goes up against the explosive Foxes (35.4 points). Silverton senior quarterback Jordan McCarty has thrown for 2,850 yards and 23 touchdowns and run for 682 yards and 11 scores. Foxes senior Vandon Fessler had 74 catches for 1,259 yards and eight touchdowns. The Colts are led by Arizona State-bound senior tight end and defensive end Jacob Newell (49 catches, 764 yards, nine touchdowns). In the semifinals, Thurston took out top-seeded Wilsonville 34-14. The Colts haven't lost to a 5A team since 2018. They beat Silverton 44-14 in the 2019 semifinals. The Foxes are in their first final since losing to Hermiston 34-12 in 2014. They won their only title in 1991.
4A
No. 7 Marist Catholic (10-2) vs. No. 1 Marshfield (14-0), 7 p.m., Cottage Grove HS
The teams met four weeks ago with the Sky-Em League title on the line in the regular-season finale, with Marshfield senior Dom Montiel passing for seven touchdowns in a 48-41 win that is the closest game the Pirates have played all season. Montiel is having a monster season, throwing for 3,228 yards and 45 touchdowns with seven interceptions. His top target is DJ Daugherty, who has 62 catches for 1,120 yards and 19 touchdowns. Marist Catholic senior Lucas Tuski rushed for 177 yards and four touchdowns in a 42-8 semifinal win over Estacada. He has rushed for 1,624 yards and 30 touchdowns this season (averaging 12.0 yards per carry) and 3,543 yards and 65 scores in his career. Spartans senior Carter Greene passed for 27 touchdowns, 12 to senior Ryan Cary. Marshfield last played in the final in 2017, losing to Cottage Grove 48-14. The Pirates' last title was in 1992. It is Marist Catholic's first championship game since losing the 5A final to Sherwood in 2012. The last of the Spartans' five titles was in 2009.
3A
No. 3 South Umpqua (11-1) vs. No. 1 Siuslaw (11-0), 11 a.m., Cottage Grove HS
Forty years after playing to a 0-0 tie in the 1981 final to share the AA title, the Lancers and Vikings meet in another championship game. The teams have come a long way in a short time: South Umpqua was 2-7 in 2018 and 2019; Siuslaw was winless in 2018. In the semifinals, South Umpqua got a 28-yard field goal by Juri Moros with 18 seconds left to beat Vale 24-21, and Siuslaw stopped a two-point conversion attempt with 3:41 left to hold off La Pine 28-26. South Umpqua's Jace Johnson has thrown for 2,206 yards and 33 touchdowns, 12 to Kade Johnson and nine to Andrew Christensen. The Vikings have a dynamic combination in senior quarterback Beau Erickson and senior receiver Braydon Thornton, who had a state-record seven touchdown catches in a game this season. Siuslaw won its only outright title in 2006. South Umpqua played in all four of its finals from 1975 to 1981, winning one outright title (1977) and sharing two others.
2A
No. 4 Coquille (9-1) vs. No. 2 Kennedy (11-1), 3 p.m., Cottage Grove HS
Kennedy, the champion in 2018 and runner-up in 2019, is the first 11-man team to reach the final in three consecutive postseasons since Sherwood made four in a row in 5A (2010-13). The Trojans have an eight-game winning streak since losing to reigning champion Heppner 34-28. Kennedy senior quarterback Riley Cantu has passed for 1,506 yards and 24 touchdowns and run for 10 scores. Sophomore Elijah Traeger has rushed for 788 yards and 14 touchdowns for the Trojans. Coquille is in the final for the second time in school history, the other being 1970, when the Red Devils won their only title by beating Junction City 10-7. In the semifinals, Coquille ousted Heppner 8-6, ending the Mustangs' 29-game winning streak. Red Devils senior Gunner Yates rushed for 129 yards and the team's only touchdown in the game, raising his season totals to 1,815 yards and 29 scores.
1A-8
No. 2 Powder Valley (11-1) vs. No. 1 Adrian (12-0), 1 p.m., Baker HS
Adrian goes for a repeat title against district rival Powder Valley, which won its only championship in 2003. The Badgers beat the Antelopes 70-58 in the spring, but Adrian got payback with a 38-0 win Oct. 1. In that game, Antelopes senior quarterback Conley Martin ran for three touchdowns and threw for a score. Adrian has held opponents to 52 points in 10 games, not including a 58-0 forfeit win over Wallowa. Martin rushed for 221 yards and six touchdowns in a 62-20 semifinal win over Lost River. Powder Valley advanced by beating St. Paul 46-8 in the semifinals as quarterback Reece Dixon rushed for 108 yards and three touchdowns.