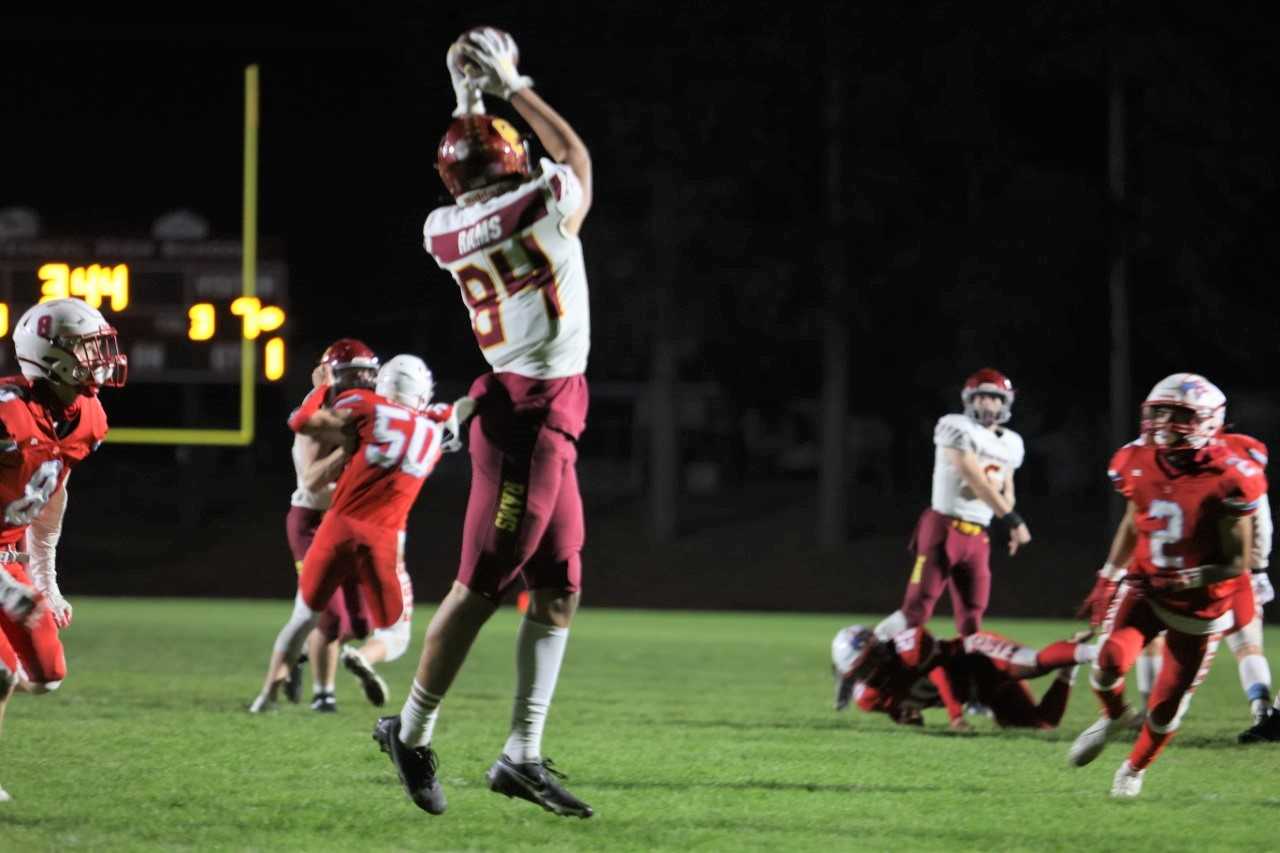 For most of the football season, Central Catholic has taken advantage of mismatches with its stable of tall, fast and versatile athletes.
But when the fourth-seeded Rams (14-0) line up against No. 3 Tualatin (12-1) in the OSAA/OnPoint Community Credit Union 6A final at noon Saturday at Hillsboro Stadium, they just might meet their match.
Central Catholic coach Steve Pyne said he hasn't seen the type of athletes Tualatin possesses since an early-season game against Tumwater (Wash.).
"They're so long and athletic at various positions," Pyne said of the Timberwolves. "I think this will be the first time we've seen somebody that maybe can match up with us lengthwise."
Central Catholic's weapons include 6-foot-2 senior receiver Jordan King and 6-7 junior Riley Williams, a tight end who also has proven to be effective lining up outside. Williams and King have 13 and 12 touchdown catches, respectively.
Tualatin coach Dan Lever said the Rams have the best collection of athletes he has seen this season.
"No doubt," Lever said. "Very dynamic group of playmakers, for sure. They've got them all over the field."
But the Timberwolves can counter with basketball-type size and athleticism in their secondary with seniors Cole Prusia (6-3) and Noah Ogoli (6-1) and junior Jack Wagner (6-4) and at linebacker in senior Kellen Hale (6-5).
"I watch film, and I just see Cole making unbelievable plays because of his length," Pyne said of the Princeton-bound Prusia. "He kind of gets out of position and then makes up for it because he's so long and can get his hand on the ball."
Tualatin benefits from its length on offense, too, as Prusia and 6-5 senior Peter Burke each have eight touchdown catches. They will try to navigate a Central Catholic defense that includes King, who had three interceptions in a semifinal win over Jesuit, and 6-4 senior linebacker Emar'rion Winston, an Oregon commit.
"It's going to showcase a lot of athletes on both sides," Lever said. "When the matchups are like they are, when we look back on the game, it will come down to about four or five plays, who makes them and who doesn't."
Central Catholic, the champion in 2019, is going for its sixth title and fourth since 2013. Tualatin, the runner-up in 2007 and 2010, seeks its first championship.
The Rams will be playing their seventh consecutive game at Hillsboro Stadium, their home field. In the playoffs, they beat Oregon City 49-0, Mountainside 48-17, Sherwood 63-21 and Jesuit 35-28.
Tualatin has won seven in a row since losing to top-seeded Lake Oswego 35-26. The Timberwolves have cruised through the playoffs by defeating Mountain View 48-17, Westview 58-25, Summit 42-13 and West Linn 35-13.
The teams haven't met since 2018, when Central Catholic held off Tualatin 28-21 in overtime in the second round at Hillsboro Stadium. In that game, the Rams overcome a 14-point deficit in the fourth quarter and won by stopping the Timberwolves on fourth-and-goal at the one-yard line.
"They probably should have won that game," Pyne said. "But we got the break at the end of the game."
Central Catholic sophomore quarterback Cru Newman has completed 72.3 percent of his passes for 2,436 yards and 36 touchdowns with three interceptions. The Rams' passing game has been highly efficient, but so has their running game, as senior Ellis Bynum (926 yards, 13 touchdowns) is averaging 11.3 yards per carry.
Pyne likes how his offensive line – which includes a freshman at left guard in Zach Davis (5-11, 220) and a sophomore at center in Matix Carpenter (6-0, 225) – has meshed throughout the season. It's a major difference from the 2019 team, which had a senior-dominated line.
"To see those guys develop and improve on a weekly basis has been really fun to watch," Pyne said. "They give us a chance."
The Rams don't beat themselves, committing only six turnovers (three interceptions, three fumbles) all season. Keeping the ball will be crucial against the Timberwolves, who have 18 interceptions and seven fumble recoveries.
"The rely on some big plays defensively," Pyne said. "They're much like us, they create turnovers."
Tualatin has one of the state's most explosive players in senior running back Malik Ross, who has rushed for 1,534 yards and 23 touchdowns, caught 30 passes for 540 yards and four scores and returned two kickoffs for touchdowns.
Timberwolves senior quarterback Jackson Jones has thrown for 2,100 yards and 20 touchdowns. Wagner has been seeing more spot duty at quarterback late in the season as Tualatin takes advantage of his running ability.
"He is a phenomenal athlete," Lever said of Wagner, who ran for 89 yards and two touchdowns in the semifinals. "We're finding ways to get him touches. He's a Swiss Army knife. He can do it all.
"We've got two of the best quarterbacks in program history. Just really showcasing what they both can do. We utilize them both."