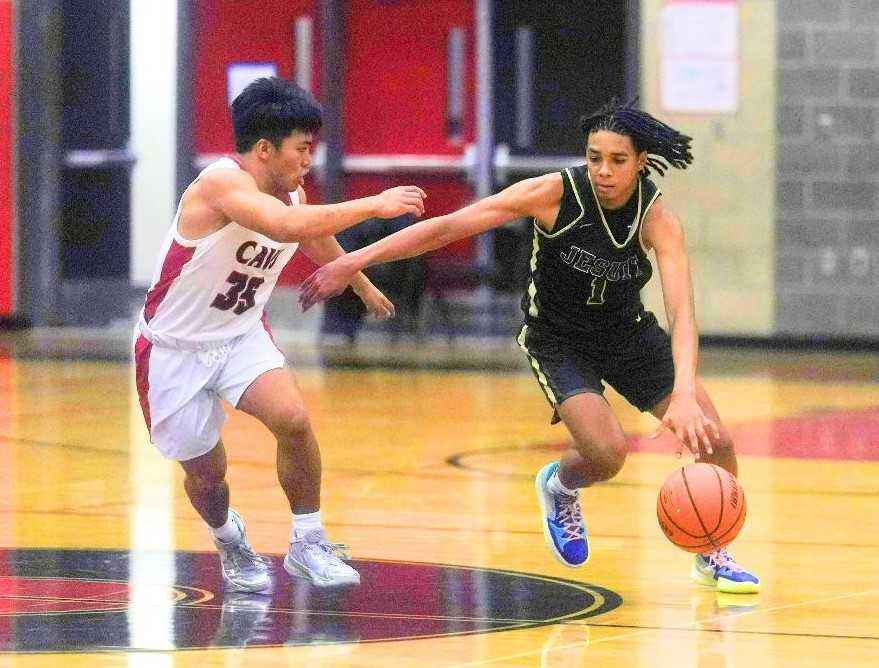 CLACKAMAS – It's been a whirlwind start to the boys basketball season for co-No. 2 Jesuit.
One night after going on the road to give coach Gene Potter his 600th win, the Crusaders hit the road again, holding off a late surge by Clackamas to win 59-55 in a 6A nonleague game Thursday night.
Junior guard Isaiah Crane scored 21 points and senior wing Tyree Blake – fresh out of football – added 14 points, four rebounds and three assists for Jesuit, which saw a 15-point, third-quarter lead dwindle to one point inside the final minute before escaping.
Learning how to close out a game is one of many lessons Potter has to teach the Crusaders, who graduated all of their starters from a team that went 10-5 last season.
"Obviously, it's early in the season, and I just try to let the kids play through it, and we'll figure things out," Potter said. "These preseason games, we're trying to get kids ways to figure stuff out on their own. Hopefully, we'll learn from those things and get better."
Potter, who is in his 30th season at Jesuit, became the 10th coach in state history to reach the 600-win plateau Wednesday when the Crusaders won at South Eugene 57-43. He has a record of 601-182 with an all-time high seven state championships, the latest in 2019.
"He's a brilliant coach," Blake said. "The stuff that he tells us to do, in games we do it, and we execute, and it works. It's actually surprising how well it works. He deserves those 600 wins because of the things he does and the gameplans, the seriousness he has for each game."
Potter put the achievement in perspective.
"It means that Jesuit High School has had a lot of really good players in the last 29 years," he said. "It's more of a program thing for me. The school has kids that care about the team, so it gives me an opportunity to just help build those teams each year."
Crane, a full-time JV player last season, scored 11 points in the first half as Jesuit took a 27-22 lead at the break. Crane had five points and Blake made two baskets during a 9-2 surge in the third quarter to expand the lead to 45-30.
But the Crusaders went more than four minutes without a point, and Clackamas went on a 9-0 run, pulling to within 45-39 on two free throws by junior Garrett Strube with 5:04 left.
Jesuit pushed the lead back to 53-43, but Clackamas wouldn't go away, and when senior guard Forrest Reyes hit a three-pointer, the Cavaliers had closed to 54-53 with 33 seconds remaining.
Blake split two free throws with 26 seconds to go, but Jesuit retained possession when the Cavaliers knocked the rebound of the second shot out of bounds.
Crane hit two free throws with 15 seconds left to make it 57-53, and after a layup by Strube, Crane quickly answered with a layup off a pass from senior Mack Wall to seal the win.
It was a promising performance by the 6-foot Crane, who made 8 of 14 shots, including 2 of 4 from three-point range.
"He made some really nice plays," Potter said. "And he made a couple of tough decisions. Physically, he's got a long way to develop, but he has the ability to put the ball in the basket."
Said Crane: "I'm playing pretty good. I'm just trying to fit in, find my role."
Clackamas, playing its season opener, got 21 points from senior guard Jackson Jaha and 11 points from Strube. Jaha is only starter back from last season, when the Cavaliers went 15-2 and lost to Jefferson in the final of the blue bracket in the Portland-area culminating week tournament.
"I'm proud of our guys," Jaha said. "A lot of our guys have not played much varsity games, and the way we competed, I'm just happy with that. First game of the year, that's a tough squad over there. I was expecting us to hopefully get a win, but I'm cool with whatever if we play hard.
"We've got heart, the whole team. We're coming for something this year. We feel like a lot of people are doubting us, thinking we're not that good. I think we're legit, for sure."
Jesuit is sorting out its rotation after adding three players from the state semifinal football team this week in Blake, 6-3 senior post Spencer McKelligon and senior guard Johnny Miller.
"Having Johnny, Spencer and Tyree come back is just physically going to help us a ton," Potter said. "Tyree is one of the best rebounders we've had. When he gets two hands on the ball, it's his ball."
Blake's physicality and energy were critical Thursday.
"I'm just glad Potter gave me the opportunity to play after the football season, just get right into it," Blake said. "At first I thought I was going to be out of shape, but it turns out I wasn't. It's fun to play with these collective guys. I only had two practices with them. I feel like the chemistry is starting to get there already."
Can Jesuit become a 6A contender?
"We do have a chance, especially with Potter as our coach, and us working hard every day in practice," Blake said.