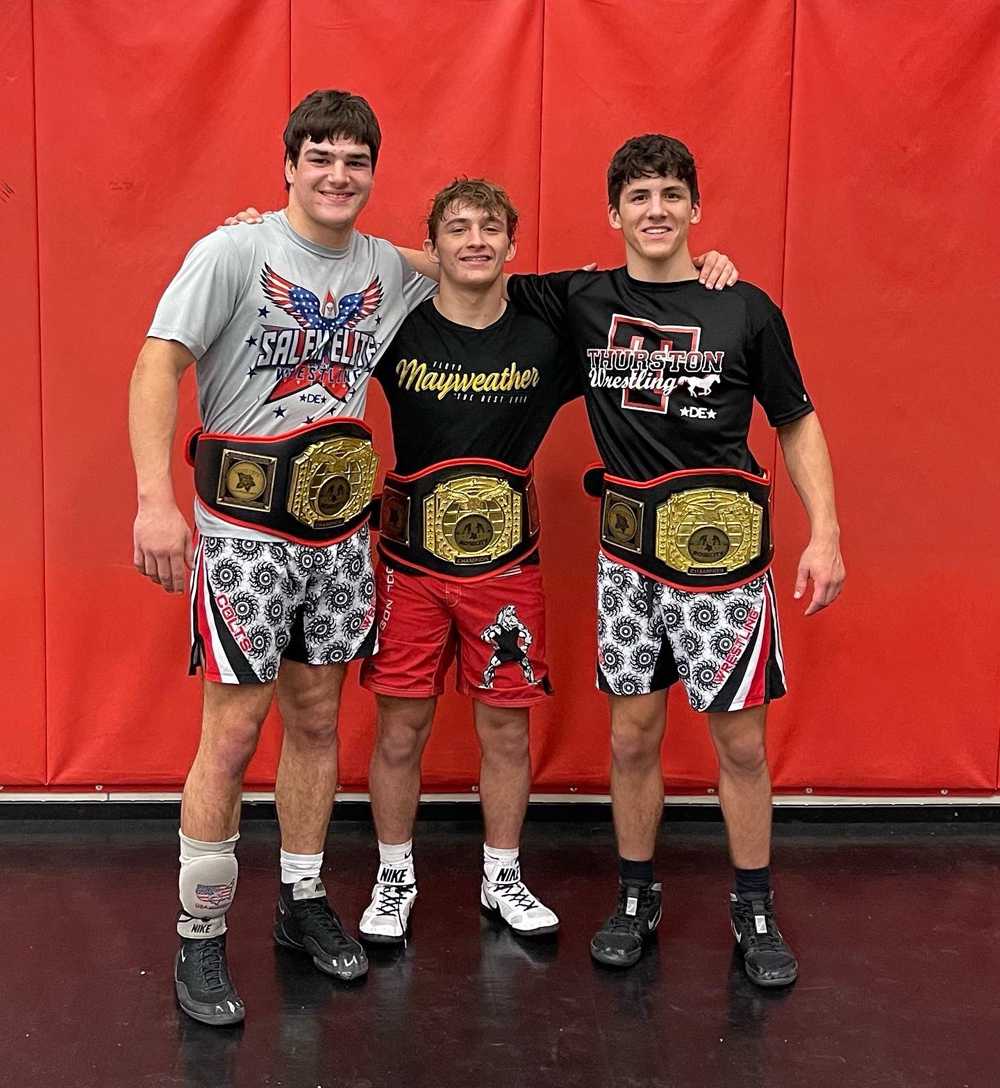 More from the Rose City Invitational..,
On Sunday, OSAAtoday published a story about the two-day Rose City Invitational, hosted by Westview HS. Newberg dominated the event, as it has since at least 2018. The Tigers had five individual champions. You can find that story here: https://www.osaa.org/today/article/2461/view?title=Wrestling%3A+Rose+City+brings+out+best+in+Newberg.
Here's a little more about Thurston, which took second overall:
The Colts, who are ranked second behind bully Crescent Valley in 5A, placed five wrestlers in the finals and emerged with three champions.
"I think we competed really well," said coach Mike Simons. "We had 9 overall placers so it was a good team effort from everyone. We are still missing a few out of our lineup at this point in the season, so it will be exciting when we have our lineup filled with everyone. We have a great group of young men who are willing to put in the effort."
Thurston's three champions will all be seeking their first state titles in February after close calls the past few years. Kolton Malone missed the spring with a shoulder injury but finished second at 120 as a freshman. Vaun Halstead took second at 220 pounds at last spring's culminating event. And Logan Slonecker is a three-time state placer.
"We will wait and see what happens in February at the state championships," Simons said. "We will need to keep working hard and improving to catch CV."
Speaking of Crescent Valley…
The Raiders were in Ohio last weekend at the Walsh Ironman and placed seventh out of 103 teams at the prestigious national event. Senior James Rowley had the best showing, finishing second in the 175-pound class. Hayden Walters and Gabe Whisenhunt were among others with strong showings.
In other action from the weekend…
Crook County, No. 3 in the pre-season 5A OSAAtoday coaches polls, won the 30-team North Bend Coast Classic. The Cowboys edged 6A No. 2 Roseburg for the team title. Crater, No. 5 in 5A; Grants Pass, No. 5 in 6A; and Redmond, No. 4 in 5A; finished third through fifth, respectively.
Among the individual highlights, both Nash Singleton and Gage Singleton pinned their way to belts for Roseburg. Nash, a senior, won at 138 pounds, while Gage, a sophomore, took the 106-pound bracket.
Crook County had four titleists: seniors Mitch Warren (120), Tucker Bonner (126) and Brayden Duke (182) as well as freshman Landon Lavey, who won at 113 pounds despite being the seventh seed.
Mauro Michel of Stayton, wrestling at 132 pounds; and Emmett Henderson of Junction City, competing at 170, also had strong showings, with pins in all of their matches.
***
La Pine, the top-ranked 3A team in the coaches polls; got by 2A/1A No. 1 Culver by a mere 8.5 points to take the 23-team Culver Invitational.
Undefeated Tyson Flack, a junior wrestling at 106 pounds; freshman Landyn Philpott (120) and senior Dylan Mann all won belts for the victorious Hawks. Mann recorded a 68-second pin in the 138-pound championship match. He recorded a 25-second fall in a preliminary match.
***
Host La Grande won the 13-team Muilenburg Tournament. The Tigers had four champions: Mason Wolcott (106), Braden Carson (145), Cole Shafer (170) and Brody MacMillan (195). Carson was named wrestler of the tournament. MacMillan's strong showing came after missing all of last season due to injury.
Estacada, ranked fourth in 4A, was the only other OSAA school to finish in the top five. The Rangers finished fourth.
***
Canby won the 16-team Rick Herrin Holiday Classic, hosted by McKay HS. The Cougars got championship performances from Craig Williams at 120 pounds and Ty Ewers at 126. Williams pinned his way to a belt!
South Salem, South Albany, Mountainside and Tillamook, the No. 3 team in 4A; rounded out the top five.
Besides Williams, four other wrestlers won all of their matches by fall: Derek Sossie of West Albany at 145, Broden Lindberg of West Albany at 170; Owen Rice of Forest Grove at 182; and Matthew Cobb of South Albany at 285. Lindberg recorded a 12-second pin during the tournament, while Sossie and Cobb both twice pinned opponents in under 30 seconds.
***
Warrenton, No. 7 in 3A, got strong work in the heavier weight classes from champions James Mikelson (170), Alex Tapia (182) and Kaison Smith (220) to win its own 10-team Warrenton Invitational. Mickelson and Smith pinned their way to belts. Seaside placed third in the event.
***
Yamhill-Carlton prevailed at the 16-team Scio Holiday Tournament. Santiam Christian, Scio, McNary and Colton recorded top five finishes as well.
Caden Hill won at 120 pounds to remain undefeated on the year for YC. Teammate Asher Tindall pinned his opponent to win the 138-pound division.
***
Jimmy Larsen and Kaiden Abell sparked Dayton's win at the 12-team Central Linn Men's Invite. Larsen pinned his finals opponent at 138 pounds to remain unbeaten on the year. Abell's pin came five seconds before the end of the third round.
The Pirates, ranked third in 3A, beat a field that included two state-ranked 2A/1A teams.
You go girls!
Girls' wrestling appears to be gaining momentum in Oregon.
Robb Ellis reports that at Taft, a 3A/2A/1A program, his girls team has more than doubled in size in one year, to 15 wrestlers.
"I believe we are the largest 3A/2A/1A girls' team and possibly 4A as well," Ellis asserted. Ellis later amended his statement, noting that 4A schools La Grande and Sweet Home have 17 and 15 wrestlers, respectively.
Taft competed in the "The Battle For The Capitol" at McKay HS in Salem on Dec. 3 and placed fourth out of 13 teams, the rest being 5A and 6A schools. Veterans Ryan Sou (120) and Kadence James (130) captured titles for the Tigers.
McKay, which won the event, had 27 wrestlers compete. Second-place Hillsboro entered 20.
Odds and ends
Imbler senior Garrett Burns created two plaques for the wrestling room as his senior project. Designed to honor District champions and State placers, they are cut out of metal and powder coated…Burns is a two-time 2A/1A state champion. He won as a sophomore at 113 pounds and last spring at 120. He has started 9-1 this year wrestling at 132 pounds, but expects to compete at 126 for the state tournament…John Telesmanich is in his 32nd year coaching at 5A Rex Putnam. Putnam was a state power in the early 1970, but hasn't placed in the top 15 at the state tournament since 1978. The Kingsmen have two wrestlers to watch in Drew Greco and RayTaitingfong…
2A/1A Kennedy finished second in Districts during the spring. The Trojans are young but have strength in numbers with 25 wrestlers. The team has dual goals for this season: a first District title in school history and a top 10 finish at State…Toledo won its first District championship last spring, but graduated three state qualifiers, including Kenneth Johnson, the 2A/1A state champion at 285 pounds. The Boomers have talent in the younger classes that have them believing a top four finish at State is possible. Watch for freshman Kolby Coxen to make an immediate impact at 220 pounds…
Roosevelt, a PIL contender, is excited about the infusion of freshman talent. Rory Lynskey (113) and Dontrell Betts (185) are two to watch along with Tau Takau. Takau, who wrestles at 220 pounds, will be a force, said coach Justin Hollingshead, "one of the strongest freshmen I've ever had." Harrisburg enters the season without two graduated superstars: three-time 3A state-champion Chandler Strauss and four-time state placer Russell Talmadge. The Eagles, however, return 7-8 wrestlers that coach Desmond Bennett believes could place at the state tournament. If that happens, Harrisburg should contend for a team trophy…
Daniel Jaramillo is a state contender for Ridgeview, a young school in a community with a long wrestling tradition…Lakeview doesn't have a lot of depth, but the Honkers, with five state qualifiers from the spring, including 182-pound champion Morgan Ludwig, could still have enough to take home a team trophy in 2A/1A…Summit has twice finished among the top10 in 5A. The Storm is in a rebuilding phase this season. Seniors Dylan Williams (138) and Andrew Johnson (160) are two to watch…Lawson Talamantez placed third for Seaside at 220 last season. The senior should be in the running for a state title in February…
Legends of the fall
In this section, we list wrestlers recording pins this season in under 30 seconds.
5 seconds
Rafael Mosqueda, Fr., McNary, 132, Dec. 11
8 seconds
Conor Brosnan, Sr., Heppner, 182, Dec. 10
9 seconds
Erik Potter, Jr., Yamhill-Carlton, 182, Dec. 4
11 seconds
Colby Gazeley, Jr., Sweet Home, 285, Dec. 10
12 seconds
Broden Lindberg, Sr., West Albany, 170, Dec. 11
13 seconds
Caden Hill, Soph., Yamhill-Carlton, 120, Dec. 11
Mason Rosenast, Fr., Amity, 126, Dec. 11
Cole Steketee, Jr., Sprague, 285, Dec. 10
14 seconds
Sawyer Casarez, Jr., Thurston, 170, Dec. 10
Brandon Smith, Soph., Newberg, 120, Dec. 10
16 seconds
Eliyo Clark, Soph., Reynolds, 182, Dec. 3
Jayce Miller, Soph., Sweet Home, 113, Dec. 10
Eli Nava, Jr., Dallas, 220, Dec. 10
Trenton Smith, Jr., Sweet Home, 145, Dec. 10
17 seconds
Kain Adair, Sr., West Albany, 220, Dec. 8
18 seconds
Cooper Sevigny, Sr., Franklin, 285, Dec. 3
19 seconds
Brandon Smith, Soph., Newberg, 120, Dec. 10
David Steagall, Soph., Sweet Home, 195, Dec. 11
20 seconds
Clifford Johnson, Soph., Dallas, 152, Dec. 10
Eduardo Matheus, Sr., Thurston, 132, Dec. 11
Calvin Raara, Fr., Riddle / Days Creek, 113, Dec. 11
21 seconds
Michael Fox, Sr., Willamina, 160, Dec. 10
Mason Hakki, Fr., Thurston, 106, Dec. 10
Kyle Kelley, Sr., Newberg, 182, Dec. 10
22 seconds
Brook Byers, Sr., Sprague, 195, Dec. 11
Aiden Perkinis, Soph., Newberg, 145, Dec. 11
Kyle Watkins, Sr., Sweet Home, 126, Dec. 11
23 seconds
Easton Crowley, Fr., Mountain View, 106, Dec. 10
Owen Jones, Soph., Dallas, 170, Dec. 10
24 seconds
Holton Halstead, Fr., Thurston, 160, Dec. 11
Mishael Mauck, Soph., Banks, 195, Dec. 10
Derek Sossie, Jr., West Albany, 145, Dec. 11
25 seconds
Dylan Mann, Sr., La Pine, 138, Dec. 10
26 seconds
Keannan Bowditch, Sr., Sprague, 285, Dec. 10
Logan Medford, Jr., Cleveland, 138, Dec. 10
David Steagall, Soph., Sweet Home, 195, Dec. 11
Emily Zamudio, Fr., Scio, 106, Dec. 11
27 seconds
Brayden Boyd, Sr., Sprague, 125, Dec. 10
Bryan Parazoo, Soph, Scio, 126, Dec. 11
28 seconds
Aydn Mueller, Jr., McMinnville, 182, Dec. 10
Elijah Rebollido, Sr., Westview, 132, Dec. 11
Derek Sossie, Jr., West Albany, 145, Dec. 11
David Wheeler, Fr., Yamhill-Carlton, 106, Dec. 11
29 seconds
Matthew Cobb, Sr., South Albany, 285, Dec. 11 (twice)
Kyle Sieminski, Soph., Sweet Home, 106, Dec. 11
Jacob Sieminski, Jr., Sweet Home, 132, Dec. 10
Dylan Smith, Sr., Banks, 138, Dec. 10
100 % COMMITTED!
In this section, we identify those wrestlers who have made commitments to wrestle in college.
Brook Byers, Sr., Sprague, 182 -- Stanford
Paige Chafin, Sr., Sweet Home, 115 – Eastern Oregon
Ethan Goff, Sr., West Linn, 132 – Baker University (KS)
James Rowley, Sr., Crescent Valley, 170 – University of Wisconsin
Nash Singleton, Sr., Roseburg, 132 – Oregon State
Gabe Whisenhunt, Sr., Crescent Valley, 126 – Oregon State
Reece White, Sr., Madras, 182 – Montana State-Northern
The most important move you must learn to dominate your opponent is…
"Stance. This is where mistakes are made with lack of conditioning. To dominate an opponent you must first dominate the stance. If your stance is impeccable, everything else feeds off that. You score off opponent's mistakes, or lack of proper positioning; and you score off your own great positioning. Everyone can see the dominant nature from a strong consistent stance." – Brad Padgett, Madras
If you are a high school varsity head coach and want to know how you can contribute to future Notebooks, contact John Tawa at johnt@osaa.org