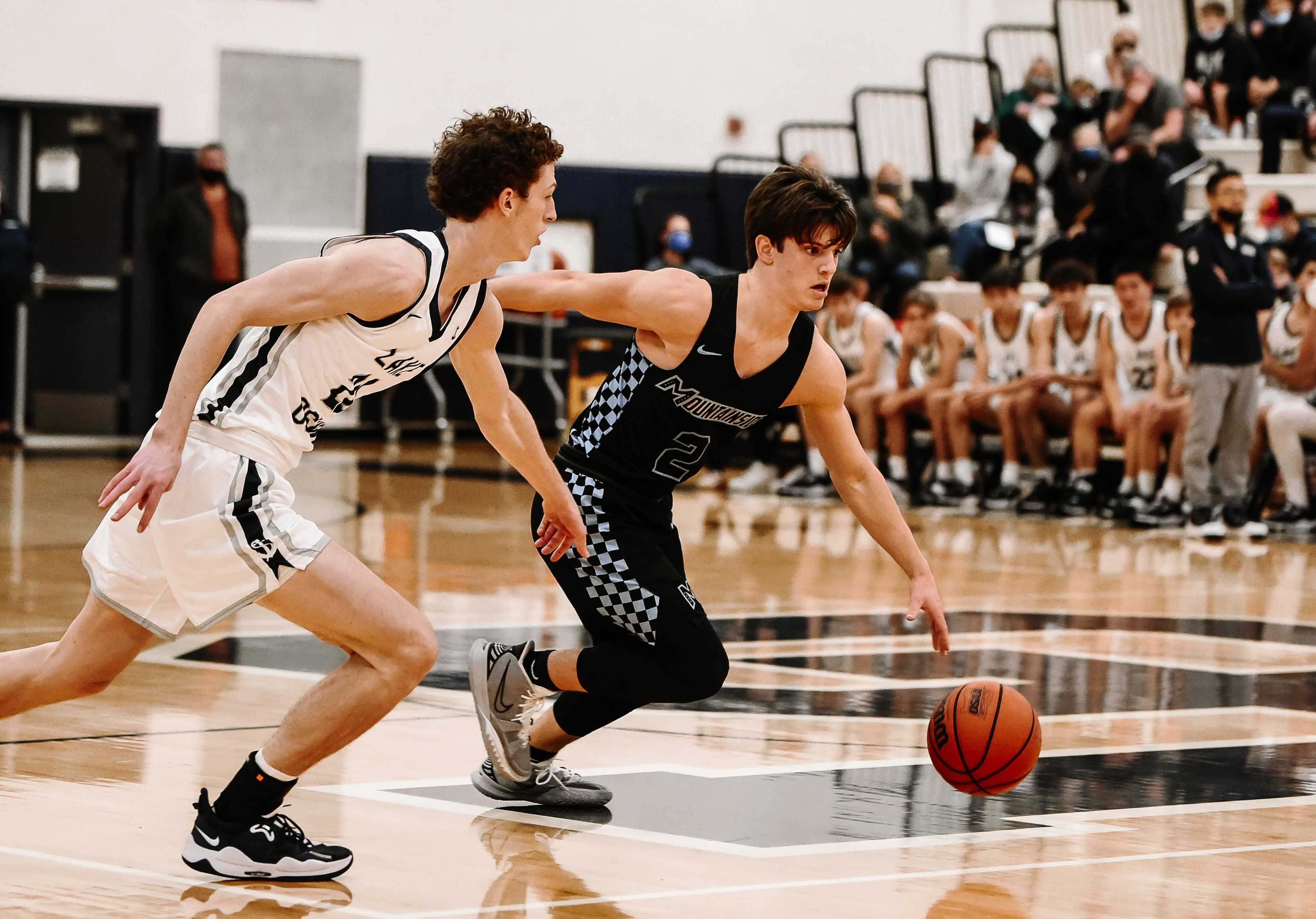 LAKE OSWEGO – In its fourth season, Mountainside's boys basketball team is poised to make a big move.
The seventh-ranked Mavericks improved to 5-0 on Tuesday night with an impressive 82-64 win at Lake Oswego in a 6A nonleague game. Senior point guard Dimitri Cohen scored 38 points for Mountainside, which built a 28-point lead in the third quarter and coasted to the win.
With five starters back from a team that went 11-6 last season – and the addition of talented freshman Brayden Boe, a 6-foot-3 guard – the Mavericks believe they are ready to do something special this season.
"We have great goals, but we can't be too cocky and confident," said senior wing Dezman Baker, a fourth-year starter. "We've got to stay humble and always try to be the underdog, so we always feel like we're fighting for something. We're not too comfortable when we play someone."
Mountainside coach Dustin Hewitt, who led the Mavericks to a 21-5 record and into the second round of the state playoffs two seasons ago, likes how his team is coming together.
"We're just kind of progressively building this program," Hewitt said. "We're getting there. When we're playing unselfish, and we're dialed in on defense, we're going to be a tough team to beat. But every team has those lapses, and we're trying to get that out of them."
Mountainside came out firing against the Lakers (0-4), who were looking to bounce back from two losses at a tournament in Arizona on Friday and Saturday. The Mavericks made four three-pointers in the first quarter – two each from Cohen and senior guard Dylan Westlake – to build a 20-7 lead.
Cohen, a 5-11 lefty, was just getting started. He made his first five attempts from three-point range and had 19 points at halftime, when Mountainside led 38-21.
"I've been working a lot on my shot, my shot off the dribble, getting stronger," said Cohen, who entered averaging 14.3 points per game. "I've been in the weight room a lot."
Cohen's sharpshooting sparked the Mavericks.
"It was fun to watch," Baker said. "When he hits his threes, it's like, he's on the whole game. It's nice to have someone that can score any way, anyhow. No matter how good the defense is, he can get his three off. And it's just nice to watch."
Hewitt said Cohen has been an "awesome leader."
"The last game against Clackamas, he came in averaging 17 a game and he took four shots," Hewitt said. "It wasn't the defense that was stopping him, he was just hitting open players.
"If we can continue to have our leaders and our captains and our best players play unselfish, it's easy for everyone else to get in line and share the ball."
Cohen added a sixth three-pointer during a 16-0 run in the third quarter as the lead grew to 54-26. The 6-4 Baker had six points in the surge.
Cohen finished 10 of 12 from the field – including 6 of 8 from three-point range – and 12 of 14 on free throws for his career-high 38 points.
"He's tough, and he knows it, too," Lake Oswego coach Marshall Cho said of Cohen. "He's the guy who gets them going. We let him loose a little bit without making him uncomfortable. So it's a lesson learned, and hopefully, we'll get a chance to see them again at some point."
Westlake and Boe had 13 and 11 points, respectively, for the Mavericks. Baker added six points and eight rebounds.
"It feels good because Lake O is a great program," Baker said of the Lakers, who won Three Rivers League titles in 2018, 2019 and 2020. "They have good teams every single year, and they're always going to compete. It just gives us a momentum boost and confidence for the next team we play. We're getting used to these bigger moments and bigger teams. It's always nice to get a win under our belt."
Hewitt expected a battle from Lake Oswego.
"They're a very physical team, and that's what we preached going into the game is we have to match their physicality," Hewitt said. "I thought we did an admirable job for most of the game."
Lake Oswego got 16 points, six rebounds and two blocks from 6-6 freshman Winters Grady, who scored 12 points in the last 4:22 of the game. Senior wing Sorena Torabi added nine points for the Lakers.
With the game getting out of hand in the third quarter, Cho pulled his starters and turned the game over to his bench.
"We just have to learn to compete, and know that teams are coming in gunning for us," Cho said. "They have to understand that it comes with a little bit of a price that you have to pay, and if you're not ready, then you're going to get what you saw tonight."