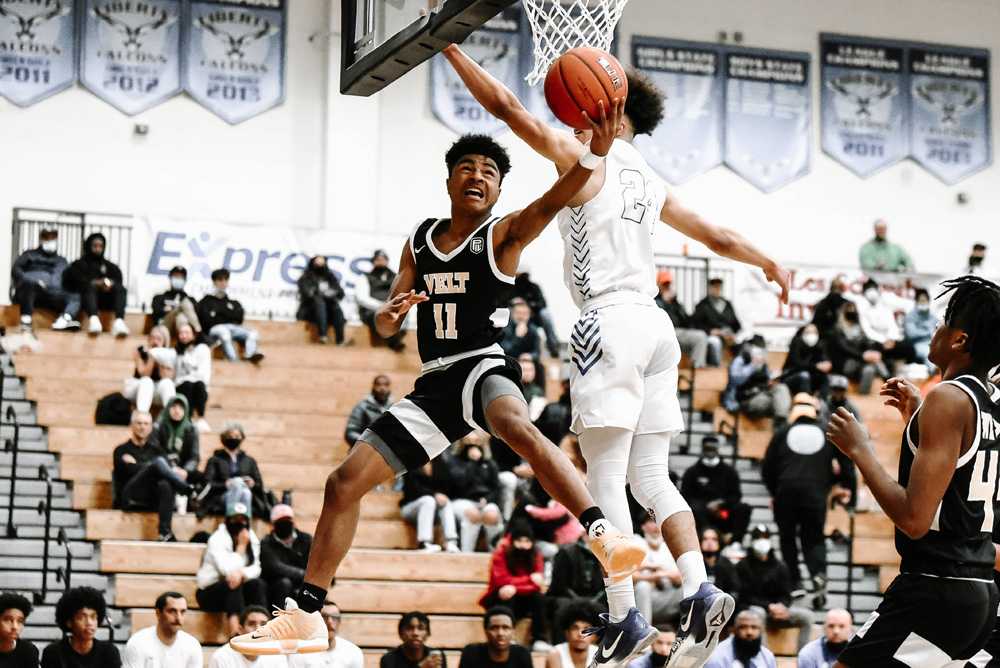 The first day at the 25th Les Schwab Invitational saved its best for last on Sunday at Liberty HS in Hillsboro. After three blowouts, the nightcap between Roosevelt, ranked fourth in the OSAAtoday coaches poll; and unranked Gresham, came down to the final shot. When Gresham's desperation half-court shot at the buzzer fell short, the Roughriders (5-1) survived to reach the quarterfinals with a tense 70-68 victory.
Terrence Hill, a 6-3 sophomore point guard, led four Roosevelt players in double figures with 17 points. He added five assists. Beya Kim added 16 points and 15 rebounds, while Chance White and Utrillo Morris teamed for 26 additional points.
The game started with a bang for Roosevelt. After controlling the opening tip, Hill lobbed a ball at the rim, which Donatello Tupper, a 6-5 senior wing, slammed home for a quick 2-0 lead. Roosevelt added another bucket, when Morris fed Kim for a lay-in, and the Roughriders were off and running. Literally. The entire starting five got involved as Roosevelt finished at the rim again and again. The Roughriders closed the first quarter on a 15-0 run to take a 25-9 lead into the second quarter.
Gresham, which entered the game with a 3-1 record, started the second quarter quickly, thanks to junior point guard Esyah Pippa-White. The reigning Mt. Hood Conference Player of the Year scored on a triple from beyond the arc and added a stick-back "And 1" to cut Roosevelt's lead to 10. The Gophers continued to slice into the lead, taking advantage of a lapse in Roosevelt's intensity.
"We're a young group," Roosevelt head coach Yusef Leary explained. "One of the things we're trying to learn is how to put teams away. Sometimes, once we get that lead and rhythm going, we start to fall into the lulls instead of playing our style."
Twice before the break, Gresham got as close as two, on buckets from Pippa-White and Donavon Ferguson. Roosevelt responded by scoring five of the final six points to take a 38-32 lead into the half.
Southpaw R.J. Alexander, who had just two points before the break; heated up in the second half and gave Gresham a third option with Pippa-White and Scotty Riddle. The trio scored all of Gresham's third-quarter points, save for four, as the Gophers got within 55-52 going into the fourth.
Eighty seconds into the fourth quarter, Pippa-White's jumper made it 56-55 Gresham, the Gophers' first lead of the game. Roosevelt, playing without 6-7 slasher Raysean Seamster (knee), perhaps the most dynamic senior in the state; quickly tied the game back up on a Kim free throw and went back into the lead on two from the charity stripe from White.
With both teams in the bonus for most of the final quarter, the game turned into a free throw shooting contest for much of the rest of the game. Roosevelt, which struggled at the line for the first three quarters, started hitting the freebies with consistency and moved to a 62-56 lead.
The lead was five, 64-59, after two Alexander free throws for Gresham, when Roosevelt called time to determine its strategy for the final 2:41 of the game. The young Roughriders did not execute well, took two ill-advised corner threes and gave Gresham the opening necessary to rally. And what a rally it was! Owen Cummins hit two free throws to pull the Gophers within two with 54 seconds remaining and sped up Roosevelt's offense with a 1-3-1 half court trap, which produced a critical turnover as the clock wound under 30 seconds.
Gresham elected to keep the ball in Pippa-White's hands and the junior delivered a cold-blooded triple under heavy defense less than 10 seconds later. Gresham led, 68-67; just its second lead of the game!
Roosevelt attacked the paint with Hill and drew a foul with 13.8 seconds left. The sophomore came up huge by making both free throws to put the Rough Riders up by a point.
Gresham had a shot to go ahead in the closing seconds, but Ferguson's effort from beyond the arc was off the mark. Kim, who had many clutch caroms, corralled the rebound, was fouled and added a free throw to make the lead two, with only time left for Gresham's desperation heave.
Pippa-White finished with a near triple-double for Gresham, scoring 23 to lead everyone while adding nine assists and seven rebounds. Riddle and Alexander chipped in with 14 points apiece.
Leary said that Roosevelt's response to the adversity of falling behind by pulling out the win was really important for his young squad.
"We're trying to get to March and be at the Chiles Center," he said. "Win, lose or draw, these are great character games for us. We're always happy to learn lessons with a win."
Leary said that he expects Seamster to be back within the next few weeks.
"He's our guy, our No. 1 go-to," Leary added. "So we're a little but hindered right now. Our goal is to get these guys as good as possible, so that when Raysean is ready to come back he has a seamless transition back with us."
In other action Sunday from the Schwab:
Jesuit 68, Canby 52 -- Jesuit outscored Canby by 10 in the first quarter and added to its lead in the second and third quarters in a decisive win over the Cougars. Isaiah Crane had 22 points and Cade Collins added 16 for the victorious Crusaders (6-2), who forced 23 Canby turnovers and finished 12-13 from the free throw line. Payton Meyers had 14 points to lead four Cougars in double figures. Canby dropped to 6-2 with the loss.
Tualatin 78, Churchill 49 – Undefeated Tualatin (7-0), ranked No. 1 in the most recent OSAAtoday 6A coaches poll, raced to a 20-7 lead after one and put the game away with a dominating third quarter on its way to a comfortable 29-point win. Ten players scored for Tualatin, which shot just under 50 percent for the game and forced 20 Lancer turnovers. Guards Malik Ross and Noah Ogoli combined for 36 points and seven assists for the victors. Carsen Luna paced Churchill with eight points, five rebounds and three assists.
Lake Oswego 78, Evergreen 37 – Lake Oswego led 18-3 after one and 46-14 at halftime in a blowout win over Evergreen of Vancouver, a last-minute entrant to the LSI. The Lakers had four scorers in double figure, led by freshman Winters Grady's 16. Nine players scored for LO, which shot over 50 percent from the floor and nearly 50 percent from long range. Juelz Mendoza scored nine points to pace Evergreen.