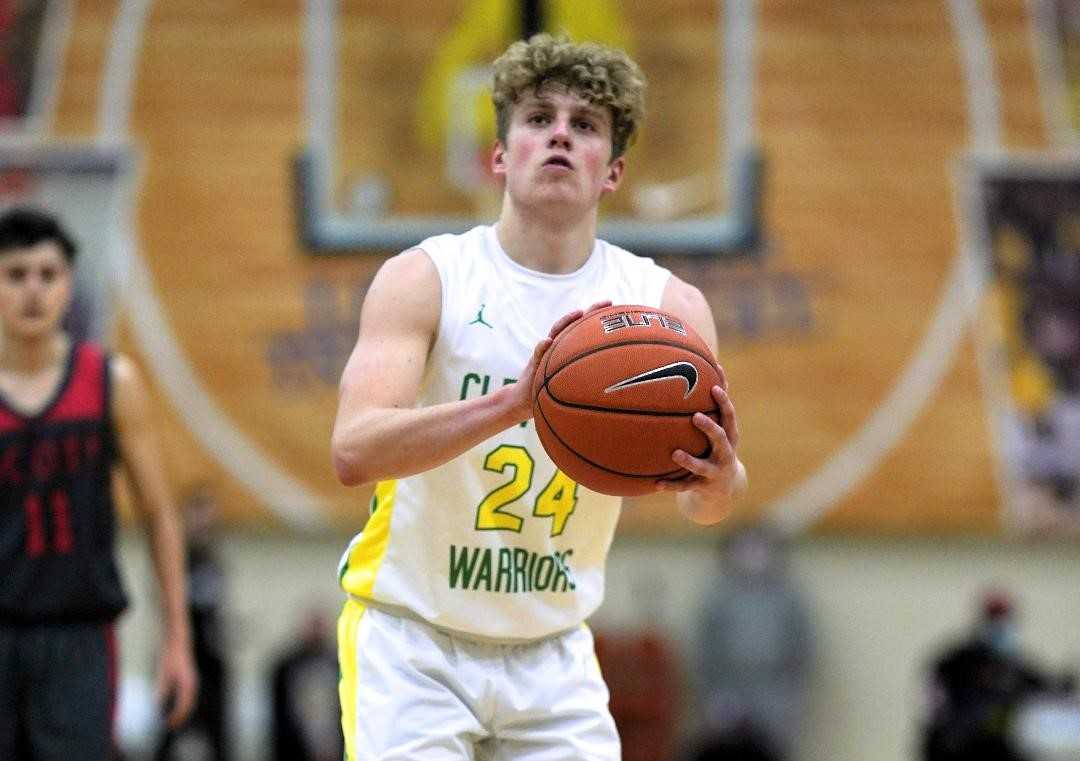 Flying under the radar at the Les Schwab Invitational was a strong – and surprising – performance by Cleveland's boys basketball team.
The Warriors won three of four games, finishing off their appearance with back-to-back victories over traditional 6A powers Lake Oswego and Jesuit.
It was a rewarding run for Cleveland coach Dondrale Campbell, especially the win over Lake Oswego, where he assisted coach Marshall Cho for three seasons before taking over the Warriors in 2017-18. Cleveland lost to the Lakers in the 2018-19 regular season and the 2020 playoffs.
"That was definitely a big win for us, and a high point for me in my career," Campbell said. "And then to turn around and play an historical and legendary coach in the state in Jesuit's Gene Potter, that was another honor and a high moment for us."
Cleveland defeated David Douglas 80-53 in the first round, and after falling to Beaverton 66-65 in the quarterfinals, the Warriors dropped Lake Oswego 85-77 and Jesuit 62-57.
Cleveland heads into the new year at 7-2 and No. 5 in the OSAA 6A power rankings. The success comes after losing all but five players from last season, when the Warriors finished 10-7.
"I'm blown away by the fact that they've played this well," Campbell said. "I didn't think that we'd be where we are today. But they put it together fast and stepped up the learning curve. They've beaten some really good teams."
The Warriors now look to be players in a Portland Interscholastic League race that includes Roosevelt and Grant – teams ranked third and fourth, respectively, in the OSAAtoday 6A coaches poll – as well as dangerous Lincoln, Benson and McDaniel.
"We have a very good chance of competing for the top team," Campbell said.
Cleveland returned two starters in senior guard Lawson Vella and junior wing Jackson Cooper. Vella, Cooper and junior wing Christian Green all are averaging close to 12 points per game.
The 6-foot-3 Green averaged 17.3 points and 9.3 rebounds at the Les Schwab Invitational. Vella showed off his shooting stroke, making five three-pointers in a 30-point outburst against Lake Oswego and hitting four triples against Beaverton.
The loss to the Beavers was difficult to swallow. Cleveland went on a 21-3 run to start the fourth quarter and take a 63-56 lead with three minutes left, but couldn't close it out.
The Warriors led Jesuit, ranked sixth in the coaches poll, 47-27 late in the third quarter and held on two win behind a 20-point performance from Green.
Junior point guard Jamel Pichon and senior forward Stephen Treat also have been solid contributors as first-year starters. The 6-0 Pichon has proven that he can run the offense, which is putting up 67.1 points per game, up from 60.4 last season.
"I'm impressed with our whole group, but really our guard play," Campbell said. "We do a good job of ball movement, sharing the ball. Their unselfishness makes it easy for anybody to have a good night. I would've never imagined that we would have five guys that could score the ball over double digits on any night, but we've got five that can."
Tornado streak
No. 10 North Medford extended its winning streak to nine last week by cruising to two wins in the Abby's Holiday Classic at South Medford High School.
The Black Tornado's offense came alive in beating South Salem 93-46 and Ashland 85-45. Prior to those games, North Medford (10-1) was averaging 64.2 points per game and leaning on its defense.
"Our defensive end has been a little bit of a surprise, how fast we've come along," coach Scott Plankenhorn said. "On the offensive end, I thought we'd be a little more explosive. We're coming around on that end now."
The Black Tornado shot 58 percent against Ashland and 54 percent against South Salem, recording 53 assists on 75 field goals. Senior guard Trey Neff had 43 points and senior wing Bryce Dyer had 39 points and 23 rebounds in the wins.
"We started sharing the ball, and really sharing it well," Plankenhorn said. "We've been much better shooting it, and moving it, and getting it to the right spot at the right time."
The 6-2 Neff is averaging a team-high 17.6 points, 4.7 rebounds, 2.2 assists and 1.7 steals. He is the team's leading three-point shooter, making 28 of 74 (37.8 percent).
"He's one of the best shooters I've ever had," Plankenhorn said. "He's got that three-level scoring ability. It makes him hard to guard."
The 6-5 Dyer is putting up 13.2 points, 11.3 rebounds, 4.5 assists and 2.1 steals.
"His energy level is just nonstop. And he can do everything," Plankenhorn said.
North Medford's winning streak started after a 57-53 loss at Beaverton. In that game, the Black Tornado shot 33 percent, including 3 of 24 from three-point range.
Adrian thwarts Badgers, again
Adrian continues to be a nemesis for Powder Valley.
The Antelopes not only handed Powder Valley's football team its only two losses this season – including 46-38 in the 1A final – but they pinned the Badgers' top-ranked basketball team with its first defeat last week.
Unranked Adrian (8-1) rallied from a 16-point, halftime deficit to defeat the Badgers 80-75 in the Baker Holiday Tournament at Baker High School on Dec. 27. Powder Valley (9-1) had opened the season with eight consecutive wins.
The Badgers led 20-7 after one quarter and 41-25 at half before Adrian mounted a comeback behind junior Carter Bayes, who scored 21 of his 25 points in the second half.
The Antelopes drew within 58-51 after three quarters. They scored 29 points in the fourth quarter to overtake the Badgers, with Carter Bayes and senior Gavin Bayes combining for 19.
Adrian beat Union 65-49 on the following to avenge its only defeat, a 52-48 loss on Dec. 4.