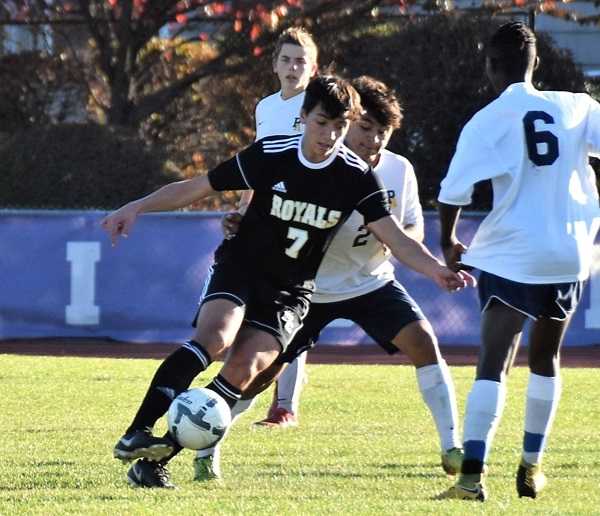 Jacob Babalai is doing his part to put Portland Christian back on the boys soccer map this season.
The junior striker has scored 39 goals for the Royals, who are third in Class 3A/2A/1A with 75 goals. He is one of the main reasons why Portland Christian (7-6-1, 4-4 Special District 1) is contending to make the state playoffs.
"His teammates do a great job of getting the ball to him," coach Matt Scholer said. "They're aware that usually when he gets the ball, something good is going to happen. So we try to focus on getting defenders away from him as much as possible."
Without a team at Portland Christian, Babalai spent the last two seasons playing for Columbia Christian. He is among six Royals that played on last year's Columbia Christian team.
Scholer saw Babalai play for the first time during summer workouts and identified him as the team's top weapon. He told Babalai that the offense was going to run through him.
"I told him, 'I'm going to have you shoot a lot of goals this season, so be prepared,'" Scholer said. "He's fast, he has soccer speed, he can dribble well and he has really good field vision.
"He has leadership qualities where he can communicate with his teammates. He's able to make decisions quickly. He just has all the tools that a center-type mid or a forward needs to make the shots."
Scholer said that Babalai's best game was when he scored all five of the team's goals in an 8-5 loss to De La Salle North Catholic. Missing its top two goalkeepers, Portland Christian's defense struggled, but Babalai kept the team in the match.
"It was one of the craziest things I've seen coaching soccer," Scholer said.
Babalai and the Royals, who are 25th in the OSAA power rankings, have plenty of work ahead of them to make the state playoffs.
First, they need a win Thursday in a district playoff match against De La Salle North Catholic (5-4-4) at Delta Park. If they win, they would play Riverdale (5-2-3) on Saturday for the district's No. 3 state berth.
If they lose, they still would have a chance to snag one of the three at-large state berths, based on power ranking.