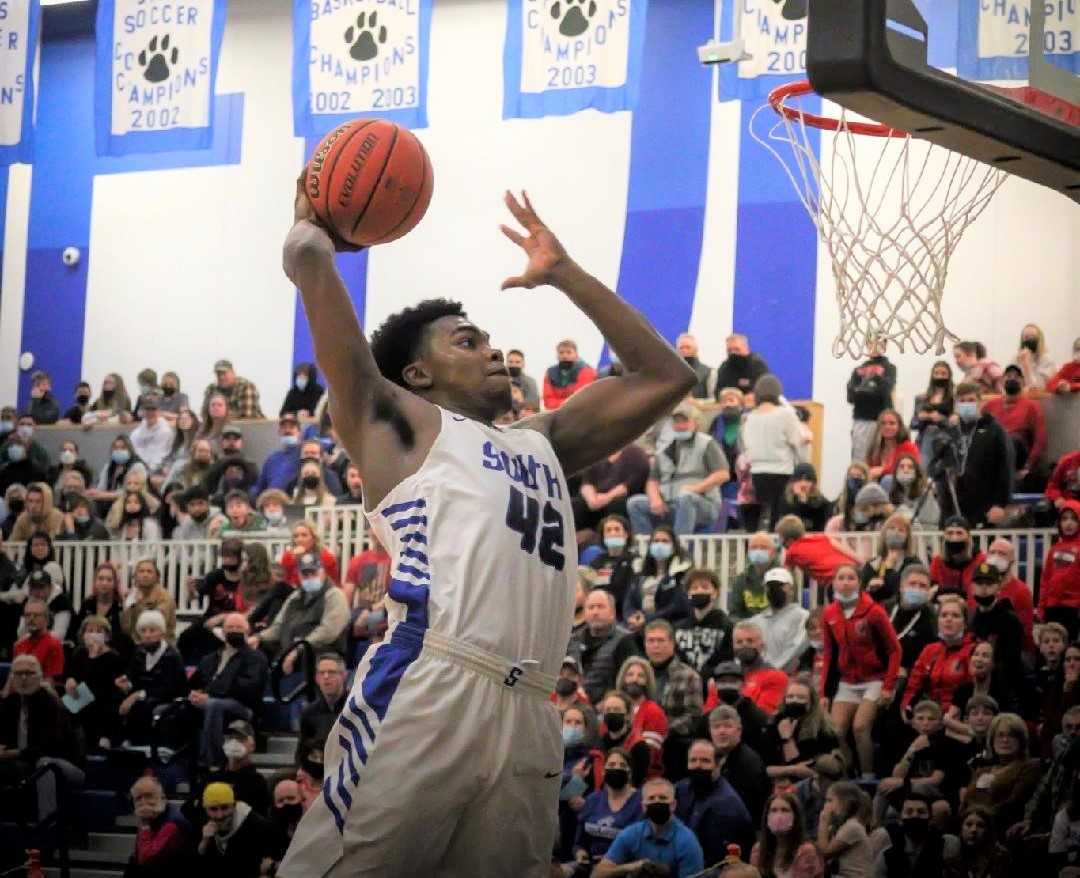 If South Medford wasn't already fired up to play host to rival North Medford with first place in 6A Southwest Conference boys basketball at stake Friday, the Panthers got a jolt with some news that morning.
The Medford School District lifted its COVID crowd restrictions, which had allowed four spectators per home player, two per visiting player. The word spread like wildfire on social media.
"It went from having about 300 people to having over 2,000," South Medford coach James Wightman said. "What an atmosphere. We haven't had that kind of crowd since the Kyle Singler days, back in '06, '07."
Feeding off that energy, the Panthers delivered with their most important win of the season, a rollicking 67-39 thumping of the Black Tornado. They smothered a North Medford team that entered averaging 69.6 points and had a previous season low of 53.
"We didn't think we'd ever beat them by 28," Wightman said. "It kind of snowballed. We were playing at home with a big crowd and a lot of emotion. It's a once-in-a-lifetime to play in that atmosphere."
Boden Howell, a 6-foot-3 freshman guard, led South Medford with 17 points. Sophomore point guard Jackson Weiland had 16 points, senior Junior Sleezer added 14 points and 6-3 senior forward Devon Malcolm provided the electricity, throwing down several dunks and collecting 11 points and seven rebounds.
The Panthers (15-2, 5-0), who won at Sheldon 50-41 on Saturday afternoon, hold a one-game lead over North Medford (16-2, 4-1). They also traded spots with the Black Tornado in this week's OSAAtoday 6A coaches poll, moving up to No. 5 from No. 8.
Defense was the difference for South Medford. The Panthers fronted North Medford seniors O'Shea Miller (6-4) and Bryce Dyer (6-5) in the post and closed out strong to the three-point line, where Black Tornado senior Trey Neff is dangerous. North Medford shot 29 percent (12 for 41).
"We just had to get him off the three-point line," Wightman said of Neff, who led his team 18 points. "We made them put the ball on the floor and take some shots off the dribble and some floaters. They just didn't make anything that way."
South Medford, which committed only five turnovers, showed its balanced attack.
"Offensively, we can score against those guys," Wightman said. "We have four guys who can flat-out score the ball."
South Medford had high expectations after going 14-1 last season, when it won two of three games against North Medford. Sleezer and Weiland were first-team all-conference last season and Malcolm was second team.
The Panthers have not lost to an Oregon team. Their only losses came against Seattle schools at a tournament in Auburn, Wash., during the holiday break, falling to unbeaten Garfield 63-50 and O'Dea 58-57.
Malcolm, who transferred from 2A Butte Falls (now 1A) as a junior, has been a driving force with his athleticism. He consistently plays above the rim, racking up about 40 dunks this season. He is averaging 17.2 points and 8.0 rebounds.
"He jumps so dang fast and quick off the floor," Wightman said.
Wightman said that Malcolm is drawing interest from small-college programs such as Oregon Tech, Southern Oregon and Chico State and junior colleges such as Lane, Redlands and College of Idaho.
"Once he's able to make a shot from out to 19 feet on a consistent level, he's going to be tough," Wightman said.
The addition of Howell, who is averaging 14.8 points and shooting 43 percent from three-point range, has given the team another dimension.
"He can score from a lot of different ways," Wightman said. "He's a crafty kid. He's just a scorer. His IQ is so high."
The 6-0 Weiland has built on his strong freshman season, averaging 12.0 points and 4.8 assists. He is shooting 55 percent from the field, including 44 percent from three-point range, and 91 percent on free throws.
"The kid is just a general. He's a true point guard," Wightman said. "And he plays defense. He's going to pick you up at 94 feet and turn you. He can play all 32 minutes, really."
Sleezer is averaging 14.1 points and is one of the state's best defensive players, according to Wightman. Freshman guard Drew Hall also has been a valuable piece off the bench.
"They're really starting to gel together," Wightman said. "It's a fun crew to have. And the future looks good for us with these three guards."