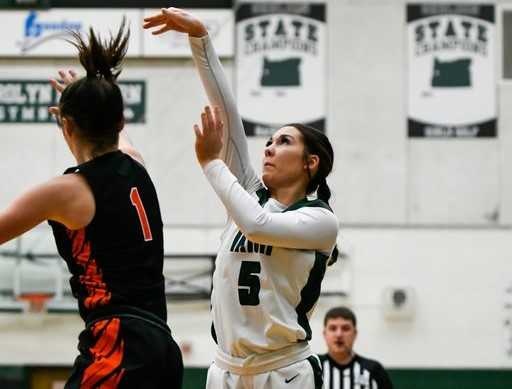 After a runner-up finish in the elite bracket of the Portland-area culminating week tournament last season, Sheldon's girls basketball team looked to be a 6A contender this season.
But the Irish's best-laid plans went up in smoke in July when their best player, 6-foot-1 senior guard Danika Starr, suffered a torn ACL while playing for Oregon Elite.
"It was big in the sense that we kind of built everything around her versatility on offense," Sheldon coach Brian Brancato said of Starr, who could play any position on offense.
If that wasn't enough, Sheldon lost another projected starter to a torn ACL last summer in senior forward Katalina Salave'a. With the lineup in flux, the Irish went 5-7 in the first month of the season.
"We had to throw some young kids in the fire early, and it took them a while to settle down," Brancato said.
It's taken some time, but it appears that Sheldon (11-8, 4-1 Southwest Conference) is finding its stride. Led by senior guard Paityn Rhode and junior forward Beaux Bruegman, the Irish won six in a row before falling to No. 4 South Medford 52-49 in overtime in a Southwest first-place showdown Saturday.
"We kind of overhauled our offensive philosophy, and whittled our defense down to a protect-the-rim kind of style," Brancato said. "It's kind of panned out for us. We've progressed quite a bit."
The narrow home loss to South Medford (16-3, 5-0) showed the team's growth. When the teams met in the final of the culminating week tournament last season, the Irish committed 37 turnovers and lost to the Panthers 64-33.
"We learned a lot from that game," Brancato said. "We used it as a teaching tool. Obviously, their personnel is a little different than it was last year.
"Our kids bought into the changes we've made. They were confident going into South Medford. They feel good about the way they played. I think they're disappointed they didn't come out with a victory."
Sheldon led South Medford by four points in the fourth quarter before going into overtime. Panthers junior Donovyn Hunter made a three-pointer to start overtime – her fifth triple after halftime – and the Irish were unable to regain the lead.
"It was a battle the whole way," Brancato said.
Hunter scored 25 points to lead South Medford. Rhode scored 16 points for Sheldon, which also got 12 points from Bruegman and 10 points from freshman guard Diamond Wright.
Rhode is shouldering more of the scoring load this season, averaging 16.9 points and shooting 47 percent from three-point range.
"She's one of those kids that's played behind all-conference guards all her career, and when she finally got a shot, she's blossomed," Brancato said.
Bruegman, who averages 11.5 points and leads Sheldon in rebounding, is the team's glue, according to Brancato. The 6-0 Wright (10.0 points) and sophomore guard Kinley Pappas have become key contributors in their first varsity seasons.
It hasn't been easy, but the team is adjusting to the loss of Starr.
"It was a big mental thing for our team," Brancato said. "The combination of having to change the way we played and the younger kids having to play a lot of minutes early was a big part of our struggles. It knocked us off our rocker for the first few weeks."
Sage on rampage
Philomath senior Sage Kramer left her mark on the state record book with a 51-point performance in the No. 1 Warriors' 77-43 home win over Woodburn in a 4A Oregon West Conference game Tuesday.
The point total is the 10th-highest single-game output in state history, tying the 5-11 guard with six others. Grant's Cindy Brown set the all-time record with 56 points in 1982.
Also Tuesday, Kramer set state records with 24 points in a quarter and 23 field goals. She tied a state record with a 36-point first half, sharing the mark with Brown (1982).
Kramer shot 23 of 35 from the field, making two three-pointers and three free throws. She broke Philomath's school record (47, Trisha Stevens, 1987) and her career high of 44 before exiting the game two minutes into the fourth quarter.
She also had 14 rebounds and six steals in the win for Philomath (14-2, 8-0).
"I have watched Sage have some amazing performances over the last four years, to the point where spectacular performances or finishes at the hoop have become the norm," Philomath coach Ben Silva said of Kramer, the 4A player of the year as a sophomore. "However, there have been a number of times this year where I have turned to my assistant coaches at the end of the game and told them that I think that was the best game I have ever seen her play.
"On top of her on-court performances, she has been able to show more of her leadership skills off the court and in practices with the younger girls."
Kramer, who has scored more than 30 points in three of her last four games, is averaging 24 points, nine rebounds and four steals per game.
As a sophomore, Kramer set a state record by shooting 16 for 16 from the field in a game. She also tied a state record for points in a quarter with 23.
'Grit, heart' propel Tigers
No. 3 Junction City overcame 19-percent shooting to outlast No. 10 Marist Catholic 32-30 on Tuesday and pad its lead in the 4A Sky-Em League.
The Tigers (17-4, 7-0) trailed 21-18 after three quarters but pulled ahead of the Spartans (12-6, 5-2) midway through the fourth quarter. Junction City had an advantage at the free throw line, making 15 of 24 compared to 8 of 20 for Marist Catholic.
"I'm proud of the grit, and heart our girls showed," Tigers coach Marcus Campbell said. "It's a special group of kids, very unselfish and balanced. They've done a lot of maturing over the course of the season."
Junior post Faith Marshall had 11 points and 10 rebounds to lead Junction City, which holds a two-game lead over Marist Catholic and Marshfield (15-6, 5-2). The Spartans got 19 points from junior guard Paige Doerr.
Senior guard Cienna Hartle leads the Tigers in scoring at 13 points per game. Marshall averages 10 points and seven rebounds and senior wings Molly Nelson and Brenna Wilson drive the defense, each averaging three steals per game.
Junction City, which has had seven different high scorers this season, is winning with balance.
"Teams can't just focus on shutting down one player," Campbell said. "We've got options ready to step up when needed."