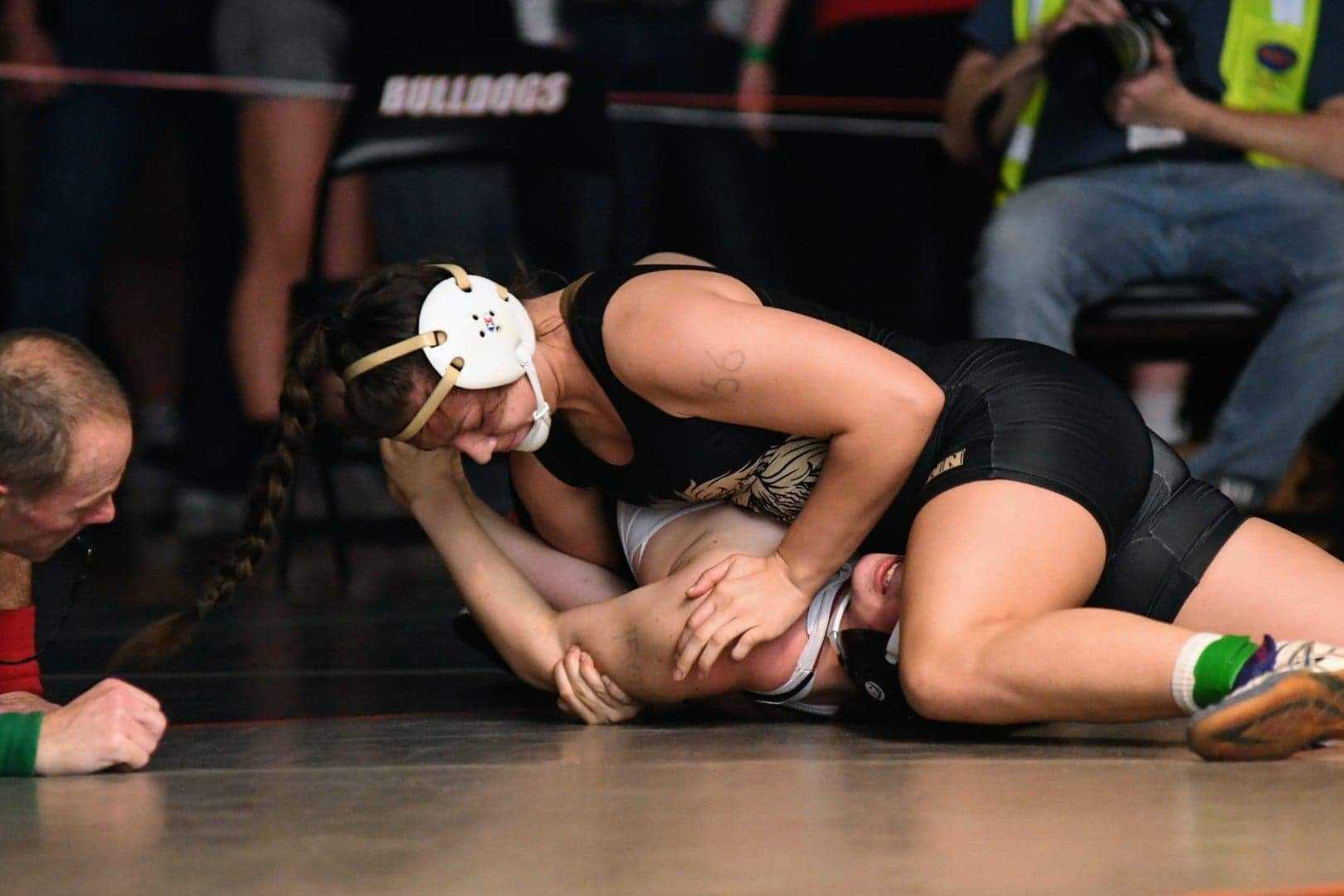 By JEREMY LANTHORN
CULVER – Forest Grove placed all four of its entries in the finals to win the OSAA/OnPoint Community Credit Union girls wrestling state championship Thursday at Culver.
The Vikings got a title from senior Ella Taplin at 190 pounds and runner-up finishes from freshman Kennedy Blanton (130), senior Makaila Takahashi (135) and junior Jasmine Hopkins (145) to rack up 99 points.
Oregon Classic champion Thurston, the 2020 state champion and the winner of the culminating week tournament last year, was runner-up with 75 points. Hillsboro (69) and Tillamook (65) were third and fourth, respectively.
Taplin pinned her way to the title to finish the season with a 31-0 record. She pinned Scappoose senior Anna Rintoul in the third round in the final.
West Linn junior Destiny Rodriguez and Hillsboro senior Ayana Medina each won their third state titles. They both finished the season with 21-0 records.
Rodriguez spent a total of 2 minutes 35 seconds on the mat while she pinned her way to a state title. She said that while she "missed the opportunity to compete at the Memorial Coliseum, it was great to get to compete and have a state championship."
Medina defeated Newberg senior Sophia Redwine, a two-time state champion, 12-3 in the final.
Rodriguez, Medina, Thurston junior Kaylee Annis (105), Cleveland junior Haley Vann (120) and Oregon City senior Bella Amaro (140) repeated as champions from the culminating week tournament.
La Pine junior Kira Kerr handed Takahashi her first defeat of the season, beating her 8-6 in the final. Kerr trailed throughout the match but was able to reverse Takahashi late in the third to tie. She secured a two point near-fall in the final seconds.
Kerr, who had wrestled Takahashi before, knew that she was really dominant on one side, so she "hit the switch on the side she wasn't dominant on. I got the switch and I got the two near-fall." Kerr said "It was just, the best feeling."
Girls finals, Thursday at Culver
100 – Chelo Garcia (Siletz Valley/Eddyville Charter) 15-0, Jr. over Sarahi Chavez (McKay) 27-3, Fr. (Fall 1:36)
105 – Kaylee Annis (Thurston) 13-0, Jr. over Richi Campbell (West Albany) 23-2, Sr. (Fall 3:04)
110 – Ariana Martinez (West Albany) 32-1, Jr. over Analise Smith (Bend) 18-1, Sr. (TF-1.5 5:56 (15-0))
115 – Paige Chafin (Sweet Home) 28-1, Sr. over Courtney Hall (Scappoose) 35-5, Jr. (Fall 1:22)
120 – Haley Vann (Cleveland) 25-0, Jr. over Estella Gutches (North Medford) 15-1, Jr. (Fall 0:56)
125 – Ayana Medina (Hillsboro) 21-0, Sr. over Sophia Redwine (Newberg) 15-2, Sr. (MD 12-3)
130 – Alice Rickett (Hillsboro) 21-2, Jr. over Kennedy Blanton (Forest Grove) 33-5, Fr. (Fall 2:34)
135 – Kira Kerr (La Pine) 31-2, Jr. over Makaila Takahashi (Forest Grove) 30-1, Sr. (Dec 8-6)
140 – Bella Amaro (Oregon City) 13-0, Sr. over Brielle Brick (Creswell) 15-2, Sr. (Dec 5-4)
145 – Averie Stockwell (Thurston) 17-0, Sr. over Jasmine Hopkins (Forest Grove) 30-4, Jr. (Fall 3:16)
155 – Destiny Rodriguez (West Linn) 21-0, Jr. over Madi Randels (Tualatin) 11-2, So. (Fall 1:01)
170 – Jennifer Delatorre (Tillamook) 13-0, Sr. over Anna McDougal (Central Linn) 35-4, Sr. (Fall 4:00)
190 – Ella Taplin (Forest Grove) 31-0, Sr. over Anna Rintoul (Scappoose) 25-6, Sr. (Fall 5:22)
235 – Mallory Lusco (Grant Union) 16-2, Fr. over Stephanie Romero (Irrigon) 5-7, So. (Fall 3:15)