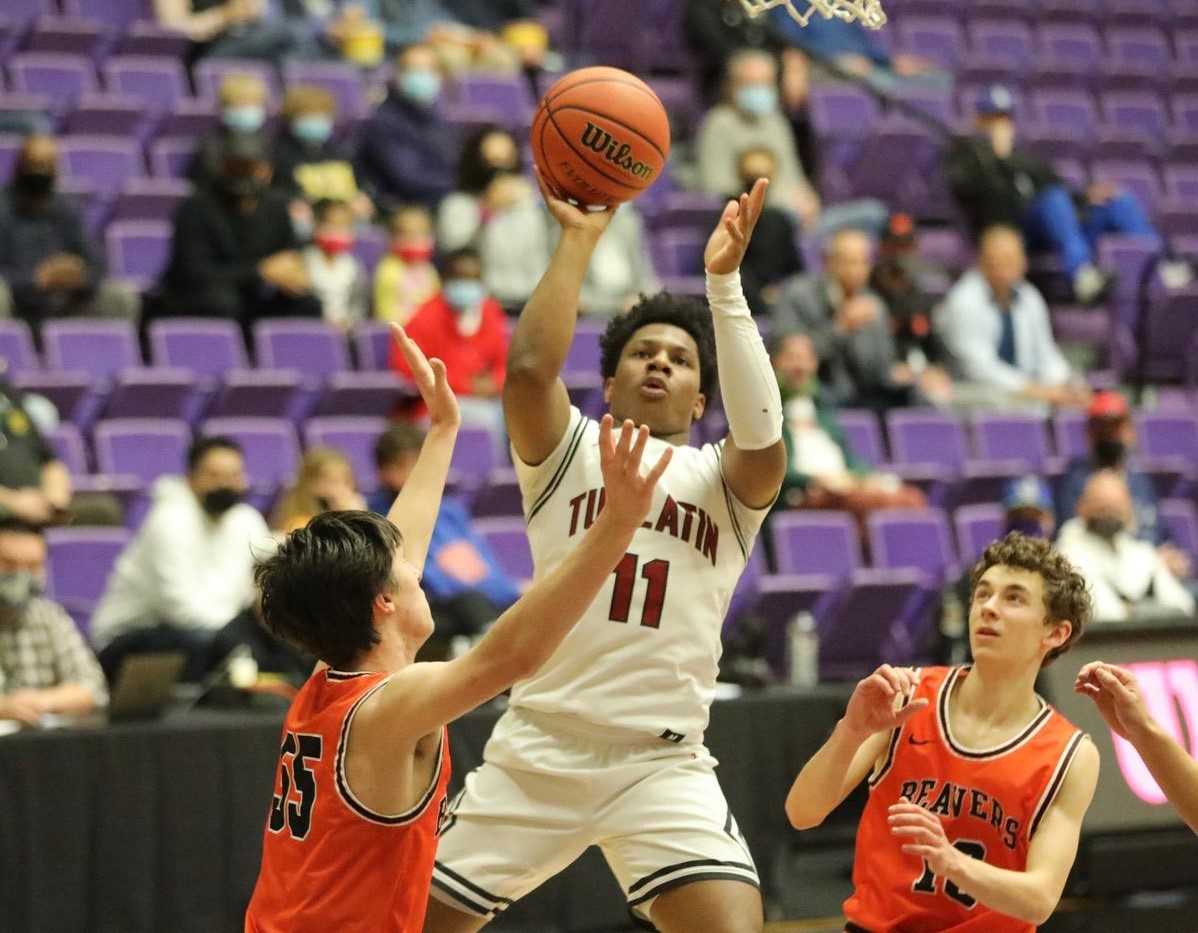 PORTLAND – Top-seeded Tualatin wasn't about to fall into a mental trap Wednesday against Beaverton in the quarterfinals of the OSAA/OnPoint Community Credit Union 6A boys basketball tournament at the Chiles Center.
The Timberwolves couldn't afford to get complacent in light of their 32-point win over the Beavers at the Les Schwab Invitational in late December.
"We kind of just tried to forget that," Tualatin senior guard Malik Ross said. "We told ourselves that that means nothing."
Ross opened the game with a three-pointer as the Timberwolves jumped to a 7-0 lead and rolled to a 54-43 win over the eighth-seeded Beavers (19-7). Tualatin (24-2) advances to the semifinals to play Three Rivers League rival West Linn on Friday.
The Timberwolves broke open the game with a 10-0 run to lead 21-7. Junior Josiah Lake hit a three-pointer, Ross scored on a layup, junior Ryan Schleicher made a three-pointer and senior Noah Ogoli added a jumper to finish off the surge.
Ross scored 15 of his game-high 22 points in the first half, which ended with Tualatin ahead 32-16.
"I thought Malik was huge," Timberwolves coach Todd Jukkala said. "He got us going. He was aggressive, and that helped out."
Tualatin's guards – Ross, Ogoli and Lake – were instrumental in pushing the pace.
"We wanted to try to speed them up and get them feeling some pressure," Ross said. "Get them on their heels on the offensive end, and then just run in transition, and keep the moving. But I think our main focus was we've got to play defense, so we can transition to easy offense. And we did that today."
Instead of running away from the Beavers in the second half, though, Tualatin kept its lead around 10 to 15 points. The Timberwolves struggled with taking care of the ball and finished with 18 turnovers to Beaverton's 10.
"Second half, little different story," Jukkala said. "I think the length of the court got to us a little bit and we just started making mistakes with the ball. Things that we've seen all year long that we normally handle, we had a little trouble with. But we did enough."
Tualatin shot 50 percent for the game. Ross finished 6 of 10 from the field, 2 of 3 from three-point range. Lake made two three-pointers and finished with 13 points, nine rebounds, three assists and two steals. Senior Kellen Hale added eight points and four rebounds for the Timberwolves, who had a 32-18 edge on the boards.
Senior guard Trevon Hamilton, the Metro League player of the year, finished with 11 points for Beaverton, which shot 32.1 percent. Sophomore Aidan Rice made three three-pointers and added 13 points and five rebounds.
Tualatin, which has never won a title, is in the semifinals for the first time since finishing as runner-up in 2000.
"It feels pretty good," Ross said. "It's kind of what we've been working for all season, so to get the chance to finally get out here and play on this court is a blessing and a dream come true."
No. 11 Mountainside 66, No. 3 Cleveland 56 (OT): Mountainside of Beaverton, a fourth-year program making its first tournament appearance, rallied from a seven-point deficit in the fourth quarter to knock out Portland Interscholastic League champion Cleveland.
Mavericks senior point guard Dimitri Cohen made all eight of his free throws in overtime and finished with 17 points, four rebounds and two steals.
Cleveland, which had not played in the quarterfinals since 1962, led 42-35 early in the fourth quarter and was up 48-43 after junior Jackson Cooper scored with 3:11 left.
Cohen hit his third three-pointer of the game to draw the Mavericks within 50-49, and sophomore Quinn Haveman followed with a layup to put them ahead 51-50 with 1:29 remaining.
With the game tied 51-51, Haveman hit a jumper for a 53-51 lead with 14 seconds left. Cleveland junior Christian Green put the game into overtime with a jumper at the buzzer.
Green started overtime with another jumper for a 55-53 lead, but Mountainside pulled ahead 57-55 on baskets by seniors Dezman Baker and Dylan Westlake.
Cohen made two free throws, then came up with a steal and two more free throws to make it 61-55 with 41 seconds to go. He added four more free throws down the stretch to ice the win.
Mountainside (20-7) had five players finish in double figures in Cohen, Westlake (15 points, four rebounds, three assists), Baker (13 points, four rebounds), freshman Brayden Boe (11 points, five rebounds) and Haveman (10 points).
The Mavericks, who shot 84.6 percent (22 of 26) to beat No. 6 Central Catholic in the round of 16, shot 55.6 percent (25 for 45) against the Warriors.
Green led Cleveland (22-5) with 17 points and five rebounds. Cooper added 13 points and seven rebounds.
No. 2 Summit 65, No. 7 Roosevelt 64: Senior point guard Julian Mora scored on a tip-in at the buzzer to give unbeaten Summit the win over Roosevelt.
Mora, the Mountain Valley Conference player of the year, missed two free throws with the Storm trailing 64-63 with four seconds left. Senior Caden Harris rebounded and missed a short baseline jumper, but Mora reached for the rebound and flipped it in for the game-winner.
Mora finished with 17 points, three rebounds and five assists for Summit (26-0), which moves on to Friday's semifinals to play Mountainside. Harris had 16 points and nine rebounds and senior Carson Cox made three three-pointers and scored 16 points.
The Roughriders (21-7), playing in the big-school quarterfinals for the first time since 1958, led 39-29 early in the third quarter before the Storm came back. Cox hit a three-pointer to tie 41-41 and made a layup to put Summit ahead 45-44.
The lead changed hands several times in the fourth quarter. Roosevelt junior Beya Kim hit a jumper for a 62-61 lead with 1:15 left, but Mora answered with a jumper to put the Storm back on top 63-62 with 29 seconds remaining.
Roosevelt sophomore Terrence Hill made two free throws with 13 seconds left as Roosevelt went up 64-63.
Hill had 22 points and nine rebounds and Utrillo Morris added 16 points and nine rebounds for the Roughriders.
Summit is in the semifinals for the first time since 2016, when it lost to Wilsonville in the 5A final four.