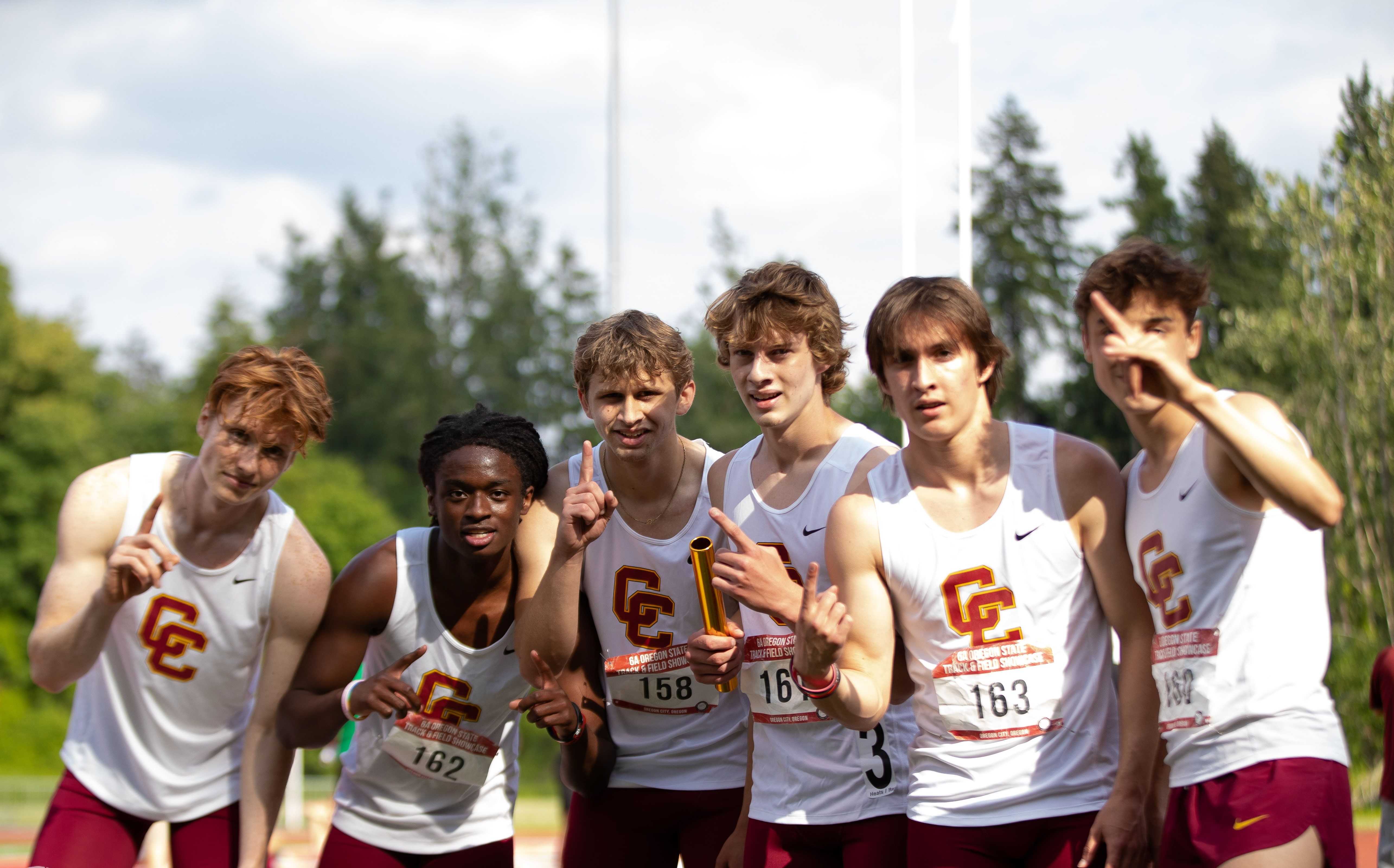 After 11 seasons as Central Catholic's track coach, Dave Frank was content serving as an assistant for the Rams for the past 10 years.
But when the team needed someone to take the helm on an interim basis this season, Frank couldn't pass it up.
"I wasn't like I was dying to do it, but at the same time, I knew on the boys side we were going to be pretty dang good," Frank said. "It's been sort of fun to be back in charge again."
Central Catholic, which has never won a state title, might have its best opportunity ever this season. Coming off a third-place finish in the season-ending 6A meet last year, the Rams believe they have the pieces to make a serious run.
"The kids know it's a possibility," Frank said. "They have mentioned it, 'Coach, do you think we have a chance to win state.' And I'm like, 'Yeah, we have a chance.' But it's hard to know exactly where we stand."
The first few weeks of the season have revealed Central Catholic's strength on the track.
Entering this week, the Rams have the state's best time in both relays, for all classifications. In individual events, junior Wes Shipsey (first-800, second-3,000) and seniors Stryder Todd-Fields (fifth-100, fifth-200), Xavier Simpson (ninth-100, eighth-400), Julian Kingery (fifth-1,500) and Max Girardet (ninth-1,500, sixth-3,000) are among the state leaders.
"Our numbers aren't huge, but we've got some phenomenally talented kids," Frank said. "On the distance side, it's definitely the best group I've ever had."
Frank said the team reminds him of the one that finished third in the 6A meet in 2018.
"A lot of that group was football players, and when they were done with football, they got after it," Frank said. "And this winter, same sort of thing. Those guys were really fired up this winter and put a ton of work in."
Todd-Fields, Simpson, Shipsey and junior Keleb Mwaaga have the state's best time in the 4x400 (3:29.10). Todd-Fields, Simpson and seniors Marcus Dillard and Gibson Coyle are No. 1 in the 4x100 (43.18).
The short relay already has improved on last year, when the Rams clocked the state's best time (43.27) but had a DNF in the state final. The long relay is six seconds off last year's state-best time (3:23.11), recorded in winning the state final.
Todd-Fields, Dillard and Simpson are back in the 4x100 and Todd-Fields and Kingery return in the 4x400. Both relays lost Liam Shores, the 6A champion in the 200 and 400 as a senior last year, but Franks is confident the Rams can fill the gaps.
"Both of our relays are going to be outstanding," he said. "I think they can threaten our school records."
Central Catholic's 2018 team set school records in both relays at 42.05 and 3:17.87.
Shipsey, who placed sixth in the 3,000 and ninth in the 1,500 in the 6A meet last year, is off to a terrific start. Frank is impressed by the drive of Shipsey, who persevered through shin and knee injuries in cross country to finish third in state.
"I won't say Wes is more competitive than Galen Rupp, but he's not far behind him," said Frank, comparing him to the 2004 Central Catholic graduate and four-time Olympian. "He's got pretty good leg speed, but with him it's more that he's just so competitive."
Shipsey won the mile at the Nike Indoor Nationals last month, finishing in 4:11.42. He is a sure bet to run the 1,500, but the Rams need to sort out if his second event with be the 800 or 3,000.
"If Wes runs the 800 in 1:51, 1:52 pretty soon, even if the 3K might be his best event, we might get more points out of the 800," Frank said. "But the 1,500-800 double at state is hard."
Kingery, the 6A runner-up in the 800 last year, ran a personal-best 4:00.26 in the 1,500 at a club meet March 5. After the meet, though, he was diagnosed with a stress fracture in his foot and was put in a walking boot. He is progressing well in his recovery, according to Frank.
"We'll be very careful with him," Frank said. "He was hurt a lot last year."
Simpson, who had the state's best time in the 100 last year (10.84), ran 11.10 in his first meet Friday. Frank expects a big season from Simpson.
"He's healthy. He was barely healthy last year," Frank said.
Todd-Fields, who finished fourth in the 100 in the 6A meet last year, could be ready to break out. The football player did not turn out for track until his junior season.
"We knew as a freshman he could be good, he just wasn't very interested," Frank said. "And now he's all in, gung-ho, and he loves it."
In their first big meet of the season Friday, the Rams placed third in the 15-team Laker Classic Invitational at Lake Oswego. They scored 125 points to finish behind Sunset (190.5) and Tualatin (137).
Big win for Gorze
Crater junior Tyrone Gorze set a meet record to win a power-packed 1,500 in the 83rd Medford Rotary Relays on Saturday.
Gorze pulled away from South Medford senior Michael Maiorano in the last 300 meters to win in 3:54.55. He broke the record of 3:55.53, set by Ashland's Cameron Stein last year.
"It's definitely something I can be proud of, especially considering in Southern Oregon there's been a lot of good runners to come through and a lot of runners to run at this race," Gorze told the Mail-Tribune. "To get that meet record, it's something really special."
Gorze finished ahead of Maiorano (3:59.14), Crater freshman Josiah Tostenson (3:59.71), Ashland junior Nathan Stein (4:04.59) and Crater sophomore Jeffrey Hellmen (4:06.35).
Gorze, who holds the state's top time in the 3,000 this season (8:23.53), now ranks No. 2 in the state in the 1,500 behind Jesuit senior John Schuler (3:54.50). Maiorano's and Tostenson's times rank fourth and fifth in the state, respectively.
It promises to be a highly competitive season among distance runners in Southern Oregon. Maiorano told the Mail-Tribune that "hopefully people tune in and stick around because it's going to be like a TV show that keeps getting better."
Riding high
North Medford senior Nathan Rider broke out in a big way to win the 100 in the Medford Rotary Relays.
Rider won the event in 10.69, the best time in the state this season and a substantial improvement from his previous best of 11.05 from last year.
The Sacramento State-bound Rider beat senior Gavin Cougle (10.74) of St. Mary's and senior Landyn Dupper (10.86) of Roseburg. South Medford junior Andrew Walker, who held the state's best time in the 100 before the meet at 10.74, did not compete in the race.
Fields' day
Churchill senior Nathan Fields moved to the top of the state's best lists for the triple jump and 300 hurdles in the Marist Invitational on Saturday.
Fields triple-jumped 44 feet, 6 ½ inches and ran the 300 hurdles in 40.70. His personal bests from last year were 45-9 and 40.10, respectively.
In the 5A meet last season, Fields won the triple jump and placed second in the 300 hurdles, third in the 110 hurdles and ninth in the long jump.