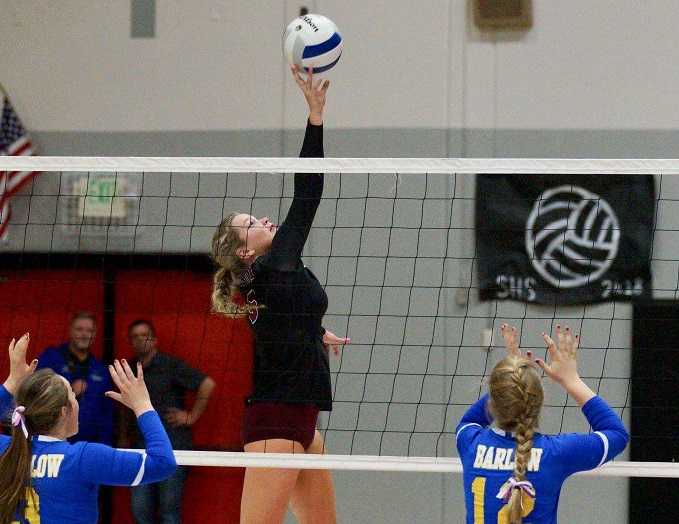 Sandy's volleyball team had mixed feelings about moving from 5A to 6A this season.
The Pioneers made the 5A quarterfinals the last two seasons – their first appearances in the final eight since 1985 – and the team was building momentum.
"It was definitely bittersweet," fifth-year coach Shyanna Davis said. "At 5A, this was probably the year that we could really compete for a championship. But also we were looking forward to playing at a higher level."
Sandy (23-4) rose to the challenge. The Pioneers finished tied for second place in the Mt. Hood Conference, behind perennial power Central Catholic, and earned a spot in the eight-team state tournament with playoff wins over Cleveland and Lincoln.
No. 8-seeded Sandy will meet No. 1 Jesuit in the quarterfinals Friday afternoon at Liberty High School.
"At the start of the season, our goal was just to make it to the elite eight," Davis said. "We didn't really know what to expect. We just wanted to show people that we're able, we're capable and we're ready and willing to work."
Davis said it has taken her five years to alter the mentality of the program.
"We're out here to make a statement," she said. "Being our first year back in 6A, and finishing in the top eight, and finishing second in one of the toughest conferences, it says a lot about these kids and their determination. The culture has changed and shifted."
The Pioneers dropped two matches to No. 3 Central Catholic and one each to No. 13 Clackamas and No. 11 Bend. They have defeated Clackamas, Bend, No. 5 Mountainside, No. 6 Sprague and No. 9 Lincoln. They also won tournaments at Southridge and Lakeridge.
The team is led by senior setter Brooke Dodge, who has committed to Eastern Oregon. The 5-foot-9 Dodge, the Northwest Conference player of the year last season, was named the Mt. Hood player of the year this season.
"Her ability to be able to read and see the court is amazing," Davis said. "The best thing about Brooke is she's just as effective offensively as our hitters are. The defense can't cheat because they have to wait and see what she's going to do first. That frees up a whole lot for our hitters."
Sandy's attack also features senior outside hitter/middle blocker Samantha Brewster (6-0) and senior outside hitter Rylee Sneath (5-6), a transfer from David Douglas. Libero MaKayla Kendoll, a 4-11 sophomore, is the team's energizer.
"She's a force to be reckoned with," Davis said. "She's 4-11, but you wouldn't know it on the court. She plays big."
The Pioneers have a tall order in facing Jesuit, which hasn't lost to an Oregon team this season.
"We can't get into a power struggle with them because we'll lose all day," Davis said. "Our focus has to be on fundamentals, and we have to play with tenacity and heart. We can't get star-struck. Regardless of what the end result looks like, we just want to fight."