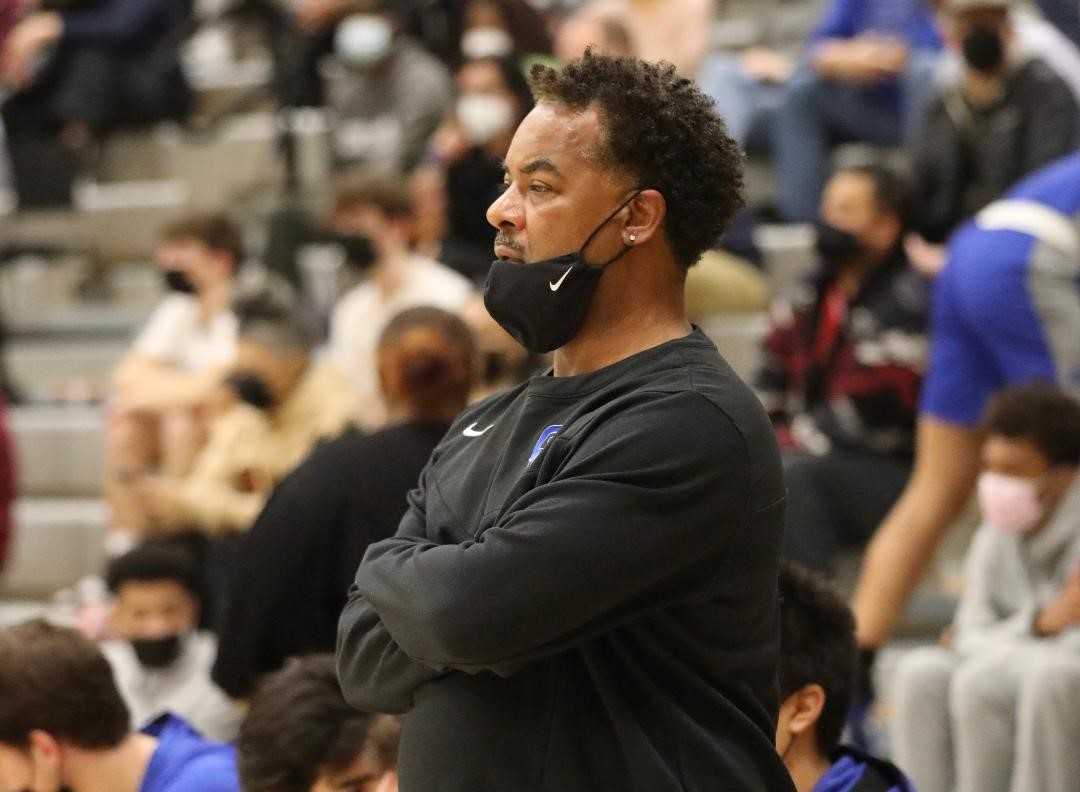 Robert Key said he was in a "good place" coaching boys basketball the last eight seasons at Grant, where he led the Generals to the 6A title in 2018.
But when he heard that Eric Viuhkola was going to resign as the coach at West Linn after last season, he became intrigued with the idea of coaching the Lions.
"At the time I heard it, I was still Grant all the way," Key said. "And then looking at different levels of things, as far as where I want to end my career, and what do I want to do, I had a big interest in West Linn."
Key decided to apply for the West Linn job in late April. He interviewed last week and was announced as the successor to Viuhkola on Friday.
"I want to finish my career at West Linn," said the 56-year-old Key, who lives in nearby Gladstone and teaches at Kraxberger Middle School in the Gladstone School District. "I'm not getting any younger. I still have a lot in the tank to continue coaching. It's my passion. I love working with kids."
It will be the first Oregon basketball coaching job outside of the Portland Interscholastic League for Key. A 1984 Marshall graduate, he assisted at Cleveland for 14 seasons (1990-2004) and was head coach at Roosevelt (2004-12) and Grant (2014-22). He also had a two-year stint as the coach at Hudson's Bay (2012-14) in Vancouver.
Key went 102-99 at Roosevelt, leading the Roughriders to a 5A runner-up finish in 2007. He compiled a 142-65 record at Grant, including the state championship in 2018.
He has a tough act to follow in Viuhkola, who went 212-68 in two stints covering 11 seasons (2008-16, 2019-22) at West Linn. Under Viuhkola, the Lions won four consecutive state titles (2013-16). West Linn finished 22-4 last season, reaching the semifinals before falling to eventual champion Tualatin.
Viuhkola's son, Zeke, was a senior on the team last season. Viuhkola plans to follow Zeke's college basketball career at Westmont College in California.
"Eric has done an amazing job," Key said. "I just want to continue to build on what he's built at West Linn."
Key's best player at Grant, guard Adrian Mosley, enrolled at West Linn this spring. He will be a senior next season.
West Linn has one of the state's top players in Oregon-bound point guard Jackson Shelstad, who is heading into his senior year. Key became acquainted with Shelstad in the Rose City Rebels club program, where Key coached and Shelstad played on a different level.
"I look forward to it," Key said. "Jackson is a very special young man, on and off the court. That was a relationship that came together then. He's such a great kid."
Key leaves a Grant program that he led to seven consecutive winning seasons. The Generals went 19-6 last season and lost in the 6A playoff round of 16.
"They're in a good place," Key said. "I wish nothing but the best to the next coach. He's got a lot to work with. I'm not done with Grant. They're an extension of my family. They've been nothing but good to me."
Key has mixed emotions about leaving the PIL. He was inducted into the PIL Hall of Fame in 2015.
"After 30 years of coaching three sports in the PIL, and four as a player, I gave back to the league I played in growing up as a student-athlete. I tip my own hat to say, a job well done."
Jukkala resigns
Todd Jukkala has stepped down as the coach at Tualatin after leading the Timberwolves to their first state championship.
Jukkala went 65-28 in four seasons, including 26-2 last season, when the Timberwolves defeated Summit 66-49 in the 6A final. The team held together despite a 29-day break between games at midseason due to COVID issues.
Jukkala was the second coach in Tualatin history, following Eric Osborn, who started the program when the school opened in 1992 and coached through 2018.
Prior to coaching the boys team, Jukkala coached Tualatin's girls team for 13 seasons (1999-2012), going 245-96 with six conference titles.
Back at Clack
Ryan King has returned as the coach at Clackamas, replacing Cameron Mitchell.
King coached the Cavaliers for five seasons (2012-17), compiling a 98-37 record. He led them to the 6A tournament three times, reaching the final in 2017 before losing to Jefferson 70-67.
Mitchell went 70-47 in five seasons. The Cavaliers had a 21-5 record in 2020 and qualified for the state tournament before it was canceled by the COVID outbreak.
Vernon to Newberg
Brett Vernon, the coach at Aloha the last two seasons, has taken over at Newberg, his alma mater.
Vernon played at Newberg for his father, Mark, the Tigers' coach from 2006 to 2010. Brett coached at CS Lewis Academy, going 57-43 in four seasons (2015-19), before coaching Aloha the last two seasons, finishing with records of 3-9 and 8-15.
He replaces Mark Brown, who went 98-148 in eight seasons.
Notes: Thomas Gardner has resigned as the coach at Jefferson. He went 2-21 in his only season. … Other coaches who won't be back include Silverton's Jamie McCarty, Churchill's Kelly Bokn, Crescent Valley's Michael Stair and West Albany's Derek Duman. McCarty went 112-13 in five seasons with the Foxes, who lost to Wilsonville 34-30 in the 5A final this year. Bokn is retiring as Churchill's athletic director this year. Duman is leaving West Albany to become the athletic director at Riverdale.