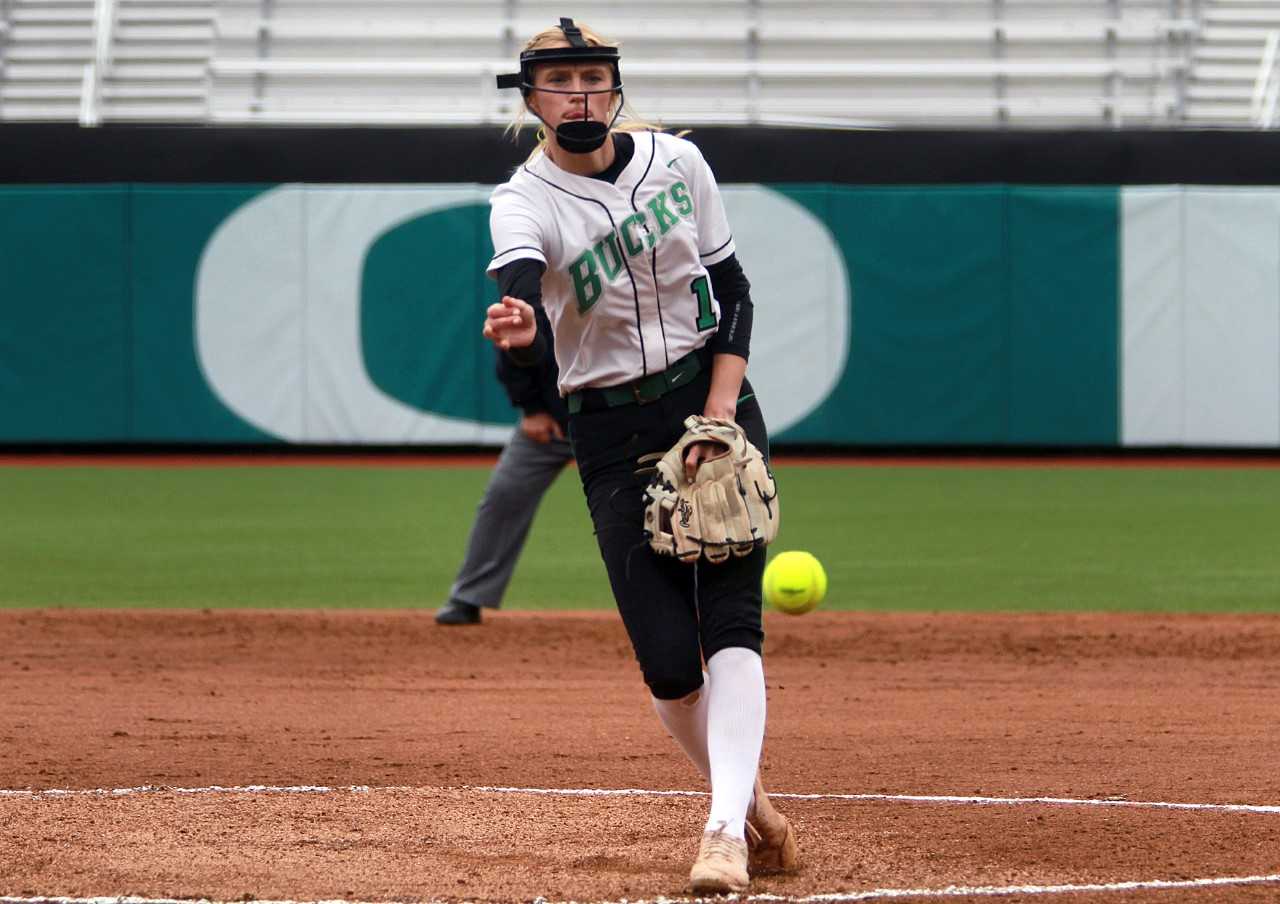 EUGENE – Tim Cary has coached plenty of good pitchers at Pendleton, where he has led the Buckaroos to six softball state finals since 2011.
But after what Sauren Garton accomplished this season – and in particular, Saturday's state championship game -- it's clear to him that she is a cut above.
"I'll tell you what, Sauren Garton is something else, isn't she?" Cary said. "I'd have to put her right up there at No. 1."
Garton put an exclamation point on a sterling senior season Saturday when she pitched a one-hitter with 17 strikeouts to lead No. 1 Pendleton (28-2) to a 2-0 win over No. 2 Wilsonville (27-4) in the OSAA/OnPoint Community Credit Union 5A final at the University of Oregon.
Garton, who has signed with Dixie State, obliterated Pendleton's school record for strikeouts this season by fanning 369 in 155 1/3 innings. And after striking out 19 in the semifinals, she was on target again against dangerous Wilsonville.
"I've been waiting for this moment my whole life," Garton said. "This is really a dream come true."
The championship squares Garton with her sister Aspen, a member of Pendleton's 2018 title team. The Buckaroos now have won four championships since 2012.
"I've always wanted to come back and do it," Garton said. "It's awesome to be here at such a cool stadium. I wouldn't have it any other way."
The game shaped up as a pitching duel between Garton and Wilsonville senior Maddie Erickson, who has signed with Michigan. When the teams split a doubleheader April 9 at Wilsonville, each pitcher earned a win.
The game was scoreless until Pendleton struck with a run in the bottom of the fourth inning. With two outs, freshman Josie Jenness singled to left field and took second base on an outfield error. Senior Daisy Jenness followed with a double to left field, scoring her sister.
"I was just making sure she was getting there, like, 'You better be running,'" Daisy Jenness said.
It turned out to be the winning run, bragging rights the sisters can share.
"It's just been so awesome to play with her," Daisy Jenness said. "I'm just her biggest fan. She's a freshman, so this is the only year we've able to play together, so it's real exciting."
Pendleton made it 2-0 in the sixth inning when senior Faith Broadfoot drew a one-out walk and scored when Josie Jenness' fly ball to right field was mishandled.
Garton, who walked four, took a no-hitter into the seventh inning before giving up a one-out infield single to junior Anna Jardin. Garton struck out the next two batters, which kept her from facing the heavy-hitting Erickson, who was on deck to finish the game.
"I didn't know she was on deck. I was just working at the plate," Garton said. "I wasn't paying attention to that."
Garton was cautious in facing Erickson, who hit .512 with 12 home runs this season. Erickson twice drew intentional walks, the second time moving a runner into scoring position in the fifth inning.
"We walked her when we played her before, too, for reasons," Garton said. "I would've loved to pitch to her again."
That would have been just fine with Erickson.
"I know it's a sign of respect, but I wish that in our game we weren't allowed to do that, because it kind of takes the game away," Erickson said. "It's a little frustrating because I want to go up there and hit. But it's a sign of respect and they give me a free base, so I'll take it."
Wilsonville, playing in its first final, failed to capitalize on its limited opportunities against Garton. The Wildcats had a runner at third with two outs in the first inning, and runners at second and third with two outs in the third inning, but Garton ended the threats with strikeouts.
Cary said Garton has good velocity and "an amazing curveball," but the riseball is what tempts hitters.
"She gets people to chase it," Cary said. "It's tough to lay off a pitch that looks so good for a while and then all of the sudden it breaks out of the zone."
The Wildcats were unable to solve Garton.
"She throws well, but in this game specifically I think that we beat ourselves," Erickson said. "I do believe that if we were hitting like we normally do, we would've been fine."
Pendleton finished with four hits against Erickson, who struck out nine and walked three.
"I love the grit of this team," Cary said. "Fought and battled, found a way to score a couple of runs. We knew this was going to be a low-scoring game. It really felt like whoever scored first was probably going to end up on top. It ended up being that way."
Garton said the win was typical of the Buckaroos, who accepted their blue trophy and then had a graduation ceremony for the team's six seniors.
"We've had a great season. We've all worked together," she said. "We've strung together hits when we needed them. It's just been awesome. I'm so happy to go out of high school like this."