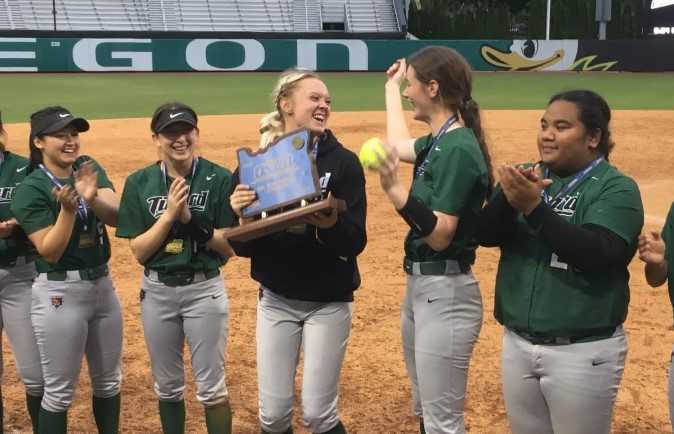 EUGENE -- Tigard's Makenna Reid isn't the type of pitcher that shows her emotions during a game.
But when the left-handed senior escaped a jam in the top of the 10th inning against Oregon City in the OSAA/OnPoint Community Credit Union 6A softball final Tuesday night at the University of Oregon, she let out a yell.
Reid had a feeling that with her team's big hitters -- junior Karen Spadafora and senior Kani Korok -- leading off the bottom of the inning, the Tigers were about to break a 0-0 tie.
"Oh yeah, I knew," Reid said. "I was just like, 'Let's go, c'mon.'"
With a runner at second base to start the inning – international tiebreaker rules – Spadafora ripped a single to left field to score junior Nozomi Akin and give the top-seeded Tigers (29-3) a 1-0 win and their first state championship.
It ended a tense pitching duel between Reid, who pitched a three-hitter with a finals record 21 strikeouts and one walk, and Oregon City sophomore Lily Riley, who allowed three hits, fanned 14 and walked one.
The game was a mirror image of a Three Rivers League game between the teams this season, a duel between Reid and Riley that also ended with Tigard winning 1-0 in 10 innings. Except this one had much greater meaning.
The Florida State-bound Reid, who leaves for college on Sunday, wasn't about to let this one get away against the third-seeded Pioneers (22-8), who were coming off a 4-0, nine-inning semifinal win at No. 2 Bend.
"You're just running on adrenaline, and you're just trying to get through it," she said. "I was just sitting on the bench, just warming up my arm. But I just didn't want to lose, so I was going to do everything it took.
"It was just my last game, and I was thinking, 'I'm not going to lose.'"
Spadafora, Tigard's catcher, was 0 for 2 with a walk when she stepped to the plate in the 10th inning.
"Put it in play," Spadafora said she was thinking. "I have to at least move her because Kani's a big hitter coming up, too, and Kani's going to get something done, too. I was just thinking I've got to get something done. This is the moment we have to end it right here."
Tigard coach Pete Kostel first tried to get Spadafora to bunt, but she couldn't get one down. She then hit a towering foul ball just outside the right-field line that escaped two Oregon City fielders, keeping her at-bat alive.
"The foul ball, sometimes the softball gods work in mysterious ways," Kostel said. "Then she just put a barrel on it, and the rest was baserunning from Nozomi."
As Akin slid home, the Tigers ran out to mob Spadafora.
"It was a great experience," Spadafora said. "And it's the first ever in history, so it's like a really big deal. And we did it as a team, and I feel really good about it."
Spadafora was a big presence in the team's lineup all season. She led the team in home runs (11) and RBIs (36).
"She started off the year on fire," Kostel said. "She had a little lull the first half of league, but then just stuck with it. She had a great last half of league and was just on fire in the playoffs, along with Kani Korok."
Spadafora's hit allowed Reid to exhale.
"I was grateful it was over, but just glad that we came out on top," Reid said. "Win or lose, I thought it was a great game, and a lot of things to be proud of."
Reid started the game on fire, striking out the first nine batters she faced. She didn't give up a hit until the top of the seventh inning, a single to center field by junior Allyson Nordling.
In the ninth, Reid surrendered a one-out double to junior Gina Allen before striking out the next two batters. In the 10th, she allowed a one-out bunt single to Riley – putting runners at first and third – but escaped with two strikeouts.
In 199 innings this season, Reid had 438 strikeouts, No. 2 all-time in the state behind Hood River Valley's Crystal Draper (449 in 1997). The season validated her training, she said.
"I put a lot into this game," she said. "I do a lot of hard work before the games. … I've done everything that it takes, so I believe I belong here."
Kostel said he enjoyed coaching Reid.
"I learned a lot from her," Kostel said. "I wish her the best. She's come a long ways, just pitching and leadership, all that."
Spadafora, a major college prospect, fought back tears as she talked about her relationship with Reid.
"It was really fun," Spadafora said. "It's really emotional because that was our last game together."
Reid reflected on what Spadafora has meant to her.
"It feels weird knowing that we're not going to practice tomorrow and then do a bullpen together," Reid said. "I'm grateful for her. She's been a great friend, a great teammate, and someone I can always look up to."
Oregon City's loss overshadowed another terrific performance by Riley, who pitched the Pioneers into their first final by tossing a two-hitter with 15 strikeouts to beat Bend.
"She's only a sophomore. She's good and going to be better," Kostel said.
Riley emerged as Oregon City's ace late in the season. She did not allow an earned run in five postseason games.
"We really fought this whole season," Riley said. "We had a lot of crazy ups and downs. In the playoffs, we just turned on the fighting mentality and we made it here."
Oregon City coach Mackenzie Washington marveled at the performance under pressure by her young team -- which has two seniors, one of them a starter – calling it "absolutely amazing."
"They're fighters, and they're very young fighters," Washington said. "They don't let that stop them."
Washington said the Pioneers expected a long game Tuesday.
"We haven't played a normal seven-inning game for a long time," she said. "We expected to go deep, and we knew we just had to wait. Unfortunately, the moment didn't come for us, and it came for them tonight."
The future is bright for Oregon City.
"I told them that they made history tonight just being here," Washington said. "And with all of them returning, we promised each other, we will be back. There's no way we won't be back here in the next couple years."