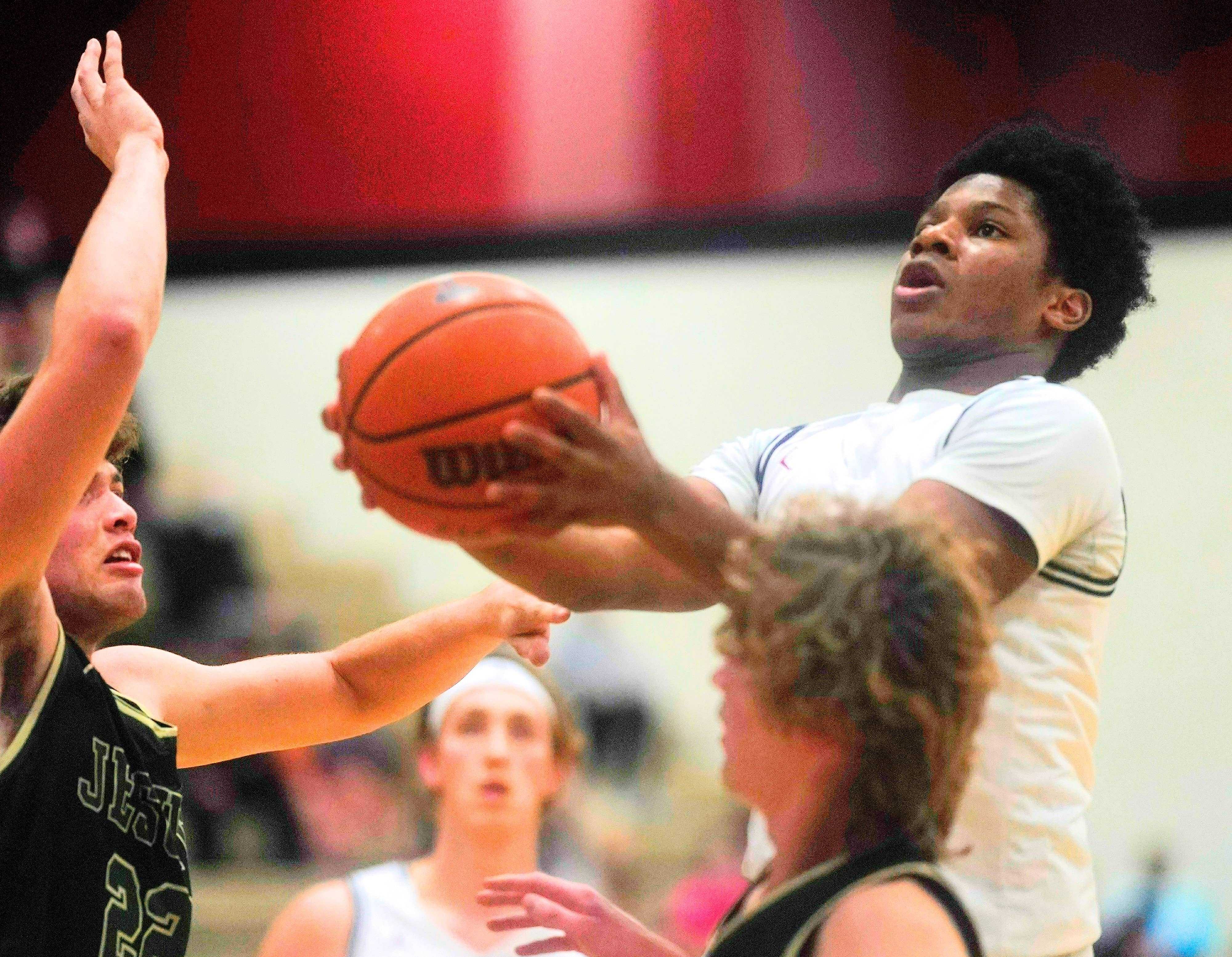 For much of last football season, the state's most electric player was Tualatin running back Malik Ross.
The 6-foot, 190-pound Ross, named the 6A offensive player of the year after leading the Timberwolves to the state final, seemed to be building toward a promising career beyond high school.
The way things have turned out, though, Ross may never play football again. Underwhelmed by offers he received from colleges, Ross has committed to play basketball at Monterey Peninsula College, a two-year school in Monterey, Calif.
"I didn't enjoy the offers I had for football or basketball, in general," Ross said. "I had more for football, but after visiting the schools, it didn't feel like a good home for me. So I just ended up following my heart."
Ross is no slouch in basketball, either. As a senior, the point guard helped lead Tualatin to its first state championship, averaging 13.0 points and 2.5 assists per game.
He said he expects to earn a starting spot at Monterey Peninsula College and plans to play at least one season before re-evaluating his options as a sophomore.
"They've got pretty much all of their starting five from last year, but they were in need of a point guard," Ross said. "I'm not really worried about starting. When I do, I'm ready to show what I can do. … I'm looking at one year, and if I have to play two years, I've got time."
He is hoping to move on to a Division I program.
"Whether it's low-major or mid-major, somewhere where I can play and be able to show what I can do," he said.
Ross said that the only football full-ride scholarship offer he received was from Air Force. After looking into it – and talking with former Tualatin teammate Kainoa Sayre, a running back at Air Force – Ross decided against it.
"I didn't really want to fly planes," Ross said. "I just didn't want to have to serve in the academy. I just knew it wasn't for me."
NCAA Division II programs Western Oregon and Central Washington also offered Ross spots, and after he played in the Les Schwab Bowl this summer, so did NAIA Division II Southern Oregon. Oregon and Oregon State offered him preferred walk-on opportunities.
"But no money, and I didn't know if I'd ever get a spot there," Ross said. "I just didn't know if I wanted to take a chance on that. … At running back, every college has got their guys, and I didn't want to come in and be the backup-backup-backup."
Ross, who rushed for 1,709 yards and 24 touchdowns, caught 31 passes for 538 yards and four scores and returned two kickoffs for touchdowns last season, was left with a bit of a sour taste from the football recruiting process.
"It's just really disappointing because I got a ton of interest," he said. "It would've been nice to get an offer, at least FCS, like Portland State or Eastern Washington. Portland State was talking to me heavy but they never offered."
Ross received basketball offers from Puget Sound, an NCAA Division II program, and Western Oregon, which encouraged him to play both sports. He settled on Monterey Peninsula College in part because he has family within driving distance in San Francisco and Stockton.
As for his football career, he's not closing the door, even if he approached the Les Schwab Bowl as if it would be his final game.
"I think I played awful. It sucks to go out like that," Ross said. "I definitely think that if something doesn't work out with basketball, which I'm not planning on that idea, I know that I have a spot at Western Oregon or Southern Oregon or even a juco for football.
"There's always a chance I'll hop back into it. I'll always keep football in my heart, for sure."
Campbell to Grant
Coming off an historic run at Cleveland, Dondrale Campbell has accepted the boys basketball coaching position at Portland Interscholastic League rival Grant.
Campbell went 68-53 in the last five seasons at Cleveland, including 22-6 last season, when the Warriors won their first outright league title since 1962 and reached the 6A quarterfinals. He is a two-time PIL coach of the year.
At Grant, Campbell will follow Robert Key, who resigned to take the position at 6A West Linn. Key went 142-65 in eight seasons with the Generals, leading them to the 6A title in 2018.
Campbell will work under Grant athletic director Odie Hollingshed, a former Cleveland PE teacher who made the move to the northeast Portland school last year.
Hollingshed said in a release: "Dondrale and his family are excited to work within the Grant community and look forward to building on the rich tradition of Grant Boys Basketball while strengthening partnerships within the community, as well as developing hardworking student-athletes but also respectable young men to serve our community and world as outstanding citizens."
A native of Oakland, Calif, Campbell began coaching in Oregon as an assistant to Marshall Cho at Lake Oswego. He spent two seasons with the Lakers before moving on to Cleveland.
Grant finished 19-6 last season, falling in the 6A playoff round of 16. The Generals suffered a blow in the spring when guard Adrian Mosely, the PIL player of the year, transferred to West Linn.
Cougars go with Taylor
Canby has a new boys basketball coach in Matt Taylor, who has replaced Craig Evans.
Taylor was a standout player at Gladstone, where he became an assistant coach after his college playing career at Corban University. He has spent the past two decades in Canby, where he was president of Canby Junior Basketball for eight years and coached an eighth-grade team to a state title in 2017.
Two of Taylor's sons, Dylan and Austin, played for Canby.
"It's honestly a dream come true," Taylor told The Canby Current. "The Canby community has been great to our family for the almost 20 years we have been here, and I hope to give back in such a way that demonstrates how much I care about this community and what the sport of basketball can teach about life."
Evans went 107-179 in 12 seasons at Canby, including 14-12 last season. The Cougars will move from the 6A Three Rivers League to the 5A Northwest Oregon Conference this year.