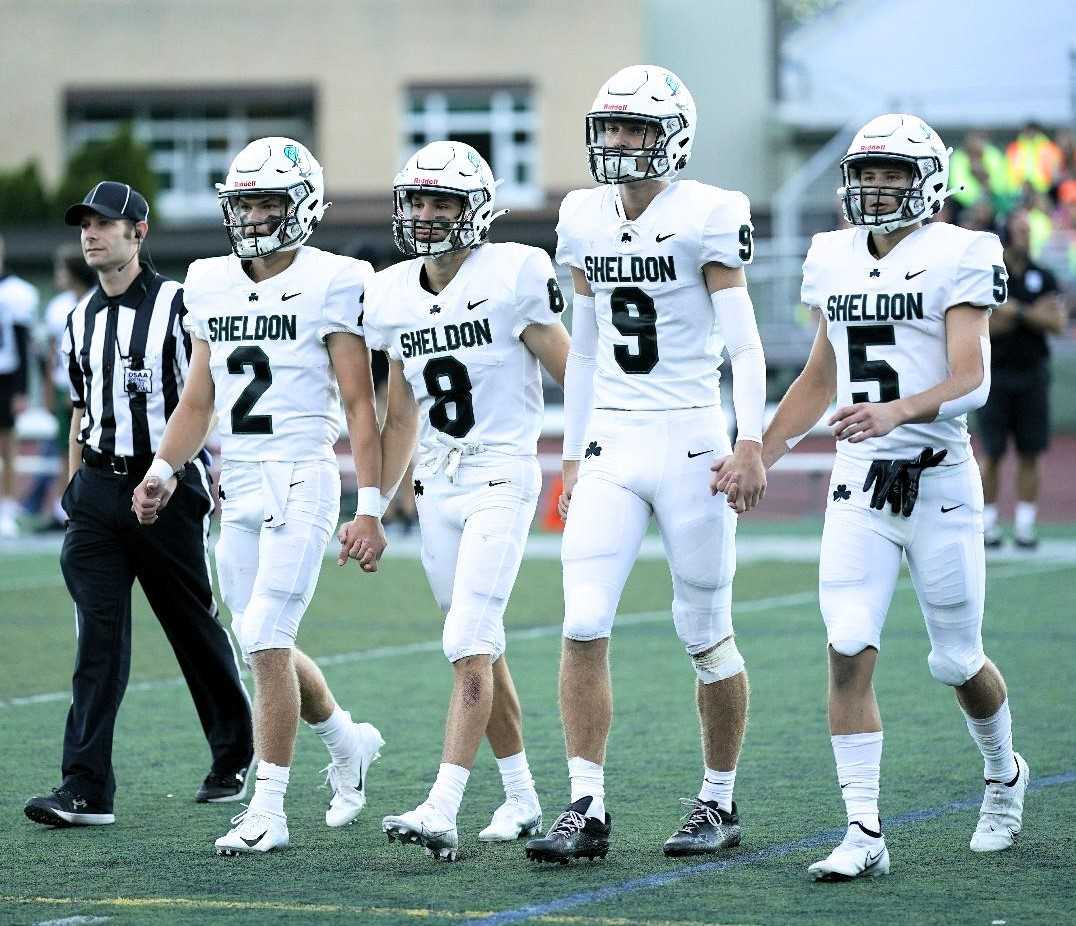 No. 6 Sheldon got a big spark from an unlikely source – the throwing arm of senior receiver Cade Welch – in its stunning 35-31 win at No. 2 West Linn on Thursday in a 6A nonleague football game.
Welch threw two touchdown passes on trick plays as the Irish improved to 2-0. Welch threw seven yards to senior quarterback Brock Thomas for a touchdown in the first quarter. He caught a bubble screen and found senior Luke Leighton for a 44-yard score in the third quarter.
His throwing prowess certainly was no surprise to his coaches and teammates.
"He's a receiver, but he's also a really good quarterback," Irish coach Josh Line said of the 6-0, 170-pound Welch. "All of his career he played quarterback, but he always on the middle school track opposite of Brock.
"When he got to high school, Cade was tiny. He has sprouted up and turned into a hell of a football player. I would say he's one of the better quarterbacks in the state. He'd probably start for most teams around."
Senior Grafton Robinson returned the opening kickoff for a touchdown to set the tone for Sheldon. Leighton blocked a punt to set up another touchdown as the Irish led 21-7 after one quarter.
"I thought special teams was the separator for us," Line said. "I don't know if we were better than them on offense or defense. I thought we were a little bit better than them on special teams."
West Linn came back to lead 31-28 on a field goal by junior Gage Hurych early in the fourth quarter, but Sheldon pulled ahead minutes later on an 11-yard touchdown pass from Thomas to Leighton.
The Irish were able to overcome a massive game by Lions senior receiver Mark Hamper, who caught 10 passes for 277 yards and three touchdowns. Hamper, who had three scores in West Linn's opening win at North Medford, left an impression on Sheldon.
"I don't know if I've seen a kid like him," Line said. "I'm really shocked he hasn't gotten more in recruiting, in terms of offers. He's got great acceleration and speed. He runs with a low center of gravity, so he's tough to tackle.
"He's a major, major problem. He's going to have a great career down the road. He's a unique athlete. You don't see that kind of speed and athleticism from a kid that size playing the position he does."
Gathering Storm
If anyone needed proof that 5A newcomer Summit will be a serious state championship contender this season, the No. 2 Storm provided more than enough Friday with a 48-10 home rout of perennial 5A power Thurston.
Senior Hogan Carmichael threw for 227 yards and four touchdowns, two going to senior Ethan Carlson, who also had an interception return for a score. Summit dominated on defense, holding the No. 3 Colts to 184 yards and seven first downs.
One week after opening with a 19-12 loss at 6A No. 4 Tualatin, Summit began to find its stride.
"I was pleased that we played as well as we did against Tualatin, but after watching the film, we felt like that was a winnable game for us, and we were a little disappointed, to be honest," Storm coach Corben Hyatt said. "I was really glad the kids came out and responded the way they did."
Hyatt said that opening against Tualatin was "tremendous" for his team.
"Facing a team like that, we had to prepare all offseason for it," he said. "I think Tualatin has the best defensive player in the state in Richie Anderson. That kid is on another level. So it was great to be challenged the way we were against Tualatin."
Playing Thurston – the 5A champion in 2018 and 2019 and runner-up last year – gave the Storm a chance to show what they can do in their new classification after moving down from 6A, where they made the quarterfinals last year. But Hyatt said his team didn't talk about making a statement.
"We know what the top teams are, but what we talked about this week is we can't get so amped up on the opponent, we just need to focus on us," Hyatt said. "We're pretty talented, and we need to stay focused on us getting better each week. The jump between Week 1 and Week 2 is huge, and I think we made it."
Thurston, coming off a 38-35 overtime loss to No. 1 Wilsonville, suffered its worst defeat since losing to 6A Sheldon 58-7 in 2018.
"Thurston might be down just a little bit this year, but they're still a really good ballclub," Hyatt said.
Hyatt raved about his defense, which got two sacks each from senior linemen Spencer Elliott and Chip Allers. The Storm overcame a size disadvantage with their strength, speed and athleticism.
"We didn't blitz. We just played our base defense, and our D-line is so darn good that they kind of wreaked havoc," Hyatt said. "That's going to be such a big strength for us all season long."
Summit's tough nonleague schedule continues the next two weeks with home games against 6A Westview and Wilsonville.
Slaying a 'monster'
Warrenton served up some payback with an impressive 27-0 home win over 2A No. 1 Heppner on Friday night.
The Warriors lost to Heppner 32-7 in the 2A quarterfinals in 2019, and after moving up to 3A, dropped a nonleague game 15-12 at Heppner last season.
Friday was a much different type of game as Warrenton (2-0), No. 10 in the OSAAtoday 3A coaches poll, dominated the Mustangs (1-1). The Warriors had big advantages in total yards (293-75) and first downs (18-6) and did not allow Heppner to complete a pass in seven attempts.
"Heppner has kind of been that monster in the closet the last couple years for us," Warrenton coach Ian O'Brien said. "I didn't anticipate it being that way. We kind of thought it would be a game in the fourth quarter.
"It was good to get that monkey off our back. We were pretty fired up."
Max Smith and Dylon Atwood rushed for one-yard touchdowns as the Warriors led 12-0 at half. Zayden Anderson ran for a touchdown and threw a 17-yard scoring pass to Michael Ulness to make it 27-0 in the third quarter.
The defense smothered Heppner. The Warriors shut down the run behind lineman Kaison Smith and linebackers Atwood, Smith and Talon McGrorty. Linebacker Dawson Little and defensive back Cam'Ron Daniels had interceptions.
"We matched their physicalness and maybe even brought it up a notch," O'Brien said. "That was good to see in a bunch of the young kids that I've got."
Warrenton starts five sophomores on each side of the ball and has only seven seniors on its roster. Anderson, a 6-2 sophomore, is making steady progress at quarterback.
O'Brien coached Warrenton for three seasons (2012-14) before leaving to become athletic director at 6A Lakeridge. After the Warriors went 0-9 in 2016, O'Brien returned as coach in 2017 and has gone 27-18.
The future is promising.
"If we do things right, it should be a good group of kids for the next couple years," O'Brien said. "We've got a great eighth-grade group coming up. We're pretty fired up about our numbers."
The Warriors will face another No. 1 team Thursday when they visit Banks (2-0) in the 3A Coastal Range League opener for both teams.
Scappoose honors Anderson
Scappoose paid tribute to its past while looking toward its future Friday night in its home opener, a 48-19 loss to Estacada.
The 4A school commemorated the first game on its new artificial turf field by retiring the No. 14 jersey of quarterback Derek Anderson, a 2001 graduate who led the Indians to their first state championship in 2000, the start of a three-peat.
Anderson, who became a three-year starter at Oregon State and had a 14-year career in the NFL before retiring in 2019, made the trip from his home in Arizona to participate in the pregame ceremony.
"Derek has been a huge part of our program," said Scappoose coach Sean McNabb, who coached Anderson. "He always came back for years to help us with the DA football camp. He helped with our new turf field, but more than ever his presence has always been a part of our success.
"He was a great teammate. I feel he had a hand in setting the tone of what we want our student-athletes to be, great human beings. We wanted to retire his jersey after his playing career was over."
Athletic director Dale French said Anderson helped with fundraising for the field.
"We got him back and involved in it," French said. "We used it as a chance to get back connected with him. After COVID, it's a chance to celebrate what Scappoose has done in the past, the successes, and kind of jump-start it. We wanted to bring him back in person and celebrate his career with the first game."
Scappoose began construction on the field in June and it became available for use Thursday. The Indians originally were scheduled to play host to Gladstone in Week 1 but the field wasn't ready, so they played their opener on the road and pushed back the first home game to Friday.
French said the field is a "game-changer" for the community.
"We've been fortunate enough with McNabb and his staff to have a lot of good teams, and they've played in some sloppy conditions in the playoffs and the end of the year," French said. "It's been a need for a long time. It's going to help us a ton."
The district put up $500,000 for the field project and the community covered the remaining $1 million, much of it through in-kind contributions.
"It was flawless integration with a lot of the volunteers," French said. "It couldn't have gone smoother. Our community was ready to roll up their sleeves and make it happen."
Balanced Bucks
It's been more than a decade since Tony Smith coached St. Paul to a 1A repeat in 2009 and 2010.
Since that time, the Buckaroos have fallen in the state final three times and the semifinals twice, including last season.
But this year's team, No. 1 in the OSAAtoday 1A coaches poll, is starting to look like it is made of state-championship material. St. Paul followed a 66-6 thumping of perennial 1A power Dufur with a 45-6 road win over 2A No. 3 Santiam on Thursday.
The Buckaroos rushed for 374 yards and outgained Santiam 554-181. Junior quarterback George Pohlschneider completed 4 of 8 passes for 180 yards and four touchdowns, two to 6-5 senior end Warren Rose and one each to seniors Carter Milroy and Hunter Naumann.
Against Dufur, seven different Buckaroos ran for touchdowns as they racked up 443 rushing yards.
"We're getting a pretty balanced attack," Smith said. "Our quarterback has been effective and we have a couple of kids that can catch it. We've been rotating ends and running backs, and there's a lot of balance. It's not just one kid."
Sophomore running back Clay Smith ran for 106 yards and two touchdowns on five carries against Santiam. He has four rushing touchdowns in two games.
St. Paul, which plays eight-man in 1A, made the adjustment to nine-man to face Santiam.
"Going from eight to nine is easy," Smith said. "I would think for 2A schools like Santiam, they get a good game and a good ranking from playing a good 1A team. And 1A teams get good competition. It's an easy switch. We get an opportunity to get another kid on the field. It's a good thing."
The Buckaroos get a big test in their home opener next week against No. 2 Lost River. They defeated the Raiders 54-46 in the COVID-shortened season and opened last season with a 36-24 victory at Lost River.
Smith is looking forward to the matchup.
"We run really similar programs, from the community to the coaching staff and the tradition and style of play," Smith said. "I expect it to be a great game."
Other highlights from Week 2:
6A
South Salem's Daschel Smith threw for 525 yards and five touchdowns as the Saxons rolled over Sunset 42-7. Zach Wusstig and Tini Tinitali II each had two touchdown catches. ... Andrew Walker ran 48 yards for the go-ahead touchdown with three minutes left, then had an interception to set up the clinching score as South Medford turned back Del Norte (Calif.) 21-7. Walker had seven catches for 70 yards. … Grants Pass blanked Caldera 35-0 behind Jace Blanchard, who threw three touchdown passes, two to Aiden Dietz. The Cavemen held the Wolfpack to 11 total yards. … Nelson's game at Roseburg was called off at halftime due to poor air quality, resulting in a no contest. The Hawks were leading 14-12 after a 90-yard kickoff return for a touchdown by Reid Gray. …Liberty got three touchdown runs from Tytan Rekow and overcame four turnovers in a 28-6 win over Jefferson. The Falcons, who rushed for 250 yards, got an interception from Colby Jones and a forced fumble from Taku Diamond. … McMinnville defeated Forest Grove 42-0 in the Pigeon Bowl as Austin Rapp ran for 162 yards and two touchdowns on 11 carries and Kane Sullivan passed for three scores. ...
No. 1 Central Catholic gained only 45 yards in losing 49-0 to St. John Bosco (Calif.), the top-ranked team in the nation, at Autzen Stadium. St. John Bosco, which led 35-0 at half, sacked Rams quarterback Cru Newman seven times. The Braves amassed 461 yards. …Clackamas stopped Sherwood 34-25 in a game moved to Nelson High School due to power outages in Clackamas. Blake Baker threw four touchdown passes, two to Keontae Johnson-Gibson, and Kaden Bartness returned a fumble 99 yards for a score for the Cavaliers. … Max Brauner threw touchdown passes to Henry Smith and Colin Best as Lake Oswego subdued West Salem 14-0. … Jesuit's Payton Roth rushed for 224 yards and one touchdown on 22 carries in a 35-6 win at Lakeridge. The Crusaders, who got three short touchdown runs from Lonnie Burt, rushed for 413 of their 452 yards. ... Gresham, which didn't play in Week 1 due to lack of eligible players, won its opener 54-0 over McDaniel. Jaden Mitchell ran for four touchdowns and Jaxon Doving passed for three scores and ran for another. .. TC Manumaleuna threw four touchdown passes to Erick Gonzalez as North Salem blanked David Douglas 46-0.
5A
Down 39-28 entering the fourth quarter, No. 1 Wilsonville rallied to defeat 6A Westview 49-39. Kallen Gutridge passed for two touchdowns to put the Wildcats ahead and ran two yards for the final score. Wilsonville overcame the performance of Westview's Jordan Fisher, who broke his own school record by rushing for 351 yards and four touchdowns on 30 carries. … Bend handled 6A North Medford 39-7 as Malakai Nutter ran for three touchdowns and Jack Sorenson threw for a score and ran for another. …Lukas Hews threw a 46-yard touchdown pass to Zack Ferguson with 5:29 left for the go-ahead score in West Albany's 22-16 win over Lebanon. Hews passes for 265 yards and two touchdowns. Lebanon, which led 16-14 in the fourth quarter, got two touchdown passes from Dre Smith to Hayden George. … Anthony Vestal and Logan Johnson each ran for two touchdowns as South Albany overwhelmed Crescent Valley 42-8, holding the Raiders to 162 yards. … Mountain View turned back Churchill 16-6. The Cougars led 13-6 at half as Max Paskewich ran for a touchdown and Nick Hopper caught a scoring pass, and they held off the Lancers, who had a 253-224 edge in yards. ... Errol Moreland had a 95-yard interception return for a touchdown to help Southridge beat Grant 19-0. ... Tyler Konold rushed for 252 yards and three touchdowns on 33 carries and returned a fumble for a score to spark Canby past Oregon City 35-25.
4A
Logan Whitlock rushed for 212 yards and three touchdowns and Shaw Stork threw for two scores in Henley's 35-0 win over 5A Crater. …Tyson Van Gastel threw for two touchdowns and ran for two scores to lead Mazama past Eagle Point 48-27. The Eagles' David Brown, who rushed for 300 yards and seven touchdowns in the opener, ran for 44 yards and one touchdown on 14 carries and caught a scoring pass. … Brock Mackey rushed for 134 yards, including a 25-yard touchdown on the first play of overtime, as Pendleton survived with a 27-20 win over Redmond. The Buckaroos led 20-7 after three quarters on Payton Lambert's second touchdown run, but Redmond rallied to force overtime. Ben Jennings had two interceptions for Pendleton. … Cascade defeated Marshfield 30-6 behind Jacob Bell, who rushed for 225 yards on 36 carries. Gaje Nicholson returned an interception 65 yards for a touchdown and Karsten Sande had 13 tackles for the Cougars. ... Estacada scored 32 points in the second quarter to open a 35-point halftime lead on its way to a 48-19 win at Scappoose. Cory James ran for three touchdowns and threw for another, Waylon Riedel ran for two scores and Andrew Turner had two sacks for the Rangers. ... Woodburn got two rushing touchdowns from Ty Beyer in its 35-6 win over St. Helens. ... Drew Prickel rushed for 212 yards for Marist Catholic, which dispatched Springfield 41-20.
3A
Kennedy defeated reigning 3A champion Siuslaw 24-0, outgaining the Vikings 277-97. Elijah Traeger and Owen Bruner each ran for touchdowns, and Traeger threw a 43-yard scoring pass to Bruner. ... Triston Wallace and Cole Shields returned interceptions for touchdowns in the second quarter as Cascade Christian built a 51-6 halftime lead and defeated Sutherlin 54-6. … Jacob Logan ran for 93 yards and four touchdowns for South Umpqua, which led 55-0 at half and beat Douglas 61-6. Jace Johnson threw two touchdowns to Kacey Benefiel and Aiden Williams returned an interception for a score for the Lancers, who held Douglas to 33 total yards. … Santiam Christian limited Creswell to 50 yards to win 40-0. The Eagles racked up 454 total yards, led by Jayden Christy, who ran for 164 yards and three touchdowns on 16 carries. … Vale rolled over New Plymouth (Idaho) 41-14 as Eli Aldred ran for 142 yards on 21 carries and Colton Stepleton passed for two touchdowns and ran for two scores. … Dayton's Zach Smith rushed for 212 yards and two touchdowns on 12 carries and Nate Arce ran for three scores to lead the Pirates past La Pine 40-6. Defensive end Lucas Ashley returned the opening kickoff 70 yards for a score for Dayton. … Jack Lyda and Bo Wormington caught touchdown passes and Cole Crossen kicked two field goals to lift Banks over 4A Tillamook 20-12.
2A
Maddox King ran for two touchdowns in Weston-McEwen's 24-16 win over Oakland. Cameron Reich turned a screen pass from Easton Berry into a 28-yard touchdown to put Weston-McEwen ahead 18-16 with 3:18 left. Oakland had a 325-189 edge in total yards but threw three interceptions. … Culver scored the last 26 points to pull away from Irrigon and win 48-20. … Kaden Salamanca ran for two touchdowns and threw for two scores as Umatilla dropped Gaston 46-6. … Pablo Galindo threw three touchdown passes and Gator Goodrich and Pablo Arellano returned interceptions for scores in Stanfield's 47-8 win over 3A McLoughlin. … Monroe's Nate Young and Rogue River's Said McWillie put on a show in Monroe's 52-32 win. Young rushed for 302 yards and four touchdowns on 20 carries and McWillie ran for 270 yards and four scores on 33 carries.
1A-8
Camas Valley held Mohawk to 37 yards in a 42-0 win. James Standley rushed for 97 yards and two touchdowns and had 10 tackles and a fumble recovery for Camas Valley, which got two scoring passes from Kenny Wilson to Seth Lamell. … North Douglas/Yoncalla dropped Central Linn 20-12 as Wyatt Reid rushed for 89 yards and three touchdowns. North Douglas/Yoncalla managed only 79 total yards. … Cove outlasted Ione/Arlington 30-26 despite the play of Carson Eynetich, who ran for two touchdowns and threw two scoring passes to Aziziel Borghese in defeat. … Lost River rushed for 376 yards in beating Myrtle Point 46-20. Nathan Dalton ran for 246 yards and four touchdowns on 24 carries and caught three passes for 47 yards for the Raiders. Myrtle Point's Logan Backman completed 17 of 31 passes for 276 yards and three scores.
1A-6
Garrett Warren ran for four touchdowns and Gus Gamache threw for three scores to propel Triangle Lake past Elkton 44-18. … Four different players ran for touchdowns as Echo defeated Pine Eagle 47-0. Due to Pine Eagle having only six players, the teams agreed to play two eight-minute quarters. … Powers held Eddyville Charter to one total yard to win 20-0. Rene Sears rushed for more than 100 yards and Alex Mahmoud threw a touchdown pass to his brother, Patrick Mahmoud.