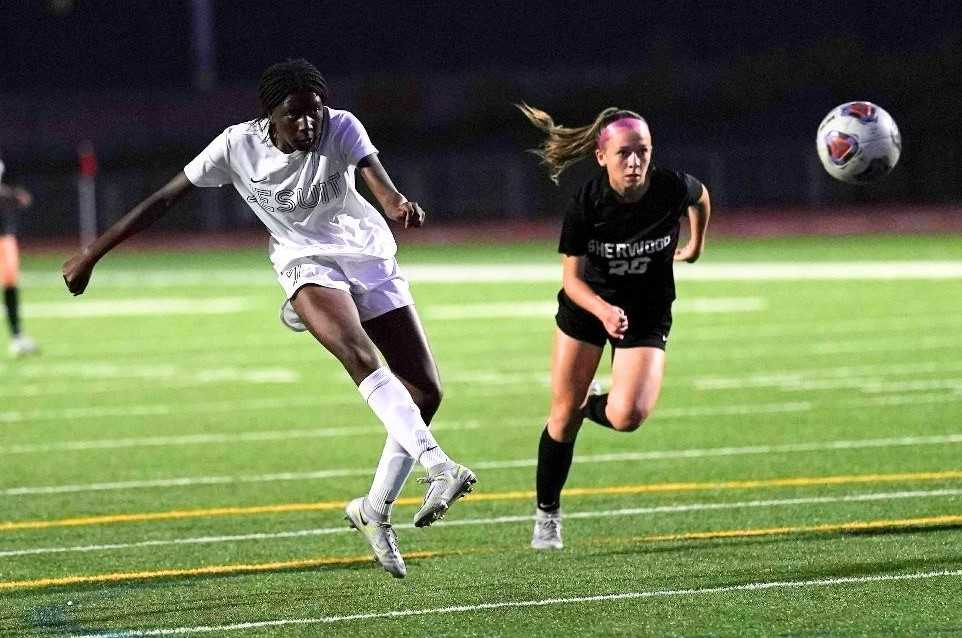 For most soccer teams, a two-loss season would be considered a raging success.
For Jesuit's girls, last year's 13-2 record forced them to take a long look in the mirror.
The Crusaders, 6A champions in 2017, 2018 and 2019, had a 76-match unbeaten streak until losing to Beaverton in a Metro League game last season. Their 6A reign ended with a 3-2 loss to Forest Grove in the second round of the playoffs.
"Last year we felt everything that had been impacted by the kids being out of school for 18 months," coach Steve Fennah said. "It had a big impact on the work dynamic, the culture of our team, which has been established over a lot of years."
Jesuit appears to have rediscovered its groove this season. The Crusaders, No. 1 in the OSAAtoday 6A coaches poll, improved to 7-0 on Monday night with a 2-1 win at No. 6 Sherwood in a 6A nonleague match.
Fennah likes how his team has responded this season.
"Reestablishing the culture has helped," he said. "We made that a focus as much as anything else this year. The kids have bought in quite well."
With five sophomores and one freshman in the starting lineup, Jesuit has outscored its opponents 28-2. Sophomore Claudia Rose leads the team with seven goals, followed by junior Abigail Cox (six), freshman Mariane Dunne (five) and senior Makende Stewart (three).
The Crusaders have six starters back from last season.
"It's a very different team, even though there's not that many new faces," Fennah said. "We're a young team. When we make changes, we're bringing freshmen and sophomores into the game.
"We're more comfortable with the ball this year. Younger players, being a year older, just makes them a little bit more comfortable trying to knock the ball around."
Jesuit has had its share of close matches so far. The Crusaders won 2-1 at Camas (Wash.), defeated 5A No. 5 Summit 1-0 on a goal by Cox with 90 seconds left, and turned back 6A No. 5 Lake Oswego 2-0.
"We've had tight games. I think there's quite a bit of parity right now," Fennah said.
The Crusaders got all they could handle Monday at Sherwood. Stewart scored off an assist from freshman Maeve Thomas midway through the first half. Stewart made it 2-0 about 10 minutes into the second half, taking a feed from Dunne.
But Sherwood cut the lead to 2-1 with about 20 minutes left and threatened to produce the equalizer down the stretch against sophomore goalkeeper Zoe Anderson, who spelled sophomore starter Lauren Butorac with about 15 minutes to go.
"We weathered the storm. It was a little frantic," said Fennah, whose team defeated Sherwood 6-0 last season. "I was pleased with the result against what I feel is a very good Sherwood team. They came out flying, causing us problems. We were under quite a bit of pressure."
Jesuit has been playing without two injured starters from last season. Sophomore midfielder Kaitlyn Maclennan is expected back soon after missing three games. But senior midfielder Lucie Rokos, who is committed to Montana, is out for the season after suffering a torn ACL in June.
"Lucie would've been one of our top two or three players," Fennah said of Rokos, a starter since her freshman season.
Jesuit will play at No. 3 Grant (3-1-1), the reigning 6A champion, on Wednesday.
"That will be a really tough game for us," Fennah said. "They didn't play Monday, and we're pretty beat up. To play these two back-to-back is going to be really tough."
Lyla remembered
South Eugene has been playing with heavy hearts after the loss of senior defender and co-captain Lyla Lauderbach, who died in a single-vehicle crash on the afternoon of Sept. 6.
The Axe canceled its game against Summit on Sept. 6. Before the team's next game, Sept. 10 at home against North Medford, the school had a memorial for Lauderbach that included a tribute written by her family.
The tribute concluded: "Lyla, your family loves you and is so honored to have been part of your life. You are the first thing we think about when we wake up and our last thought before we go to bed. We will never forget anything about you and you are not alone.
"Rest in peace 'Lyla Lyla Crocodile.'"
South Eugene coach James Bilderbeck told the Register-Guard that the team gathered Sept. 7 "to share memories of Lyla and talk about the positive effect she had on our lives. We are going to try to find the best way to honor Lyla this season. One way that we will remember her is to have a 'Lyla Lauderbach' award for a player that exemplifies her character, presented to a player every year in perpetuity."
The Axe (3-2) rebounded from a 2-0 loss to North Medford to beat Willamette 3-0 and Grants Pass 1-0.
Notes: Cascade Christian coach Jonathan Hillis praised sophomore Katharina Gray for her strong play in bouncing back from a knee injury that ended her freshman season. Gray moved from defender to center midfield this season and is having an impact for the Challengers. "She is showing great control and attacking ability," Hillis said of Gray, who had two goals and an assist in the team's season-opening 7-1 win over Lost River/Bonanza. … Pleasant Hill coach Chris Hammond said that the reigning 3A/2A/1A Special District 3 champion Billies (3-1-1) are off to solid start in part because of the play of senior captains Emma Dyemartin, a midfielder, and Maddie Boettcher, a center back. Dyemartin was the district player of the year and first-team all-state last season. … Ashland got four second-half goals from Lena Caballero Uhtoff – three coming in a three-minute span – to break a 1-1 tie and beat Hidden Valley 5-1 on Monday. … Sheldon's Alexis Cockerill-Gonzalez erupted for four goals as the Irish routed North Medford 5-0 on Saturday. … Amity, ranked No. 2 in the 3A/2A/1A, got five first-half goals from freshman Eliza Nisly in a 8-0 win over Gervais/Kennedy on Monday.