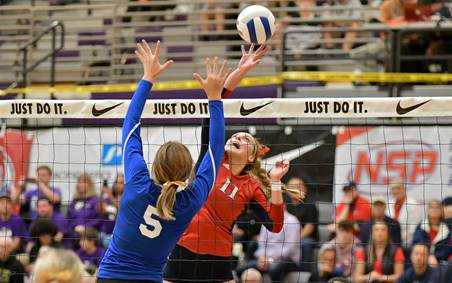 No. 4 seed Portland Christian knocked off top-seeded Kennedy in the semifinals of the OSAA/OnPoint Community Credit Union 2A volleyball tournament Friday at Ridgeview High School.
Portland Christian, which lost to Kennedy in four sets Sept. 27, repelled a comeback to win 26-24, 25-21, 13-25, 19-26, 16-14. The Royals can win their first state title since going back-to-back in 2006 and 2007 when they face reigning champion and second-seeded Grant Union in the final Saturday night.
Kennedy had not lost to an Oregon team this season but fell in the semifinals for the second year in a row.
Grant Union advanced by beating No. 3 Central Linn in the semifinals 22-25, 25-14, 25-14, 25-19. It marked the second year in a row Central Linn was ousted in the final four.
In the 1A tournament at Ridgeview, top-seeded St. Paul and No. 2 Powder Valley advanced to the championship match. Both teams will enter the final undefeated this season.
St. Paul (29-0), which moved down from 2A, will be going for its first title. Powder Valley (33-0) won its only championship in 2012.
St. Paul, which has won 80 of 83 sets this season, reached the final by rolling to 3-0 wins over Perrydale and North Douglas. Powder Valley defeated Joseph in three sets and Hosanna Christian, last year's runner-up, in four sets.