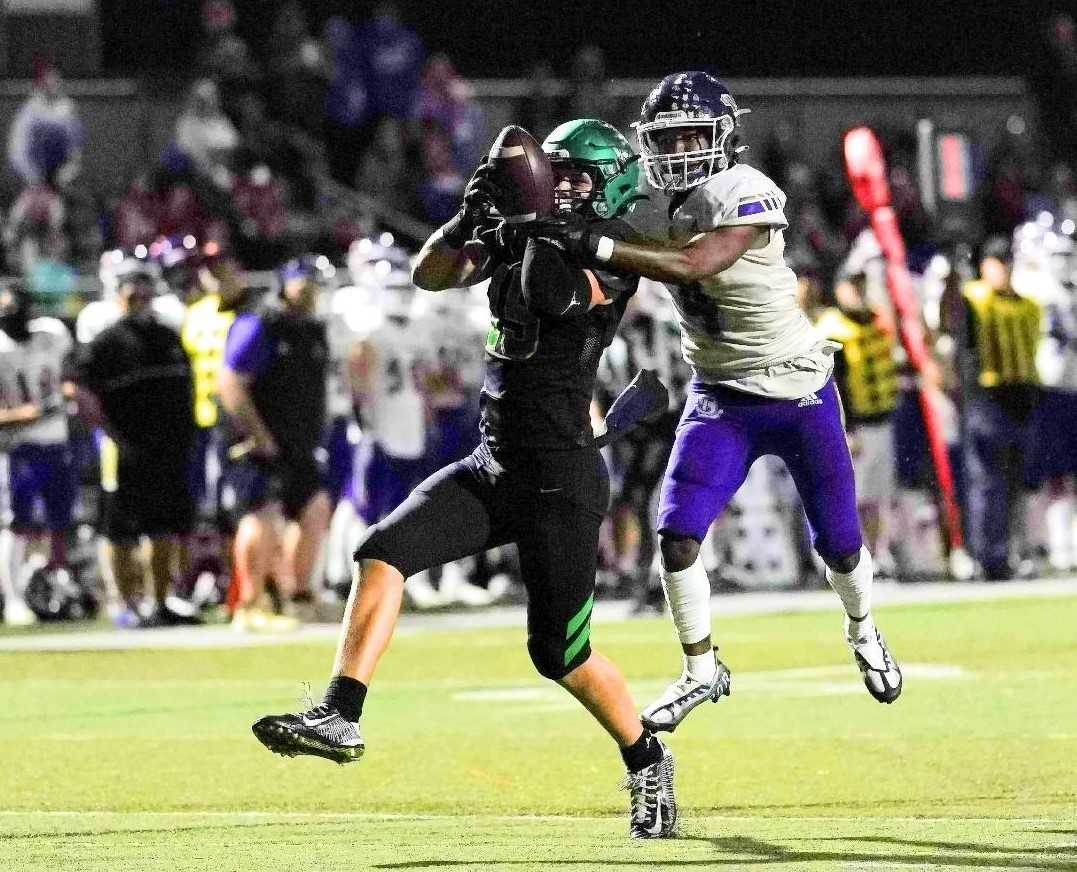 WEST LINN – At halftime Friday night at West Linn, visiting Lake Stevens might have checked its navigation to see if it somehow took a wrong turn into a college stadium.
The host Lions were clearly a cut above against Washington's top-ranked big-school team, racing to a 42-0 halftime lead on their way to a 45-6 win in what was supposed to be an interstate football showdown.
No. 3 West Linn (3-1) made it look easy in amassing 434 yards and 19 first downs before intermission. By late in the second quarter, the West Linn student section had transitioned from chanting "overrated" to "this is boring." The second half was played with a running clock.
"I don't know if surprised is the word, but I'm just proud of our team," Lions senior receiver Mark Hamper said. "I feel like we have no ceiling, and when we play to what we're capable of, I feel like nobody in the state can stop us. We showed glimpses of that tonight, but we still need to clean up some stuff."
West Linn senior quarterback Sam Leavitt, a transfer from Westview, had his best game as a Lion. The Washington State-bound Leavitt completed 17 of 18 passes for 310 yards and two touchdowns, both to Hamper, who had five catches for 114 yards.
"When things are clicking, they're just clicking," Leavitt said. "I feel like this was our best week of preparation. We have a new head coach (Jon Eagle), we're learning a new offense, so I think we're just getting started."
Since losing to No. 1 Sheldon 35-31 at home in Week 2, the Lions have been lights out. Last week, they took a 24-0 halftime lead at No. 5 Jesuit and won 31-20.
"We said we're going to take it as a positive and not a negative," Hamper said of the Sheldon game. "We were going to use it to turn our season around, and that's exactly what we did, coming out showing what we're capable of doing. We've just got to keep doing it, week in and week out."
The Lions made an impression on Lake Stevens coach Tom Tri.
"They just played really well, and we didn't execute very well at all," Tri said. "They were more physical than us, and they put a hammer on us. We couldn't run the ball, couldn't throw the ball. They could. They were really good. Physical, well coached, athletic, fast. Good team."
Lake Stevens, Washington's 4A runner-up in 2018 and last season, has high hopes for winning its first title this year. The Vikings (2-2) have one of the most explosive weapons on the West Coast in senior running back Jayden Limar, who has committed to Notre Dame.
But the 5-foot-9, 170-pound Limar had no room to run against West Linn. He finished with six carries for two yards and three catches for 45 yards before leaving the game in the final minute of the first half with an injury.
Limar was transported to a hospital for treatment. Tri would not disclose the nature of the injury, revealing only that it was something new and not related to the shoulder injury that kept Limar out of the season opener.
The Lions came after Limar in waves.
"Our defense is so good at just running to the ball and having relentless pursuit," West Linn senior linebacker Earl Ingle said. "The amount of guys and athletes that we have, it's tough to run against us if you don't have anybody else to help you out. And he unfortunately didn't."
West Linn senior running back Koffi Kouame hinted that the Lions made a statement for Oregon.
"Oregon and Washington is very different," Kouame said. "In Washington, you have a good game, you come here thinking you're going to beat us, that doesn't really happen."
West Linn finished with a 514-219 edge in total yards. Kouame ran for 98 yards and one touchdown on 11 carries and senior Ben Winjum added 39 yards and three scores on nine carries. Leavitt commanded the air, finding Hamper and juniors Wiley Donnerberg (three catches, 88 yards) and Gus Donnerberg (four catches, 66 yards).
"I've just got to get them the ball, let them do their thing," Leavitt said.
The chemistry between Leavitt and the receivers is developing in a big way.
"We worked really hard this offseason together, and that's where that trust began," Hamper said. "We're just piling up each week, just getting more confident with each other, more familiar. The connection is getting better each week. I'm excited to see where it goes."
So is Leavitt.
"I don't even know what our ceiling is, but it's very high," Leavitt said.
For Friday night, at least, it was way too much for Lake Stevens. It was the type of game the Lions needed to springboard into Three Rivers League play with games against Lake Oswego, No. 4 Tualatin and No. 6 Tigard.
"It definitely was a different outcome than I was expecting, but we played to the best of our ability," Ingle said. "It's definitely a great outcome for us. More to come next week, hopefully."