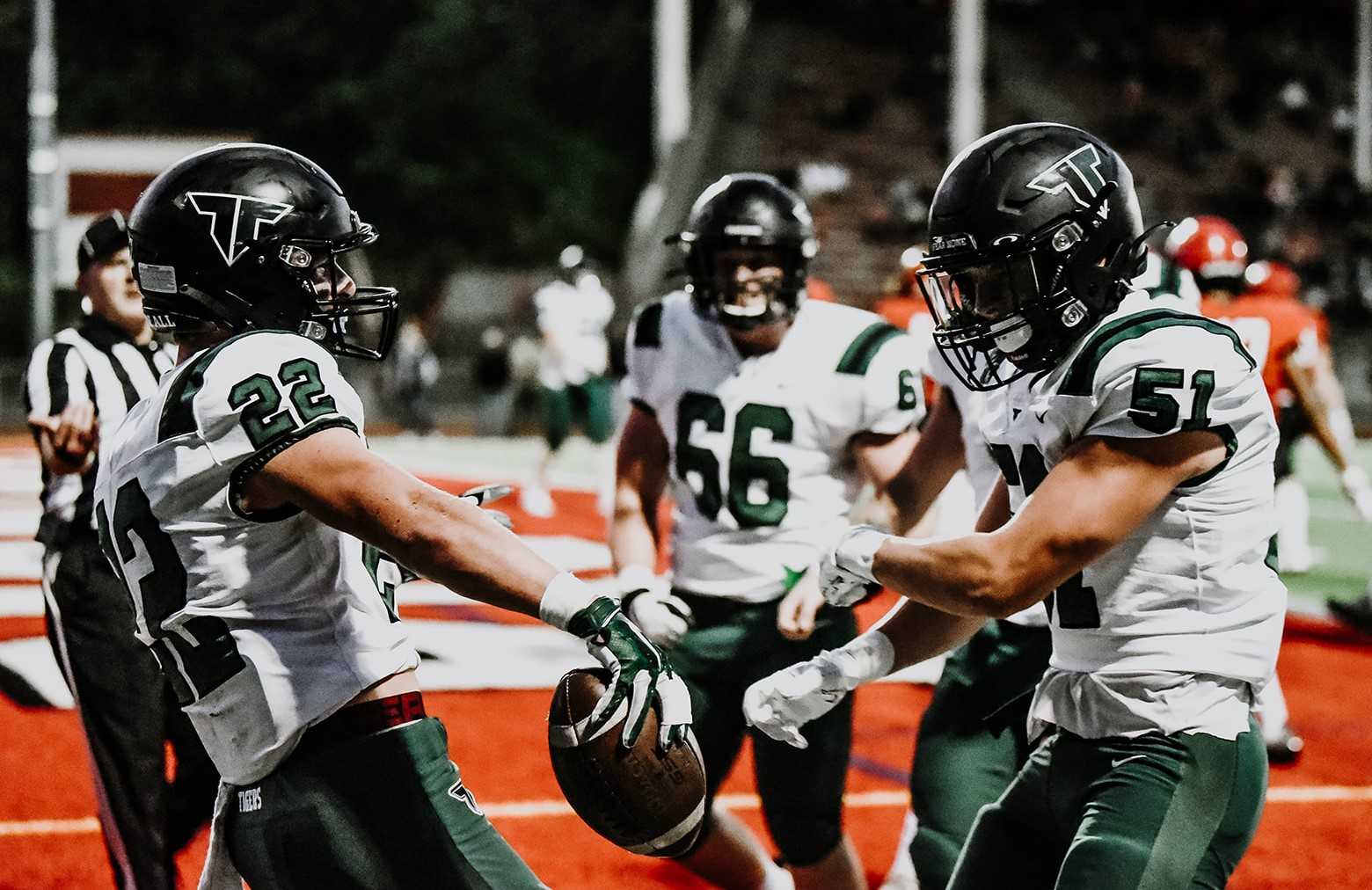 The true tests lie straight ahead, but after a disappointing 2021, Tigard's football team believes it is rediscovering its winning ways.
The No. 6 Tigers improved to 5-0 on Thursday with a 36-23 win at Oregon City in the Three Rivers League opener. Senior Konnor Grant ran for 200 yards and one touchdown on 25 carries for Tigard, which opened a 16-0 lead early in the second quarter and fended off the scrappy Pioneers (3-2).
It was far from a flawless performance, but Tigard proved it could come through in the clutch after winning its first four games by an average of 38.5 points.
"The defense made plays down the stretch when we needed to, and the offense started clicking again in the fourth quarter to kind of put it away," Tigers coach John Kemper said.
Tigard had won a playoff game in 10 consecutive 6A postseasons – making the semifinals five times and the championship game once (2014) – before exiting in the first round last year with a 42-17 loss at Roseburg. The 3-7 record, on the heels of going 2-3 in the COVID-shortened season, had the Tigers doing some soul searching.
"Last year was kind of an anomaly," Kemper said. "I take the blame for that. I didn't do a good enough job of getting our guys ready in multiple areas. It was a growing year for a lot of people, but myself in particular."
The team came back with a renewed commitment.
"You've got to put in the work," Kemper said. "You've got to take care of your bodies, you've got to practice with intent. You can't just show up and go through the motions, because if you do that in our league, you're going to get exposed.
"The biggest thing that we've been preaching is our team chemistry and culture. They were kind of lacking the last couple years."
Grant, the team's leading rusher last year, is having a stellar season. He has rushed for 712 yards and eight touchdowns behind a line that is anchored by senior left tackle Reese Hare (6-5, 230), senior right guard Matt Studer (6-1, 290) and senior center Bryson Hoover (6-0, 230).
"He seldomly goes down with first contact," Kemper said. "Last year our offensive line was extremely young. He couldn't do what he's been doing with the offensive line in front of him."
The first-string defense, led by senior middle linebacker Vaughn Croxton, has allowed only four touchdowns through five games. The Tigers held Oregon City running back Marcus Jordan, who entered with a league-high 699 rushing yards, to 58 yards on 19 carries.
Tigard's stretch run includes games against No. 10 Lakeridge, No. 2 West Linn, No. 9 Lake Oswego and No. 4 Tualatin.
"This league is a gauntlet," Kemper said. "It'll be fun the rest of the way. We can't look ahead to any other games."
Putnam rising
Momentum continues to build for Putnam, which is off to its best start in 36 years.
The Kingsmen improved to 5-0 on Friday by holding on for a 34-28 win at Hillsboro in its 5A Northwest Oregon Conference opener. After defeating four 4A teams to open the season, Putnam was eager to face the Spartans, who entered the game 3-1.
"We knew Hillsboro was going to be a great test," Kingsmen coach Tim Jacobs said. "We knew it was important for us to get a win there, not only for league play, but for the overall picture of competing for playoff spots."
The playoffs have become foreign territory for Putnam. Since the Kingsmen last won a playoff game in 1986, they have reached the postseason twice, losing in the first round in 2010 and 2012.
But Jacobs, the team's coach since 2014, said that this year's team is intent on making its mark.
"We want to keep building, keep having this fun that we're having," Jacobs said. "It's been a while for Putnam. There's definitely a buzz, and some excitement around football that's awesome to see."
The Kingsmen started fast against Hillsboro, taking a 28-7 lead into halftime. But two turnovers early in the third quarter allowed the Spartans to tie 28-28 heading into the fourth quarter.
Putnam went up 34-28 on junior Jaxon Doyle's fourth rushing touchdown of the game, and the Kingsmen held on defense after Hillsboro drove inside their five-yard line in the final minutes.
The 5-9, 195-pound Doyle, who had 145 yards on 29 carries, has rushed for 559 yards and nine touchdowns this season. Junior James Bauman, who returned a kickoff 75 yards for a score Friday, has 285 receiving yards. Junior Tyler Creswick has caught three touchdown passes and scored five times on defense and special teams.
Senior quarterback Konnor Bickford has been efficient, completing 43 of 64 passes for 686 yards and six touchdowns.
The Kingsmen have a massive line that features senior tackle Toby Bagley (6-3, 300), senior guard Nolan Bottcher (6-3, 270), senior center Brodie Wright (6-5, 320), junior guard Isaiah Gage (5-11, 240) and sophomore tackle Jace Eveland (6-7, 315).
Eveland is drawing major college interest.
"During the spring, most of the Pac-12 North was in the high school," Jacobs said. "He competed in a lot of spring and summer stuff, did a great job of getting his name out there. He's definitely going to get some big looks here coming up."
With only 12 seniors on the roster, the future is promising for Putnam. The frosh/soph team and the grades 7/8 and 5/6 teams also are unbeaten.
"The youth program is having tremendous success," Jacobs said.
Better than advertised
Defensive end Teitum Tuioti didn't exactly make a big impression last winter when he transferred to Sheldon from Lincoln, Neb.
"At first, I had no clue about him," Irish coach Josh Line said. "He was quiet, unassuming. He didn't want to draw attention to himself."
But Tuioti – whose father, Tony, a college assistant coach who left Nebraska to join the staff at Oregon – has made a giant impact for 6A No. 1 Sheldon (5-0) this season. Through five games, the 6-3, 220-pound senior leads the Irish in tackles per game (8.4), tackles for loss (18.5) and sacks (8.0). He also has two fumble recoveries and a caused fumble.
In Friday's 56-0 win over Roseburg, he had three tackles for loss and caught a touchdown pass, his first of the season.
Even though teams often try to avoid running his way, Tuioti finds a way to get involved.
"On the field, something happens to him," Line said. "He can turn it up in a hurry. He's got a ton of enthusiasm and energy. It's kind of been infectious for us."
Tuioti is rated as the No. 1 senior prospect in the state and No. 33 edge in the nation by 247Sports. The three-star recruit had 11 scholarship offers before committing to Oregon in July.
According to Line, Tuioti is even better than advertised.
"In my opinion, I think he's a little bit on the underrated side as an athlete," Line said.
Tuioti is a big reason why Sheldon is holding opponents to 7.4 points per game, down from 29.7 last season. His play has raised the Irish's overall physicality, which was a point of emphasis for the team during the offseason.
"That didn't really happen for us until the season started," Line said. "I've never had a defensive end make so many plays. His hustle and effort give him so many more opportunities to make plays. It's resonated with the rest of our team.
"As much as he's made plays as an individual, he's had an impact on our entire team. Our personal belief in what we can accomplish has grown since he's been a part of things."
Line said that Tuioti is "the whole package."
"He just does not carry himself with an air of entitlement at all," Line said. "He's just as good of a kid as we have. His play is really a reflection of his character."
Tuioti's sophomore brother, Mana (6-0, 205), starts at inside linebacker and also plays running back. Line said that Mana has more of a "boisterous" presence on the team.
"He's a totally different personality," Line said.
Knockout blow
Reigning 5A champion Silverton, which is adjusting to a new coach in Dan Lever, put together its most complete game of the season Thursday when it thumped visiting Corvallis 44-7 in a 5A Mid-Willamette Conference game.
The fourth-ranked Foxes (4-1, 4-0), with 19 new starters, have struggled with consistency this season. They built big leads in conference wins at Dallas and Central before holding on late to win. And they had to come back from down two scores in the fourth quarter to defeat South Albany.
So Lever, who coached Tualatin to the 6A final last year, liked how his players kept the pedal down Thursday and took all the drama out of the fourth quarter.
"My challenge was, 'Can we finish a game?'" Lever said. "It was good to put somebody away quickly. I think our team took a step. I kind of challenged them to put somebody away.
"Any change takes time. We were pretty green to start the year. All the cylinders are starting to run. We've got our best football yet to play, but we're getting better every week."
Against Corvallis, Silverton bolted to a 27-0 lead in the first quarter and was up 44-7 at half. Sophomore quarterback Sawyer Teeney passed for three touchdowns, two to junior Cohen Mulick. Senior Jackson Pfeifer ran for 86 yards and one score.
The job has been a unique challenge for Lever, who went 39-15 in five seasons at Tualatin. He said the key part is earning the trust of his players, who had developed relationships with the previous coach Josh Craig.
"You've got a really good football coach that everybody trusts that retires," Lever said. "We kept a lot of the previous staff, so that was kind of fluid. And we kept the defense the same."
The Foxes are getting a big season from Pfeifer (5-11, 190), who missed the team's championship run last season with an injury. Lever said that Pfeifer has been "like a duck in the water" in the team's new spread, RPO offense.
"He's got great hands, too, so he's just as dangerous out of the backfield," Lever said. "He's fast and he's very physical. And he can get his pads down and really punish you."
Teeney also is flourishing.
"He can go, man. He's going to be really good," Lever said. "He can kind of do it all. He could be the most accurate I've ever had. He can just sling it. And he's really, really bright."
Silverton's only loss is a 63-0 defeat in Week 2 at unbeaten Oak Ridge (Calif.) in the Honor Bowl, a game played in tribute to military veterans. It was a difficult loss, but it helped build a bond.
"It was a great opportunity to get to know the kids," Lever said.
Unearthed gem
Before the summer, Regis junior Kollin Schumacher had never played quarterback, instead contributing at safety and receiver.
But first-year Rams co-head coach Alex King was changing the offense from a double-wing rushing attack to the spread, and he needed a trigger man, so he gave Schumacher a look.
"We didn't have a quarterback lined up," said King, who co-coaches the team with Joe Manibusan, the defensive coordinator. "We were kind of testing it out. He's a baseball kid. We thought, 'He's got the brains to run the offense, so let's throw him back there and see what can happen.'"
The experiment has been a raging success so far for Regis (4-1, 1-1 2A Tri-River Conference). The 5-8, 150-pound Schumacher has thrown for 1,141 yards and 18 touchdowns with four interceptions for the Rams, who are averaging 46.6 points per game.
He passed for five touchdowns against Gervais in Week 3 and for six scores in a three-overtime loss to Colton in Week 4. He added another touchdown pass Thursday in a 51-6 rout of Central Linn.
Schumacher has developed good chemistry with his slot receivers, senior Tim Crowell and junior Charlie Miller. Crowell, a track sprinter, has 28 catches for 563 yards and 13 touchdowns. Miller has 23 catches for 312 yards and two scores.
"We wanted to try to work our quick game, because we've got quick receivers," King said. "So if we can get the ball out to them as quickly as we can, it'll let big plays happen.
"Then the first game comes around, and he was rolling out and throwing on the run, and deep balls, and we were like, 'OK, we've got something else we can work with.'"
Schumacher is evolving as a deep thrower, hitting junior Cody Ditter for a 66-yard touchdown bomb against Colton. He has a tendency for overthrowing early before settling down.
"He's getting there," King said. "We've just got to get him out of his own head at times. He's definitely coming along really nice."
Other highlights from Week 5:
6A
Avirey Durdahl completed 23 of 32 passes for 276 yards and four touchdowns, including a 25-yard strike to senior Max Kirsch in overtime, as Nelson upended rival Clackamas 42-35. Kirsch also had a 70-yard punt return for a touchdown for the Hawks. Clackamas' Blake Baker completed 17 of 24 passes for 307 yards and three touchdowns, two to AJ Perez, who had 15 catches for 219 yards. … South Medford stayed undefeated by beating Sprague 33-18 as Deacon Edgar ran for two scores and threw a touchdown pass. Dylan Espinoza ran for 86 yards and two touchdowns and had an interception for the Panthers. … North Medford stopped Grants Pass at the 12-yard line in the final two minutes to win 20-14. Ty Pugliano rushed for 134 yards and two touchdowns on 20 carries for the Black Tornado. Grants Pass' Jace Blanchard threw for 295 yards and two touchdowns, both to Jackson Tunick, who had seven catches for 209 yards … Sandy's Payton Guisto returned interceptions 75 and 98 yards for touchdowns to help beat Gresham 34-6. …
Brock Thomas passed for four touchdowns and ran for two scores for Sheldon, which built a 42-0 lead at half and beat Roseburg 56-0. … McMinnville broke a four-year losing streak to Newberg with a 49-21 win. Austin Rapp had four touchdown runs – including bursts of 58 and 60 yards – and Kane Sullivan passed for three touchdowns, two to Nick Gibson, for the Grizzlies. … Jesuit outgained Aloha 443-14 to win 64-0. Payton Roth ran for 174 yards and four touchdowns on seven carries for the Crusaders, who led 50-0 at half. … Liberty ran for 400 yards to hold off Glencoe 55-39. Tanner Steinbach rushed for 124 yards and two touchdowns and Houston Lee-Perry added 119 yards for the Falcons, who got a 51-yard fumble return for a score by Logan Hinojosa. … Tualatin defeated Lakeridge 39-21 as Luke Ash ran for 156 yards and two touchdowns on 29 carries. Lakeridge's Ryan Oliver threw for three scores. … North Salem topped McNary 21-7 as Josiah Davis rushed for 164 yards and two touchdowns on 21 carries. …
West Linn throttled Lake Oswego 49-0 behind Sam Leavitt, who completed 14 of 20 passes for 274 yards and two touchdowns and ran for 87 yards. … South Salem's Daschel Smith completed 31 of 49 passes for 353 yards and three touchdowns with one interception in a 35-7 win over West Salem. Zach Wusstig had seven catches for 113 yards and two scores and rushed for 97 yards and one touchdown. … Brayden Boe caught a 14-yard touchdown pass from Alex Ingalls, and Holden Phillips kicked the extra point, to give Mountainside a 31-30 overtime win over Westview. Boe had five catches for 87 yards and two scores. Westview's Jordan Fisher had 26 carries for 263 yards and four touchdowns, including a 25-yard run to open the scoring in overtime. … Central Catholic held Reynolds to 56 yards in a 50-0 win. Cru Newman passed for three touchdowns and ran for a score. … Sunset got two interception returns for touchdowns from Cole Massar in dropping Beaverton 34-13.
5A
Crater sophomore Ben Higginson replaced injured starter Shane Wood at quarterback and led a 35-0 win over North Eugene by throwing two touchdown passes and running 23 yards for a score. … David Brown ran for 202 yards and two touchdowns and caught a scoring pass for Eagle Point, which stopped Willamette 35-20. … Logan Johnson ran for 88 yards and one touchdowns and South Albany held Lebanon to 102 yards to win 21-0. … Unbeaten Bend recorded its third consecutive shutout, defeating Redmond 43-0 to tune up for a showdown with Summit. Jack Sorenson had three touchdown runs for the Lava Bears, who rushed for 316 yards. … Thurston defeated rival Springfield for the seventh consecutive time, rushing for 328 yards in a 47-20 win. Will Dau ran for 125 yards and Noah Blair threw three touchdown passes for the Colts. ...
Central quarterback Chase Nelson ran for a 52-yard touchdown on the play after a 15-minute, light-outage delay to break a tie and give the Panthers a 35-28 win over West Albany. Nelson rushed for 112 yards and two scores and passed for 204 yards and one score for Central, which got 158 rushing yards and two touchdowns from Kohler Hernandez. Lukas Hews had three touchdown passes for West Albany. ... Hogan Carmichael's four touchdown passes lifted Summit over Ridgeview 42-8. ... Wilsonville's Kallen Gutridge passed for four touchdowns, two to Cooper Hiday, and Jacob Ogden ran for two scores in a 51-6 win over Hood River Valley. ... Southridge got two touchdown runs from Jackson Powell in defeating Canby 26-15. ... McKay's Jamahl Wilson ran for more than 300 yards and six touchdowns to lead the Royal Scots past Crescent Valley 51-23.
4A
Jack Davis completed 22 of 31 passes for 259 yards and two touchdowns in Pendleton's 49-12 win over Madras. Payton Lambert rushed for two touchdowns, caught a scoring pass and had an interception for Pendleton. … Cascade ran over Cottage Grove 56-13, getting touchdown runs from Nolan Abrams (three), Karsten Sande (two) and Jacob Bell (two). ... Marist Catholic dispatched Sweet Home 42-12 as Jackson Gibeau completed 10 of 13 passes for 197 yards and four touchdowns, three to Andrew Sargent, who had five catches for 106 yards. Drew Prickel returned a kickoff for a score for the Spartans. … Ty Beyer ran for four touchdowns to lead Woodburn past Gladstone 42-21. …
Shaw Stork completed 11 of 13 passes for 176 yards and four touchdowns and Logan Whitlock ran for 146 yards and two scores on 15 carries in Henley's 42-14 win over Hidden Valley. The Mustangs' Daniel Iwamizu rushed for 129 yards and one score in defeat. ... John Lemmons ran for 158 yards and two touchdowns on 25 carries in Marshfield's 27-7 win over Junction City. ... Estacada has six interceptions in routing Molalla 61-13, with James Durand, Waylon Riedel and Cory James returning their picks for touchdowns. James also passed for two touchdowns and ran for a score. ... Scappoose blanked Milwaukie 39-0 as D'Angelo Macedo Becker ran for three touchdowns and caught a scoring pass.
3A
South Umpqua handled St. Mary's 33-14 in a battle of unbeaten teams. Isaac Real had a touchdown run and returned a punt 59 yards for a score for the Lancers, who also got two touchdown runs from Jacob Logan. Jaden Foster of St. Mary's had five catches for 103 yards and two touchdowns. … Kameron Rague had four carries for 122 yards and two touchdowns to lead Cascade Christian past North Valley 49-10. Ashton Moody passed for two touchdowns and ran for a score for the Challengers, who had 444 yards. … Kyle Burger threw three touchdown passes, two to Camron Hendrix, as Brookings-Harbor picked up its first win, 28-14 over Phoenix. … Coquille pulled ahead 26-0 at half on its way to defeating Sutherlin 33-6. Waylon Messerle and Hayden DeGeros each ran for two touchdowns for the Red Devils, who had 271 rushing yards. … Kennedy built a 41-0 halftime lead and coasted past Scio 47-8. Elijah Traeger completed all four of his passes, two for touchdowns, and ran for a 75-yard score. ...
Colton Stepleton ran for 136 yards and two touchdowns, Kade Schaffeld rushed for 98 yards and one score and Eli Aldred returned a kickoff for a touchdown in Vale's 35-25 win over Ontario. Tigers sophomore Diego Rodriguez passed for 420 yards in defeat. … Dayton jumped to a 35-0 lead in the first quarter and thumped Salem Academy 58-14. Lucas Ashley ran for two touchdowns and caught a scoring pass for the Pirates, who forced four turnovers, including a fumble return for a touchdown by Bowen Johnson. … Jacob McGhehey completed 12 of 25 passes for 215 yards and two touchdowns and ran for a score to lead Yamhill-Carlton past Warrenton 32-28. Kaden Sutton rushed for 94 yards and one touchdown and Gavin Stafford had four catches for 96 yards in the win. ... Colton Campbell completed 6 of 8 passes for 149 yards and two touchdowns and ran for a score in two quarters to spark La Pine's 64-0 win over Harrisburg. Dawson Cook rushed for 126 yards and two touchdowns on six carries and Riley Flack threw for scores on both of his pass attempts.
2A
Cameron Proudfoot ran for two touchdowns and caught a scoring pass and Caden George rushed for 103 yards and one touchdown as Heppner handled Stanfield 34-6. … Umatilla handed Weston-McEwen its first defeat, winning 36-25 behind Kaden Salamanca, who ran for three touchdowns and passed for a 48-yard score to Justus Zamudio. Weston-McEwen, which led 19-14 at half, got 123 rushing yards and two touchdowns from Cameron Reich. … Brayden Locey threw a touchdown pass to Brayden Atkins late in the fourth quarter to lift Irrigon over Riverside 46-40. Mason Harrison had an interception and a sack for Irrigon, which rushed for 379 yards. … Ashton Hardy rushed for 152 yards and four touchdowns as North Douglas/Yoncalla outscored Rogue River 62-42. Rogue River's Said McWillie ran for 315 yards and five touchdowns on 36 carries. … Oakland dominated Glide 54-8, getting two touchdown runs each from Brayden Webb and Cade Olds. James Baimbridge scored touchdowns rushing and receiving and Coen Edgar returned an interception for a score for Oakland, which held Glide to 68 yards. … Monroe beat Toledo 36-20 as Nate Young ran for 149 yards and one touchdown on 20 carries. Toledo's Rayden Taylor had 30 carries for 226 yards and two scores.
1A-8
Riley Wolfe and Kenny Wilson combined to pass for 299 yards as Camas Valley rolled Chiloquin 58-12. Ethan Payne and Wyatt Casteel each had two touchdown catches and Wolfe had two interceptions, returning one for a score, for Camas Valley. … Lost River rushed for 371 yards in a 51-0 win over Bonanza. Connor Dunlea (123 rushing yards) and Nathan Dalton each ran for two scores for the Raiders, who limited Bonanza to 101 yards. ... Sherman/Condon beat previously undefeated Enterprise 66-46, recovering three onside kicks and controlling the ball with a dominant running game, owning an 82-36 edge in plays. Enterprise's Tyler Knapp completed 13 of 15 passes for 189 yards and three touchdowns, two to Caden Fent. Ashtyn Irwin rushed for 103 yards and three scores and had 22 tackles for Enterprise. ... George Pohlschneider led St. Paul past Myrtle Point 42-14, completing 9 of 14 passes for 166 yards and one touchdown and rushing for 118 yards and one score on eight carries. Clay Smith had 16 carries for 113 yards and four touchdowns and Warren Rose caught seven passes for 99 yards and one score.
1A-6
Nathan Rausch ran for 96 yards and two touchdowns and Anthony Alimenti passed for two scores and had an interception on defense to lead Elkton past Glendale 35-14. … Keegin Chitty ran for a 30-yard touchdown with three minutes left to give Echo an 18-13 win over Harper. Dom Curiel threw touchdown passes to Mason Murdock and Mac Nasario for Echo. … Riddle shook off a 14-0 deficit to defeat Mapleton 24-14. Preston Wylie rushed for 153 yards and three touchdowns on 21 carries, threw for a score and had a team-high 18 tackles for Riddle. ... Triangle Lake took care of Eddyville Charter 46-6. Garrett Warren rushed for 140 yards and two touchdowns, Gus Gamache threw for two scores and Ben Wyse had 13 tackles, five tackles for loss, two sacks and a forced fumble. ... Joseph routed Pine Eagle 69-13 as Kane Johnson threw three touchdown passes, two to Kellen Crenshaw. Jaxon Grover scored rushing, receiving and on a 60-yard interception return. Gavin Russell ran for 111 yards and one score on nine carries. ... Alex Mahmoud and Rene Sears returned punts for touchdowns in Powers' 69-6 win over Days Creek.