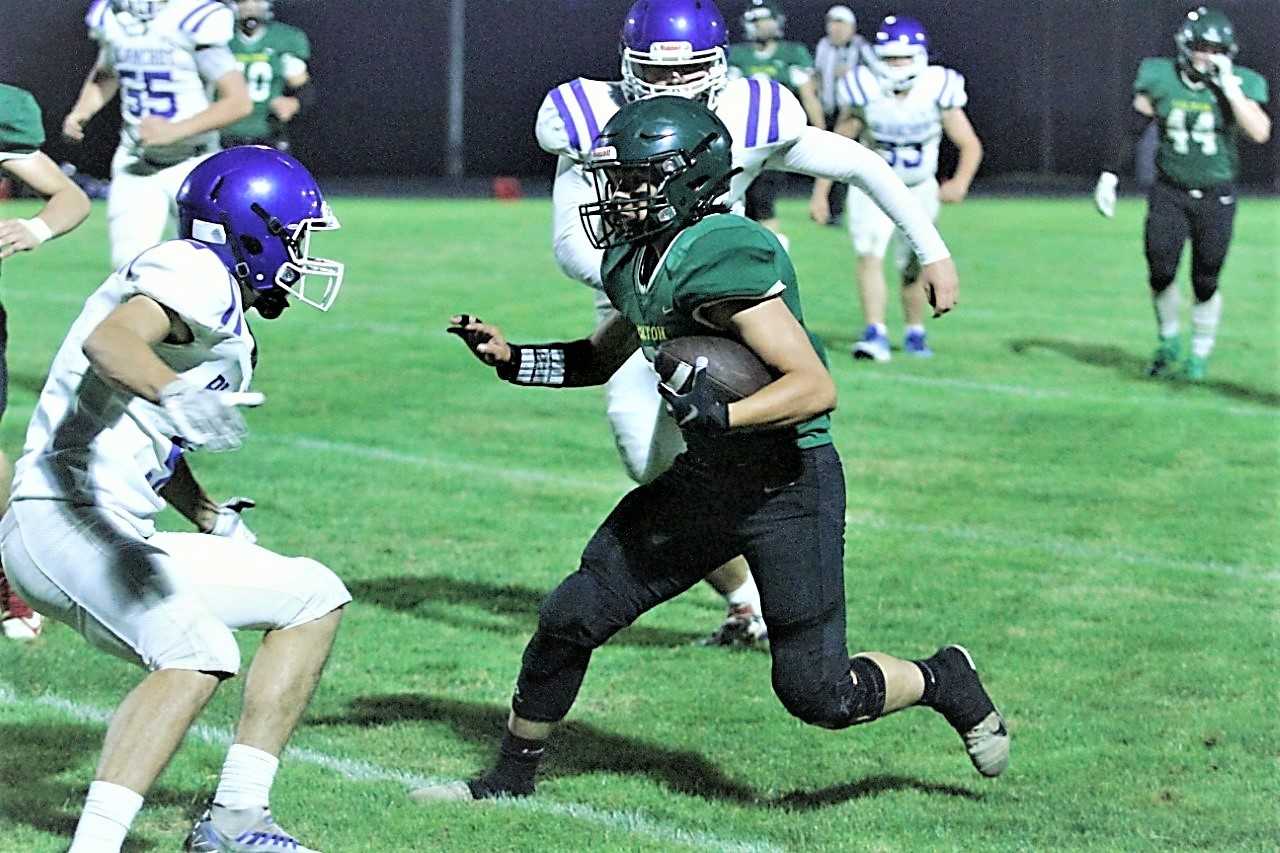 With each passing week, it's looking more like Colton could be in the midst of a once-in-a-generation type of football season.
The Vikings – who haven't won a league title since 2000 and last won a state championship in 1983, sharing it with St. Mary's – are 7-0 and ranked No. 2 in the OSAAtoday 2A coaches poll.
Colton picked up another big win Thursday by rallying from a 10-point halftime deficit to defeat No. 9 Santiam 50-24. With two games left, the Vikings are 4-0 in the conference and hold a one-game lead over No. 8 Regis (6-1, 3-1), a team they beat 50-48 in a three-overtime thriller in Week 4.
"We're trying to win out and get that league title," said second-year coach Jason Stewart, who also serves as the varsity baseball coach at 5A Woodburn.
Before taking over at Colton, Stewart coached in Gladstone's youth football program and helped out at the high school, where his son Haiden played nose guard for the Gladiators.
He and offensive coordinator Aaron Krause brought the wing-T offense from Gladstone to Colton. After averaging 21.4 points and finishing 4-4 last season, the Vikings have increased their scoring to 44.7 this year.
"The veer they were running before, only a couple guys got to touch the ball," Stewart said. "With the wing-T, there's like six guys that touch the ball. I think besides the linemen, every one of them has scored a touchdown. They're just having fun."
With 14 starters back, senior-dominated Colton has excelled in 2A's switch from 11-man to 9-man this season.
"I tried to stay 11-man, but my AD, I guess he picked it right," Stewart said of athletic director Shawn Murray. "We just morphed. I like 11-man, but 9-man, just because there are two guys missing on defense, I think it's better."
Santiam was coming off three consecutive shutout wins and led Colton 24-14 at half. But Stewart said the Vikings kept their composure and methodically took over the game in the second half.
"I told my offensive coordinator, 'Let's go back to our bread-and-butter and pound the middle,'" Stewart said.
In the second half, Colton got rushing touchdowns from senior running back Nolan Earls and both of its quarterbacks, senior Rickie Hendrickson and sophomore Wyatt Holliday. The Vikings also got a touchdown catch from junior tight end Noah Bjornstedt and a strip-and-score on defense from Earls.
"We just have a bunch of weapons," Stewart said.
Hendrickson (635 yards), Earls (540 yards) and senior Lance Gunter (440 yards) lead Colton in rushing. The 6-3, 200-pound Bjornstedt is having a monster season, catching 13 touchdown passes and snagging six interceptions on defense.
"I think he should be the player of the year for 2A," Stewart said. "The kid is like a Gronk kind of build. He could play college and probably go to the NFL."
Senior defensive tackle Roger Moore leads the team in tackles.
As their success builds, the Vikings are thinking big.
"We think we're going to do it this year and hold that trophy in Hillsboro, and put it in the case at the school," Stewart said.
Fisher king
Despite facing a steady stream of top-notch teams that stacked their defenses to stop him, Westview senior running back Jordan Fisher has continued to put up big numbers this season.
The 5-8, 175-pound Fisher rushed for 130 yards and two touchdowns on 13 carries in Friday's 54-0 win over Aloha, giving him 1,194 yards and 16 scores for the season.
His performance helped the Wildcats ((2-5, 1-2 6A Metro League) end a five-game losing streak that came against 5A No. 4 Wilsonville, 5A No. 1 Summit, 6A No. 5 Tualatin, 6A co-No. 6 Mountainside and 6A No. 4 Jesuit.
"He embraced it. He wants to go against really, really good competition," Westview coach Ryan Atkinson said of Fisher. "He's kind of flourished in it, even in that tough run."
Fisher rushed for 1,467 yards and 23 touchdowns as a junior. But with the graduation of blue-chip receiver Darrius Clemons, who now plays at Michigan, and the transfer of Washington State-bound quarterback Sam Leavitt to West Linn, Fisher has become the focal point of the team's offense.
"Teams know we're going to give him the ball," Atkinson said. "They're game-planning around him, with just, 'We've got to stop Jordan.' He's doing it with everybody keying on him and quality opponents."
After averaging 14.8 carries per game as a junior, Fisher is up to 23.4 this season. He has welcomed carrying a heavier load and expanding his leadership role.
"He's one of the fiercest competitors and loyal teammates I've ever been around," Atkinson said. "He's no question our leader, no question our most composed kid.
"He rubs off on everybody. Everybody talks about his talent and the way he runs the ball, but in our organization, we just have so much respect for him and his humility."
Fisher can run inside, but is more effective in the open field.
"He's not going to run anybody over, but if you get him in space, he won't go down," Atkinson said. "You can't square up on him, and he's strong."
Fisher has college offers from Portland State, Montana State, Idaho, Idaho State, Air Force, Navy and Army, but Atkinson believes he has the ability to play in a Power 5 conference.
He said the same thing about former Westview receiver Samori Toure, who received one offer out of high school before playing at Nebraska and making the Green Bay Packers this year.
"He's up there with Samori and Darrius and those guys," Atkinson said. "I just think he's a steal for any program. His story's not written yet. He's going to play for a long time."
No looking back
A 42-0 nonleague loss to Jesuit in Week 4 was an eye-opener for a Sherwood team that prides itself on being physical.
"I just said, 'We're going to flush it, we're going to move on,'" Bowmen coach Mark Gribble said. "We didn't even show the kids video from it. We just literally said, 'OK, it's happened, it's done, and we're moving on.'"
Gribble said the team reset its record at 0-0 after that defeat, and since that time, Sherwood (5-2, 3-0) has responded with three solid wins to take over first place in the 6A Pacific Conference. The reigning conference champion Bowmen tightened their grip on the top spot Thursday with a 42-0 win at Newberg (4-3, 1-2).
"We're just focused on trying to stay in the driver's seat, to control our own destiny," Gribble said. "The kids are definitely locked in and playing well in all facets of the game right now."
Senior Nick Gribble ran for two touchdowns, junior Kasen Covert passed for two scores and the Bowmen converted two fumble recoveries on kickoff returns into touchdowns to repel the Tigers. Sherwood's wing-T offense racked up 257 rushing yards, 80 from Gribble.
"We're effectively running our offense now," Mark Gribble said.
The Bowmen held Newberg to 176 total yards in posting their first shutout of the season. Since the loss to Jesuit, they have held Century, McMinnville and Newberg to a combined 19 points.
"Kids are playing with more confidence within our scheme," Mark Gribble said. "They're starting to lock in. It makes things easier when the kids can just play fast. They're not thinking about things, they're reacting and letting their athleticism and instincts take over."
The coach said the players are more focused on the process in recent weeks.
"Jesuit hit us right in the mouth from a physicality standpoint," he said. "We're a pretty physical team. I don't know that we're as physical as Jesuit, but that was one of the things we wanted to get back to. We have to be aggressive, we want to set the tone. We can't allow other people's offenses to dictate what they're going to do."
Junior linebacker Keaton Fried (6-0, 186), who moved from outside to inside two weeks ago, has become an anchor for the defense. The front four, led by senior defensive end Oliver Fisher (6-5, 230) has been stout. And junior safety Evan Morris (6-3, 175) is evolving into a leader.
"He's been playing phenomenal," Mark Gribble said of Morris. "He's kind of the quarterback of our secondary."
For the season, Nick Gribble has rushed for 468 yards and eight touchdowns and caught two scoring passes. Covert has passed for 690 yards and 11 touchdowns.
Laker revival
Anyone ready to bury Lake Oswego after its 49-0 loss at No. 2 at West Linn in Week 5 might want to put down that shovel.
The Lakers (5-2, 2-1 6A Three Rivers League) have picked up the pieces and won their last two games, including an impressive 35-31 home win over No. 5 Tualatin in a back-and-forth struggle Friday.
The resilient performance could be a sign of what Lake Oswego is capable of down the stretch of the season.
"It says so much about their character," Lakers coach Steve Coury said of his players. "We talk a lot about tradition never graduating, and as they come through the program, they've watched our teams play those type of games. So it kind of felt like old times, in some respects.
"With a couple minutes left, it would've been easy to say it's another tough loss, but they never did that. They just kept fighting."
Down 13-0, Lake Oswego pulled ahead 14-13 at half on two touchdown passes from sophomore Liam Davis to senior Owen West. Davis connected with junior Matt Layne for another scoring pass to lead 28-24 with 7:20 left, and after Tualatin took a 31-28 lead with three minutes remaining, the Lakers got the winning touchdown on a pass from Davis to senior Calvin Macy with 41 seconds to go.
Davis completed 22 of 34 passes for 281 yards and four touchdowns. Layne had 13 catches for 116 yards and one score and West had five catches for 108 yards and two scores.
Davis, who took over as quarterback from junior Max Brauner in Week 4 against McMinnville, is making steady progress.
"It was his best game, for sure, on that big of a stage," Coury said. "Each game he plays, he keeps getting better."
Coury said Davis' ability to improvise and make plays was the main reason to make the quarterback switch.
"It looked, especially early in the year as the offensive line was coming together, that we really needed someone that was just a little bit more agile and fluid back there," Coury said. "And it could open up some other things that we could do offensively."
Challengers unchallenged
Through seven games, Cascade Christian – No. 2 in the OSAAtoday 3A coaches poll – has been as dominant as any team in the state, outscoring opponents by an average margin of 50.7 points per game.
Still, given that the Challengers haven't played a team currently ranked in the top 10 in the coaches poll, or played any nonleague games, they remain somewhat of an unknown quantity.
Coach Jon Gettman, whose team improved to 7-0 on Friday with a 35-0 win at Lakeview, isn't ready to draw any comparisons to his teams that won state championships in 2013 and 2017 and claimed an unofficial title in the COVID-shortened season in early 2021.
"It's tough to get a great feel for it," Gettman said. "There are going to be tougher defenses, so we'll be able to get a better feel for it. I certainly think as far as experience and athletic ability, this team has been great."
Cascade Christian tied a school record for points in an 82-0 rout of Phoenix last week. The Challengers are averaging 53.9 points, No. 1 in 3A.
"Our offense certainly has been explosive," Gettman said. "We're not dependent on one kid. We've been able to spread it out."
Last year's team, which lost to eventual champion Siiuslaw 28-23 in the state quarterfinals, was forced to play many underclassmen due to injuries and a small senior class. As a result, Cascade Christian brought back nine starters on each side of the ball.
"I've never returned that many starters," Gettman said.
One of those starters, senior quarterback Keith Reed, suffered a partial tear of the ulnar collateral ligament in his throwing elbow during a preseason practice and missed the first month of the season.
Junior Ashton Moody started the first six games in place of Reed and threw 10 touchdown passes and ran for five scores. Reed played in relief last week and made his first start of the season Friday, throwing two touchdown passes to junior Peyton Maurer and running for 113 yards and two scores on 12 carries.
"They both have good arms and make plays with their legs," Gettman said. "It's not like you have to make a big change from one to the other because they're very similar in their styles."
The 6-3 Reed has a strong arm.
"He's able to see over some stuff," Gettman said. "Getting him up to speed, I think it will make a difference in the passing game. He threw with a lot of those kids, so he's got good timing with them."
The offensive line, anchored by a third-year starters in senior center Daniel Nering (6-3, 250), has been opening gaps for sophomore Kameron Rague (6-2, 185), who has run for 11 touchdowns.
"You get Kam one-on-one against someone, and the odds are he's going to break that tackle and do a lot of damage," Gettman said. "He's an explosive athlete. He doesn't go down on first contact. He gets in the open field, he's tough to catch."
The defense also has been outstanding, holding opponents to 22 points, best in the state for all classifications. The unit includes senior defensive lineman Jaxson Turituri (6-4, 215), the brother of former Crater standout Derek Turituri, who played at Arizona. He leads the team with nine tackles for loss.
"He's really getting off the ball fast," Gettman said. "He's able to be disruptive."
The Challengers' schedule will get tougher as they face St. Mary's (6-1, 6-1) and No. 4 South Umpqua (7-0, 7-0) to finish the regular season.
Hornets sting Pirates
No. 4 Henley stayed unbeaten Friday with a 29-15 win at No. 7 Marshfield, avenging last year's 42-7 quarterfinal loss to the reigning 4A champion Pirates.
Senior Shaw Stork threw three touchdown passes to senior Owen Cheyne, who had five catches for 168 yards, as the Hornets (7-0, 4-0) shook off a third-quarter deficit to defeat the Pirates (5-2, 3-1) in the Special District 4 game. Junior running back Logan Whitlock ran for 83 yards and threw a 32-yard touchdown pass to junior Chris Janney for Henley.
"You could feel all the boys were hungry," Hornets coach Alex Stork said. "Playing against such a great Marshfield team last year, and then coming up against a great team again this year, the boys were really hungry to play their best."
Marshfield rallied from a 14-0 deficit to take a 15-14 lead in the third quarter. But Stork and Cheyne hooked up for touchdown passes in the third and fourth quarters to give Henley the win.
With the victory, Henley sets up a first-place showdown Friday at home against No. 1 Mazama (7-0, 4-0) in the latest edition of the South Side Series rivalry. The Hornets haven't beaten the Vikings since 2017 in the battles between the Klamath Falls schools, who are three miles apart.
"Obviously, with most of our kids growing up and playing sports together, this is a game that they look forward to," Alex Stork said. "Now that we have a chance of competing for a championship in the game, both of us, it's exciting."
Last year, the Vikings beat Henley 41-14 to take the district title. The Hornets have a tall task against another dominant Mazama team.
"They're impressive in how they just reload," Alex Stork said. "It's a testament to the program they have and the way they do things. They have another great team."
Shaw Stork, the coach's brother, and Whitlock have been the catalysts for Henley's offense. Stork has passed for 16 touchdowns and run for five scores. Whitlock has rushed for 984 yards and 16 touchdowns.
Whitlock, who suffered a season-ending broken collarbone in Week 4 last year, has become an emotional leader for the team.
"His passion for the game is second to none," Alex Stork said. "He just has the will to make things happen that is very rare. It inspires his teammates because of it."
Other highlights from Week 7:
6A
Brock Thomas completed 19 of 33 passes for 357 yards and four touchdowns in Sheldon's 42-6 win over North Medford. Teitum Tuioti had four catches for 142 yards and two scores for the Irish. … Grants Pass built a 27-0 lead and held on to defeat South Medford 27-26, stopping a two-point conversion attempt midway through the fourth quarter. Jace Blanchard passed for three touchdowns for Grants Pass, including scores of 72 and 55 yards to Jackson Tunick. … Jared Long rushed for two touchdowns and Alex Ingalls passed for two scores for Mountainside, which handled Beaverton 42-14. … Oregon City rallied from a 28-14, fourth-quarter deficit to nip Lakeridge 29-28. Ben Schneider passed to Thomas Borden for a touchdown with 1:24 left, then Schneider was on the receiving end of a double-reverse pass from Logan Fry on the ensuring two-point conversion to take the lead. The win ended a 19-game Three Rivers losing streak. …
Payton Roth ran for 292 yards and three touchdowns on 21 carries for Jesuit, which brushed off Sunset 44-17. … West Linn handed Tigard its first loss, rolling at home 63-14. Sam Leavitt completed 15 of 22 passes for 347 yards and six touchdowns, four to Mark Hamper, who had six catches for 166 yards. … Nelson defeated David Douglas 54-28 as Jaidon Siler rushed for five touchdowns. … West Salem's Jimmy Lathen ran for 171 yards and four touchdowns to help beat McNary 47-7. The Titans also got an interception return for a touchdown from Jameson Lowery.. … Kellen Segel passed for two touchdowns in Grant's 44-0 win over Cleveland, the Generals' third shutout in four games. Grant held the Warriors to minus-four yards. … Sandy grinded out a 14-7 win over Reynolds as Garrett Willenberg rushed for 200 yards and one touchdown on 28 carries. The Pioneers rushed for 375 yards and outgained the Raiders 403-55. ...
Cru Newman completed 23 of 34 passes for 451 yards and six touchdowns, two to Niko May, and rushed for 73 yards to lead Central Catholic past Barlow 46-14. Zhaiel Smith had a 98-yard touchdown catch from Newman. … Austin Rapp rushed for 311 yards and four touchdowns for McMinnville, which outlasted Glencoe 49-34. … Clackamas got three touchdown passes from Hudson Norman, two to AJ Perez, in a 42-7 win over Gresham. … Drew Rodriguez returned an interception for a touchdown as Sprague dispatched North Salem 26-19. … Brave Johnson completed 10 of 11 passes for 210 yards and two touchdowns and Sanborne Melson returned an interception 99 yards for a score for Jefferson, which dominated Franklin 42-6.
5A
Hugo Perezchica scored on a four-yard run with 1:37 left to propel Eagle Point past Crater 21-17. The Comets reached the Eagle Point 10-yard line on the their final drive but failed to score. David Brown rushed for 228 yards and two touchdowns on 38 carries for the Eagles. … Kaden Younger threw two touchdown passes to DeShawn Gilliam in the second half to spark South Albany to a 29-26 win over Dallas. Logan Johnson ran for two touchdowns, including the go-ahead score on a six-yard run with 4:25 left. … West Albany thumped Crescent Valley 56-14 as Marcus Allen rushed for 138 yards and five touchdowns on 18 carries. Tyler Hart-McNally ran for 174 yards and one touchdown on 13 carries and Lucas Hughes completed 19 of 26 passes for 355 yards and two scores for West Albany. … Kallen Gutridge passed for one touchdown and ran for another in Wilsonville's 35-0 win over Southridge. …
Thurston picked up a forfeit win over South Eugene, which opted out due to attrition. … Silverton got three touchdown passes from Sawyer Teeney and a kickoff return for a score from Cohen Mulick, to put away McKay 45-28. … Canby's Tyler Konold returned after missing three games with a high ankle sprain and ran for a touchdown to help the Cougars beat Hood River Valley 14-13. The Eagles attempted to take the lead on a two-point conversion midway through the fourth quarter but failed. … Central scored touchdowns on its first five possessions to lead 35-0 at half on its way to a 42-8 win over Lebanon. Chase Nelson passed for four touchdowns. … Caeleb Kasperek passed for three touchdowns, two to Dwayne Fotta, to lead Springfield past Willamette 42-34. Springfield also got two touchdown runs from Connor Dye and a kickoff return for a score from Jackson Babbitt. Willamette's Ryan Prescott passed for 210 yards and three touchdowns. …
Summit blanked Redmond 35-0 as Hogan Carmichael completed 19 of 26 passes for 334 yards and four touchdowns with one interception and Charlie Ozolin had eight catches for 174 yards and two scores. … Mountain View dispatched Ridgeview 44-13, holding a 386-105 advantage in total yards. Connor Crum passed for three touchdowns, Greyson Harms had three touchdown catches and Jack Foley caught five passes for 109 yards and one score in the win. … Bend held Caldera to two total yards in a 41-0 win. Logan Malinowski and Malakai Nutter each ran for two touchdowns. … Jaxon Doyle ran for four touchdowns in Putnam's 51-7 win over Centennial.
4A
Mazama dominated Klamath Union 57-10 in the Canal Bowl rivalry game behind Trevor Anderson (11 carries, 233 yards, two touchdowns) and Treyce Horton (seven carries, 164 yards, four touchdowns). … Logan Williams passed for three touchdowns and ran for two scores as La Grande subdued Crook County 42-14. … Paul Hobson threw four touchdown passes in Baker's 41-14 win over Madras. Rasean Jones caught two touchdown passes and returned a kickoff for a score and Malaki Myer scored touchdowns receiving and on an interception return. … Seaside beat Milwaukie 20-0 behind three touchdown runs by Jake White. … Marist Catholic topped Philomath 49-7 as Jackson Gibeau threw three touchdown passes. AJ Sargent and Peyton Tyner caught two touchdown passes each and Drew Prickel ran for two scores for the Spartans. …
Scappoose dropped rival St. Helens 41-6 as Max Nowlin passed for 312 yards and three touchdowns and D'Angelo Macedo-Becker ran for 147 yards and three scores. … Tillamook's Tanner Hoskins completed 14 of 17 passes for 164 yards and two touchdowns and ran for two scores in a 40-7 win over Astoria. The Cheesemakers rushed for 249 yards. … Cory James passed for two touchdowns and ran for a score to propel Estacada past Gladstone 46-6. … Pendleton defeated The Dalles 42-12 as Payton Lambert rushed for 159 yards and three touchdowns on 16 carries. … Woodburn dusted Parkrose 42-7 as Cruz Veliz passed for two touchdowns and grabbed two interceptions on defense. Ty Beyer ran for a touchdown and caught a scoring pass.
3A
Elijah Traeger passed for three touchdowns and ran for a score to lead Kennedy past Amity 42-0. The Trojans held Amity to 62 yards. … St. Mary's routed Brookings-Harbor 49-14 as Tyson Delplanche completed 8 of 9 passes for 204 yards and four touchdowns, two each to Jaden Foster and TJ Flowers, who also returned a kickoff for a score. … Ely Palm ran for three touchdowns and passed for a score in Sutherlin's 35-26 win over Phoenix. Tauj Flora had touchdowns rushing and receiving or Sutherlin, which trailed 26-21 in the third quarter. … Jace Johnson completed 16 of 21 passes for 195 yards and five touchdowns – all to Isaac Real – and ran for a score to lead South Umpqua past Coquille 49-12. Real finished with nine catches for 107 yards and Jacob Logan ran for 125 yards on 16 carries for South Umpqua. … Douglas pulled out a 28-26 win over North Valley, getting a touchdown pass from Luke Robbins to Kash Richardson and a two-point conversion in the final three minutes. ...
Banks took over first place in Special District 1 by downing Yamhill-Carlton 31-0. Logan Kind caught five passes for 123 yards and two touchdowns and Andrew Brown had an interception return for a score. Christian Lyda completed 12 of 25 passes for 247 yards and three touchdowns with three interceptions. … Santiam Christian turned back Dayton 14-6 as Jayden Christy rushed for 158 yards and one touchdown on 23 carries. … Valley Catholic ended a 19-game losing streak by beating Corbett 48-14. Alex Adams passed for 240 yards and two touchdowns, both to Noah Holub, who had four catches for 170 yards and returned a fumble 80 yards for a score. ... La Pine rushed for more than 400 yards in a 52-26 win over Elmira, getting 197 from Dawson Cook and 135 from quarterback Colton Campbell, who also passed for 124 yards. ... Dylon Atwood had six carries for 233 yards and two touchdowns as Warrenton blanked Rainier 47-0.
2A
Kaden Salamanca passed for three touchdowns and ran for two scores for Umatilla, which handled Clatskanie 62-26. … Heppner took a 44-0 lead in the first quarter and beat Riverside 58-12. Hayden McMahon rushed for 151 yards and three touchdowns for the Mustangs. … Weston-McEwen came back from trailing 14-0 to edge Irrigon 19-14. Mazon Langford blocked a punt and returned it for a touchdown for the go-ahead score. Irrigon's Brayden Locey passed for 305 yards and two touchdowns, one to Brayden Atkins, who had 150 receiving yards. … Gator Goodrich rushed for 162 yards and two touchdowns on 10 carries, caught a scoring pass and had an interception to lead Stanfield past Grant Union 35-30. Jose Arellano had two interceptions for Stanfield. …
Oakland dominated North Douglas/Yoncalla 54-6, owning a 348-101 edge in yards. Cade Olds rushed for 98 yards and two touchdowns and Cole Collins passed for a score and returned an interception for a touchdown. … Taft outscored Monroe 61-54 behind Armando Fajardo, who rushed for 166 yards and three touchdowns on 13 carries. Braiden Ellis had 35 carries for 212 yards and one touchdown and passed for a score and Manny Smith ran for 130 yards and four touchdowns on 25 carries for Monroe. … Lowell edged Culver 30-26 as Rowan Files had three catches for 124 yards and two touchdowns and JaMar Thompson rushed for 128 yards and two scores on 21 carries. ... Said McWillie's touchdown run inside the last two minutes lifted Rogue River over Glide 28-25.
1A-8
Lyle/Wishram/Klickitat defeated Pilot Rock 46-14. Pilot Rock's Brave Pereira scored touchdowns rushing and receiving in defeat. … George Pohlschneider completed all six of his passes for 170 yards and four touchdowns and Ralph Pohlschneider ran for 136 yards and two scores on seven carries for St. Paul, which built a 64-12 halftime lead and beat Mohawk 64-20. … Lost River bolted to a 43-0 lead in the first quarter – Connor Dunlea returned a kickoff and an interception for touchdowns -- and went on to beat Chiloquin 60-6. Dunlea added two touchdown passes for the Raiders, who held Chiloquin to 30 total yards. … Powder Valley overwhelmed Enterprise 60-12 as Cole Martin rushed for 179 yards and two touchdowns on 14 carries and passed for 145 yards and one score. Jackson Chandler scored touchdowns rushing and on an interception return and Colt Cobb added two scoring runs. ... Camas Valley amassed 622 yards in defeating Prospect/Butte Falls 72-18. Riley Wolfe (154 yards) and Seth Lamell (105 yards) each ran for three touchdowns, Kenny Wilson completed 11 of 16 passes for 200 yards and two scores and Owen Koegler had five sacks for Camas Valley.
1A-6
Joseph ended Spray/Mitchell/Wheeler's 15-game winning streak, prevailing 34-33 at Wheeler. Kane Johnson completed 26 of 31 passes for 224 yards and four touchdowns with one interception for the Eagles. ... Powers racked up 473 yards in defeating Glendale 58-12. Rene Sears passed for three touchdowns, two to Lane Jones, and Alex Mahmoud ran for two scores for the Cruisers. … Elkton rolled over McKenzie 62-6. Nathan Rausch had four carries for 92 yards and three touchdowns, two catches for 60 yards and one score and added a sack and fumble recovery. Christian Halstead had five catches for 107 yards and two touchdowns and ran for a score. ... Brody Ackley ran for two touchdowns and caught a 60-yard scoring pass for Gilchrist, which rolled up 427 yards in defeating Days Creek 27-12. ... Garrett Warren had three rushing touchdowns to lead Triangle Lake past Siletz Valley 56-6. Ben Wyse had five tackles for loss, a sack and a fumble recovery, and Marshall Mather and Mitch Dumford returned an interception and fumble for scores, respectively.