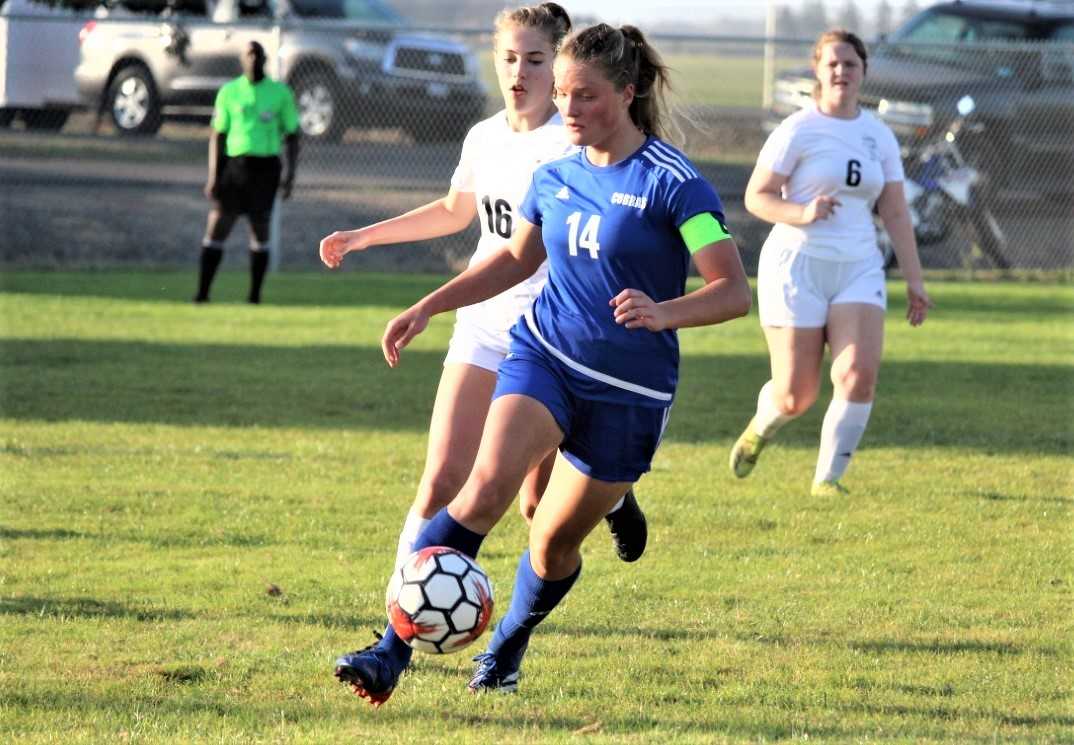 Girls soccer isn't exactly drenched in tradition at 2A Central Linn.
The Cobras of Halsey didn't have a program until eight years ago, and didn't have enough players to field a team in two of the last four seasons. Entering 2022, they had never finished with a winning record.
This season, though, they have quickly evolved into a juggernaut.
Under first-year coach Wendi Farris – who won 137 games as the coach at Western Mennonite (2004-11) and Santiam Christian (2012-19) – Central Linn is 10-0-2 and No. 4 in the OSAAtoday 3A/2A/1A coaches poll. The Cobras are doing it with five freshman starters and 11 players who also compete for the cross country team.
"Sometimes I think we don't know enough to be scared," Farris said of her young team. "We're out in the middle of nowhere, and we're not a soccer school by any stretch of the imagination.
"But when you get girls that are all on the same page and they want to work hard, and they have some talent, and the perfect combination of senior leadership and freshmen stepping in, it makes for a really good year."
Central Linn, 10-0-2 in Special District 3, is in position to win its first league title as it battles with No. 7 Sisters (10-0-3) and No. 9 Pleasant Hill (8-1-3), the reigning district champion.
The Cobras won at Pleasant Hill 2-1 on Sept. 19 and tied the Billies 1-1 at home on Monday. They tied Sisters 1-1 on the road Sept. 26 and play host to the Outlaws on Wednesday in a match with league-title implications.
After going 6-7-1 last season, the success has been a whirlwind.
"This year has been awesome," Farris said. "I tell them all the time, this kind of team doesn't come along a lot. I preach a lot about team culture. It's not that we don't have talent, but the biggest thing is they like hanging out with each other.
"They celebrate each other's successes. One of our team goals was no drama, and so far they've lived up to that."
Farris, who spent the last two seasons as an assistant at 5A Corvallis, was hired as a junior high PE teacher at Central Linn last year. In her first year, she served as Central Linn's varsity girls basketball and softball coach, and this year took on the soccer job.
"I coached a lot of them in basketball, so I knew walking in that we were going to have a successful year," Farris said. "We have a great freshman class."
The Cobras have outscored their opponents 45-5. The back line of seniors Gemma Rowland and Bailey McManus, junior Lora Johnson and freshman Izzy Curtis has been outstanding in front of 6-foot-1 junior goalkeeper Rhian Hollister.
Rowland holds it all together at center back.
"Gemma is the best player in our league," Farris said. "She'll be playing in college. She's the anchor of our defense. The girls know if they get beat, she's there to clean up their messes for them. She's a life-saver back there."
The offense is balanced as 10 players have scored goals and 11 have recorded assists. Senior Maya Rowland – a triplet along with Gemma and their brother – leads the team with 10 goals.
Besides Curtis, the other freshman starters are Peyton Gaskey, Georgia Wahl, Jayne Neal and Addie Wolf. The Rowlands and McManus are the only senior starters, which points to a bright future for the Cobras.
Central Linn has showed resilience in its biggest matches of the season. They fell behind in both matches against Pleasant Hill and the one match against Sisters, but escaped with a win and two ties.
In beating Pleasant Hill for the first time in the program's history, the Cobras got a 41-yard free kick from Gemma Rowland to tie 1-1 in the 72nd minute and a 20-yard free kick from Wolf in the 78th minute to take the lead.
"We actually get better as the game goes on," Farris said. "I don't know if that's because of my cross country girls. They're doing double duty. They have a phenomenal work ethic."
Notes: Jesuit completed the regular season with a 14-0 record and wrapped up the 6A Metro League title with three wins last week. Hanna Slama scored twice as the Crusaders beat Sunset 3-1 in a first-place showdown Oct. 10. Mariane Dunne had two goals in a 5-0 win over Mountainside on Oct. 13. Abigail Cox's two goals stood up for a 2-0 win over Beaverton on Monday. For the season, Cox (12 goals), Claudia Rose (11 goals) and Dunne (10 goals) lead Jesuit in scoring. … Sutherlin's Paige Edmonson hiked her season goal total to 32 with five goals in the team's last two matches. She recorded a hat trick to help beat Lost River 7-0 and had two goals and two assists as the Bulldogs (11-1) defeated Lakeview 7-2. Micah Wicks scored the other five goals against Lakeview. …
Mia Spellman's two second-half goals helped Oregon City come back to defeat Lakeridge 2-1 in a battle of Three Rivers League contenders Oct. 13. … Newberg's Gracie Hess turned in a four-goal performance to lead the Tigers past Liberty 4-2 on Oct. 12. … Ontario took over first place in the Greater Oregon League with a 3-2 win at Pendleton on Oct. 13, getting three goals from Itzel Hernandez. The Tigers (5-4, 3-1) play host to La Grande (7-2-1, 2-1) on Thursday with first place on the line. …
Phoenix defeated longtime nemesis Mazama 3-2 on Oct. 10 behind three goals from sophomore Carsyn Gallegos. It was Phoenix's first Skyline Conference win. … Marist Catholic junior Cloe Chase has scored in all 10 games she has played this season, racking up 18 goals and eight assists. She had four goals and three assists in the team's last game, a 9-1 win over Junction City. … Westview's London Tsuma led a 9-2 win at Aloha with three goals and three assists. … Philomath junior Kamilla Grimmer has been on a scoring binge, recording hat tricks in the team's last three games, wins over Cascade, Newport and Junction City.