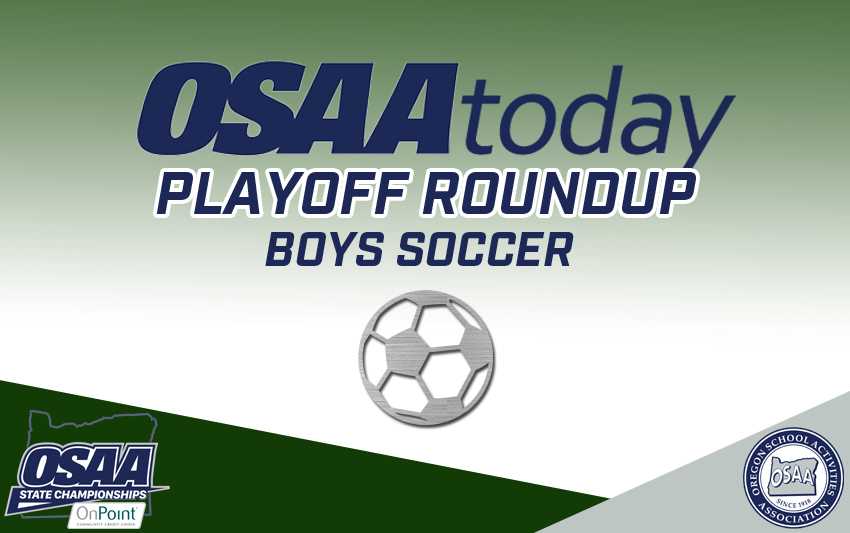 Highlights from Saturday's boys soccer quarterfinal matches:
6A
No. 12 seed Gresham scored five minutes into the first overtime to eliminate South Eugene 1-0. Saul Martinez collected a loose ball near the goal and sent a heel pass to Luis Ayona, who scored. … Noah Hayes had two goals, getting assists from Drew Pedersen and Griffin Scott, as Jesuit ousted Central Catholic 3-0. Pedersen had Jesuit's other goal, assisted by Dominic Hoar-Weiler. Goalkeeper Elliot Parelius got the shutout. … JJ Diaz scored twice in the first overtime as Westview defeated Lakeridge 2-0. … No. 11 Aloha defeated Lincoln 2-0 in overtime, getting goals from Adrian Millage in the 85th minute and Christian Silva in the 93rd minute.
5A
Reigning champion La Salle Prep trailed conference rival Centennial 2-0 early in the second half before rallying to win 3-2. Luke Warner scored off a free kick by Finbar O'Brien to make it 2-1, but Warner received a red card in the 58th minute, forcing the Falcons to play one man down the rest of the way. Another O'Brien free kick led to a Vance Sheffield goal in the 65th minute, tying the score at 2-2, and La Salle Prep took the lead 3-2 in the 70th minute when Breslin Nichols knocked in a pass from Quentin Strange. … West Albany needed a shootout to prevail over Parkrose 2-1. In the shootout, the Bulldogs got goals from Henry Catlin, Yahir Tenorio and Julian Romero and two saves from Carter McGowan. Parkrose led 1-0 at half but West Albany's Rowan Kvist tied it in the 53rd minute. … Top-seeded Summit bounced Wilsonville 3-0, the Storm's eighth consecutive shutout. Summit scored 38 seconds into the match and added two second-half goals. … No. 2 McKay dropped Springfield 2-0, the 13th shutout for the unbeaten Royal Scots, who have allowed two goals all season.
4A
Antonio Camargo's goal, with an assist by Jacob Moody, four minutes into the first overtime lifted Phoenix over Hidden Valley 1-0. … Brock Patzke and Trevor Tobiasson each scored twice and Llelo Sguera and Aiden Hayes added single tallies for Henley in a 6-3 win over Estacada. The Rangers trailed 3-0 at half but pulled within 3-2 on goals by Jose Gonzalez and Ben Haefs before the Hornets pulled away. Jacob Gonzales and Logan Parker had three assists each for Henley. … No. 9 North Marion took down top-seeded Stayton 3-2, coming back from a 2-0 deficit in the second half. After Stayton took a 2-0 lead in the 47th minute on a goal by Addison Samuell, the Huskies rallied to tie 2-2 on goals by Aden Carrillo in the 53rd and 56th minutes. North Marion took a 3-2 lead in the 62nd minute when Alexis Lopez's drive from about 60 yards out bounced over goalkeeper Luis Mejia. Stayton defeated North Marion 1-0 and 3-0 in Oregon West Conference matches. … Ontario downed Newport 2-0. Jamis Gonzalez scored on a free kick outside the 18-yard box and Jaaziel Chavez scored on a run down the middle off a pass from Marcos Bauer.
3A/2A/1A
Three-time reigning champion Catlin Gabel, the No. 2 seed, fell to McLoughlin 2-1 in a penalty-kick shootout. Danny Hernandez was stellar in goal for McLoughlin, making a save in the shootout, which the Pioneers won 4-2. Catlin Gabel led 1-0 as Luke Carlson scored on a scrum, and McLoughlin got the equalizer on a breakaway by Geovanni Sandoval. … Jose Mondesi scored off an assist from Leandro Cronk in the 70th minute to break a tie and give St. Mary's a 3-2 win over Dayton. Cronk converted a penalty kick for a 1-0 lead in the 26th minute and Mondesi scored early in the second half to put St. Mary's up 2-1.... Oregon Episcopal broke from a 2-2 tie at half to defeat Riverside 5-2. Julian Ettinger and Tobias Cook scored in the first half for the Aardvarks, who got second-half goals from Ryder Sendecke, Jesse Lindholm (penalty kick) and Ettinger. Lindholm and Alex Chen had assists. … Riverdale outlasted Delphian 3-2, winning a penalty-kick shootout 4-2. Riverdale got a goal from Evan Faulkner in regulation, which ended in a 1-1 tie. In the second overtime, Delphian's Muj Abulohoum gave his team a 2-1 lead, but Riverdale's Andrew Lamb scored on a rebound one minute later to tie 2-2. In the shootout, Riverdale goalkeeper Ethan Green made one save and Delphian misfired on another attempt.