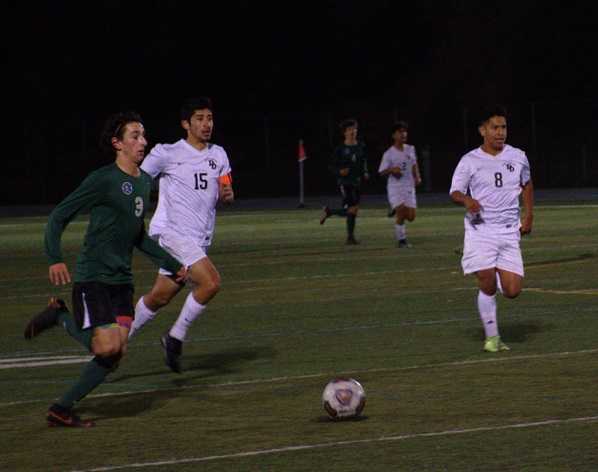 BEND -- Summit beat visiting David Douglas 2-1 in the semifinals of the 6A boys soccer playoffs Tuesday night, its third consecutive overtime victory.
"It was such an emotional win, to be on the brink of winning and then for them to get that goal late, it was just so devastating," Summit coach Ron Kidder said.
Leading 1-0 with one minute left in regulation, the Storm could taste victory. But David Douglas' Isaac Rangel Villafuerte managed to get one in the back of the net with 52 seconds on the clock, sending Summit into its third overtime of the playoffs.
The determination of both teams was evident in the first half of overtime. David Douglas successfully penetrated through the Storm's defense five times before the home team was able to score its second goal.
With two minutes left in the first overtime, Summit freshman Nani Deperro finished off a deflected save from the keeper. The goal came off a cross by Jace Marshall and was flicked by Kamdon Simmons.
"That was pretty clutch, especially because it was (Deperro). He's the greatest, that's all I have to say." Summit goalkeeper Khael Engelman said.
"The boys bounced back. A resilient group, and I'm just so proud of them," Kidder said.
Second-seeded Summit (17-1), which moved up from 5A this season, will play for its first state championship since 2013 when it faces either No. 9 Forest Grove or No. 12 Jesuit on Saturday at Hillsboro Stadium.
Summit took a 1-0 lead against David Douglas at the 15-minute mark when Kyle Capdevila scored after Simmons' volley was deflected by the Scots' goalkeeper.
For the remainder of the half, Summit battled well against David Douglas' connected defensive line. On offense, the Scots depended on their aggressive attack, which allowed for several breakaways that they were unable to capitalize on.
Engleman frequently came off his line to make crucial saves, which allowed for Summit to go into the second half with a 1-0 lead.
Coming out of halftime, the Storm began strong and fast, but were met with an equally determined team. The game continued with tensions high, and both teams made valiant efforts to get one in the back of the net.
David Douglas was able to successfully win balls out of the air, but the Storm's patient defending allowed it to keep the Scots at bay.
Co-written by Hailey Gutowsky